One of my all-time favorite cookie recipes is the no bake chocolate oatmeal cookies with peanut butter.


They don't require any baking which is a plus in my book but they also take very little effort and time to make. So much yum!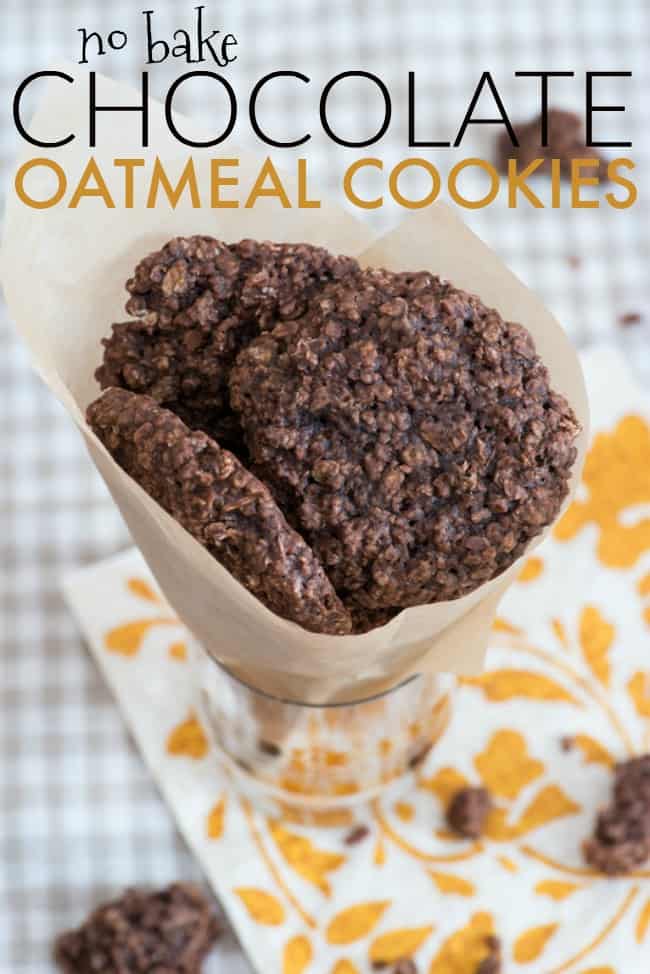 This post contains affiliate links.


We love to make these chocolate oatmeal cookies when we are craving a little chocolate and want some cookies to nibble on. I almost always have the ingredients on hand for these.


The ingredients include items that most of us already have in our pantry. If you are missing one I bet it would be the 1-minute Old Fashioned oats, too easy to go and grab a container of those. Plus a container will last you through lots of cookies once you have those too.


Ingredients you will need:


3 Tablespoons Cocoa
1/4 Cup Butter
2 Cups Sugar
1/2 Cup Milk
1/2 Cup Peanut Butter
3 Cups 1-Minute Oats
Pinch of Salt


Directions for No Bake Chocolate Oatmeal Cookies


Combine sugar, cocoa, butter, milk, and salt in a saucepan.
Bring to a boil and let boil for 1 minute.
Remove from stove and add oats and peanut butter.
Once the oats and peanut butter are mixed in drop them by spoonfuls onto parchment paper and let them cool to set.


Note: If using old fashioned oats, cool mixture in saucepan 5 minutes before dropping them onto parchment paper.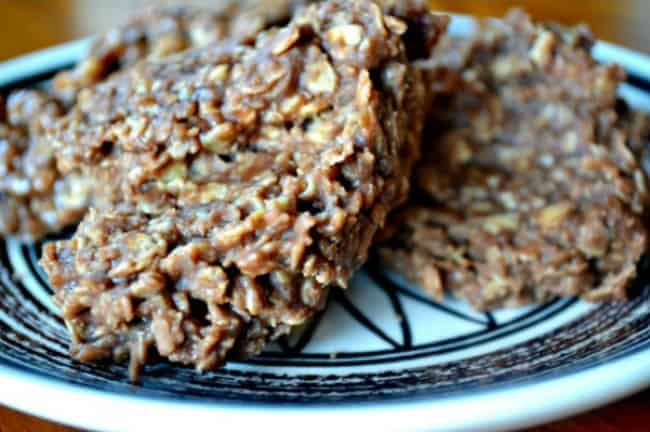 Didn't I tell you these were super easy to make? The only issue we ever have with them is sometimes they can be a little finicky about setting up if the temperature is not just ideal.


I will say though we have scooped them off the parchment paper even when they didn't harden. No cookie left behind!


If you have a nut allergy you can also skip the peanut butter altogether and make these cookies without peanut butter but make sure you up your butter to 1 stick instead of 1/4.


Some questions you may have…


Why are my No Bake Cookies crumbly?


The most common reason for dry no-bake cookies is boiling the mixture for too long. If you overcook the sugar it turns into a crumbly mess.


Can I use old fashioned oats instead of quick oats?


Yes, if you are using old fashioned oats, cool mixture in saucepan 5 minutes before dropping them onto parchment paper.


Want to print this recipe?




If you enjoyed this No Bake Chocolate Peanut Butter Oatmeal Cookies recipe then you also might like…


---
Quick and Easy Easter Pinwheel Cookies
Peanut Butter Graham Sandwiches
Chocolate Covered Frozen Bananas