It is that time of year! We are in countdown mode here to the last day of school with officially 5 and 1/2 days to go. "Whoop Whoop", says my daughter. 🙂 Her school is big on classroom parties and apparently so are a lot of other kid's schools because the bunny pudding cups were a hit. I thought the same concept could easily be used for the end of school and turn them into a little grad, graduation treat. Whether they are graduating preschool, kindergarten or even elementary school as a whole create these fun treats for the win.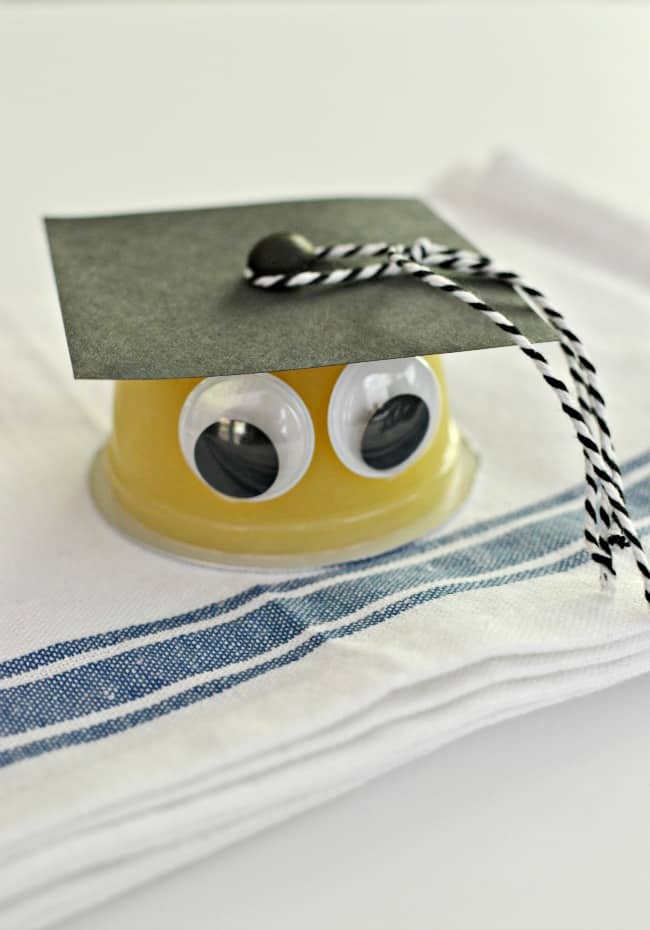 SUPPLIES:
(This post contains affiliate links.)
Apple Sauce, Pudding, or Fruit Cups
Construction Paper (Black or your school's colors)
INSTRUCTIONS:
Glue on the wiggly eyes to your cup. We used apple sauce cups but you could use pudding cups or fruit cups. Whatever fits best for your kids classroom.
Cut out a square piece of construction paper. We made classic black graduation caps but you can choose whatever colors work for you.
Color a furniture button with a black sharpie and glue to the top of your "cap."
Create the tassel using two strings of twine. Fold one piece of twine in half and use the other to tie in a knot creating the hanger part.
Hang the tassel on the button and glue down if needed.