Valentine's Day Puppy Chow, a traditional muddy buddy recipe scattered with pink and red m&m goodness, is a perfect no-bake dessert that the whole family can enjoy.


This Cupid Crunch is so cute and festive, a tasty recipe that is perfect for sharing and great for your next Valentine's Day Party.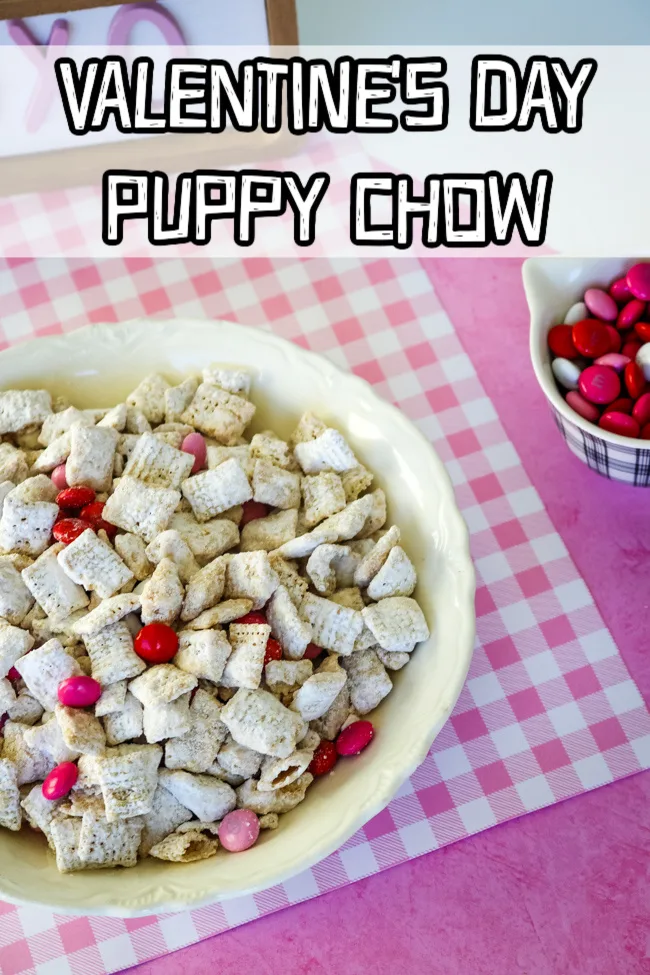 Whether you call this Valentine's snack mix puppy chow, muddy buddies, cupid crunch, or cupid chow this sweet and crunchy delicious Valentine Chex mix is so easy-to-make.


This corn and rice cereal snack is loaded with peanut butter and white chocolate, you are going to want to make it today. Good thing it's ready in only 10 minutes!


Why you'll love this recipe!


Takes only 10 minutes to prep and be ready to devour! No baking required!
Umm… peanut butter and white chocolate, need I say more?
Super fun and festive for the Valentine's holiday, plus easy to change out for various holidays.
Perfect for bundling up in a sweet package and giving as a gift to classmates, friends, and family or taking to your next get together.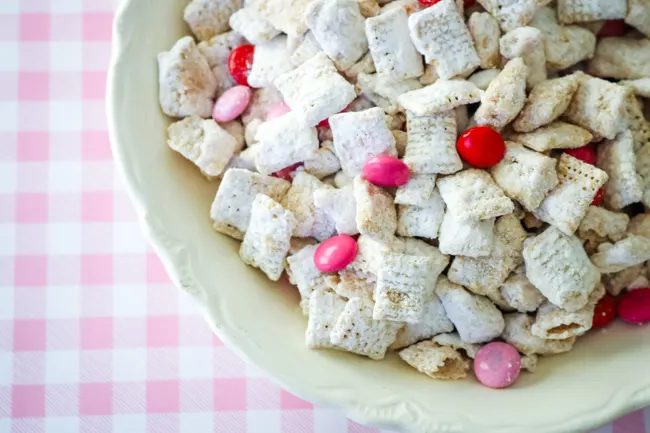 What do you need to make Valentine's Day Muddy Buddies?


8 cups Rice Chex cereal
1/4 cup butter
1 cup white chocolate chips
3/4 cup peanut butter
1 tsp vanilla extract
2 cups powdered sugar
1 cup red and white M&Ms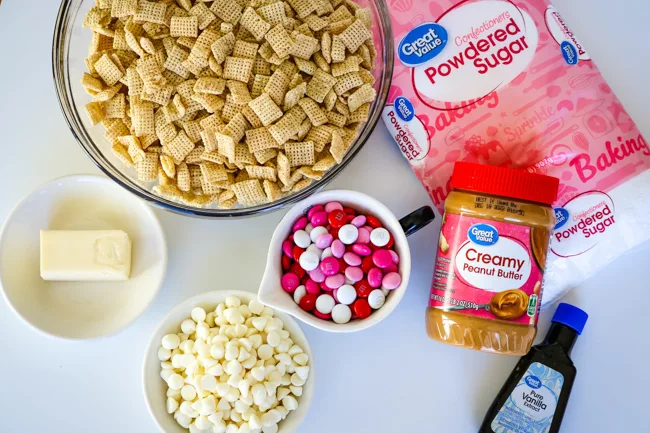 How to make Valentine's Day Puppy Chow?


Pour Chex cereal into a large bowl and set it aside.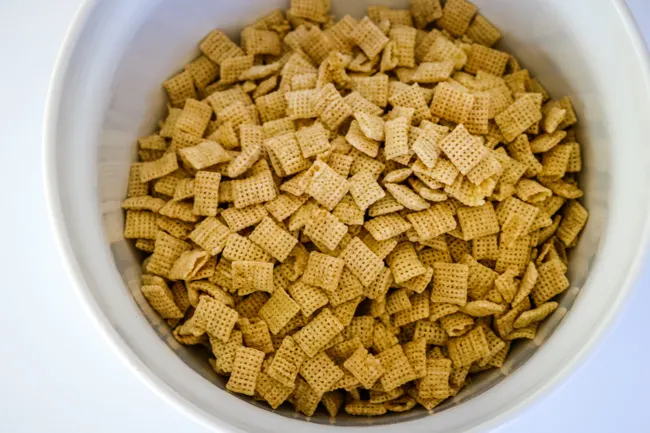 In a saucepan, add peanut butter, white chocolate chips, and butter. Cook over medium-low heat, stirring constantly just until the white chocolate chips have melted and the mixture is smooth. Be sure not to overcook the mixture!


Remove from heat and stir in the vanilla extract.




Pour mixture over the Chex cereal and gently stir to coat.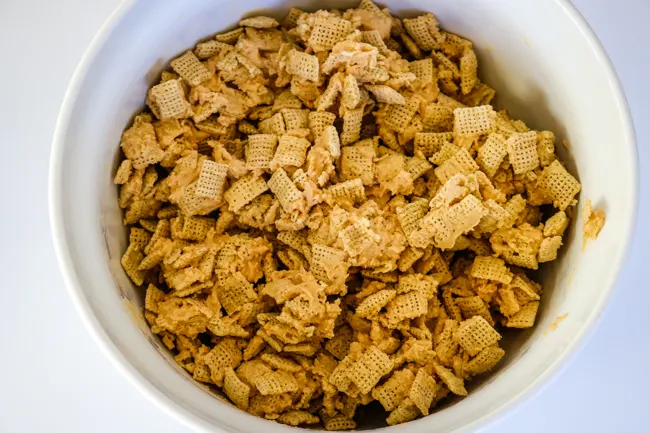 Add half powdered sugar to a gallon size baggie. Add half the cereal mixture to the baggie. Close tightly and shake to coat the cereal with powdered sugar.


Add the rest of the powdered sugar to another baggie, add the rest of the cereal mixture and shake to coat.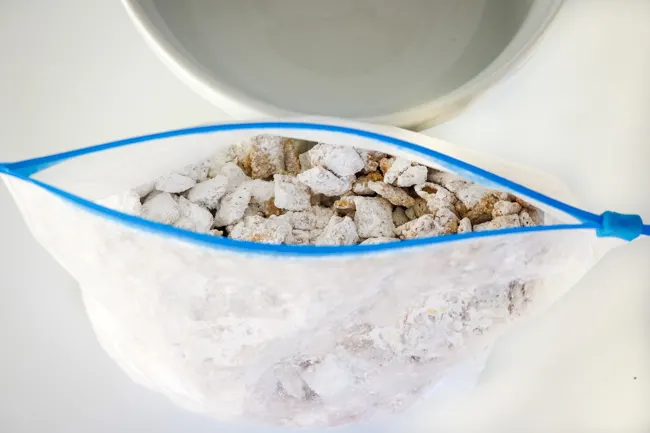 Pour the cereal mixture back into the bowl and add the M&M's. Gently stir to combine.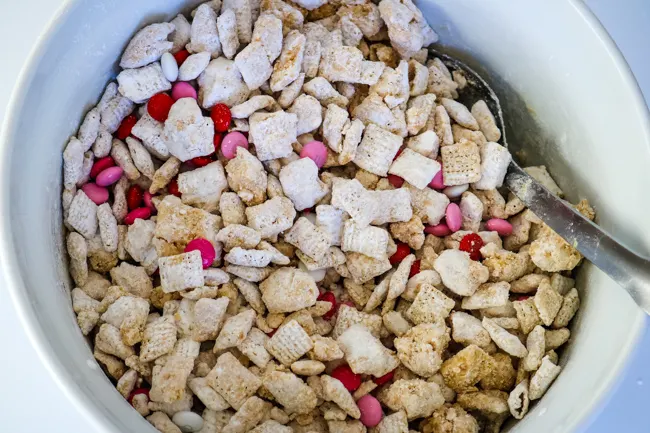 Store in an air-tight container for up to a week or the mixture can be frozen for up to 2 months. We are just so in love with this Valentine's Day puppy chow because it is so addicting.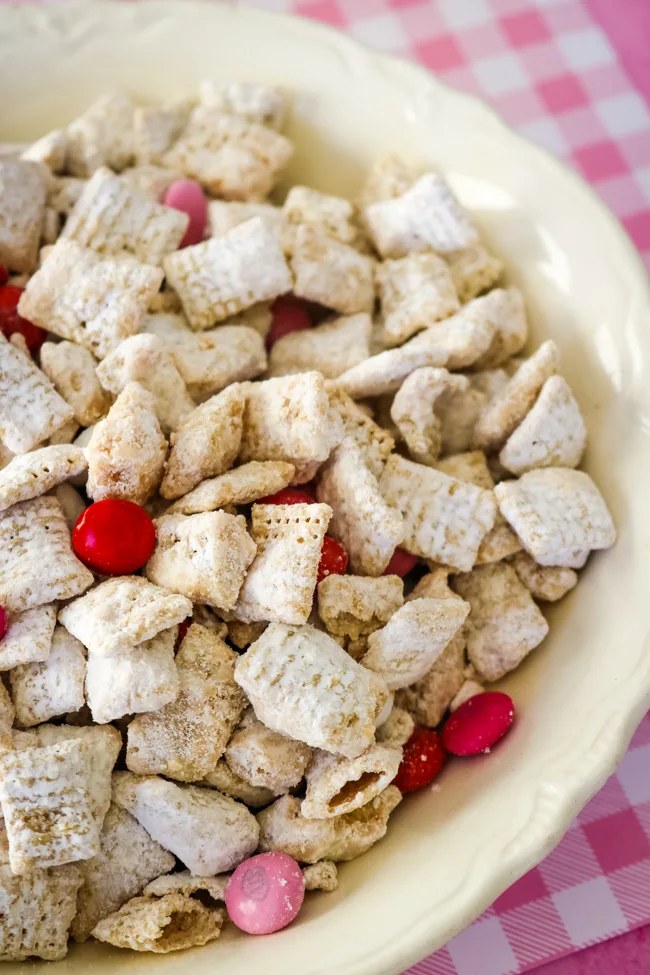 You can even enjoy these muddy buddies all year long because they are so easy to change up with other colors to match any holiday, birthday theme, etc.


Other Puppy Chow Variations:


Add in sprinkles with the m&ms.
Add in peanuts or pretzels to make it a sweet and salty treat.
Change out the white chocolate for milk chocolate.
Add in other types of candies, such as mini reese cups.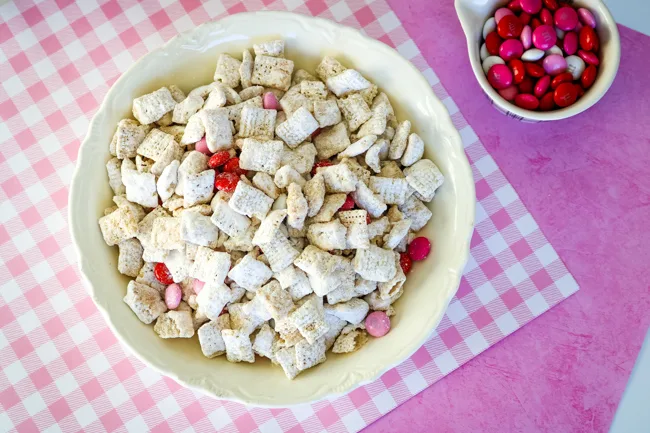 Questions you may have…


Can Valentine's puppy chow be made ahead of time?


Yes, you can make this Chex mix muddy buddies valentine's day snack ahead of time. It tastes best the first couple of days so I would only recommend making it a day or so ahead of time. Let's be honest, it would be hard not to snack your way through it all if you made it much before then anyway.



How do I store Valentine's Day Chex Mix?


This puppy chow mix can be stored for up to a week in an airtight container. It can also be frozen for up to 2 months. If you do choose to freeze this snack just know that it may lose some of its crunchiness.


Why is it called Puppy Chow?


From everything I can gather is that there is no special reason. It reminded someone of actual puppy food so hence the name puppy chow. It also has other names like muddy buddies, cupids crunch, and cupids chow. Those last two I think were just cutesy names for the Valentine holiday. Whatever you want to call it, this Valentine's Day puppy chow makes the perfect Valentine's Day treat. Perfect to serve up at your next party or just because you want something fun and festive for the day. It even makes a great afternoon snack for the kiddos.


Can I double this puppy chow recipe?


Yes, this recipe is super easy to double and make more. However, I would suggest making it in smaller batches and just dumping it into one bowl. This will make coating the Chex cereal much easier.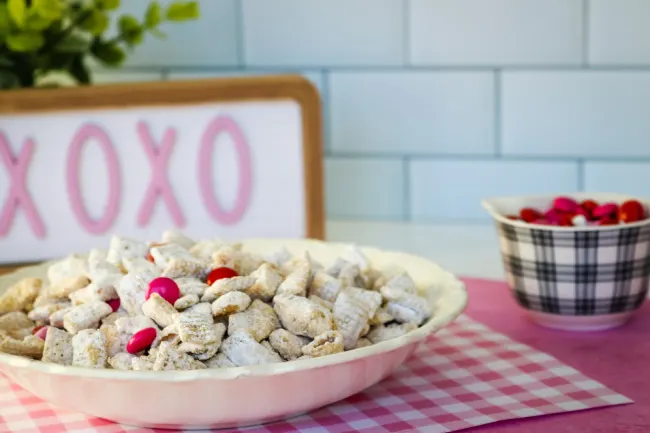 Be sure to pop over and check out these other snack recipes you don't want to miss!


Want to print or save these instructions?