This is a sponsored post written by me on behalf of the happy egg co.. All opinions are 100% mine.
Last week I shared with you one of our favorite breakfast muffin recipes that are great for a whole crowd. Well, today I am back to share with you another great breakfast recipe, homemade breakfast pizzas.
These pizzas are super simple to throw together and totally customizable to whatever you like to have on a breakfast pizza.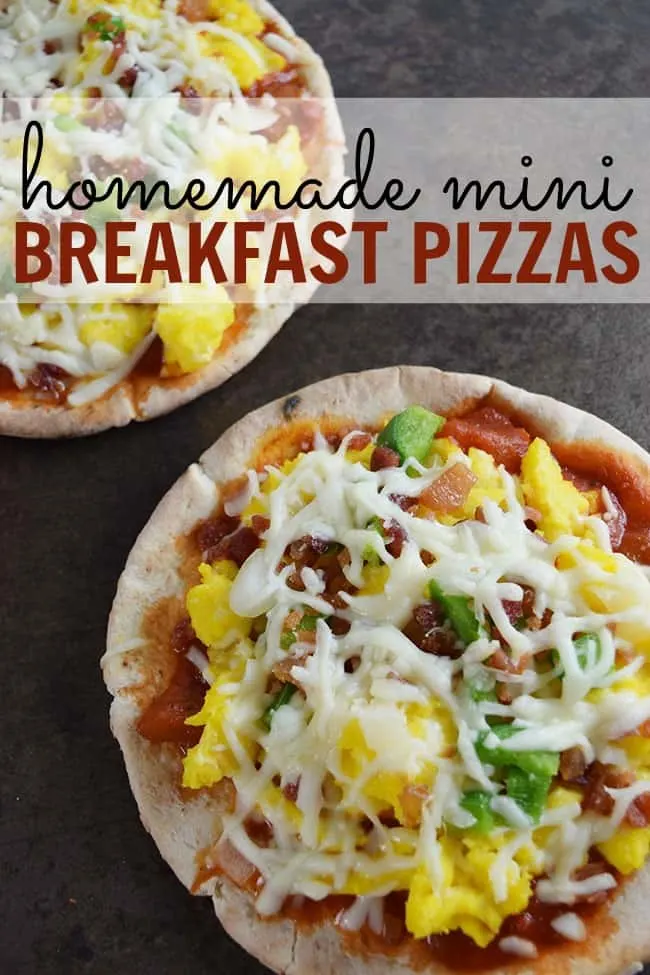 Ingredients needed:
(These ingredients are how we created ours but remember you can add or take away whatever you please.)
pita bread
the happy egg co. eggs (2 per pizza)
green peppers (diced)
onions (diced)
pizza sauce
bacon (chopped or the real style bacon bits)
shredded mozzarella cheese
other toppings you may like (optional)
Directions:
Preheat your oven to 350 degrees. We used the real style bacon bits but if you are going to cook bacon and chop then you will need to do this first. Once you have your bacon ready then you can prep your pizzas.
Spread a little pizza sauce (or marinara/pasta sauce) onto your pita bread.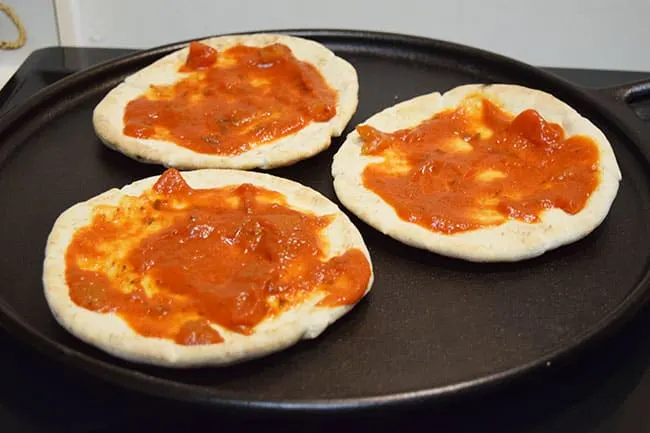 Beat together 2 eggs per mini pizza and scramble. If you like fluffy eggs you can add a little milk.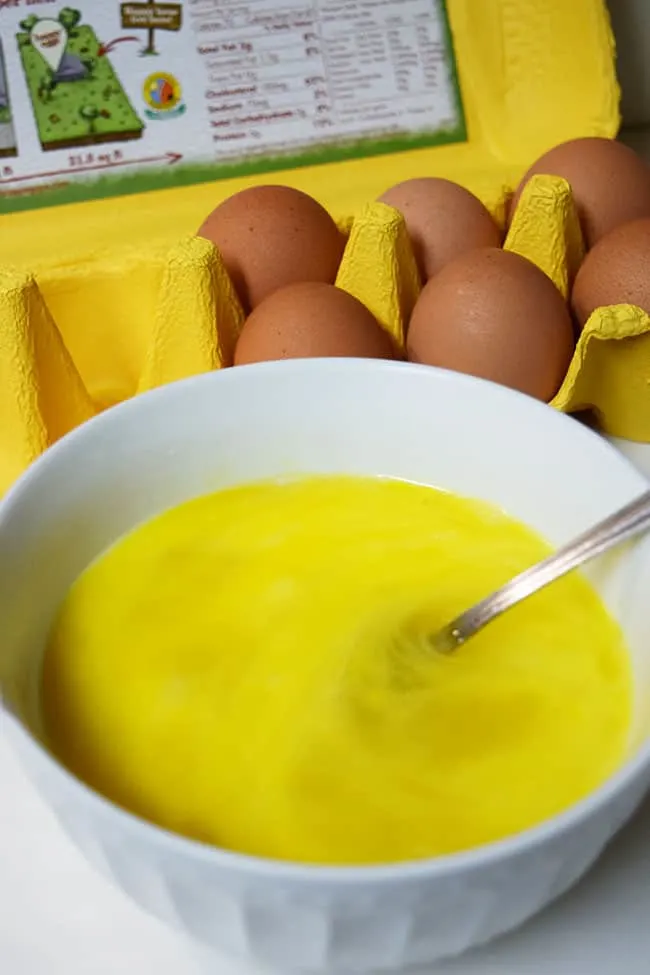 We specifically love the happy egg co. because their eggs are free range. Not sure what free range even means? It means that these hens are raised in family run free range farms where they are able to roam free and are not cooped up in cages. They never use hormones and the eggs laid at the happy egg co. have the brightest, golden yolks around. It may not be the free range part that keeps you buying these eggs but it will certainly be the taste. The happy egg co. is available nationwide where you can find them in Free Range on Pasture or Organic Free Range on Pasture at many local retailers.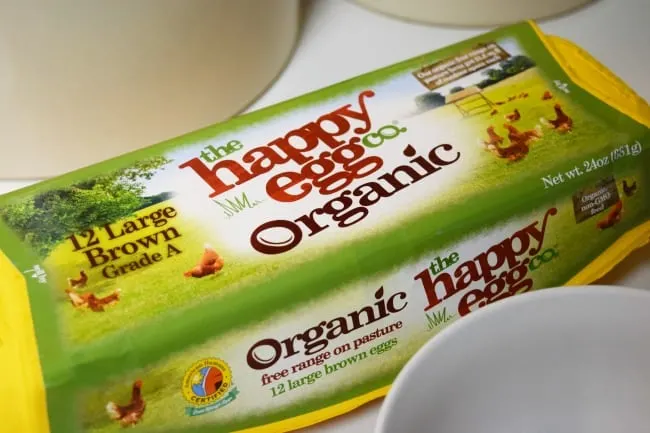 Once you have your eggs scrambled you can spread them evenly out between each mini breakfast pizza.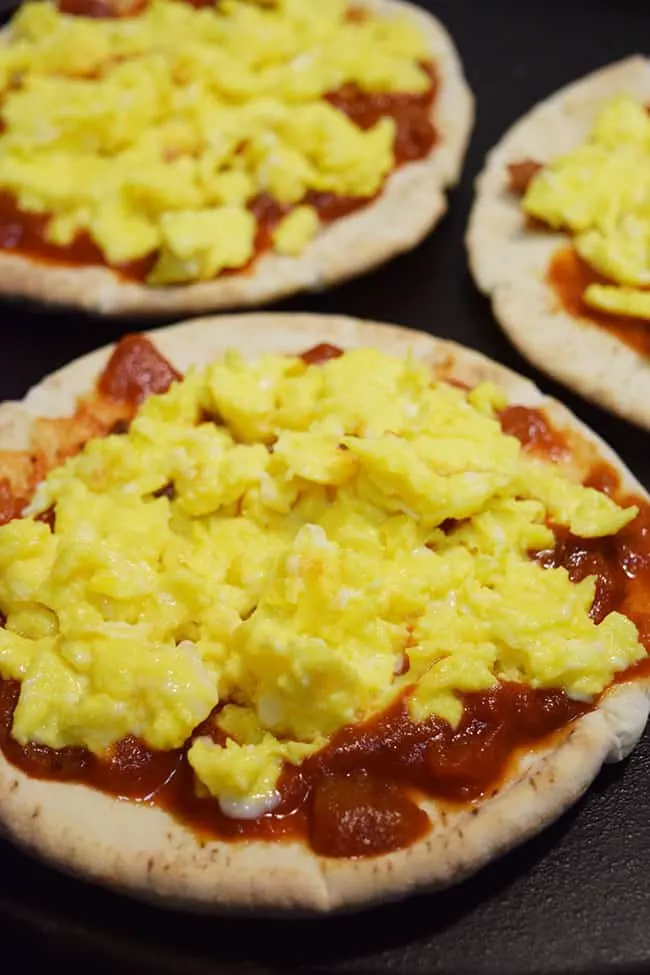 Top with your favorite toppings. We added green peppers, onions, and bacon.
Now top with a little cheese for each and cook in the oven for approximately 10 minutes or until the cheese melts.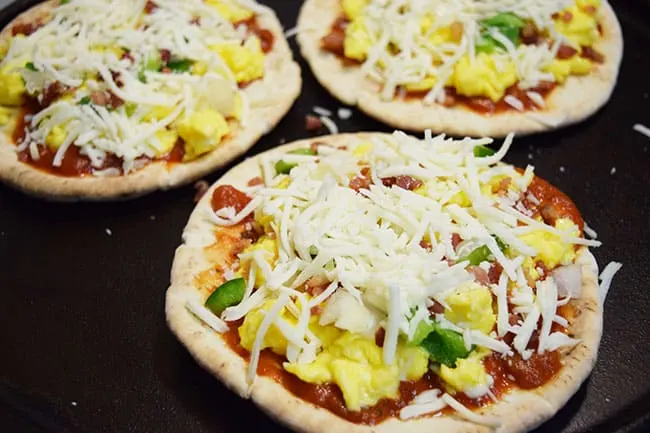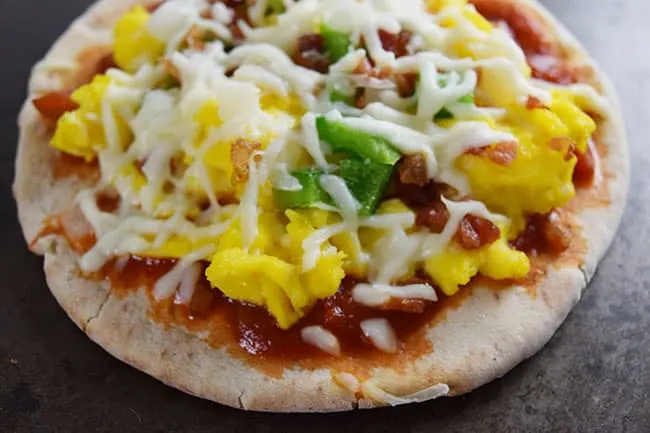 Want to print this recipe?
If you enjoyed these homemade breakfast pizzas you also might like…