Making homemade butter is simple! All it takes is two ingredients (one of them you already have readily available so technically one store-bought ingredient) to make the most delicious butter you have ever had.




Plus, it's a fun alternative to store-bought that the kids can get involved in making, and tastes so much better. You can even flavor it however you like.


If you have a food processor, blender, stand or hand mixer (no butter churn required) then you can easily learn how to make butter from scratch and have it ready to spread on everything because you are going to want to.


You can drizzle this amazing butter over veggies, melt it on top of your favorite steak, or slather it on a hot out of the oven roll. Yum!


Either way you slice it; two ingredients and 10 minutes worth of prep are always a yes in my book, especially when it produces the most creamy homemade butter.




Why you'll love homemade butter


Super quick and easy to make
Only requires 2 Ingredients
Tastes better than Store-bought
Totally customizable
Versatile to use for all sorts of cooking and baking
You can get the whole family involved in making it




Ingredients you will need:


2 cups buttermilk (can substitute for 2 cups heavy cream)
2-3 cups ice-cold water (if using heavy cream then leave out the water process)
¼ teaspoons salt, optional




Equipment you will need:


Mixer – stand or hand-held mixer
Cheesecloth or clean towel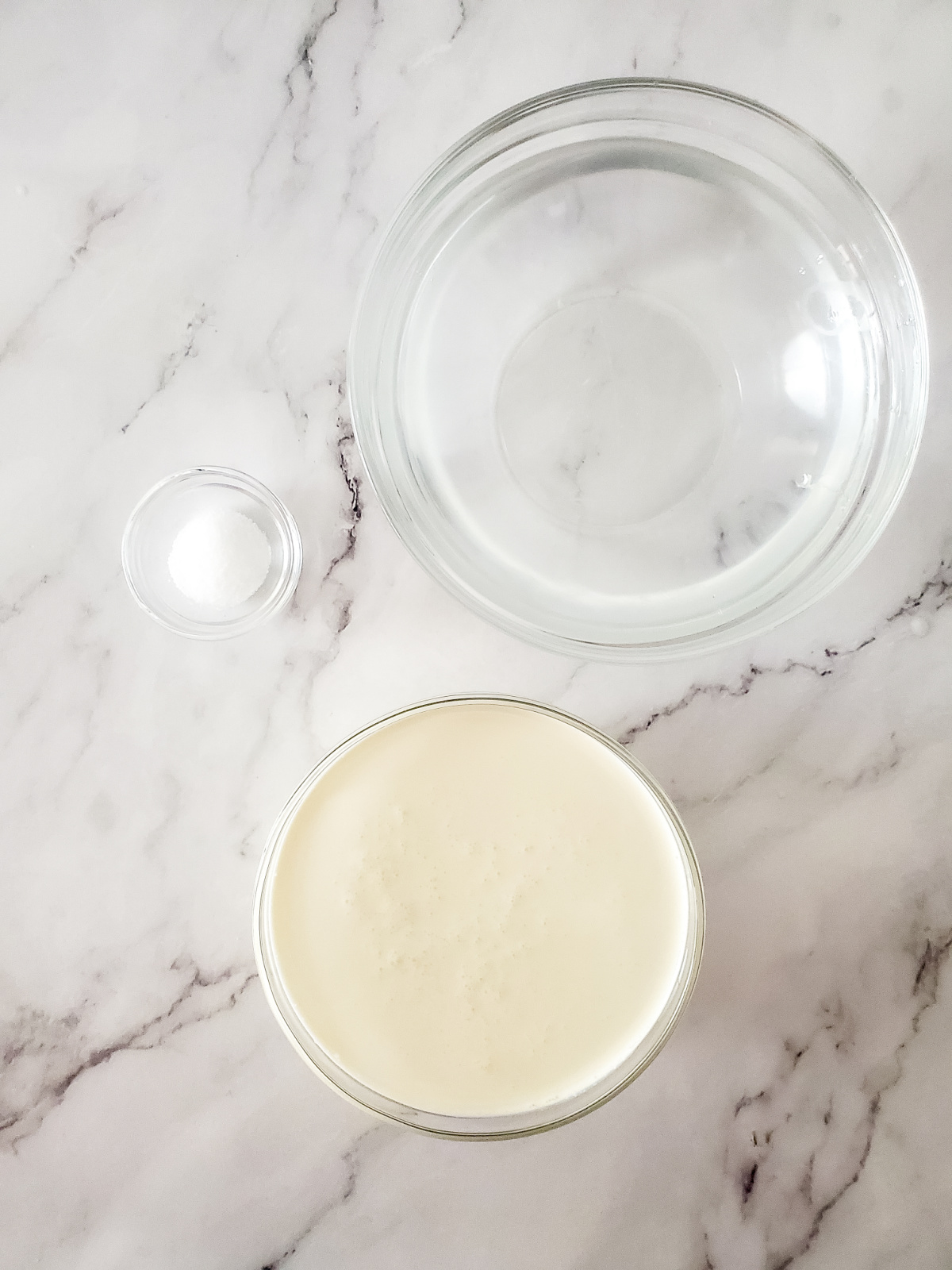 How do you make Homemade Butter?


Beat the buttermilk with your mixer. Start on low, and slowly build up to medium speed.


Continue to beat until the butter separates from the buttermilk.


You may find it helpful to place a towel above the mixer to avoid splattering outside of the bowl.




Remove the butter (refrigerate the buttermilk for future use if you want!) and place it into a large bowl.


Place ½ cup of the ice-cold water in the bowl. Use a rubber spatula to press and move the butter around in the water. As you do this the water will turn cloudy white. Remove the water and repeat about 3-5 times until the water remains clear.




Remove the butter from the water. Squeeze butter between a clean towel or cheesecloth to remove any extra moisture. A fine-mesh sieve works well too.


If you are adding the salt, you can work it into the butter now either using your spoon or hands to knead it in.


A super cute idea that I love is making butter molds for the holidays. For Thanksgiving, adorable turkey butter on the table would be sweet.




Flavored Butter Basic Technique


Gently stir in your chopped herbs, zest, or other fresh ingredients. If you're using dry spices, mix them together first so they incorporate evenly throughout the butter.


How to Make Homemade Butter in a Mason Jar


You can use any size jar you want. Baby food jars work great for little hands. You only want to fill the jar halfway with buttermilk or heavy cream. You need space in the jar for the milk or cream to be able to churn into butter.


You will just shake the jar back and forth until it becomes butter. This process might take slightly longer depending on the effort you put into the shaking.


Do you need to refrigerate homemade butter?
You can but if you do I highly recommend using a butter crock. Otherwise, I would keep fresh homemade butter in the fridge. In the fridge, this butter will last approximately 1-2 weeks, and on the counter for 3-5 days (maybe slightly longer in a butter crock).
How much butter does buttermilk make?
This recipe makes about 1 cup of butter, equivalent to 2 sticks.
How Long Does Homemade Butter Last?
Store in a covered container or parchment paper for up to a week, slightly less if you leave it on the counter. I will say that it is all dependent on how much buttermilk you get out of the butter. The more that is left in the quicker it will go sour.
Is it cheaper to make your own butter?
Yes, an avg $5 priced 1/2 gallon of buttermilk will make around 8 sticks of butter. The current price of butter is about $5 for a 4-stick box. So you save about 50%! If you have to do a lot of baking that could really add up. Plus it just tastes a lot better! The only time I really wouldn't recommend homemaking butter is if you just don't use it a lot. The shelf life isn't really great for casual use as store-bought butter keeps much longer.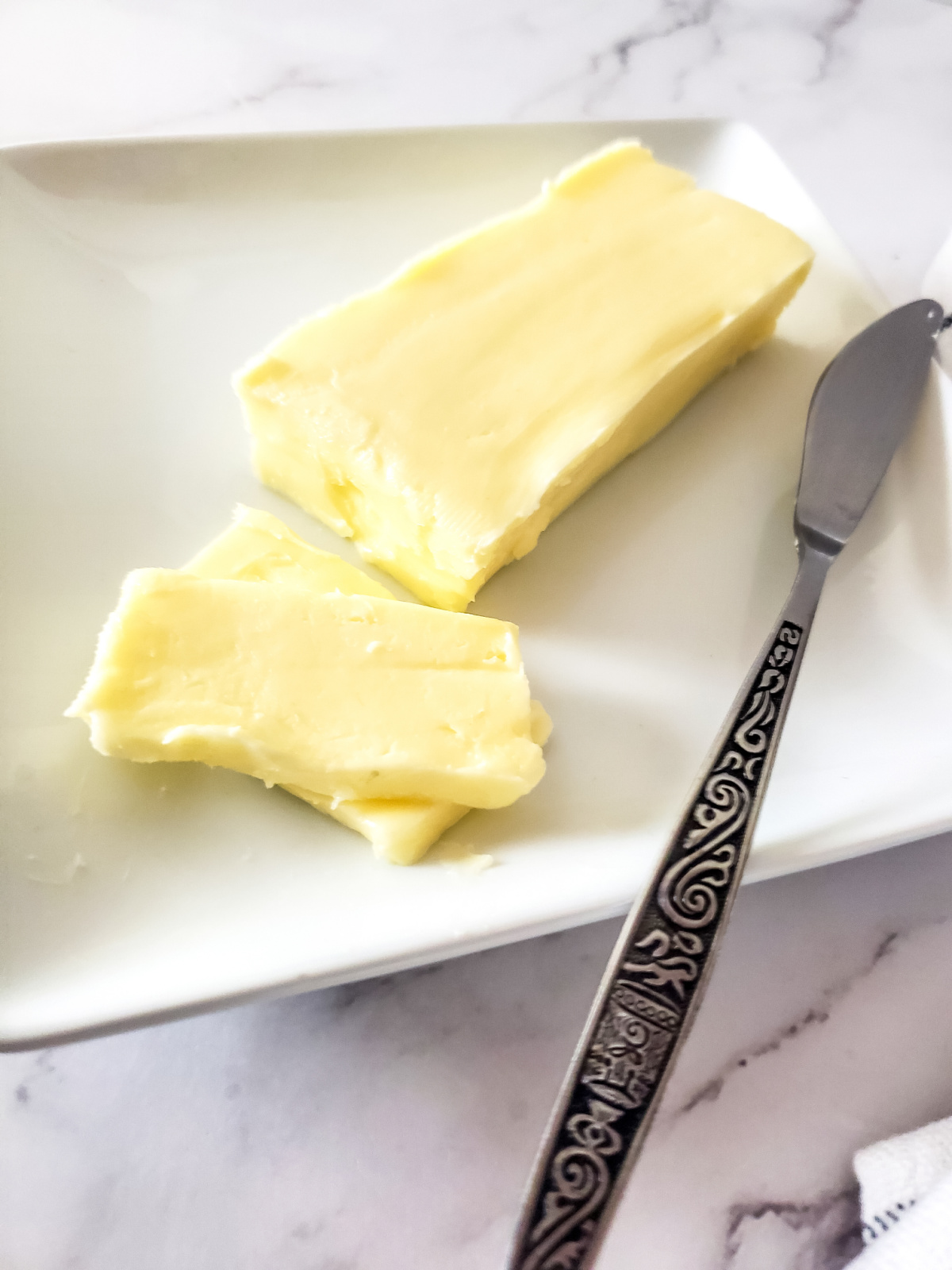 Recipes that would be great with this homemade butter!


Want to print or save this recipe?