If you are looking for great ways on how to store Legos functionally in your home then you have come to the right blog post.


Here are some great and clever ways to store Lego blocks that will fit every family style.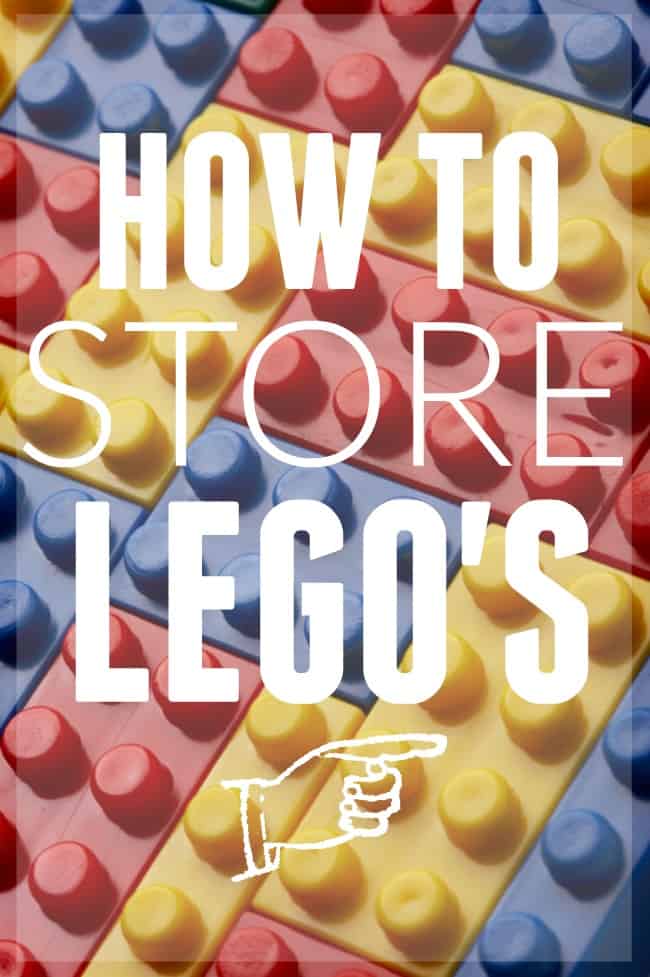 This post contains affiliate links.


If you have found Lego bricks in your vacuum cleaner, bricks in your couch, or in every nook and cranny as we have then keep reading and see if these Lego storage ideas can be of some help.


Even though we just have a daughter we have LOTS of Lego pieces. It is something my husband and daughter have found to be a great bonding activity.


So needless to say, I have searched the internet for all sorts of ways to keep them organized and rid myself of this Lego storage dilemma.


I think the most important step before purchasing any storage or organization ideas is deciding what will be best for you and how you will use them.


So let's ask yourself some simple questions.


[su_box title="First Question" radius="6″]Where are we going to store these items and how much space do we have?[/su_box]


This is important because the lack of space will definitely rule out many Lego storage ideas.


Once you decide where you are going to store them then you need to decide how many you need to store.


[su_box title="Second Question" radius="6″]How many pieces do we have and do we expect to add to the collection?[/su_box]


Be sure to plan for adding any sets to your collection. My husband and daughter usually get 2 or 3 new sets every year. That can add up to a lot of new pieces.


Once you do finally decide on where and how much you need to store you can then figure out a budget.


[su_box title="Third Question" radius="6″]How much do we want to spend?[/su_box]


If you are on a budget then no worries, there are plenty of Lego storage ideas that work on a budget too.


[su_box title="Last Question" radius="6″]What types of Lego bricks am I storing?[/su_box]


Do you have lots of Lego building sets that you want to keep the pieces together or just random blocks that you can separate into colors?


These will come in handy when deciding how to set up your storage.


Now let's get into the best storage solutions for all of those bricks.


1. Plastic Storage Boxes (small or large)


If you have tons of random blocks or large sets that you want to leave put together, but stored away, these large plastic storage boxes could be your best bet.


The biggest issue with storing Lego this way is that it can get heavy and bulky especially if the main Lego players in the home are the kids.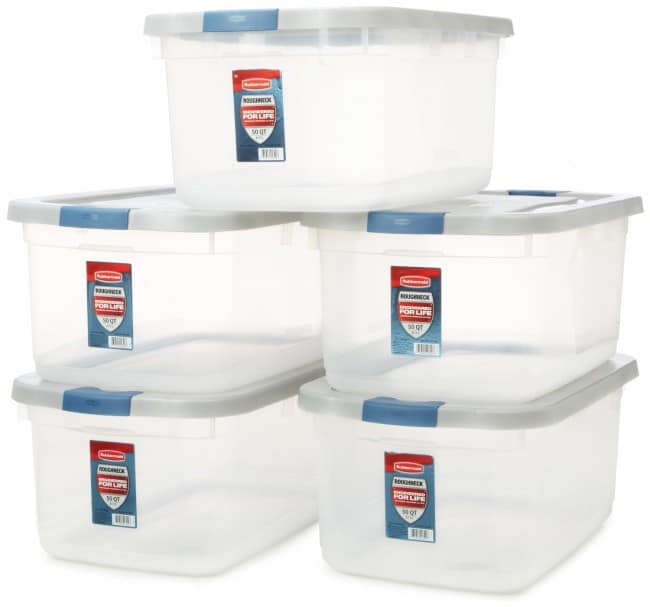 TIP: Tiny Lego pieces can get lost easily in big plastic bins. Use Ziploc Bags to contain smaller pieces.




2. Open Storage Bins


One thing I have found with my daughter is that making clean up easy actually gets clean up done.


Open style bins tend to work really well for us in this situation.


You can buy these now from the dollar store. Which is awesome! But, they go quick and if you can't find them you can also buy them online.


This pack of 6 folding storage bins is a great deal. (These make great storage for more than just Lego.)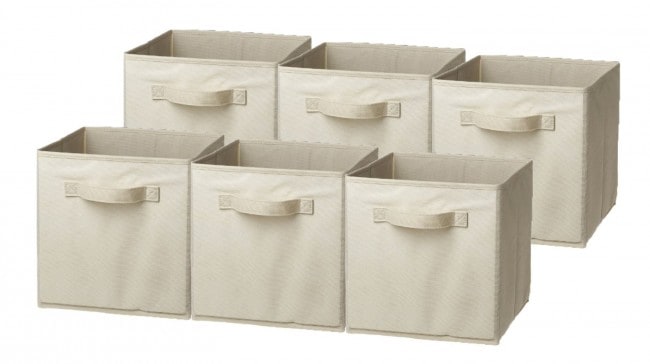 another great organizer with open storage is this 3 tier storage organizer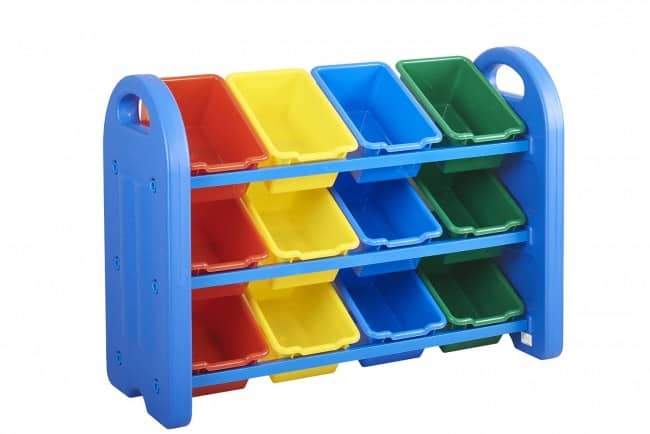 This is the way we store the vast majority of our Lego pieces.


They are long so they fit lots of product but the Lego can also be spread out and found much easier. Plus they will slide right up under the bed and store out of sight.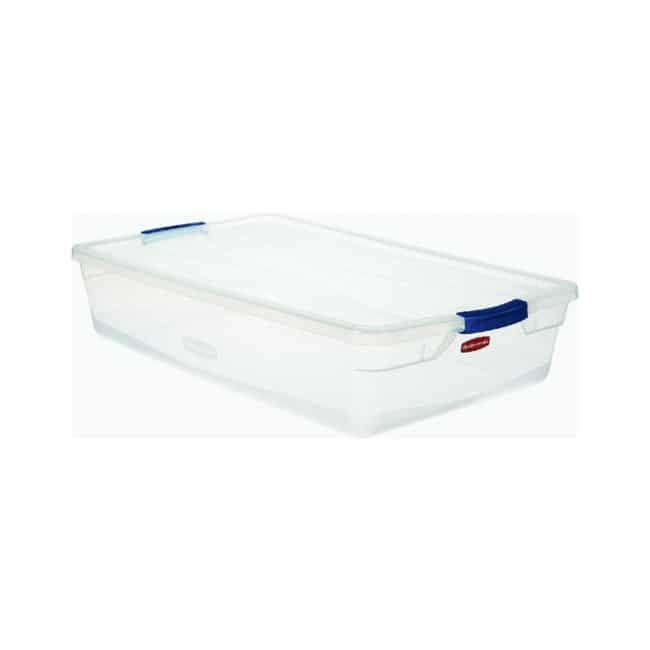 If you want to get really cool, check out this under the couch lego drawer.




4. Toy Organizers


There are lots of great generic toy organizers that would be great for Lego storage ideas.


Check out these great solutions.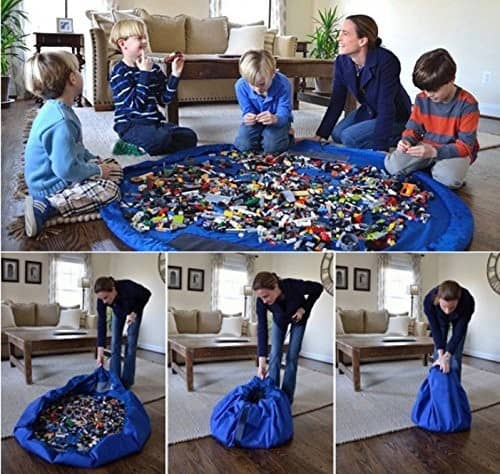 Huge floor mat folds out to 60 inches, offering tons of room for bricks, action figures & other toys like Barbies, Hot Wheels, and more!

Durable nylon cord and cord lock provide an easy opening and closing system.

With a quick pull of the drawstring, this children's play-mat makes toy and storage a breeze, Easy to use, Let your home become cleaner.

Sealed bag with sturdy shoulder strap is easy to carry with you anywhere – from the living room to the playroom, to a friend's house or on a trip.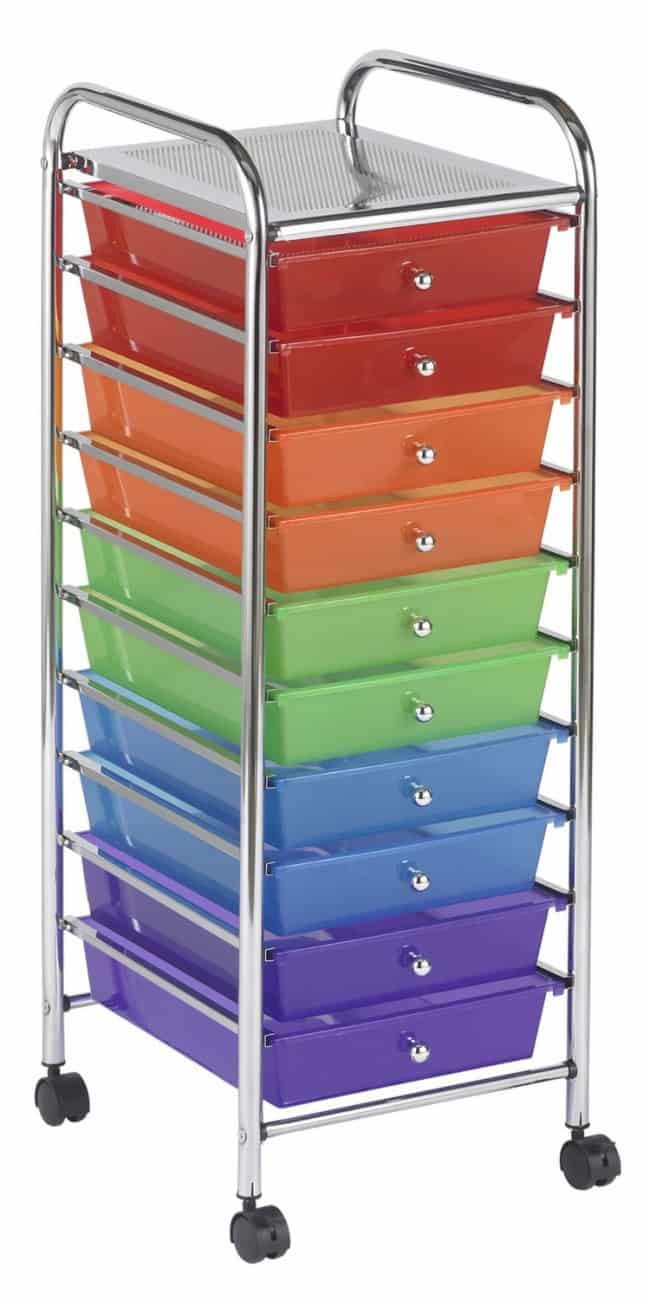 Pure Organization – 10 drawers provide plenty of space for keeping your lego organized.

Translucent Finish – Semi-transparent polypropylene drawers; colors include red, orange, green, blue and violet with 2 drawers in each color.

Removable Drawers – Easy to install and easy to remove, the drawers slide unattached through metal channels. Take your stuff with you when you need it.

Mobile Storage Solution – Four casters (two locking) allow the cart to go where you need; tall handles make it easy to push and pull.




TIP: How about using an old luggage case?


I remember as a child my cousin stored his Lego pieces in an old suitcase. He didn't have a huge collection so it worked great for him and when he would come and stay at our house it was portable too.


Even more awesome Lego storage ideas!!!


Organization by color: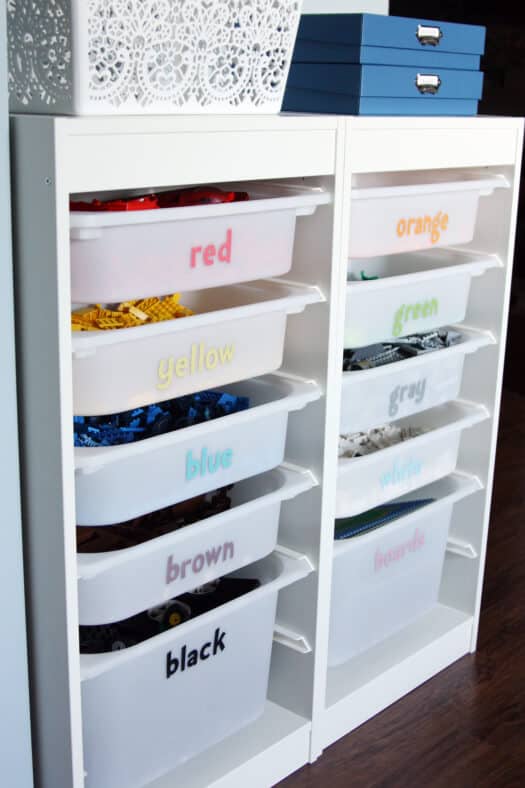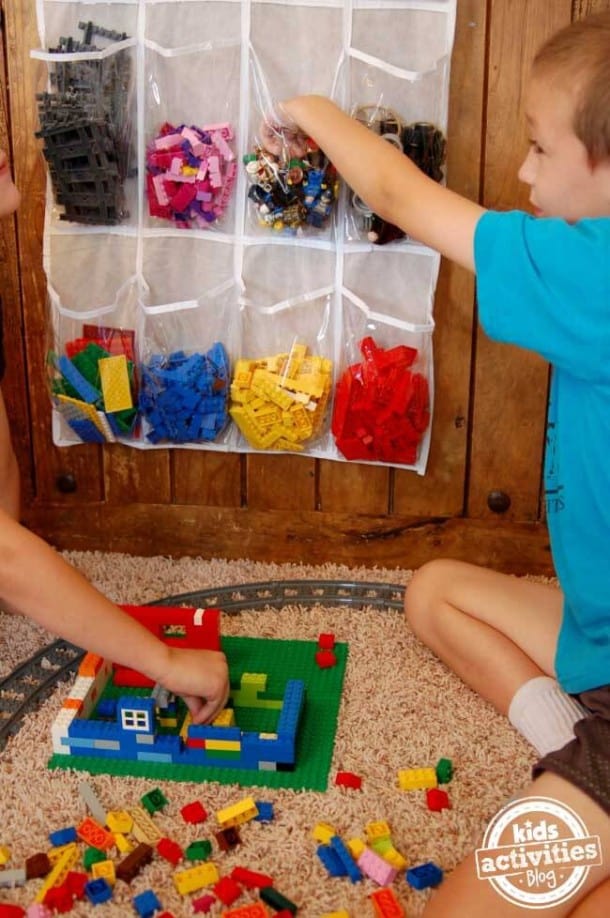 "Each pocket is devoted to a color or type of piece. Because it is clear, it is easy to see what is inside." – Kids Activities Blog


So if you have read to this point, by now you know there are loads of storage options for you to choose from.


I personally like the ones that are practical but look nice as well.


However, I think what works best is a mix of storage solutions. We use the under the bed storage and a large plastic bin for spillover.


Friendly reminder… Don't throw away those building instructions!!


Just remember that if all else fails you can always just shut the door. Out of sight, out of mind! We do this more than I would like to admit.


Can you glue Legos?


Le-Glue is a temporary but very strong adhesive for building blocks like LEGO®, Mega Bloks®, Nano blocks or any other kind of bricks. Bricks stick together but come apart when you want them to.


How do you clean Legos?




If you enjoyed these Lego Storage Ideas and found them helpful you also might like…


---
Stuffed animal storage ideas!
Kitchen Storage Solutions for Small Spaces!
Toy Storage: Organizing your kid's clutter!