If you can believe it or not, a brand new school year is upon us.


Whether that means traditional school, elearning, or homeschool getting back in homework mode means needing the motivation to do the homework.


Getting kids to do their homework is easier when they have a great homework station and environment to work in.


You can create your own homework station easily with ones of these awesome back to school homework stations and study room ideas.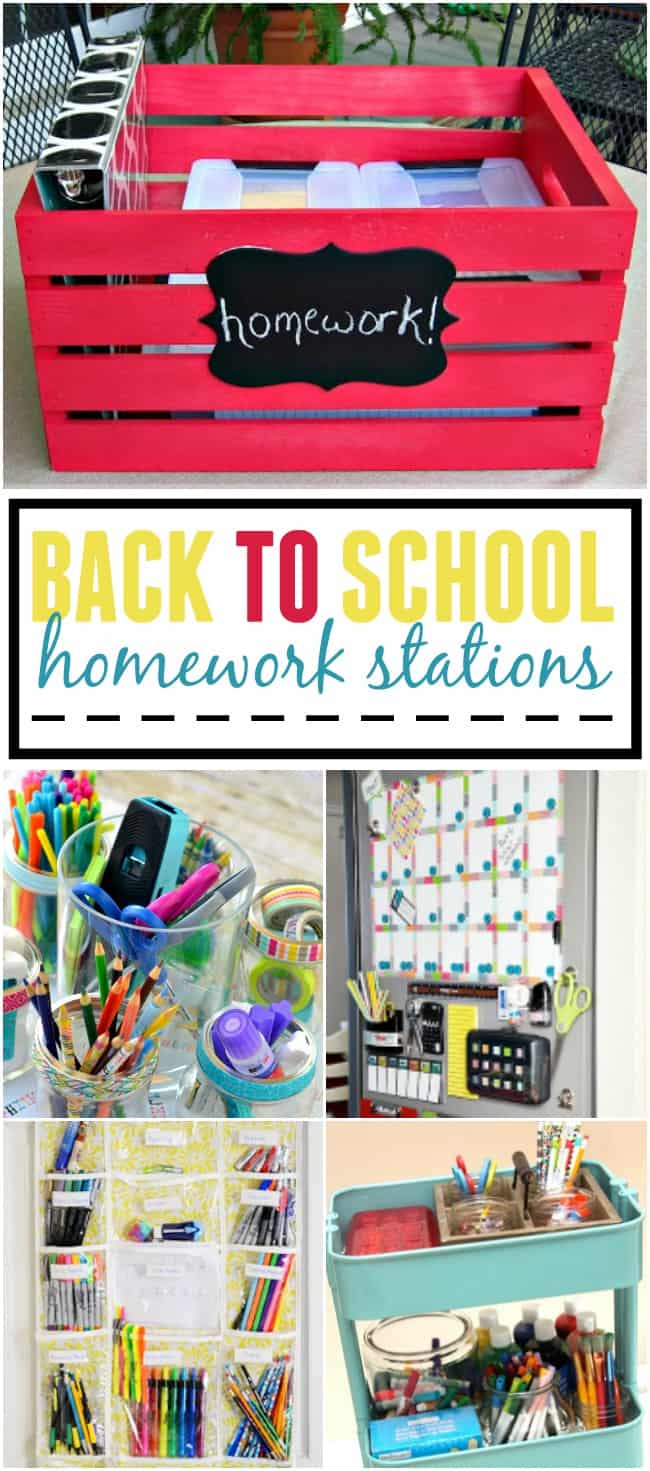 Even if these ideas don't get your kid excited for actually doing the homework, at least they will get their desk organized.


That goes for elementary, middle, high school, and even college kids too.


Anyone can make one of these in their home, and it doesn't have to be complicated!


A place to keep all your supplies in one place and an area where they can work and stay focused.


No matter the budget, we have rounded up some of the most creative stations.


Create dedicated back to school homework stations for the kids with these simple and inspiring ideas.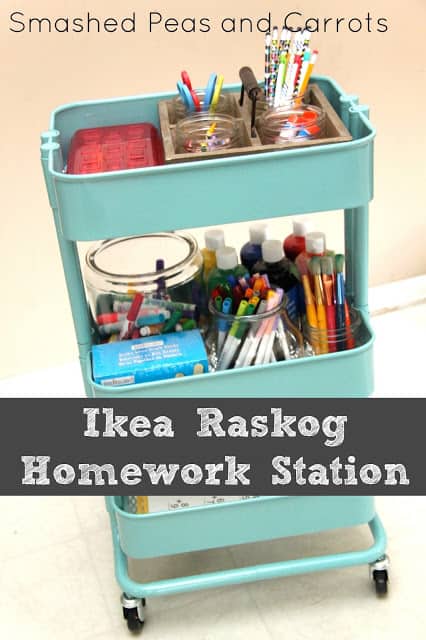 This Ikea Raskog is the perfect organizer for doing homework at home.


Great for use in college where you have limited space to keep all of your supplies from books to pens. It also works great for your homeschooling mamas too.


Smashed Peas and Carrots


"A simple Homework Station that we can roll into the kitchen, the dining room, or the porch!" – Smashed Peas and Carrots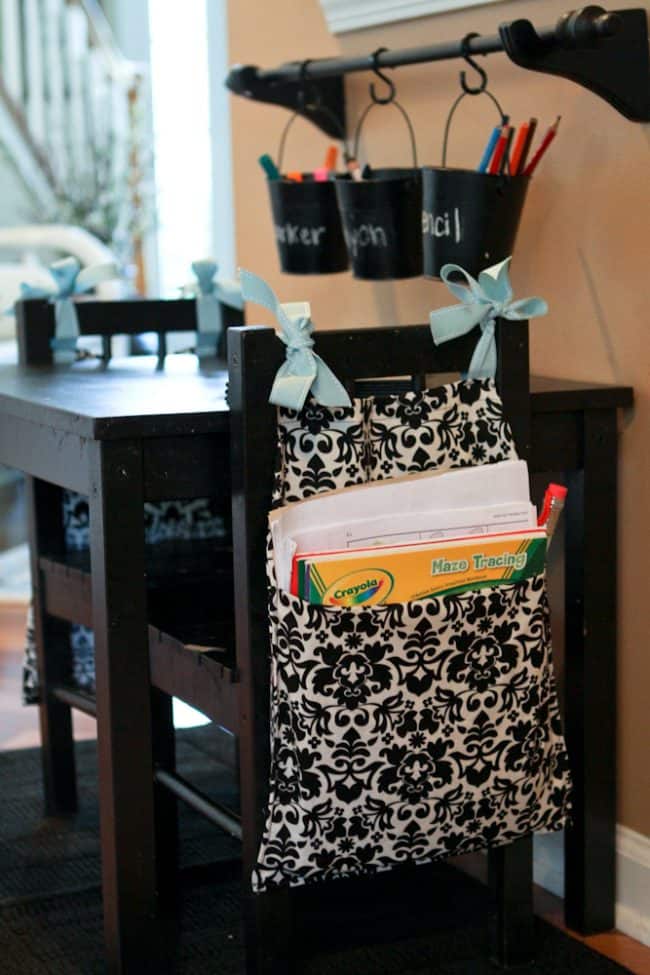 Don't have enough room for a specific homework desk? How about this neat seat sack idea from Scissors and Spatulas.


Just hang it on your dining chair and your homework is ready to go when you are.


"Back when I taught kindergarten, several teachers used these on the backs of the students' chairs since kindergarteners use tables, not desks. They are perfect for holding books, paper, and other table activities." – Scissors and Spatulas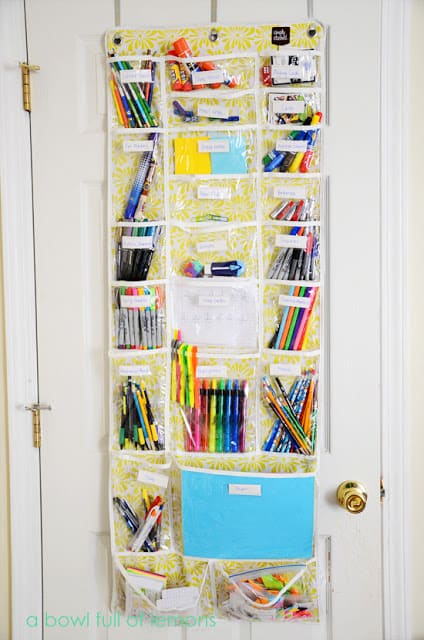 We have used these organizers for all sorts of items but how awesome is it with all your school supplies?


A bowl full of lemons shows us how it's done.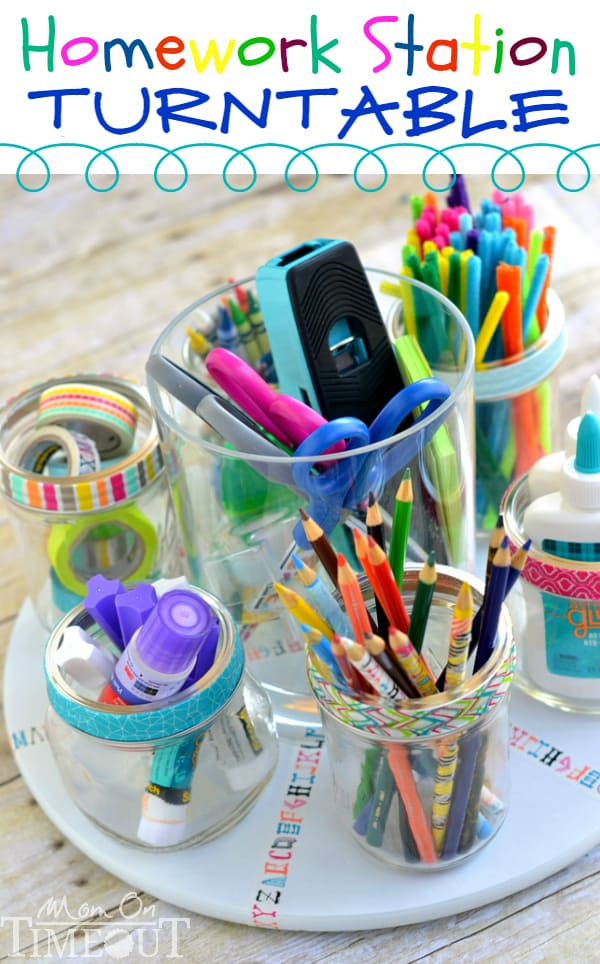 Forget homework, I could just use one of these awesome turntables in my office.


But speaking of homework this turntable from Mom On Timeout is perfect for keeping it all together.


"Homework time doesn't have to be a pain! This Homework Station Turntable keeps all homework supplies at your fingertips!" – Mom On Timeout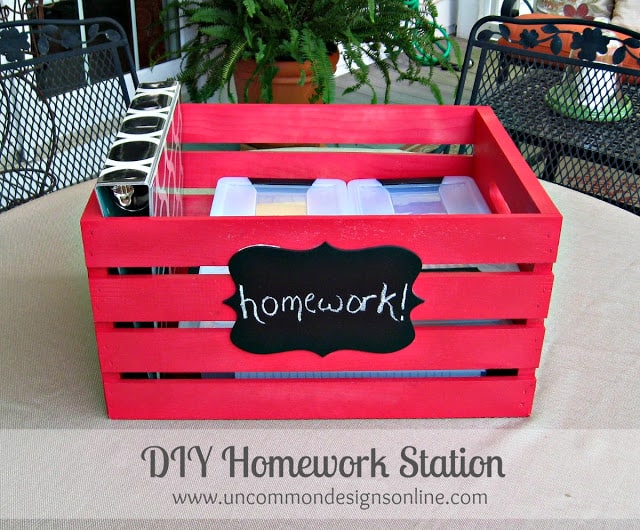 Portable is always a plus and this portable, yet small enough to fit in any knock or cranny is perfect for a DIY homework station. – Uncommon Designs Online


"Quick…send your children away from the computer! Yes, it is that time of the year when the dreaded HOMEWORK begins again! Today I am going to show you how we handle homework on the go" – Uncommon Designs Online



The 36th Avenue goes all out with this magnetic homework station.


Perfect to keep the student and the parent organized.


"I love the fact that you can put everything they need to do their homework on the side of the fridge." – The 36th Avenue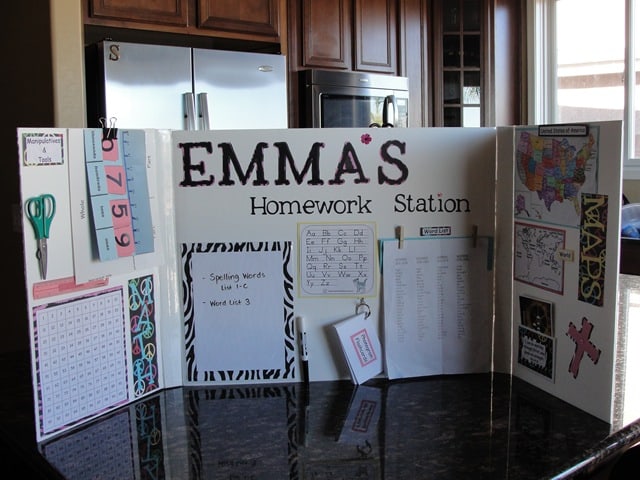 This last homework station is super neat. A foldable homework station.


This is great if you get distracted easily. Maybe I need one of these for blogging. Ha!


How do you create a good homework environment?


Turn off all of the electronics.
Have a snack break before they get started.
Make sure your child's homework station is a sunny spot and bright spot for working.
Get all of their supplies organized using one of these awesome homework stations.


I am a firm believer in teaching kids how to keep their items organized is an important life skill.


Not only will it make a difference with their school work but it will also come in handy in regular life as they grow older.


EVEN MORE HANDY BACK TO SCHOOL POSTS: