This popsicle stick elf craft is perfect for getting into the spirit of the holiday season.


Once the kids are on Christmas break, pull out the art supplies and get to creating this Santa's little helper.


This post contains affiliate links.



If your house has the Elf on the Shelf tradition, a fun and easy idea would be for him/her to bring the art supplies for this popsicle stick elf.


Speaking of supplies, here is what you will need and the super-easy details to create it.


Supplies you will need:


Popsicle Sticks (8)
Wiggley Eyes (Dollar Tree)
Red and Green Construction Paper
Christmas Poms (Dollar Tree)
Cardstock
Magnet (optional)


How to make a Popsicle Stick Elf Craft!


Start off by gluing a piece of stock card on to the back of your craft sticks. If you are working with younger kids it might be easier to just glue them straight to a piece of construction paper.


Cut out your hat and collar pieces using the red and green construction paper.


Attack them with craft glue onto the elf's body.


Using the 4 mini craft sticks create the elf ears. Set aside to allow to dry.


While your ears are drying you can finish up the rest of the elf by adding some pom poms to the hat and collar. This is, of course, optional but I always like to add different embellishments when crafting, especially with little kids. They love it! At this point, you can also go ahead and glue on the eyes and use the sharpie draw on a nose and mouth.


The last step is to glue on the ears. Once you have done that you are done with these super adorable popsicle stick elf craft.


If you want to turn him into a magnet I recommend a .75 inch adhesive magnet to hold it up. You could also attach some ribbon and turn him into an ornament.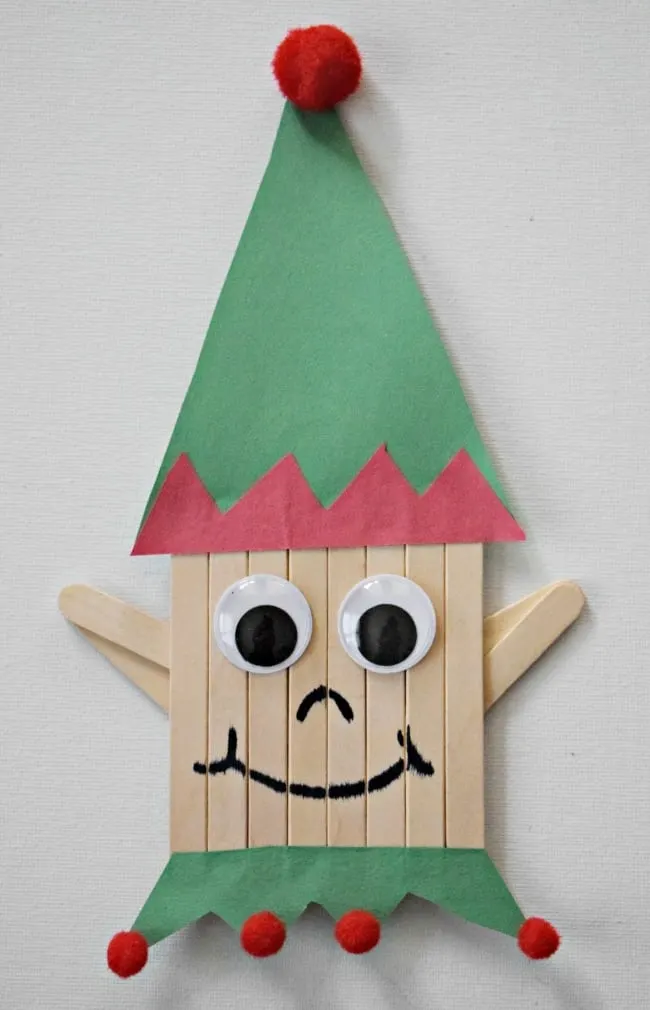 Even more adorable Christmas popsicle stick crafts you don't want to miss!


Want to print these Popsicle Stick Elf Instructions?