Discover the art of crafting Homemade Sugar Cookies that will captivate every palate.


Without a doubt, this is the most exceptional sugar cookie recipe we've ever experimented with.


These delightful treats boast a tender, airy texture and are brimming with exquisite flavor.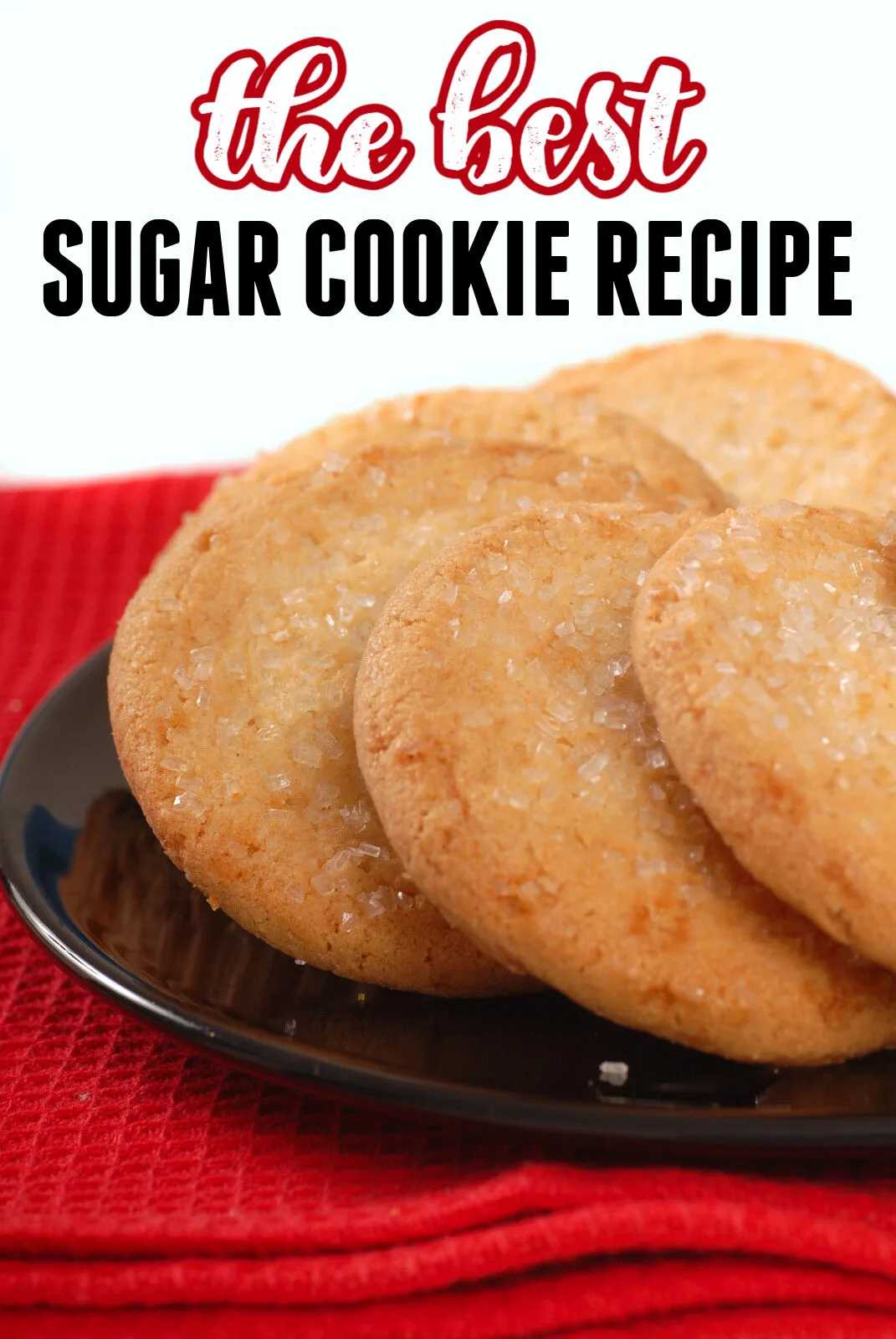 NOTE: This recipe is not intended for rolling out and using cookie cutters, the dough is too delicate. This recipe is for those who just enjoy a delicious sugar cookie. They work great for a glaze or sprinkles topping.


This Sugar Cookie Recipe is exceptionally light and delicately crisp around the edges


It is adorned with sparkling sugar crystals and boasts a delightful vanilla taste.


They are the epitome of sugar cookie recipe, that without a doubt, surpass any store bought sugar cookies you have ever experienced and maybe even your moms too.




Ingredients for Crafting Sugar Cookies from Scratch


Sifted all-purpose flour.
The key baking agent, baking powder.
Your choice of finely ground sea salt or table salt.
Unsalted butter
Granulated sugar for both dough and rolling.
Large eggs
Pure vanilla to enhance the flavor.




Instructions for the best sugar cookie recipe!


Preheat your oven to 375 degrees F.


Prepare multiple baking sheets by lining them with parchment paper or a silicone mat.


In a medium bowl, combine the flour, baking powder, and salt.


Using an electric mixer and a large bowl (or stand mixer), place the softened butter and sugar. Beat them together on high speed until the mixture turns light and fluffy, which should take around 3-5 minutes (this step is important, so don't rush it).


Reduce the mixer's speed to low and add the eggs and pure vanilla extract, making sure to scrape down the sides of the bowl.


While keeping the mixer on low, gradually incorporate the flour mixture.


Remember to scrape down the sides of the bowl as needed, and beat the mixture for an additional 30 seconds.


Prepare a small bowl with extra sugar for coating the cookies.


Use a cookie scoop to portion out the sugar cookie dough, then roll it into 1-inch balls. Treat the dough gently to maintain its softness and delicacy; avoid excessive handling.


Roll each ball in the sugar bowl to coat, and then place them on the prepared cookie sheets, leaving about 2 inches of space between each ball.


Utilize the bottom of a drinking glass to gently press down on each ball until they reach a thickness of 1/3 to 1/2 inch.


Bake each batch of sugar cookies for 9-11 minutes, observing until the edges take on a slight golden hue and the centers are just set.


Allow the cookies to cool completely on the baking sheets before proceeding to decorate them with the glaze.




Creating Chewy Sugar Cookies from Scratch – Expert Pointers!


Enhance the lightness and delicacy of your sugar cookies by sifting your dry ingredients. Measure them first, then sift for optimal results.


Elevate the flavor profile of your cookies by generously incorporating high-quality sea salt and pure vanilla extract. These ingredients work together to bring out the best taste.


Exercise caution not to overmix the cookie dough. Opt for gentle and mindful mixing techniques.


Exercise care not to over-bake. The instant the edges take on a hint of gold, remove the cookies from the oven and allow them to cool. This preserves their chewy texture.



Frequently Asked Questions


How do I make my sugar cookies soft and chewy?
To achieve soft and chewy sugar cookies, make sure not to over-bake them. Remove them from the oven when the edges are just starting to turn golden. Also, using a combination of granulated sugar and brown sugar can help retain moisture and contribute to a chewier texture.
Can I use margarine instead of butter in a sugar cookie recipe?
While margarine can be used as a substitute for butter, keep in mind that it might affect the flavor and texture of the cookies. Butter contributes to the rich taste of sugar cookies, so using margarine may result in slightly different results.
What's the purpose of creaming butter and sugar together in a sugar cookie recipe?
Creaming butter and sugar together incorporates air into the mixture, which helps create a lighter and fluffier texture in the cookies. It also helps distribute the sugar evenly, contributing to a more uniform sweetness.
How do I prevent my sugar cookies from spreading too much during baking?
Chilling the dough before baking helps prevent excessive spreading. Also, make sure your baking sheets are cool before placing the dough on them, and avoid overcrowding the cookies on the sheet.
How do I prevent my sugar cookies from turning too brown around the edges?
Keep a close eye on the cookies while baking and remove them from the oven as soon as the edges begin to turn a light golden color.
Can I freeze sugar cookie dough for later use?
Yes, you can freeze sugar cookie dough. Wrap it tightly in plastic wrap or an airtight container, and it can be stored in the freezer for a few months. Thaw the dough in the refrigerator before baking.
How can I make my sugar cookies gluten-free or dairy-free?
To make gluten-free sugar cookies, use a gluten-free flour blend. For dairy-free options, you can substitute butter with margarine or a dairy-free spread, and use non-dairy milk or water if needed.
What's the role of baking powder or baking soda in a sugar cookie recipe?
Baking powder or baking soda helps the cookies rise and become slightly puffy during baking. Baking soda also contributes to browning and can affect the cookies' flavor.
How long can I store baked sugar cookies, and what's the best way to store them?
Baked sugar cookies can be stored in an airtight container at room temperature for up to a week. To maintain freshness, you can also freeze them for a few months.


Want to print or save this sugar cookie recipe card?