These Strawberry Cookies With Cake Mix are soft, chewy, and melt-in-your-mouth delicious and the perfect cookie to celebrate Valentine's Day or any special occasion.




You can easily whip up a batch with just a few simple ingredients making these pink cookies one of the easiest recipes to satisfy your cookie craving.




How to make Strawberry Cookies with Cake Mix


Preheat the oven to 325 degrees F.


In a large bowl, add your box of cake mix, strawberry jello mix, softened butter, softened cream cheese, and egg.




Use a stand mixer or hand mixer on medium speed to mix until combined.


Note: Instead of adding a white chocolate drizzle at the end, you may instead fold the white chocolate chips directly into the batter to make this recipe even easier. If you would like to do that you would want to at this point at them into the mixture.




Using a measuring tablespoon, medium cookie scoop, or small ice cream scoop, scoop the dough and roll them into balls.


Place them onto an ungreased baking sheet and use the palm of your hand or the bottom of a flat glass to gently flatten the dough balls.




Bake in preheated oven for 12-14 minutes.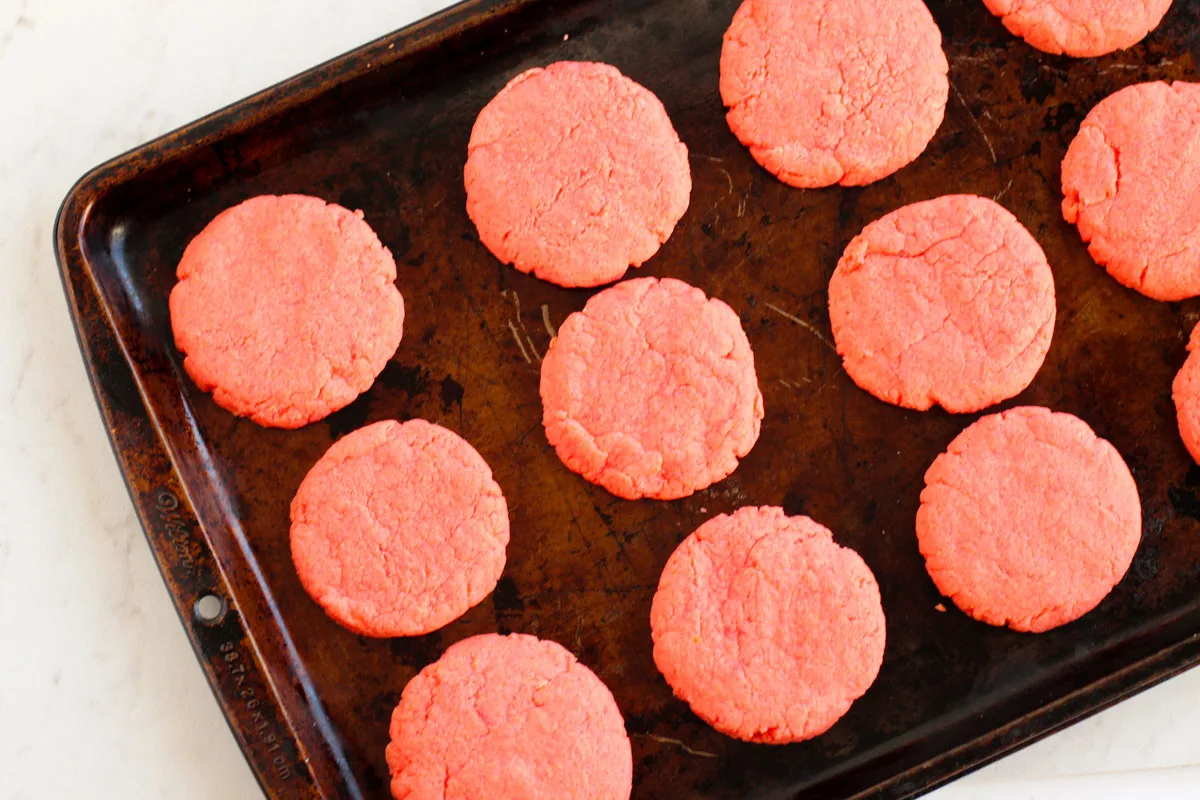 Use a spatula to carefully transfer the cookies to a wire cooling rack and allow them to completely cool.


To add the white chocolate drizzle to the cookies: Add white chocolate chips to a microwave-safe bowl and microwave on 50% power until melted, stirring every 30 seconds.




Transfer the melted white chocolate to a sandwich bag. Snip off a small corner of the bag and drizzle the white chocolate in a back-and-forth pattern over the top of each cookie.


As an alternative, you can dip half the cookies in the white chocolate and add a few Valentine's sprinkles for a fun touch.




These easy cookies have a nice chewy texture once cooled, and they are bursting with strawberry flavor.


They have a really pretty pink color that makes them a must-make recipe for Valentine's Day, Mother's Day, birthday parties, gender reveal parties, etc.




Tips for making Strawberry Cookies with Cake Mix


For best results, don't overbake! If these cookies overbake they will begin to turn brown and lose their pretty color.


Using a cooling wire rack works great for allowing the cookies to completely cool.


Line your cookie sheet with parchment paper, this makes cleaning up your large baking sheet a breeze.


Stock up on cake mixes when you see a good sale.


These are supposed to be chewy cookies, if they end up a little crunchier than you like you can place a piece of bread with them when stored and it will help keep them moist.