This simple and inexpensive Clay Pot Snowman craft for kids takes wiggle eyes, pom-poms, and chenille stems to a whole new level, just in time for your next snow day.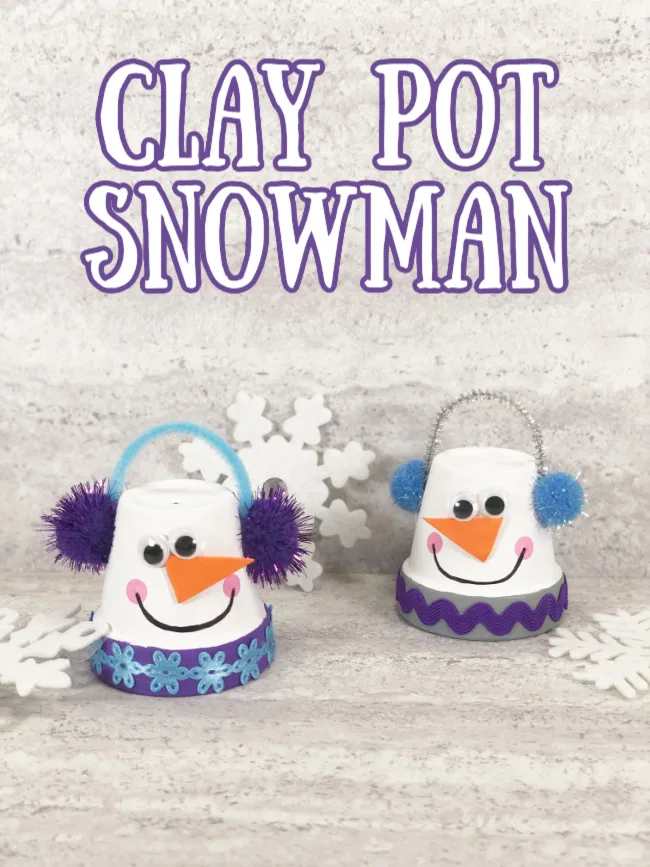 We love winter crafts around here, they are so fun to make, especially on a cold winter day. Follow along today with this step-by-step tutorial for a great family fun craft activity to complete with the kiddos. Mix and match different sizes of clay pots, paint colors, and ribbons to create personalized snowmen for your family and friends.


Why you will love this clay pot craft!


Inexpensive to gather all the craft supplies, most you will already have on hand or can purchase from the dollar store.
Simple steps to follow that are easy for your kids to craft.
Perfect craft idea for a snow day at home. Sometimes not knowing what you can do to keep your kids entertained when they are home is a struggle. Not today though!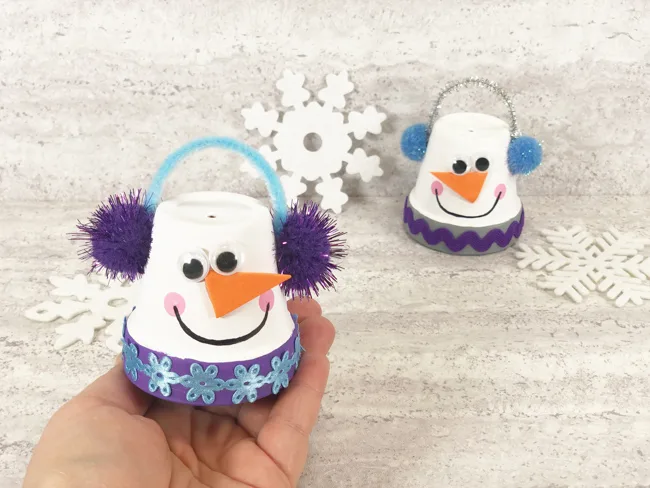 Materials you will need for this clay pot snowman!


Mini Clay Pots – 2.5" in diameter
Acrylic Craft Paint – White, Pink, Purple, Gray
4 Wiggle Eyes
Chenille Stems – Silver Tinsel, Blue
Ribbon – Blue, Purple
Pom Poms – Blue Tinsel, Purple Tinsel
Orange Craft Foam
Hot Glue Gun and Glue Sticks
Scissors
Paintbrush
Black Sharpie
Pencil with New Eraser (or ¼ inch paint stamper)
Ruler (optional)


I have added the specific colors we have used for this craft but get creative. You can use whatever color paint, pipe cleaners, ribbon, and pom-poms you desire.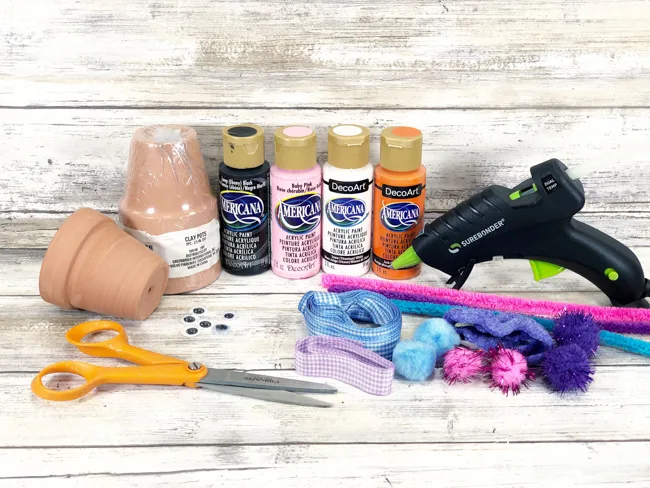 How to make a clay pot snowman craft for kids!


Basecoat the 2.5" clay pots with white paint. Let the paint dry and then apply a second coat, if necessary.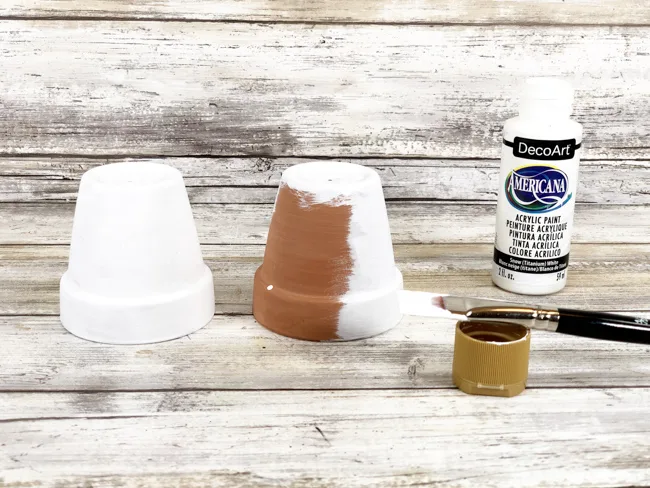 Topcoat the rim of one clay pot with gray acrylic craft paint and the other with purple acrylic craft paint. Set aside to dry. Apply a second coat, if necessary.


This is where you can get creative with paint colors. Maybe you want your snowman to have a blue scarf, red, green, etc.




Attach the blue ribbon around the purple rim and the purple ribbon around the gray rim of the clay pots with a glue gun and glue sticks. Again get creative with whatever color ribbon you want here.


Add polka dot cheeks by dipping a new pencil eraser into pink acrylic craft paint. Set aside to dry. You can also use a ¼ inch paint stamper if you have one but no need to purchase it, a pencil eraser works great.


You can use liquid craft glue for this project, but you would have to wait for it to dry.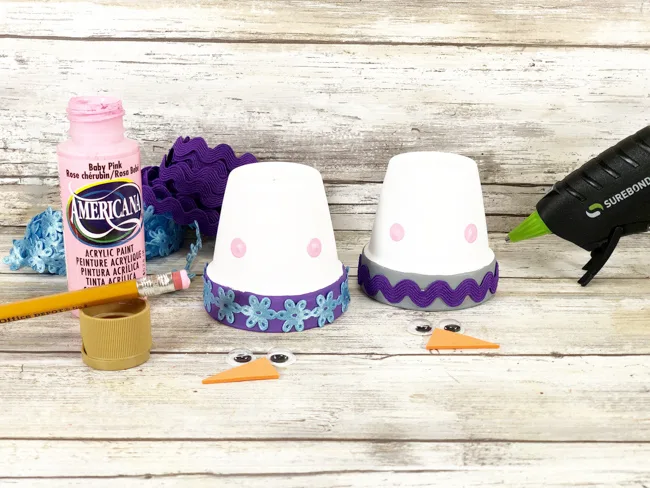 Cut a long skinny triangle from orange craft foam. Orange felt, cardstock, or construction paper will work too.


Attach two wiggle eyes, and one carrot nose to each snowman with a glue gun and glue sticks.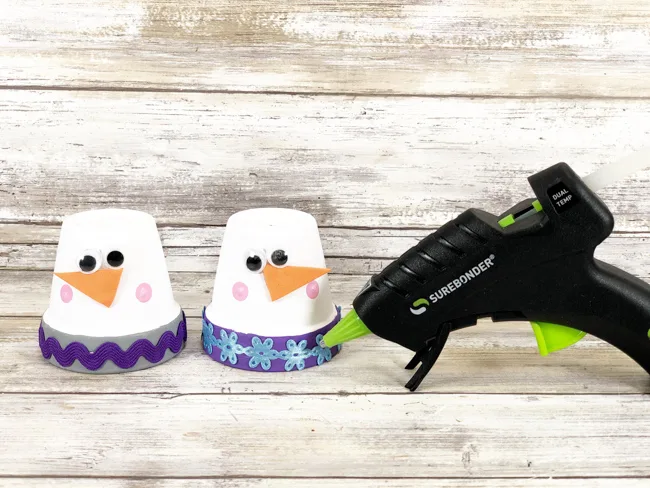 To create the earmuffs, measure and cut a silver tinsel chenille stem to 6" long. Bend into a "U" shape and glue to either side of the gray and purple snowman.


Attach blue tinsel pom poms over the cut end of each stem using a glue gun and glue sticks. Repeat with the blue chenille stem and purple tinsel pom poms on the purple and blue snowman.




The last step is to draw a cute little smile from cheek to cheek with a permanent black marker.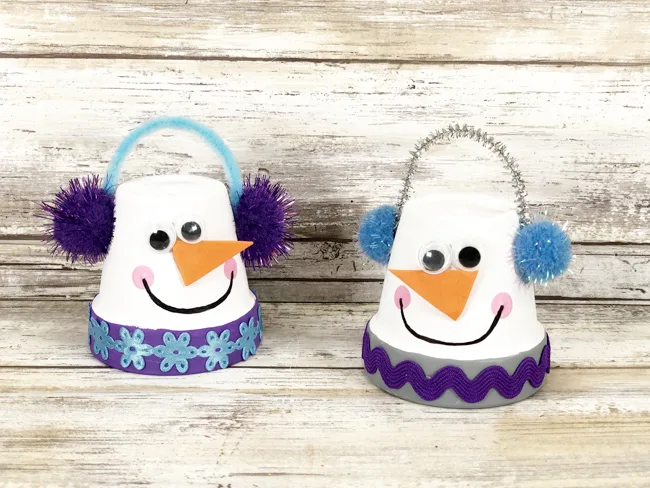 Can I Make These in Bigger Sizes?


Absolutely, you will have to adjust some of the measurements for the nose, cheeks, etc but you can definitely make these in bigger size clay pots. Wouldn't that be adorable to make a clay pot snowman that you can use as a plant holder? Love it!




Be sure you pop over and check out these other fun craft ideas for kids too!


Want to print or save the instructions for this clay pot snowman?