In this thrilling tutorial, we'll guide you through the steps of creating a bewitching candy jar that not only holds a treasure trove of sugary delights but also serves as a ghoulishly delightful centerpiece for your Halloween festivities.


So, grab your cauldron of creativity, dust off your broomstick, and let's concoct a wickedly charming candy jar together!




Supplies you will need to create a Frankenstein Candy Dish


Empty Paint Can (you can buy them new at your local home improvement store)
Green Spray Paint
Painters tape
Black and White Craft Paint
Paint Brushes




How to make a DIY Frankenstein Paint Can Candy Jar


This one is as simple as simple gets.


The first step is to remove the handle, pretty easy process but might require some pliers.


Once you have the handle removed, tape off the handle portion then spray paint your can with a Frankenstein green paint, and allow it to dry.


Using black paint, paint on his hair, face, scars, etc. You can either copy the face I created or create your own.


However you choose will be awesome too.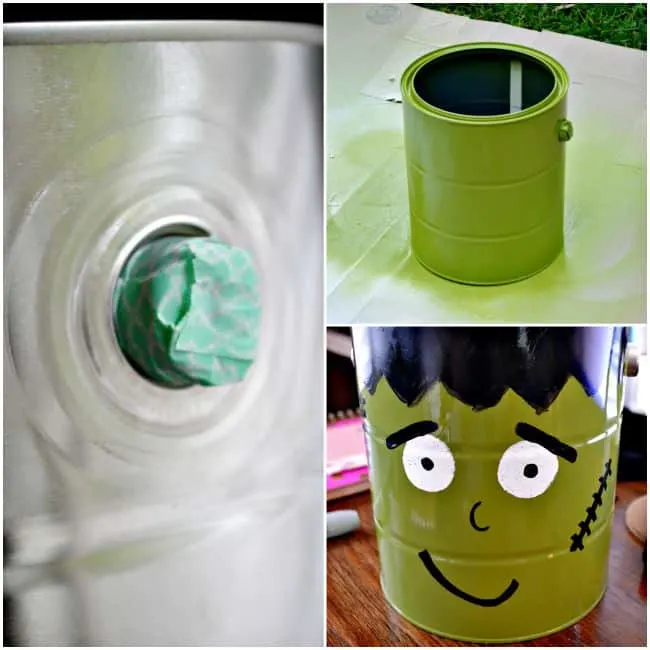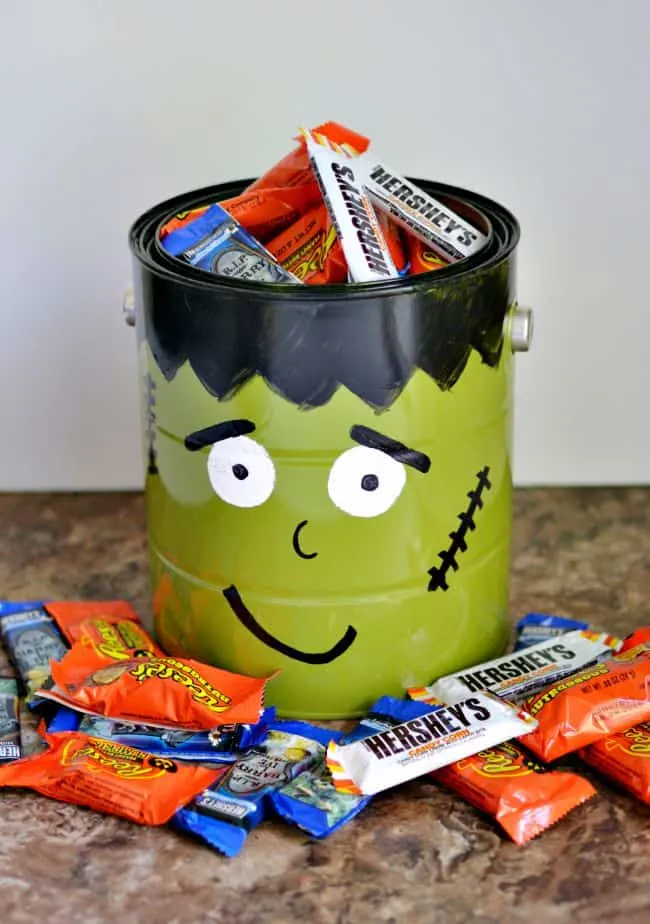 Next is the scarecrow candy dish. I am absolutely in love with the way this one turned out. He is so cute!!




Supplies you will need to create a scarecrow candy dish.


(1) 4-inch terra cotta pot and saucer
(4) 1 inch small terra cotta pots
Glass bowl (this is a candle holder)
Raffia
Craft Paint and Brushes
Hot Glue




How to make a terra cotta pot scarecrow candy jar


First, you will want to paint on the scarecrow's overalls. I traced mine with a pencil before painting so that I would have it just the way I wanted.


I chose to leave his top just the terra cotta color but you could paint a cute plaid top as well. I also went ahead and used a white paint pen to create the thread detail and pocket for the overalls.


I didn't paint the hat (saucer) either but if you want to paint it a tan color for a straw hat you can go ahead and do that as well


While the overalls were drying I attached 2 of the 1-inch terra cotta pots together to create an arm using hot glue. Do this again for the second arm.


Once the overalls are dry you can now attach the arms to the body, once again using hot glue.


Allow the arms to set and then attach some raffia to the insides of the arms.


Next hot glue some raffia on the top of the terra cotta pot. Don't worry about trimming it up, you can do that at the end.


Once you have enough raffia to your liking glue on the glass bowl and paint on his face.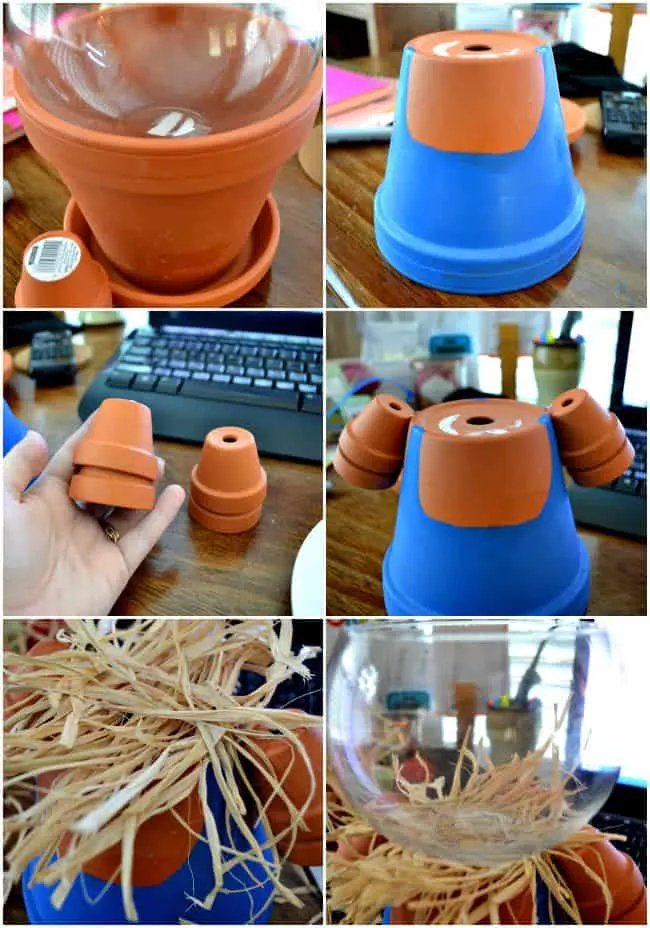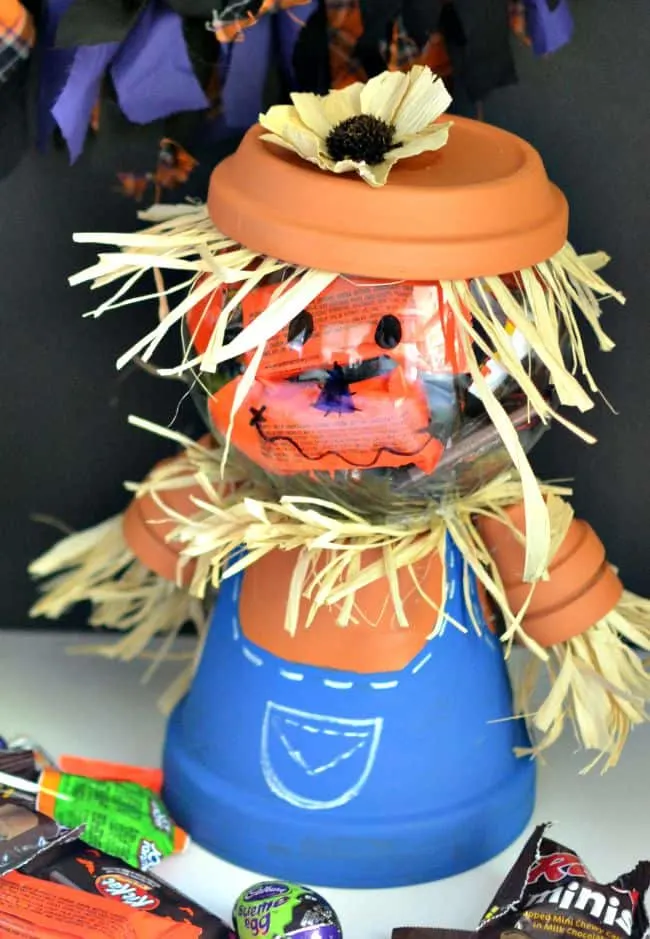 When it comes to Halloween, the magic is in the details, and what better way to sweeten the spooky season than with your very own DIY candy dishes?


These enchanting creations go beyond the store-bought decorations, adding a personal touch to your eerie ensemble.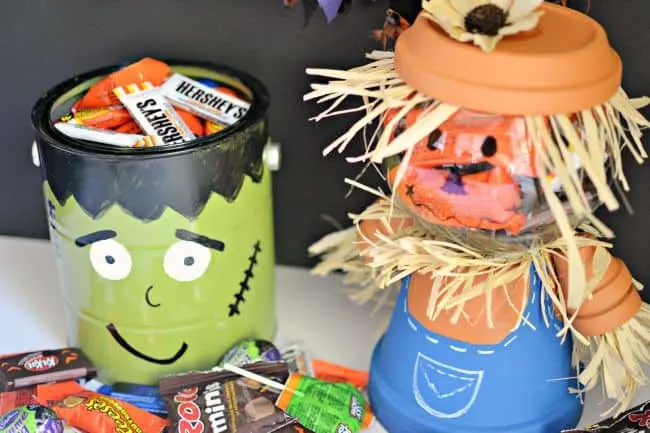 More DIY Halloween Decor



More Frankenstein and Scarecrow Ideas you don't want to miss!