Decorate your home for the holidays on a budget this Halloween with these easy DIY Halloween Candles and Holders with items purchased from the dollar store.


Transform your space into an enchanting realm with Halloween candles that add an eerie glow to your festivities.


Crafted with creativity and a dash of spookiness, these candles capture the season's essence.


Whether clustered on a mantel or illuminating a dimly lit party, these easy-to-make candles are both a stylish and eerie addition to your seasonal decor.


Perfect for your spooky buffet table!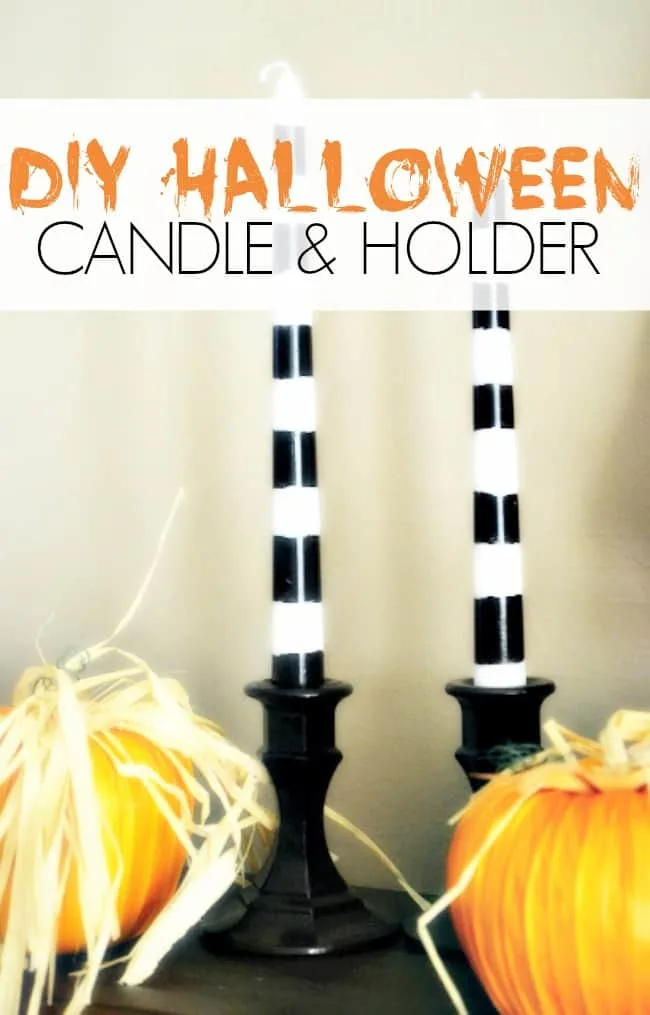 One of my favorite things about the holidays is getting to decorate the entire house.


Decorations can get expensive but there are also lots of ways to decorate with simple projects you can do yourself with just a few inexpensive supplies.




Supplies you will need to make your own DIY Halloween Candles and Holders


White or Cream Taper Candles
Taper Candle Holders
Black Acrylic Paint (or spray paint)
Paintbrush
Painters Tape (optional)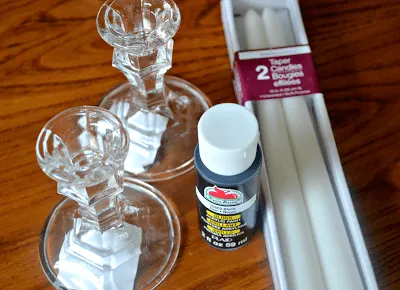 How to make DIY Halloween Candles


Paint the candle holders.


This project would go much faster if you used spray paint. I didn't have any black available so I just went with acrylic paint. It works just fine but will require a good 4 coats to cover the glass holders thoroughly.


Once you have the holders painted you can move on to the candles or vice versa.


All I did to paint the candles was to put some painter's tape around the area I didn't want to be painted and started brushing the paint on.


I didn't really measure so my lines aren't exactly even or straight but I think for Halloween that is ok.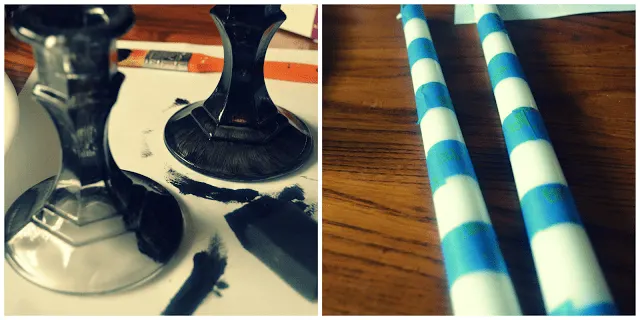 You're done! Once everything is dry you can place the candles in their holders and enjoy.


We really enjoy the Beetlejuice vibe these candles give off.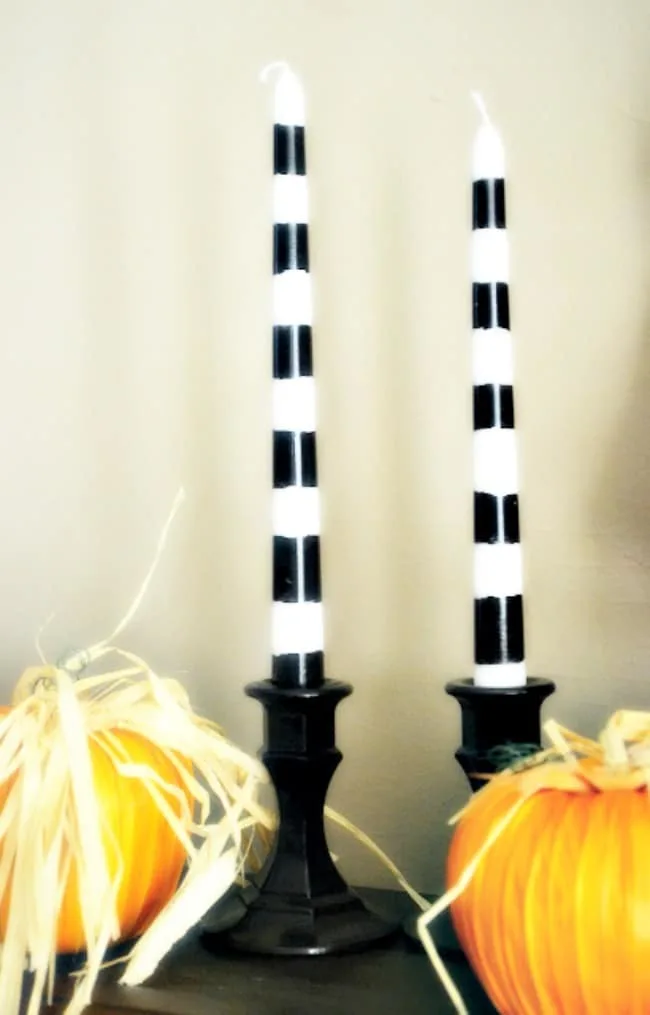 If this candle isn't your style you can always print out any Halloween design and put it right onto a candle easily with tissue paper.




Even more Halloween Candle Holders Made on a Budget




DIY Skull Candle Holder
Endlessly Inspired

Lots of great plastic skulls here to use for this project.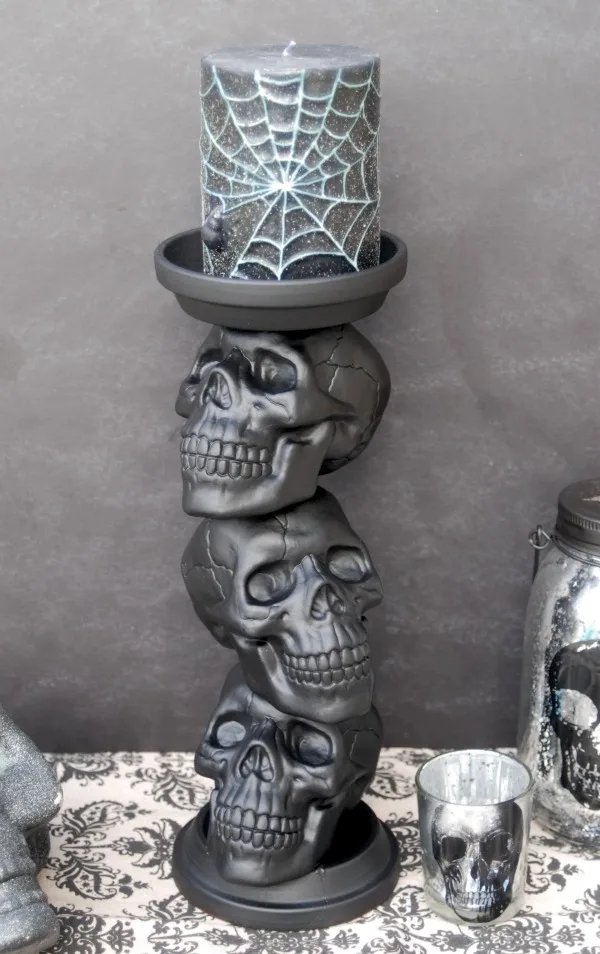 DIY Paint Can Decor
Inspired By Charm



Easy Homemade Halloween Candles
Cupcakes and Cutlery

I mean you really can't get any easier than store-bought candles and little creepy crawlies attached. So simple but surprisingly a lot of impact with the spookiness.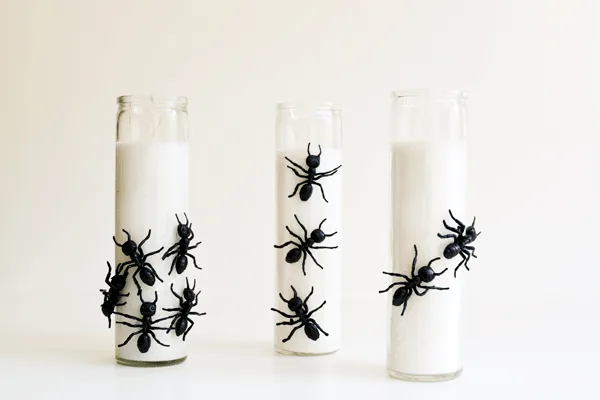 Even more Halloween Crafts