This easy 7 layer dip recipe is the perfect party appetizer for your next small gathering, fiesta, or game day get together.


This specific recipe is the mini dips version which is perfect proportions for each of your guests, but if you have a large crowd for Super Bowl night then you can definitely turn it into a one-dish recipe that will be a big hit with everyone.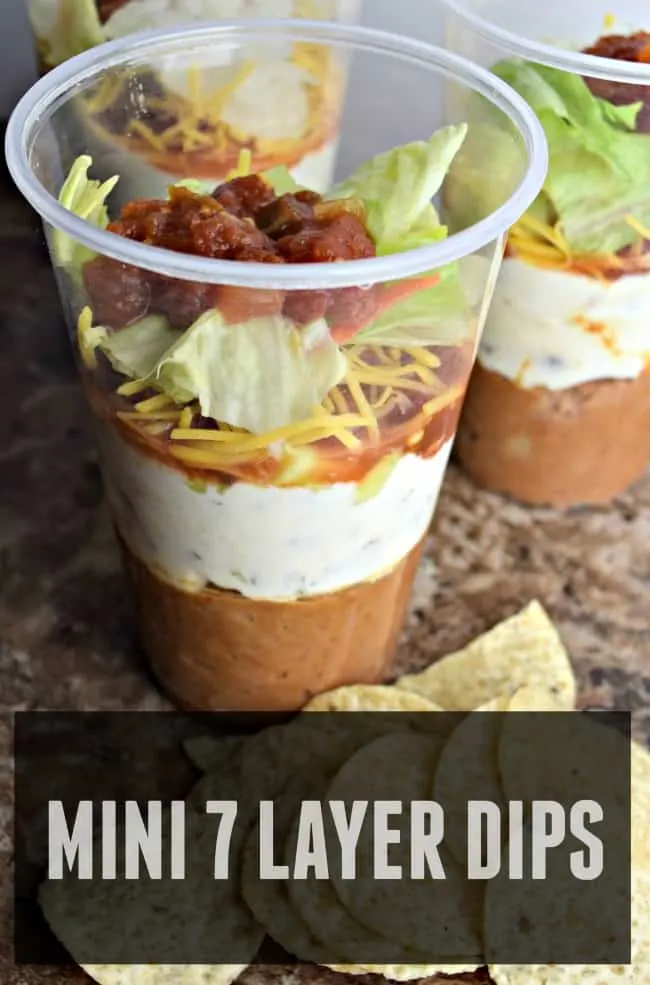 This dip is quick, easy, and delicious and goes great with not only tortilla chips but veggies dipped in it as well; try celery, carrots, etc.


Seven layers of fun that require no cooking, you can't beat that! It is our favorite crowd-pleaser to fix at home because it is loaded with flavor in a classic bean dip.


What is in 7 layer dip?


1 can (16 oz) Refried Beans
2 tablespoons taco seasoning mix (we enjoy the McCormick brand but Old El Paso is great too)
1 container (8 oz) sour cream
1 can (4.5 oz) chopped green chiles, (drained)
1 1/4 cup avocado (chunked)
1 1/4 cup Thick & Chunky Salsa (your favorite brand)
1 cup shredded cheddar or Colby-Monterey jack blend cheese
1 cup shredded lettuce
2 tablespoons sliced ripe olives


How do you make a 7 layer Mexican dip?


In a small bowl, mix the refried beans and 2 tablespoons taco seasoning mix. Divide amongst the cups.


Mix together sour cream and green chiles; divide evenly amongst cups.


Top each with about 2 tablespoons each avocado and salsa, approximately 1 tablespoon each cheese and lettuce, and a few olive slices.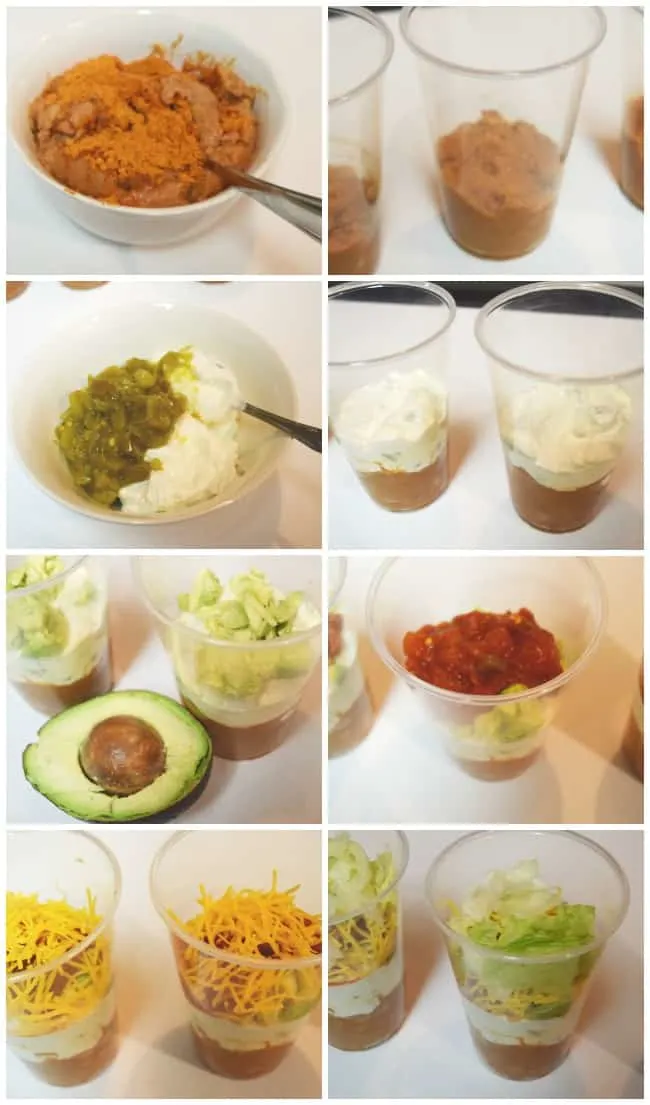 If you don't want to have just chunky avocado pieces you can make your own homemade guacamole and add that instead.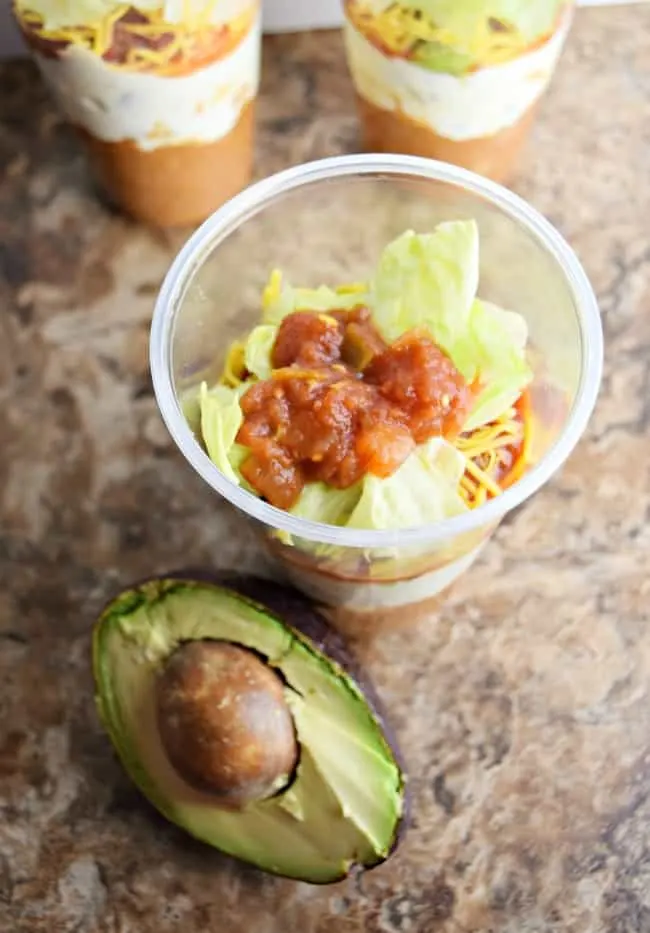 This is by far the best ever 7 layer dip recipe that I have found, you certainly can't go wrong serving it at your next party.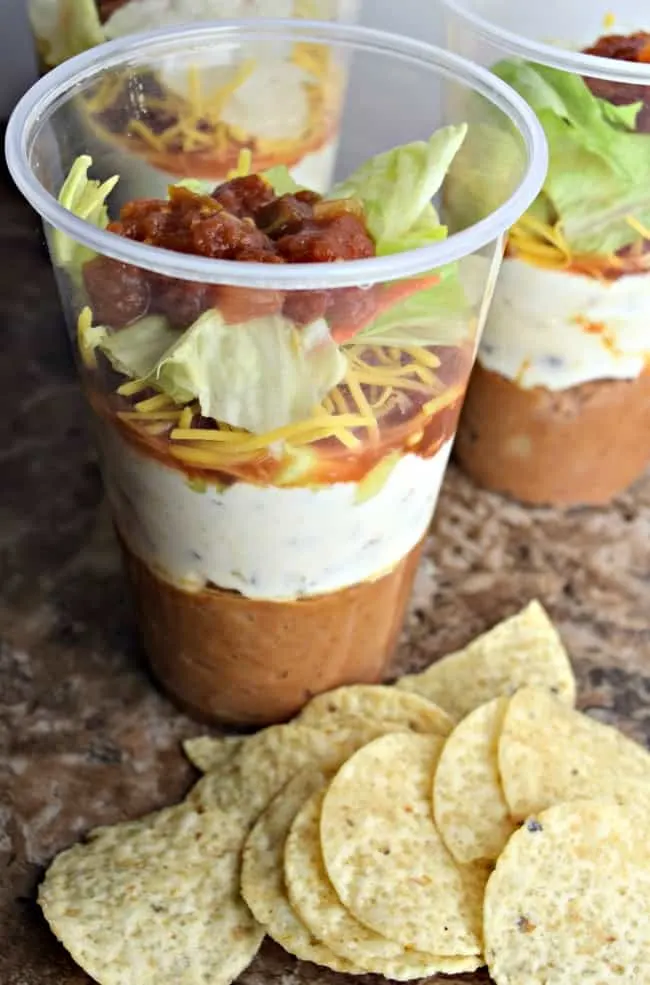 How long does 7 layer dip last in the fridge?


7 layer dip lasts 3-4 days in the fridge. The longer it is stored, the more the layers will bleed together and it can get a bit watery


Want to print this recipe?




Did you love this easy 7 layer dip recipe? You might also enjoy these too…


White Chicken Chili Dip

Buffalo Chicken Dip

Red Velvet Cookie Dip