To get this Thanksgiving holiday kicked off right, we made a handprint and Popsicle stick turkey magnet.


This Turkey Craft will come in handy to keep kids entertained on Thanksgiving!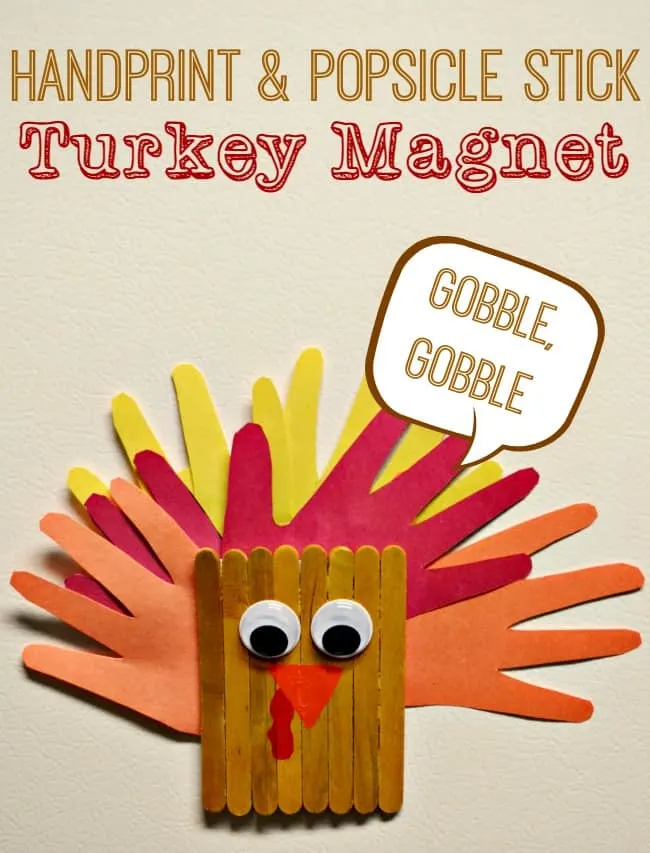 This fun popsicle stick turkey craft is great for Thanksgiving and your kids will have a blast creating it.


Who doesn't love to make turkeys with their kids for Thanksgiving?




Popsicle Stick Turkey Craft for Kids


Supplies you will need:


Craft Paint (brown, orange, and red)
Construction Paper
Cardstock / Cardboard
Elmer's Glue
Paintbrush
Magnets




How do you make a turkey with Popsicle sticks?


Start off by using Elmer's glue to glue on your craft sticks, 8 of them, to your cardstock or cardboard. Make sure that you cut your backing so that it's no longer or wider than the Popsicle sticks. Allow drying!


While you are waiting for your glue to set trace out your handprints onto construction paper.





Paint the body of the turkey and allow it to dry.


Now that the body of your turkey is dry paint on a beak and snood (the red part). You can also attach the wiggly eyes now too.


The last step is to attach the handprint feathers around the back of the body. Do this by gluing them on with Elmer's glue in a feathered fashion.


If you want to make him a magnet attach them to the back of your turkey. I used two .75-inch adhesive magnets to hold mine up.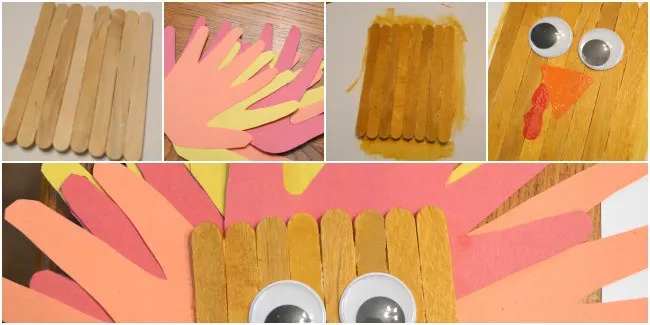 Don't want to gather all the supplies? Here are some kits that you can purchase with everything ready to go.




Want to print or save these popsicle stick turkey instructions?