Healthy, flavorful, and comforting, this Instant Pot Chicken Noodle Soup is like a hug in a bowl.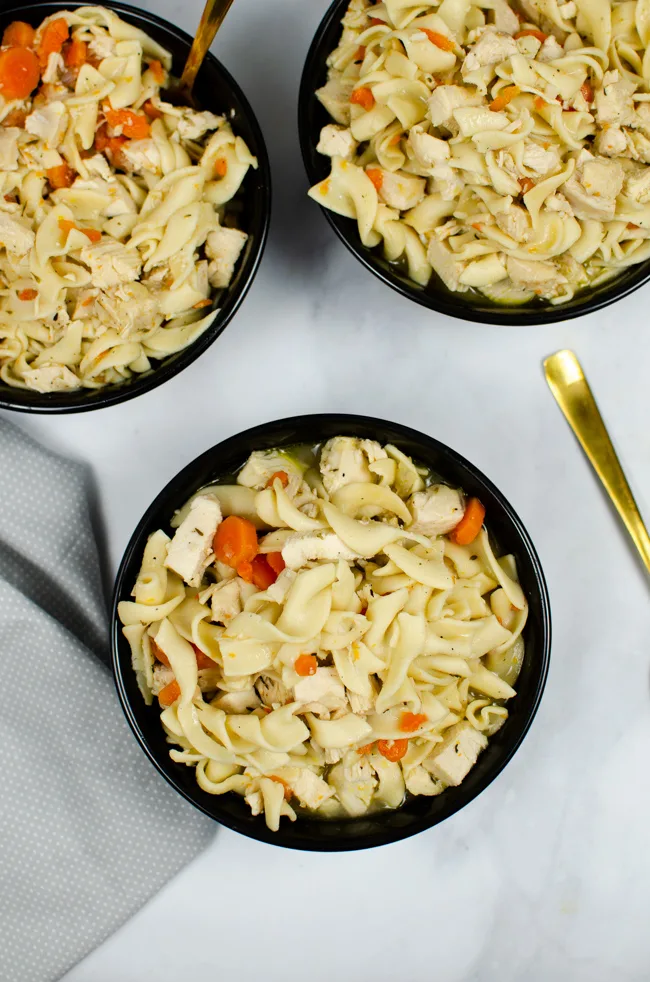 It has a classic, homemade flavor but with a convenient cook time.


It will soon be your new, go-to winter recipe.


Ingredients you will need:


1 tablespoon olive oil
1 medium onion chopped
4 medium carrots peeled and cut into 1/4-inch pieces
4 ribs celery chopped (optional)
3 cloves garlic minced
1 teaspoon dried oregano
1 bay leaf
¾ teaspoon salt or to taste
¼ teaspoon black pepper
4 cups low sodium chicken broth
4 cups water
1 pound boneless, skinless chicken breasts, diced into cubes, cooked
(if using raw chicken, see the additional note in the directions)
6 ounces egg noodles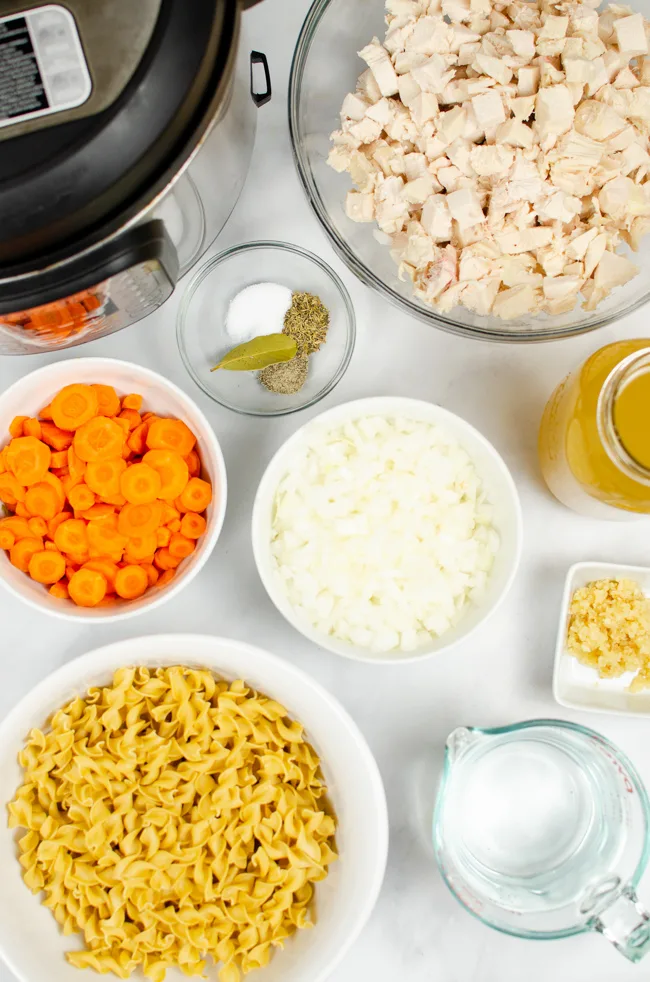 How do you make chicken noodle soup from scratch?


Turn your Instant Pot to Sauté mode. Once the pot is hot, add in your oil, carrots, and onion.


Stir well until the carrots and onions are soft and cooked. This should take about 3 minutes. Add the garlic to the veggies. Stir and mix well.




Hit cancel on your Instant Pot. Add in your seasonings: oregano, salt, pepper, and bay leaf. Mix well.


Add in your chicken broth and water. (NOTE: If using raw chicken, you will want to go ahead and place your diced cubes of chicken into the pot so they will cook. Make sure the liquid is covering them well.).


Close the Instant Pot by twisting the lid on. Close the valve. Set the Instant Pot to High Pressure for 7 minutes. To reach pressure, it will take about 20 minutes.


Once the Instant Pot is done cooking, allow it to release naturally for 10 minutes. Using a hot pad or towel, manually release by twisting the valve towards you. Open the Instant Pot and remove the bay leaf with a spoon.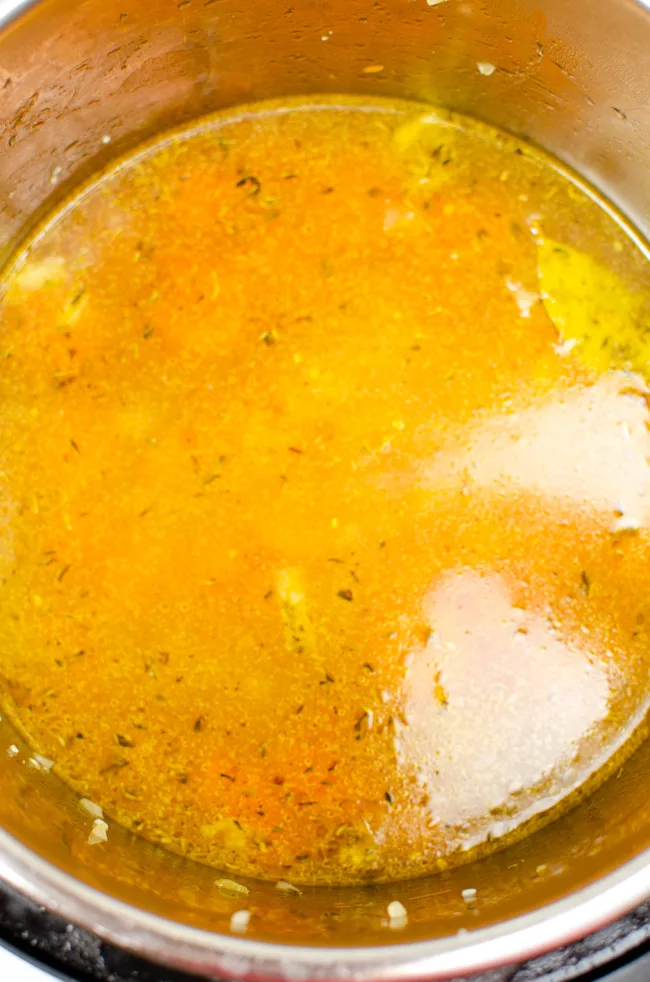 Press Cancel on your Instant Pot and then select Sauté mode again.


Add the egg noodles, and your cooked chicken (if you had cooked them previously) to the pot, and stir well so the liquid covers the noodles. Allow the noodles to simmer for about 10 minutes, or until tender.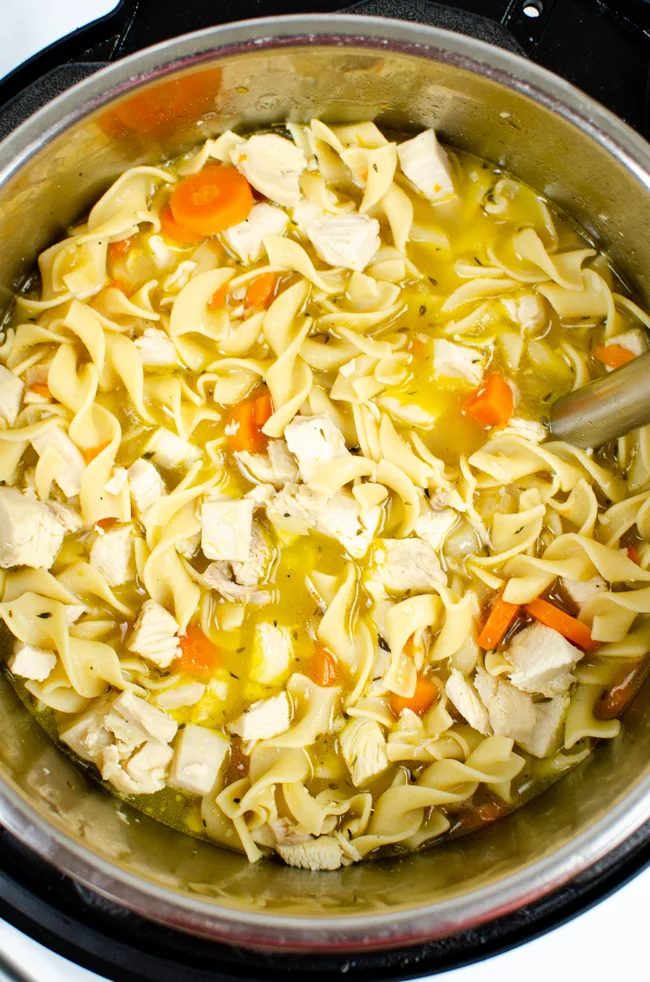 Serve in a bowl alongside your favorite sandwich or crackers! Season with more salt or pepper to your liking! Enjoy!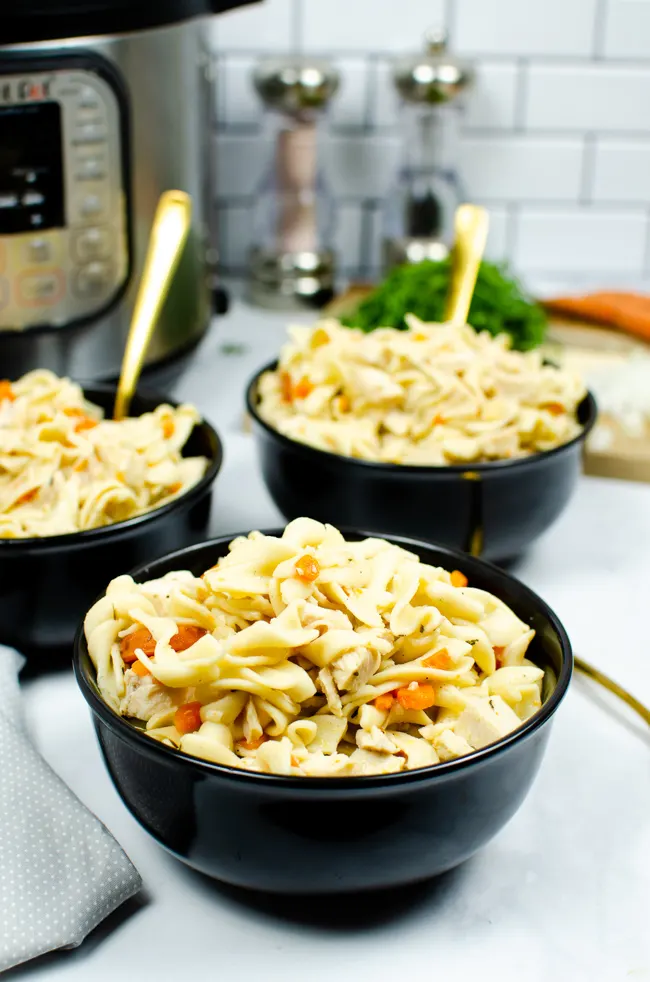 How to release pressure in the Instant Pot


If you are new to cooking with an Instant Pot then there are a few things you need to know regarding the release of pressure.


First off, there are two methods of releasing pressure, the natural release and the manual, quick release.


The natural release is just like it states, it will naturally release the pressure over time and there is no need to do anything other than wait for it to finish.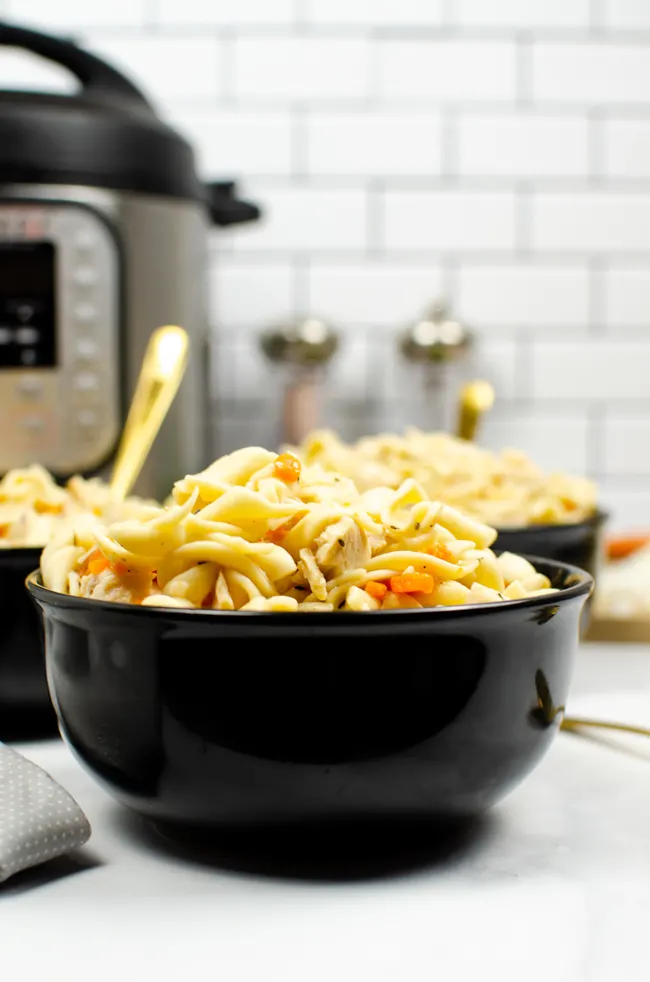 How to quickly release an Instant Pot!


The quick-release method allows you to manually turn the knob to vent and release the steam quickly. This takes much less time than the natural release.


Just remember if you do decide to use the quick release (it is always my preferred method) then you have to be cautious of the extremely hot steam. Use an oven mitt or kitchen towel to turn the knob to the vent.


Whether using quick or natural the lid will open easily once the pressure has been released. If it will not open easily then your cooker is still under pressure and not ready to be opened.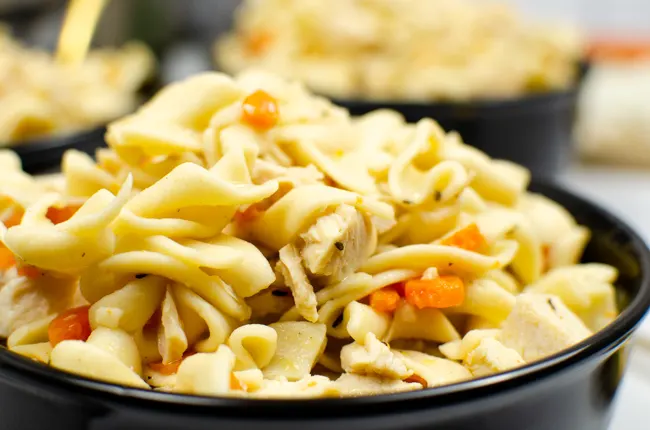 Even more soup recipes you don't want to miss!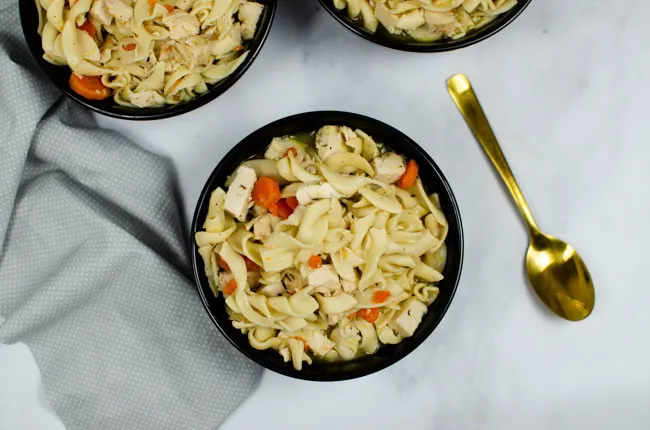 Want to print or save this Instant Pot Chicken Noodle Soup recipe?