Let's get into the spirit of the Olympics with these simple, fun, and easy Olympic Crafts for Kids that teach them to engage their imagination.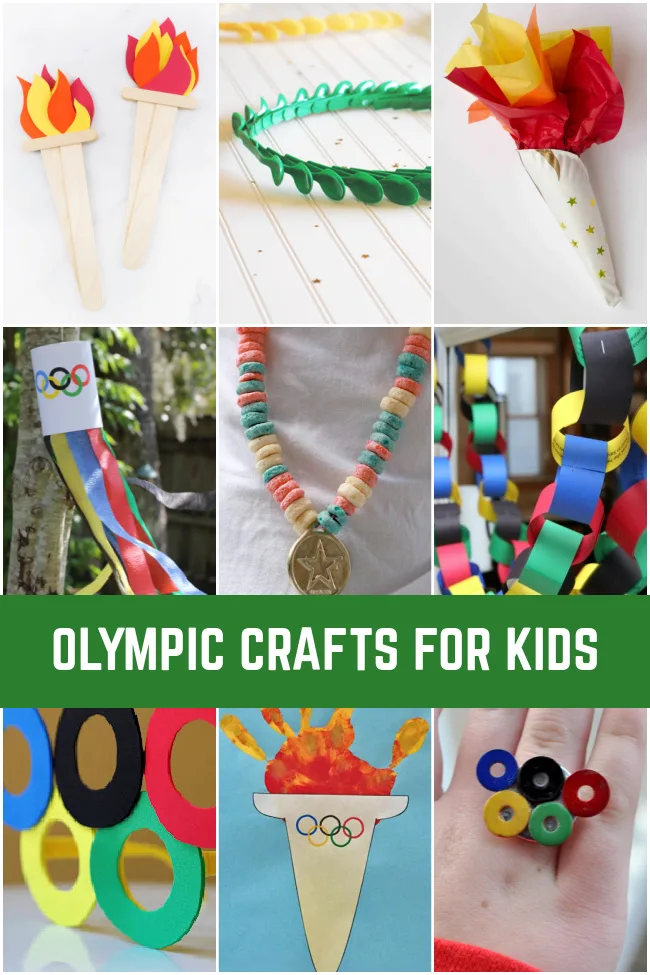 So light the torch because it's time to celebrate the Olympic Games with these crafts, recipes, and activities that are great for kids of all ages.


Fun Olympics Facts


Gold medals are mostly made of silver. Despite the popular belief that the gold medal is composed of pure gold, this hasn't been the case since the 1912 Olympics. Today's Olympic gold medal is an imposter, made almost entirely from silver with approximately 6 grams of gold to meet the standard laid out in the Olympic Charter.
The first Olympics allowed the participation of only men.
The first modern Olympic games were held in Athens, Greece.
The first Paralympic Games took place in Rome in 1960, designed to allow war veterans a chance to compete and rehabilitate. Before that, there were instances where physically disabled athletes competed in the Olympics themselves. Olympic gymnast George Eyser famously won six medals with a wooden leg in the 1904 Games.
In the ancient Olympics, winners were not given medals but were awarded an olive wreath.
In the first Olympics in 776 BCE, there was only one event, a short 200-meter sprint called a stade.
The five Olympic rings are symbolic of the five continents, and the colors were chosen because they all appear on the flags of all the competing nations around the world.
The 1936 Berlin Olympics were the first Olympic Games to ever be televised. Before the advent of television, sports fans had to make do with radio commentary, and before radios were common, you could only read about the results of the events in the newspaper.
Up until 1994, the Olympics were held every four years. Since then, the Winter and Summer games have alternated every two years.
The most decorated Olympian is Michael Phelps. The American swimmer won 28 total medals across 4 Olympics, including 23 gold medals. The Soviet gymnast Larisa Latynina is second with 18 medals.


Olympic Crafts for Kids to Make!




Although most of these crafts are limited to the rings and torch to give neutral craft ideas you could certainly create fun crafts that are related to your specific country and or favorite sport.


Items you might need to create these Olympic Crafts for Kids!




Don't forget to check out these other fun crafts for kids before you leave.