Get ready for a nutty adventure with this adorable popsicle stick acorn craft for kids!


Gather your little crafters and watch as ordinary popsicle sticks transform into sweet adorable acorns.


It's a delightful and easy project that not only sparks creativity but also brings a bit of nature's charm indoors.


Let those imaginations run wild as acorns turn into treasures in the hands of your little artisans!




Embrace the crisp breeze and vibrant colors of fall with a craft that's as charming as the fall season itself!


In our latest popsicle stick crafts adventure, we're diving into the world of acorns.


Let's embark on a journey where imagination meets nature, and popsicle sticks take on a nutty transformation!




Why you'll love this craft!


Easy Peasy, Fall Squeezy
Budget Friendly
Great for Fine Motor Skills and Hand-Eye Coordination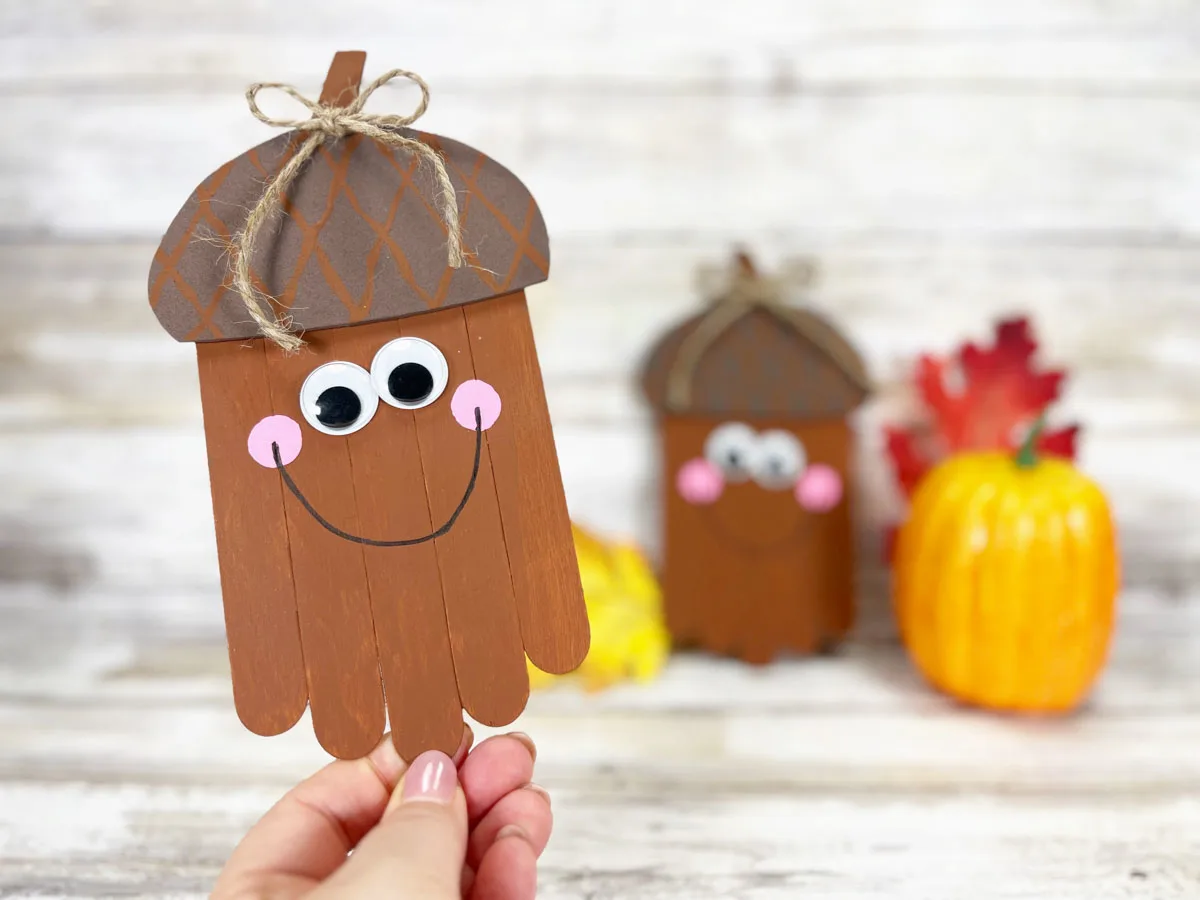 Supplies to make a craft stick acorn


Acrylic Paint – Medium Brown and Pink
Glue Gun and Hot Glue Sticks (love this cordless glue gun)
Paintbrush, flat and detail
Scissors
Pencil with new Eraser
Permanent Black Marker
Pencil
Most of these items can be found at the dollar store.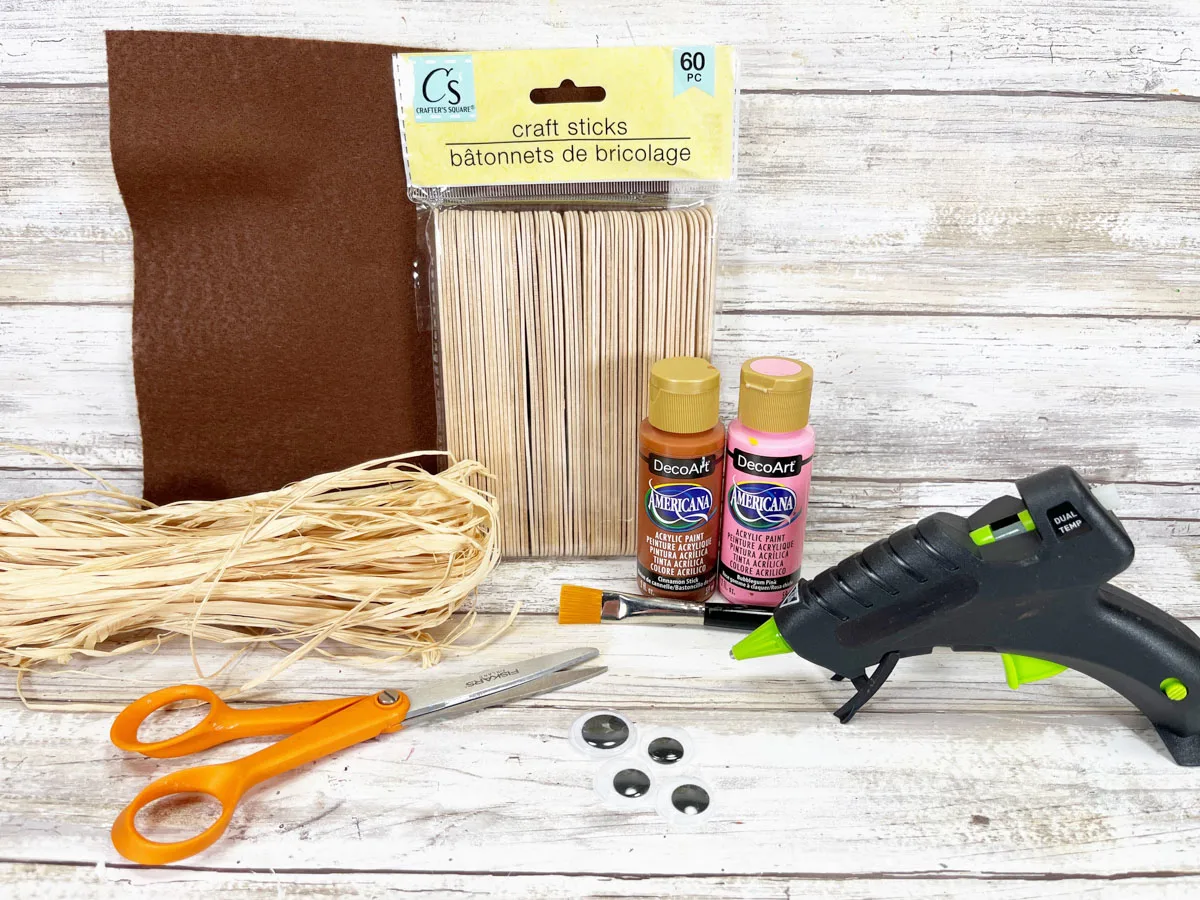 How to make a popsicle stick acorn craft for kids


Gather all your supplies.


To create each acorn, line up five jumbo craft sticks on your work surface in a graduated pattern. Using scissors, trim additional jumbo popsicle sticks (or use mini popsicle sticks) to the width of the acorn and attach them with a glue gun and glue sticks.


TIP: You can use liquid craft glue for this project, but you will have to wait for it to dry.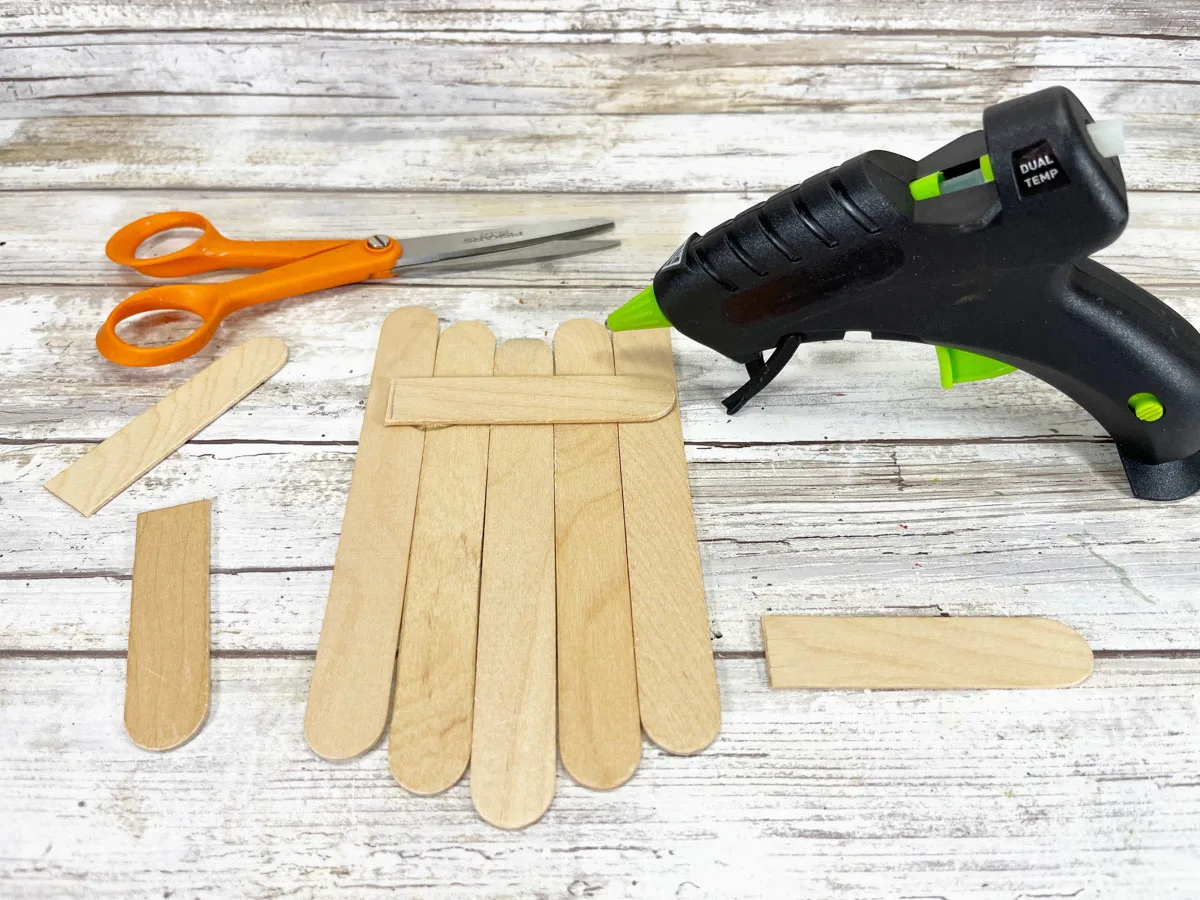 Download, print, and cut out the acorn top pattern with scissors. Trace onto dark brown craft foam (or you can use construction paper). Cut out with scissors.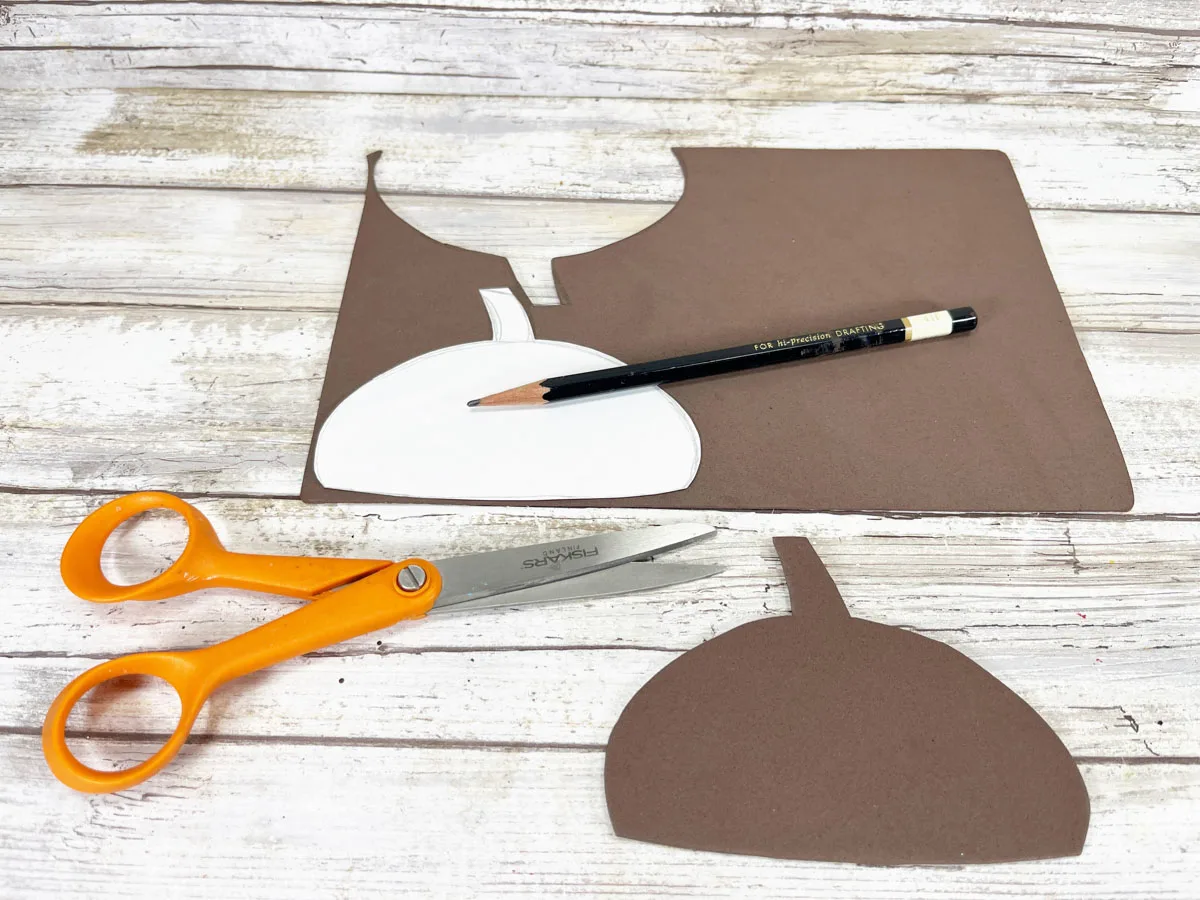 Attach the acorn caps to the top of the acorns with a glue gun and glue sticks.




Using a detail paintbrush, create an "X" pattern on the craft foam with medium brown acrylic craft paint. You could also use a brown paint pen and a scallop pattern.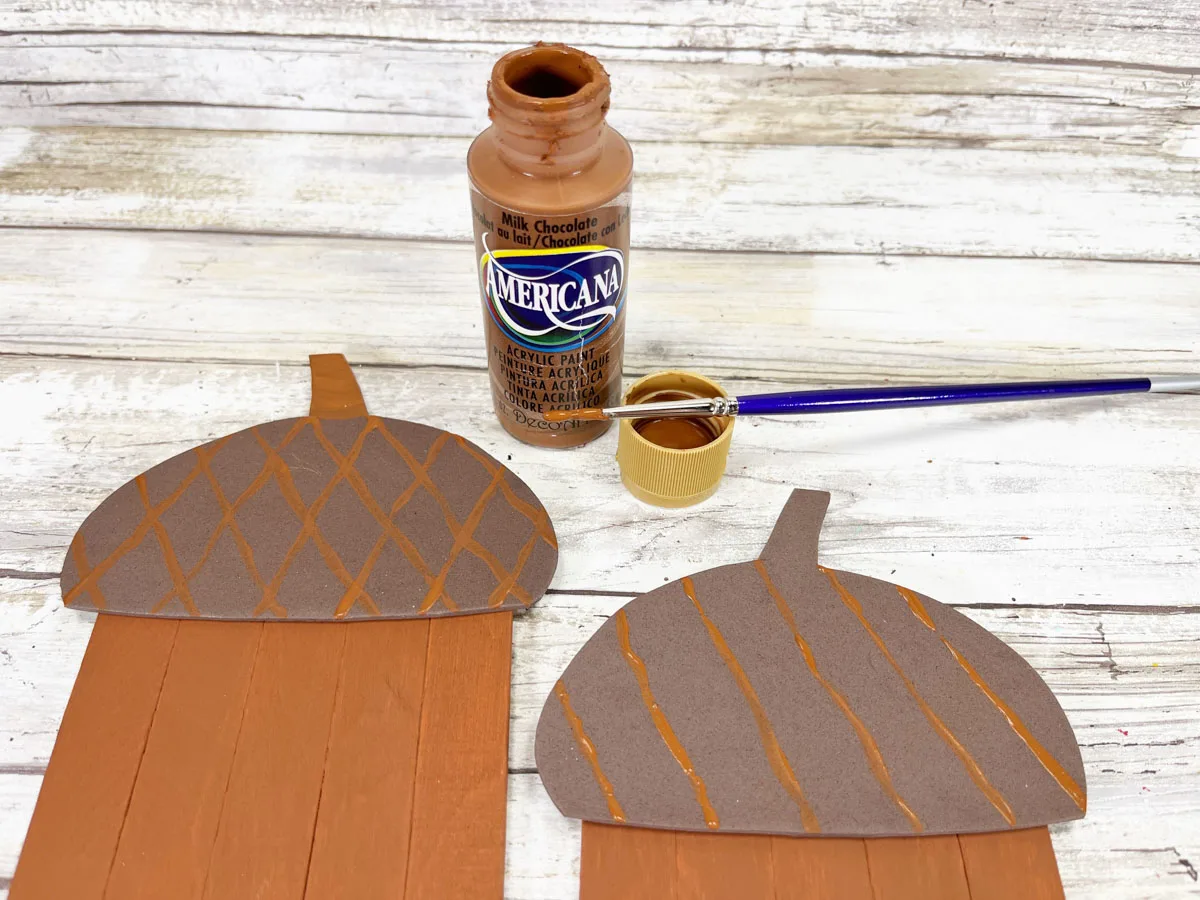 Add a face to the acorn by attaching two wiggle eyes. Add cheeks by dipping a new pencil eraser in pink acrylic craft paint and dotting it on either side of the face.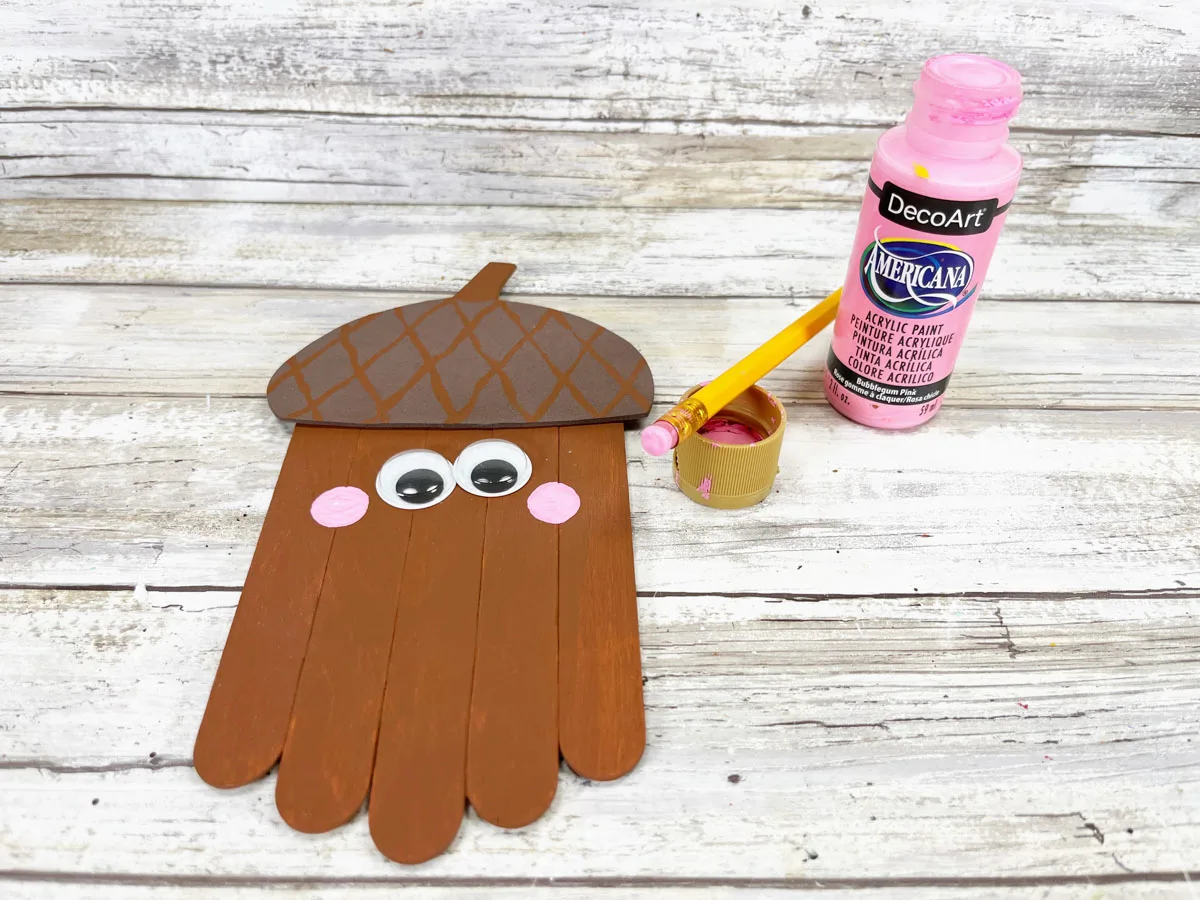 Even more fall popsicle stick crafts