Learn how to make a super cute popsicle stick leprechaun craft with easy step-by-step instructions.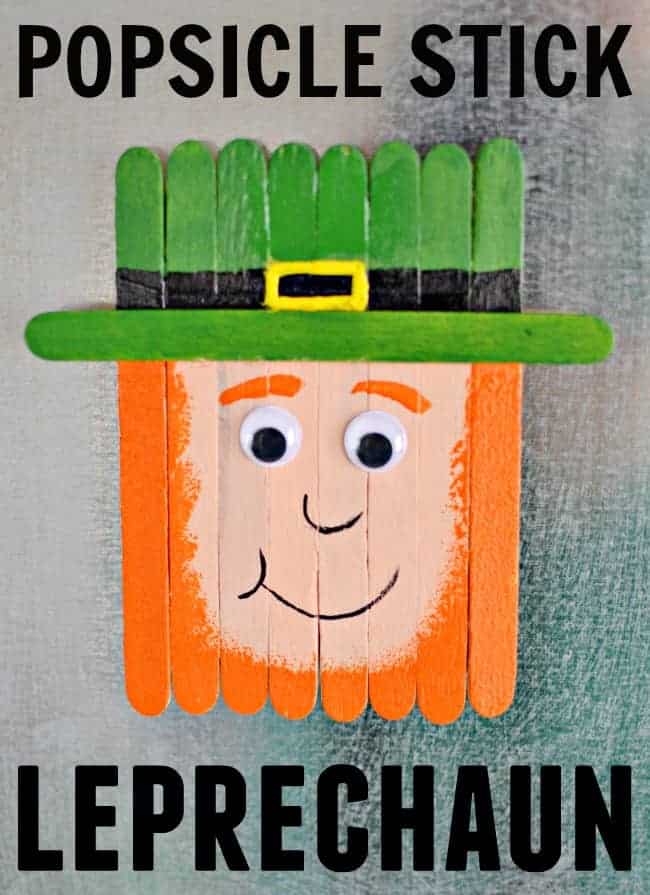 This post contains affiliate links.


Popsicle stick crafts our some of our best posts on Today's Creative Ideas so of course I wanted to add in something for the St. Patrick's Day holiday.


What says St. Patrick's Day more than cute leprechauns?


Supplies for a Popsicle Stick Leprechaun


[easyazon_link identifier="B00380E7RQ" locale="US" tag="thgisli03-20″]Popsicle Sticks[/easyazon_link] (9)
Craft Paint (orange, black, peach, green and yellow)
Card stock / Cardboard
[easyazon_link identifier="B0074MHV7W" locale="US" tag="thgisli03-20″]Wiggly Eyes[/easyazon_link]
[easyazon_link identifier="B000Q3KHCM" locale="US" tag="thgisli03-20″]Craft Glue[/easyazon_link]
Paint Brush(es)
[easyazon_link identifier="B00P7VUOJ4″ locale="US" tag="thgisli03-20″]Magnet[/easyazon_link]


Directions:


1. Start off by using craft glue to glue on your craft sticks, 8 of them, to your card stock or cardboard.


It really doesn't matter what you use for the backing just as long as it is strong enough to support the sticks.


Also, make sure that you cut your backing so that it's no longer or wider than the Popsicle sticks. Let dry!


2. Attach the additional Popsicle stick to the front creating the rim of the hat.


3. Using the peach craft paint, paint the bottom portion (below the hat rim) so that you can create his face.


4. Using the green craft paint, paint the top portion. This will be the leprechaun's hat.


5. We used a [easyazon_link identifier="B008H45HZ4″ locale="US" tag="thgisli03-20″]stipple[/easyazon_link] (or stamper) style brush and painted on the orange for his beard.


You don't have to use this style brush but we felt like it gave the beard a more "realistic" look.


6. Now that you have his beard done you can paint on the rest of his face and attach his wiggly eyes.


7. The final painting step is to paint on a belt and buckle to his hat.


8. Lastly, (which is optional) attach a magnet to the back of your leprechaun. We used one .75 inch adhesive magnet to hold it up.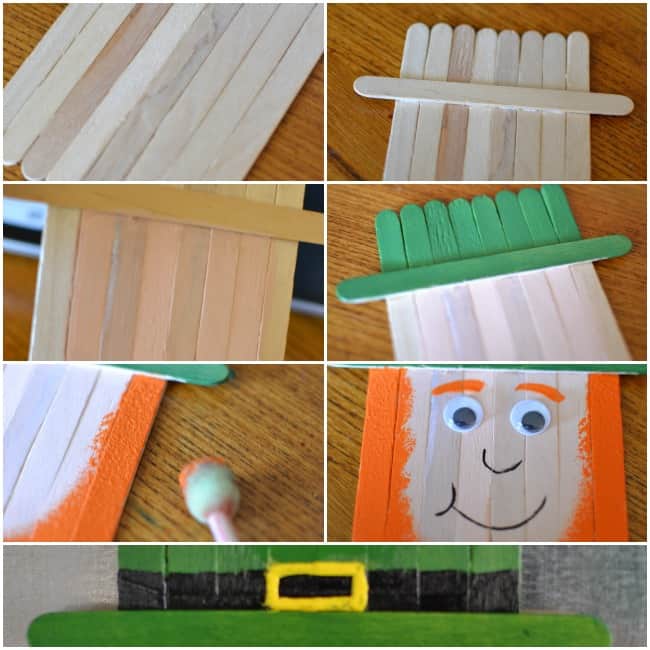 Fun Fact:


What are Leprechauns?


Leprechauns are essentially a type of fairy.


Although super cute in this craft project tutorial, Irish folklore leprechauns are often not cute or even nice.


Most leprechauns are known to be tricksters.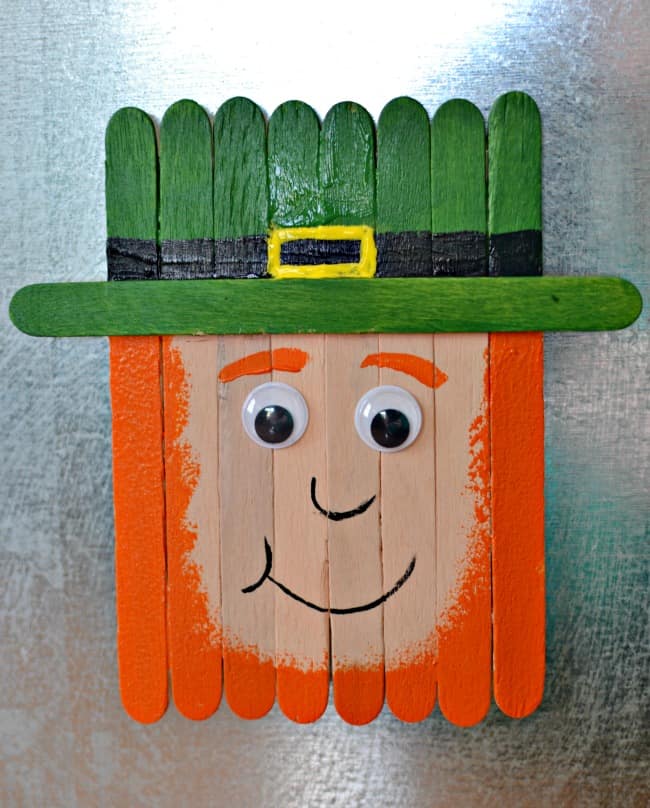 Want to print these craft supplies and instructions?




If you enjoyed this tutorial for a Popsicle Stick Leprechaun you also might like…


Popsicle Stick Easter Bunny Craft

Popsicle Stick Easter Chick

Free St. Patrick's Day Printable | You Are My Lucky Charm