Classic stuffed bell peppers with rice, ground beef, and cheese make the best, easy dinner idea any night of the week.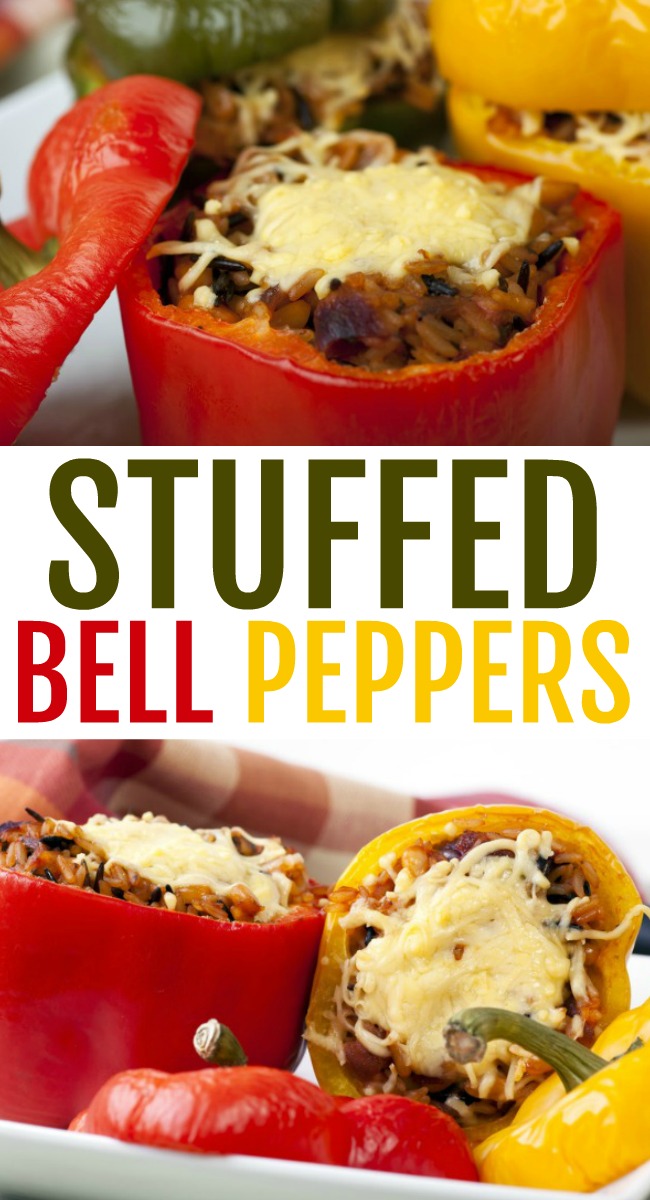 Stuffed peppers are a popular dish, which is no wonder why… they're delicious!


A healthy and easy meal that your whole family will love.




Ingredients for making Stuffed Bell Peppers


6 Bell Peppers (green, yellow, red… any color is fine)
1 lb Ground Beef (I use ground chuck but you can use leaner meat)
1 Sm. Onion (finely chopped)
2 Teaspoons Minced Garlic
4 Med. Tomatoes (finely chopped… Roma tomatoes work perfectly for this recipe.)
1 1/2 Cup White Rice (cooked)
1 1/2 Cups Shredded Mozzarella or PepperJack Cheese (both taste great)
2 Tablespoons Olive Oil
Salt & Pepper to Taste




How do you make southern stuffed bell peppers?


Preheat the oven to 350 degrees F.


Cut the tops off the peppers. You can discard the tops or keep them for serving purposes. Scoop out the seeds and membrane. Place the peppers in a baking dish and set aside.


Brown the ground beef, adding salt and pepper to taste. Drain the grease and set aside the meat.


Cook your rice


Using the same skillet (just wipe out the grease, no need to dirty up extra dishes), add 2 tablespoons of olive oil and cook the onions until they begin to soften.


Add the garlic and allow to cook for another few minutes.


Add the tomatoes, season with salt, and cook until everything is heated through.


Now you are ready to add back in the beef and stir in the rice and cheese. You can save about a 1/2 cup of cheese to sprinkle on the top.


Fill the peppers with the mixture and top each with a sprinkle of the remaining cheese.


Add 1 1/2 cups of water to the dish.


Cover with foil and bake for 30 minutes. Uncover and bake until the peppers are soft and the cheese is melted and lightly browned, an additional 15 to 20 minutes.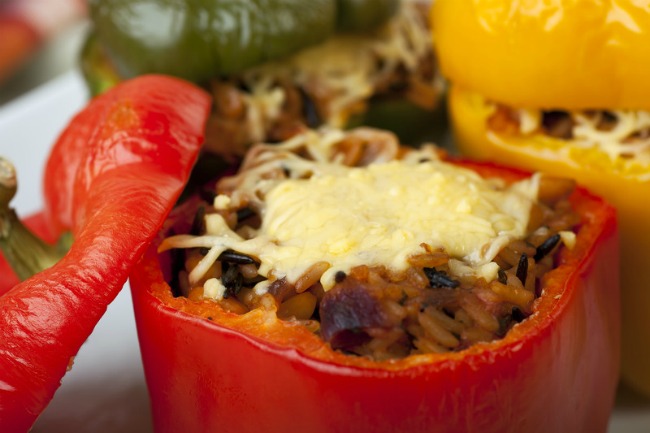 Tips for cooking stuffed peppers!


Look for peppers that sit straight.

Look for peppers that are approximately the same size as this will allow them to cook the same.

You can use the tops of peppers as a lid. This adds to the presentation of the stuffed peppers and you can also eat the lids, minus the green stem of course.

Have a few muffin tins hanging around the kitchen? Instead of using them for cupcakes or muffins, use them for making stuffed peppers. It's the perfect fit!




Stuffed Pepper Variations


We also love this meal because it's extremely flexible.


You can make the filling with whatever ingredients or leftovers you have available.

Maybe you want to replace the ground beef with sausage or ground turkey, you can do that.


What about using quinoa instead of white rice?


Plus, we already mentioned that you could easily switch out the cheese.


No matter what ingredients you decide to use for your stuffed peppers, you really can't go wrong!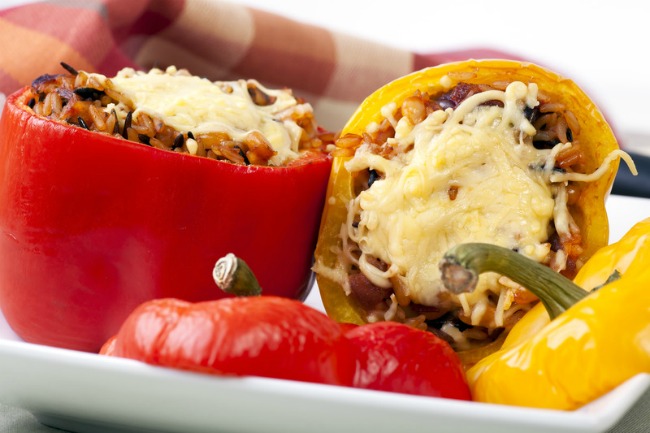 Questions you may have…


Do you have to boil bell peppers before stuffing them?


You do not have to pre-boil or cook them. This recipe doesn't call for that.




What color pepper is best for stuffed peppers?


You can use only one color of bell peppers or a variety of colors.

Whether it is green, orange, red, or yellow, they all make the perfect vessel for stuffed bell peppers.




What goes well as a side dish with stuffed peppers?


A side salad goes perfectly with this dish. Some other side favorites are green beans, potato wedges, or honey carrots.




Can stuffed peppers be made in advance?


Yes, you will want to follow the directions as described above (leaving off the cheese on top) and refrigerate until you are ready to bake.

Once you are ready to bake, top with cheese, and follow the oven heat and time mentioned.




Even more delicious recipes you don't want to miss!




Want to print or save this stuffed bell peppers recipe?