Turtle Hot Cocoa Bombs are a fun twist on an instant hot chocolate mix. Also called hot chocolate bombs, these little creations are the perfect portioned beverage treat.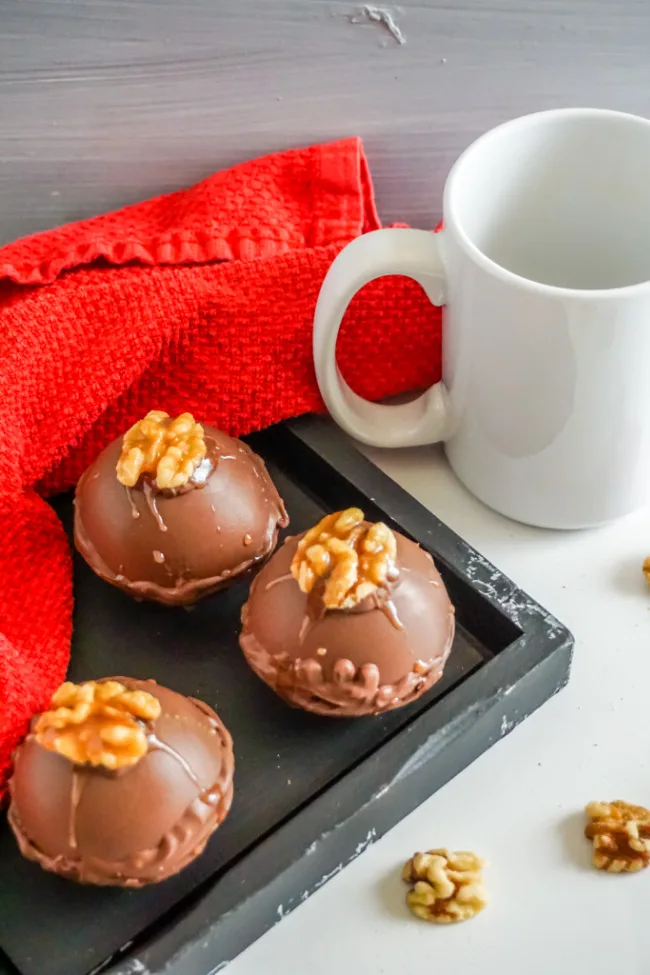 What is a hot cocoa bomb?


Hot chocolate bombs are chocolate spheres filled with hot chocolate mix and loads of marshmallows, these turtle bombs add that extra touch of walnuts and caramel sauce. YUM!


Although hot cocoa bombs have been around for several years, this past year they have trended on TikTok making them super popular.


All you need to do is pour steaming hot milk over the top and watch the chocolate melt away and release the goodness into your drink.


These are so much fun and makes a great gift for the holidays.


Read on to find out how to make these little balls of deliciousness.


Ingredients you will need to make this hot cocoa bomb recipe:


2 cups Chocolate Candy Melts (or semi-sweet couverture chocolate)
2 cups Hot Chocolate Mix
2 cups Mini Marshmallows
24 Walnuts
1/2 cup Caramel Sauce


You will also need hot cocoa bomb molds (or essentially bath bomb molds). I used these, but silicone ones work great too.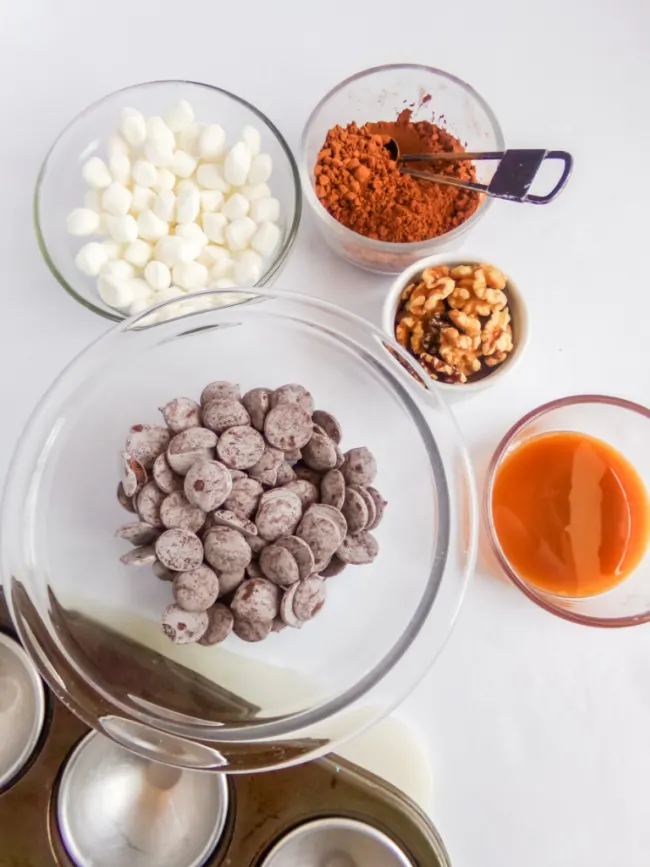 How to make Turtle Hot Cocoa Bombs:


Place chocolate candy melts (this is what I had on hand but couverture chocolate would taste even better) in a microwave-safe bowl and melt in the microwave per the directions on the package.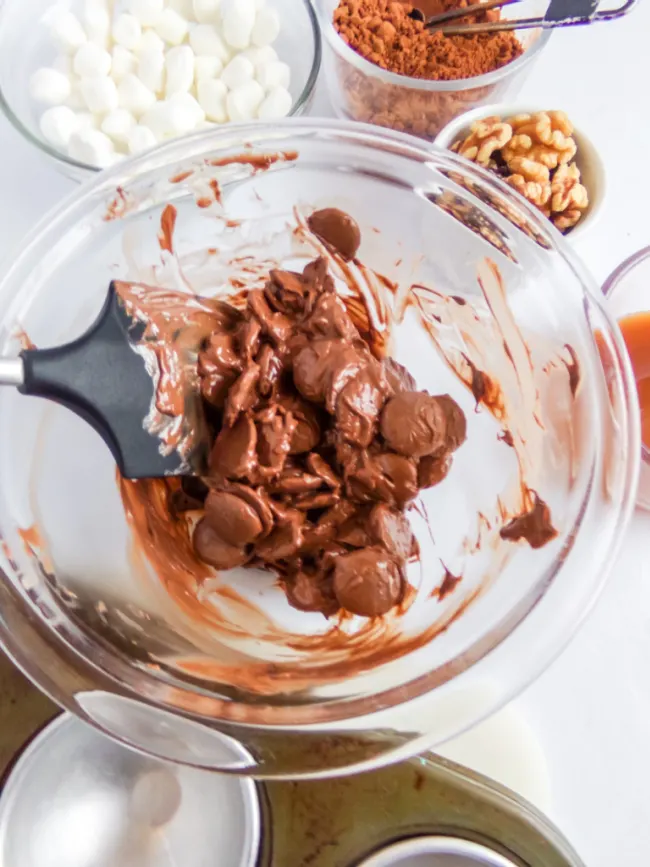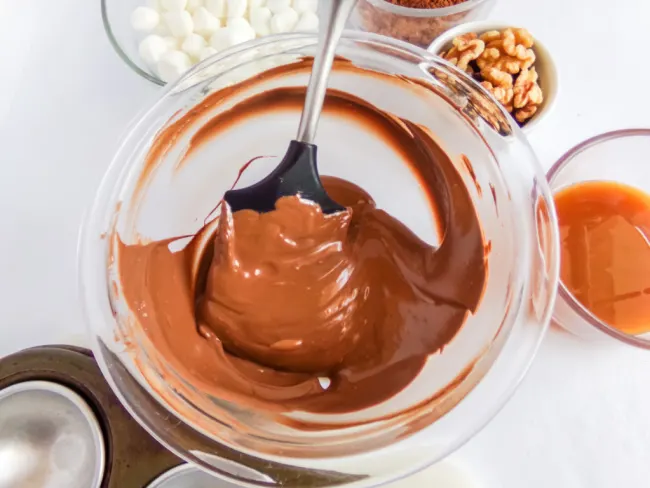 Place 1 tbsp melted candy melt into one half of a bomb mold and, using the bottom of your tablespoon measuring spoon, press the chocolate up the sides of the mold, keeping it thick but even. Repeat with extra bomb mold halves, this amount will do up to 12 halves creating 6 bombs.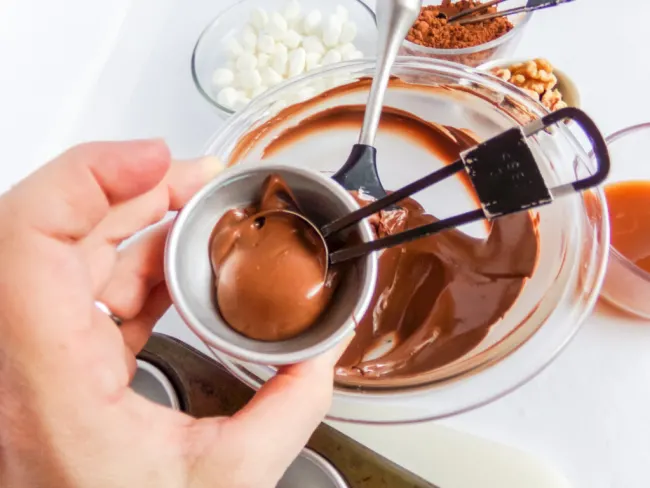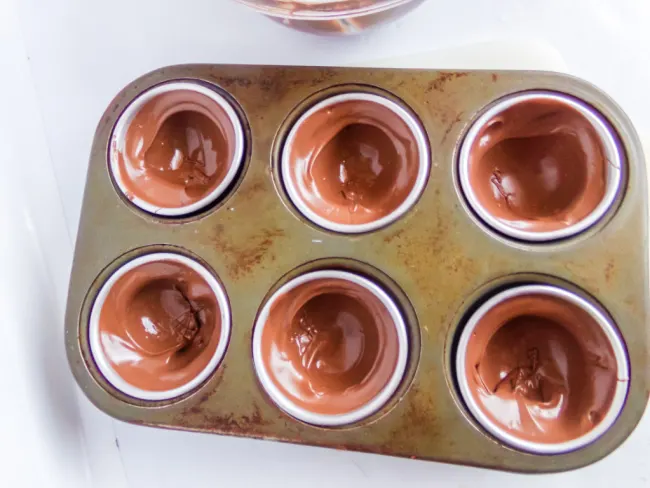 Place the chocolate filled bomb molds into the freezer for 5 minutes.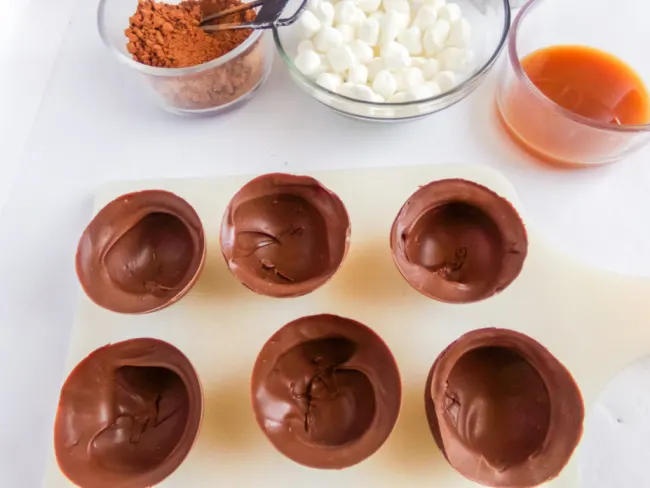 Remove the molds from the freezer and gently tap the sides of the mold, pressing on one side of the chocolate to make the chocolate slide out of the mold.




Fill 6 of the molds with 1 tbsp hot chocolate mix, 1 walnut, 1 tbsp caramel sauce, and 6-8 mini marshmallows. You could also use dehydrated mini marshmallows.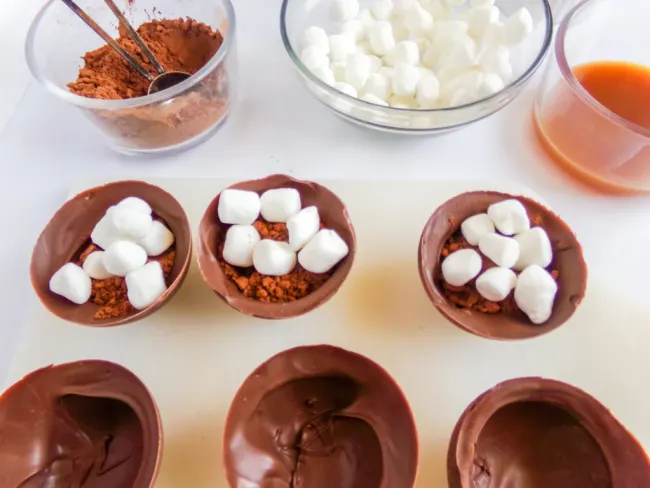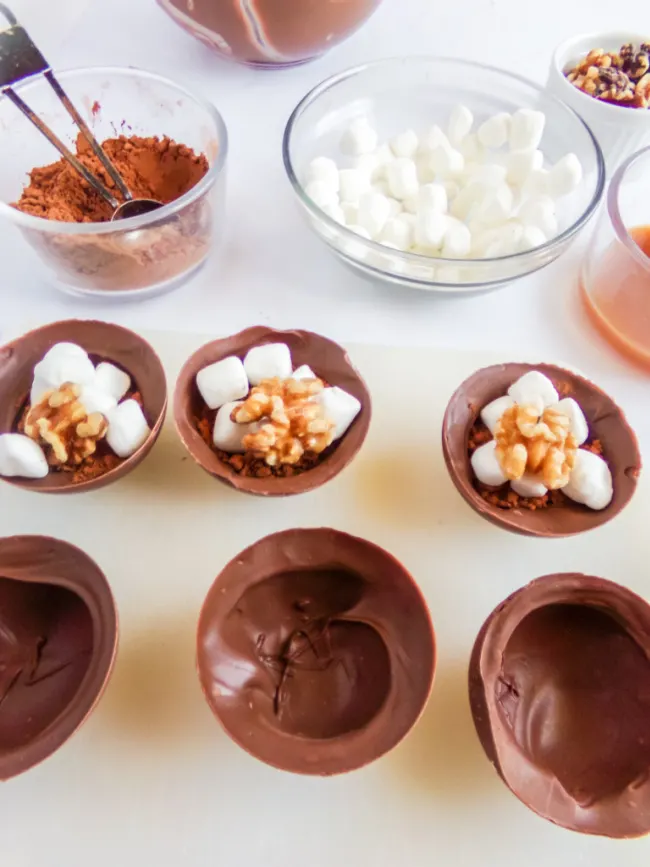 The next step can be done in one of two ways.


You can use heated up chocolate and place a layer around the edge of one half and attach the second half


The second way is to heat a plate in the microwave until the surface of the plate is warm to the touch. Press one of the empty chocolate bomb halves open-side-down onto the warm plate for about 10 seconds. This will gently melt the rim of the chocolate cup. Immediately press this warmed edge chocolate cup to the top of one of the filled cups. This will join the two halves of the hot cocoa bomb.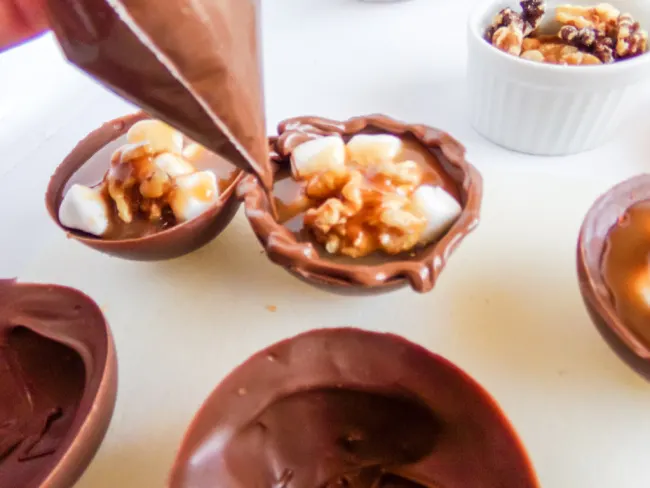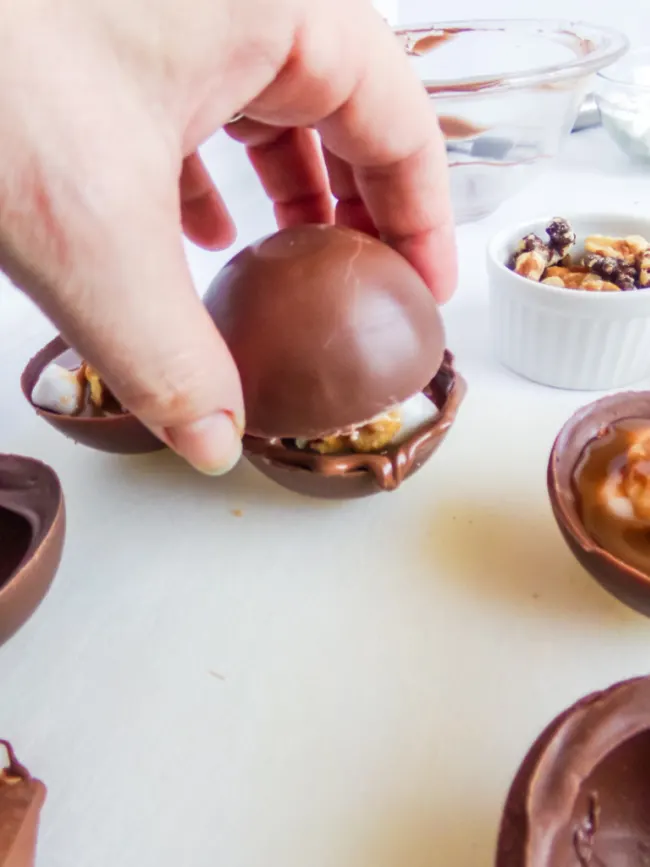 Using a piping bag or a fork, place a tsp of the remaining chocolate candy melts on top of the assembled hot cocoa bombs then immediately follow by placing an additional walnut on this chocolate dab, then drizzle additional caramel sauce over them.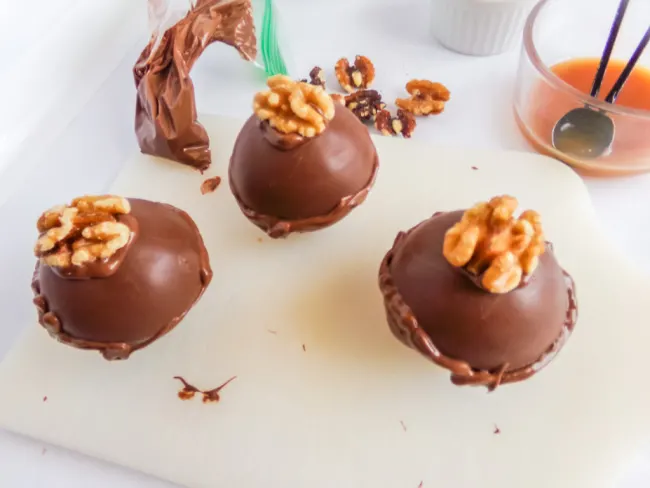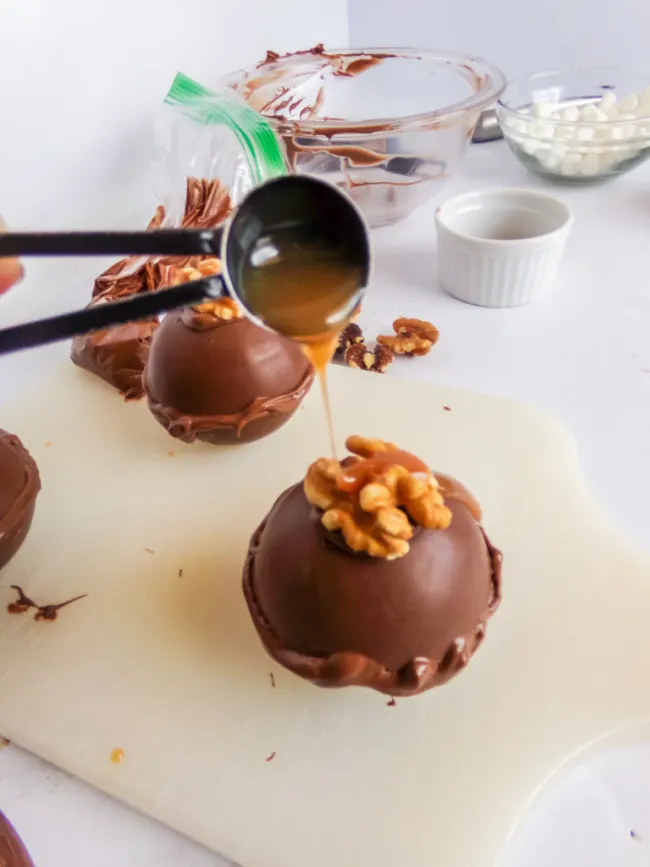 Place the turtle hot cocoa bombs into the freezer for 5 minutes to get them to set, then remove and store in an airtight container until you're ready to use.


To use the hot cocoa bombs, place them in a mug and pour 2 cups of steaming hot milk over the top. Stir until the hot cocoa bombs are completely melted and enjoy!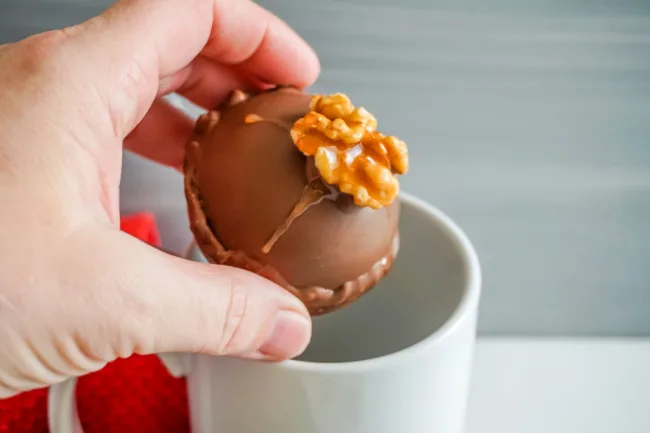 What mold is best for making Hot Chocolate Bombs?


I used metal molds because that is what I had on hand but I recommend finding a good silicone mold for this recipe.


The biggest downside to silicone is that you have to paint the chocolate to the edges but it is more foolproof than pouring it into metal or acrylic molds.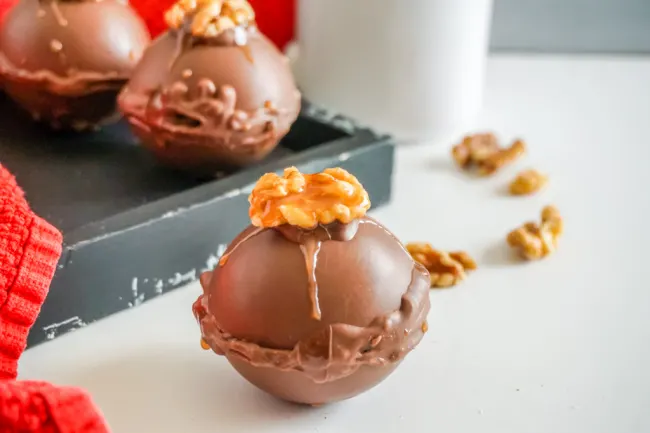 Even more fun dessert ideas you don't want to miss!


Want to print this turtle hot cocoa bombs recipe?