Do you know the ultimate way to say I love you?
It is by making a batch of one of these homemade Valentine's Day cookie recipes.

I love me a really great cookie dip for this holiday but one thing I love even more and want to talk about today is Valentine's day cookies.
The perfect time to add a touch of red, pink and even hearts for your favorite cookie monster.
The greatest gifts come from the heart and are often homemade too.
So it's time to show your loved ones how much they mean to you with one of these Valentine's Day cookie recipes.
Even better, pair them with one of these gifts to make it the perfect Valentine's Day to remember.
I love all of these ideas. It's making it so hard to decide which ones I want to make for my cookie monsters.
Needless to say, whether you're spending Valentine's Day with your significant other or your favorite pals you're obviously going to want to bake up some of these sweet treats to celebrate.
Some items that might come in handy: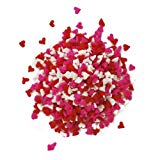 If you like these Valentine's Day cookie recipes you might also enjoy…
---