Apple Cider Sangria is filled with some of your favorites like white wine, apple cider, brandy, apples, and pears. A fun and festive drink for the season that is the perfect cocktail recipe for all of your fall parties and holidays.


This easy and delicious recipe disappears before the party can even begin. Everyone loves it!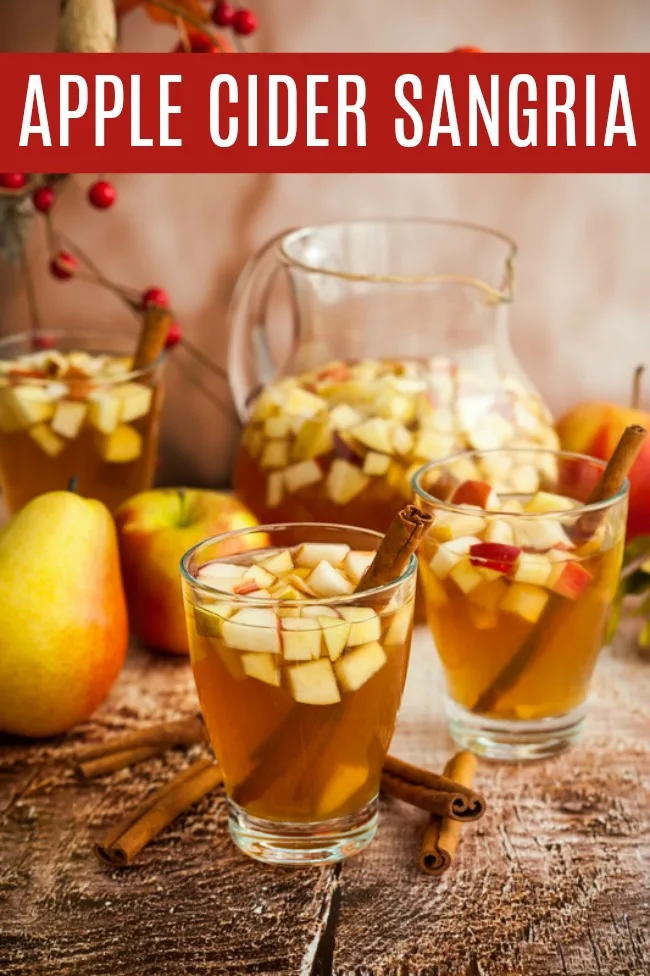 This apple cider sangria recipe is a fall and holiday favorite that is great for Thanksgiving or really any night hanging with family and friends. It is also a great use for fall apples!


Not to mention it can't get much easier to make, just throw in all the ingredients, allow it to chill and you are in fall heaven.


Apple cider sangria is a drink that tastes like fall in a glass.


It's fruity and sweet, with just enough of a kick to get you over the cold weather. Plus, it's made with ingredients that are easy to get your hands on.


Apple cider has been around for centuries and was initially used as a folk remedy for many ailments.


It became popular in the 1700s when sailors would mix it with gin or rum and take it on long journeys to help them stay healthy and prevent scurvy.


There is some evidence that drinking apple cider instead of fruit juice may be better for our health because of its higher content of polyphenols which are antioxidants from apples, pears, grapes, and other fruit juice sources.


Ingredients you will need for this sangria recipe:


1 bottle pinot grigio
1/2 cup brandy
2 1/2 cups apple cider
1 cup club soda
3 Honeycrisp apples (chopped)
3 pears (chopped)
2 cinnamon sticks


Apple cider – For the best flavor, you'll want to use fresh-pressed, unrefined apple cider. It should look slightly cloudy, and it can be found in the refrigerated section of the grocery store. If you can't find this no worries, any apple cider will do the trick.


White wine – We used a pinot grigio for this recipe, you can use any type of white wine you like.


Brandy – This is an awesome addition to this recipe, and you can amp up the flavor even more by using a flavored brandy if you want.




How do you make Apple Cider Sangria?


Combine all the above ingredients together in a glass pitcher or beverage dispenser. Refrigerate at least 2 – 3 hours before serving


Sangria is the ultimate make-ahead cocktail. Although you can refrigerate and drink it after 2 – 3 hours it gets even better the longer it is allowed to sit and infuse all those fruit flavors.


I recommend keeping the apple cider sangria in the refrigerator for at least 6-8 hours before serving. A full day ahead of time would be even better.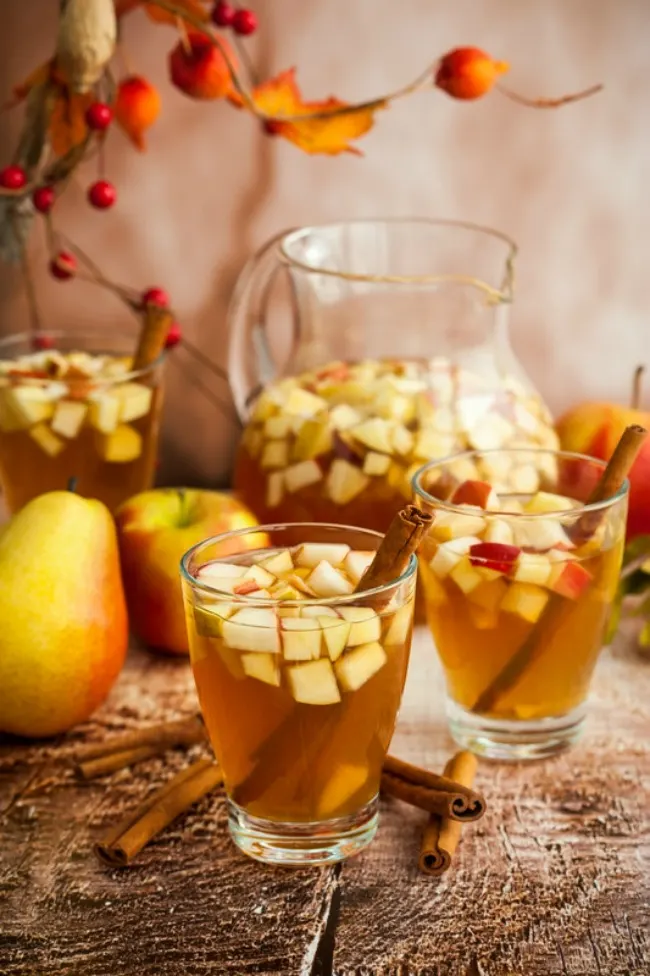 If you want to add even more of a touch of fall flavoring to a sangria recipe then you could add in some caramel vodka and turn it into a caramel apple sangria. YUM!


All you would need for this is a bottle of pinot grigio, 1 cup of caramel vodka, about 6 cups of apple cider, and 2 apples chopped.


No need for the rest of the ingredients in this simple sangria but the directions are the same. Mix together and chill in the fridge for a few hours before serving.


Either option, you can't go wrong.


Some questions you might have…


How long does sangria last?


You can keep this fall sangria recipe in the fridge for up to 5 days.


After that, the fruit will start to turn and you should probably toss it. Always use your best judgment.


Should I peel the fruit?


I don't, but you can! You can slice/chop the apples and pears however you like.


How to Make it a Mocktail


This drink is so festive for all of the fall holidays and gatherings that sometimes you just want it to be friendly for everyone to enjoy, including the kids.


Make it a mocktail by omitting the pinot and brandy and replacing it with a bottle of white grape juice and 1 cup of orange juice!


Don't miss out on these other awesome drink recipes either!


Want to print or save this recipe for apple cider sangria?