This rich and flavorful, double chocolate coca cola cake made with real Coca-Cola is everything you want in a chocolate cake with a delicious and decadent fudgy frosting.




It's delish and a must-try!


I love this double chocolate Coca Cola cake recipe and I also really love Cracker Barrel too.


Unfortunately, the sad reality is I never make it to the dessert when I have dinner there.


Whenever we get the chance to pop into one of our favorite restaurants I am always focused on filling up on all the tasty food.


Always too stuffed for adding on my favorite desserts they offer, especially the Double Fudge Coca Cola Cake.


So what is a girl to do? Make the homemade version, that tastes pretty darn close, at home.


This double chocolate Coca Cola cake is easily one of the best chocolate cakes I've ever made or had in general.


Ingredients you will need:


for the CAKE:


2 cups flour
2 cups of sugar
1/2 tsp salt
1 tsp baking soda
1 cup butter (2 sticks)
1/4 cup unsweetened cocoa powder
1 cup coca-cola
1/2 cup buttermilk (see substitute in notes)
2 eggs
1 tsp vanilla extract


for the FROSTING:


1/2 cup butter
1/4 cup unsweetened cocoa powder
1/2 cup coca cola
4 cups powdered sugar (1 lb box)
1/2 cup chopped pecans (optional)


Instructions for making Double Chocolate Coca Cola Cake


for the CAKE:


Preheat oven to 350°F.
Spray 9×13 pan with nonstick spray or use a nonstick dish.
Combine flour, sugar, salt and baking soda in mixing bowl.
In a small saucepan, heat the butter, cocoa, coke-cola, and buttermilk until boiling.
Pour over the dry mixture and mix thoroughly.
Add eggs and vanilla and mix well.
Pour into prepared 9×13 pan.
Bake for approximately 30 minutes. If a toothpick comes out clean the cake is done.


for the FROSTING:


During the last 10 minutes of baking prepare the frosting.
In a small saucepan, combine butter, cocoa, and coke-cola. Whisk together and heat till boiling.
Remove from heat and slowly whisk in powdered sugar.
Remove cake from oven and slowly pour warm frosting over warm cake. Allow cooling long enough for the frosting to set up before cutting.
Serve (with vanilla ice cream is great).


Don't have buttermilk?


If you don't have buttermilk you can mix 1/2 cup milk and 1 tsp lemon juice.


Allow it to sit for 10 minutes (to thicken) and then mix with other ingredients just as you would the buttermilk.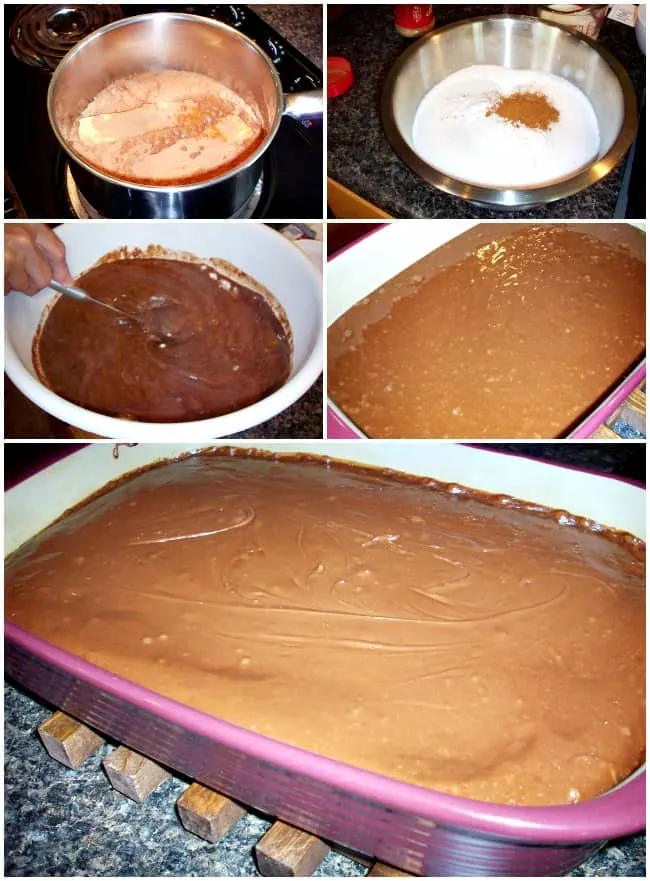 This recipe requires several ingredients but it is really simple, quick and easy to make.


If you have a sweet tooth craving, especially for a rich chocolate treat, then definitely give this recipe a try.


It is so yum and has the perfect fudge taste. It would make a great family gathering cake for any day or holiday of the year.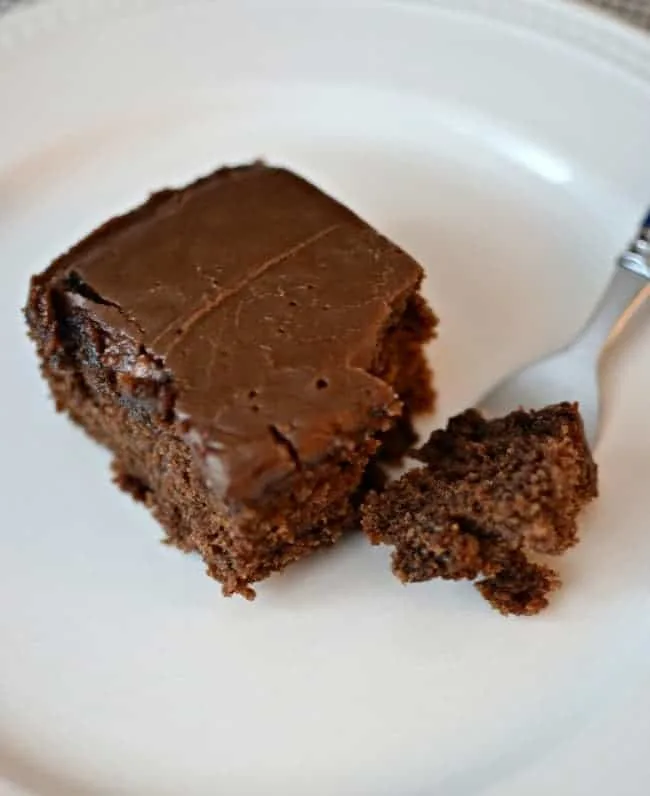 Tools used in the making of this recipe:


If you enjoyed this double chocolate coca cola cake recipe you might also like these other chocolate favorites.




Want to print this recipe?