These Doubletree hotel chocolate chip cookies are my absolute favorite, seriously delicious!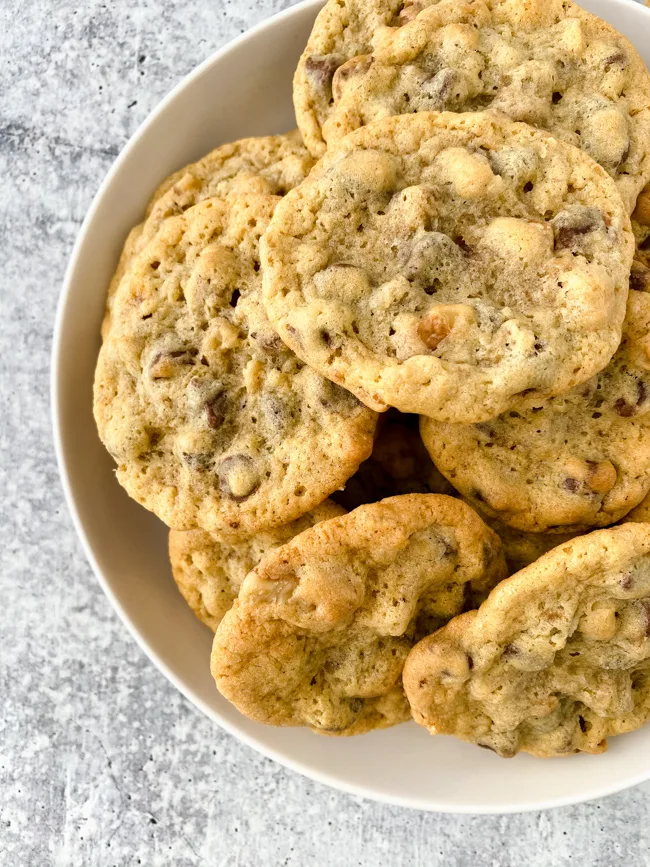 For more than 25 years, DoubleTree has been welcoming guests with a warm chocolaty treat with a crispy outside and a chewy center that is downright perfect.


Now that DoubleTree has officially released their legendary cookie recipe you can bake a batch yourself in your own kitchen.


One thing that is a must when making this recipe is to chill the dough for a few hours before baking. This is the step everyone often misses to make these cookies just like the DoubleTree hotel.


Equipment you might need for baking these cookies:

Wooden Spoon or Rubber Spatula
Ingredients for making DoubleTree Hotel Chocolate Chip Cookies


1 cup butter softened (2 sticks)
¾ cup + 1 tablespoon granulated sugar
¾ cup packed light brown sugar
2 large eggs
1 ¼ teaspoons vanilla extract
¼ teaspoon freshly squeezed lemon juice
2 ¼ cups flour
1/2 cup rolled oats
1 teaspoon baking soda
1 teaspoon salt
Pinch cinnamon
2 2/3 cups Nestle Tollhouse semi-sweet chocolate chips
1 3/4 cups chopped walnuts




How to make DoubleTree Hotel Chocolate Chip Cookies


Cream butter, brown, and granulated sugar with a mixer on medium speed for approximately 2 minutes.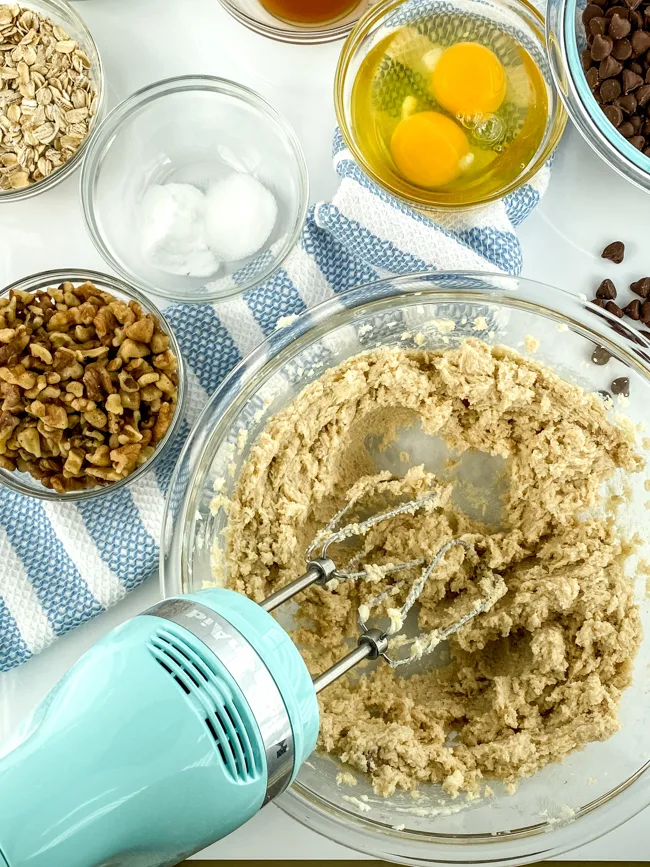 Add in the eggs, vanilla, and lemon juice, blending for another 30 seconds at low speed and an additional 2 minutes on medium. The mix should become light and fluffy.




Place the mixer back on low speed and add in the flour, oats, salt, baking soda, and cinnamon. Don't overmix but blend for around 45 seconds until combined.




Remove the bowl from your mixer and stir in the chocolate chips and walnuts.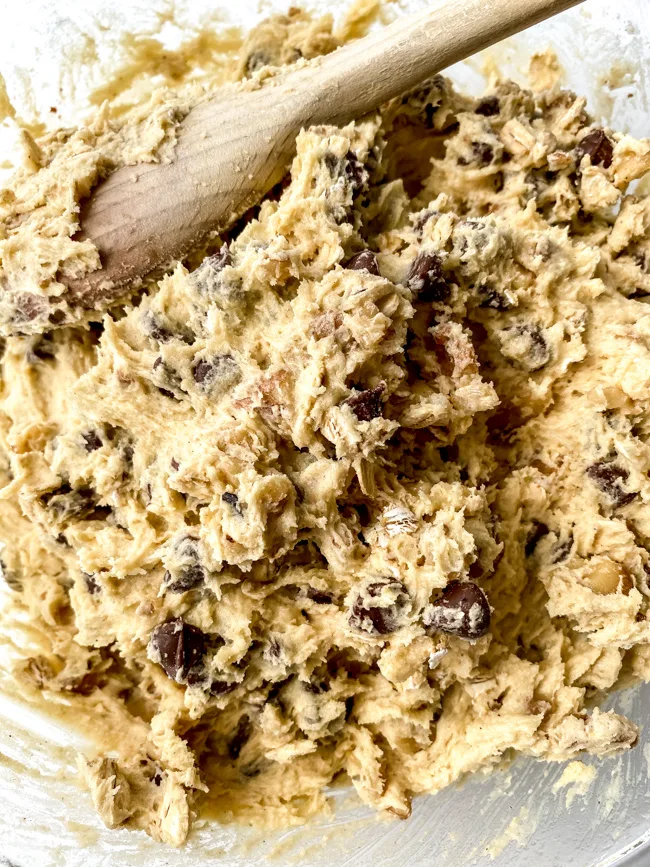 Using a cookie scoop, scoop out evenly spaced balls of dough (about 2 inches) on a parchment-lined cookie sheet.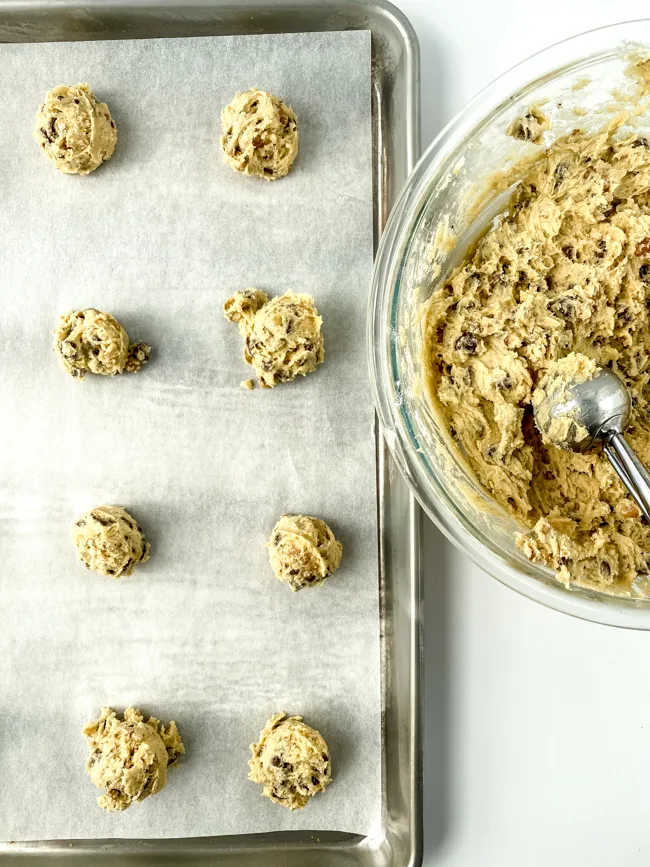 Bake in a 300-degree oven for 20 – 23 mins or until golden brown, the center will still be soft.




Let cool on a baking sheet for about 1 hour or so. This recipe makes 26 cookies.




How many calories are in a DoubleTree chocolate chip cookie?


There are 310 calories in 1 cookie of DoubleTree Hotel Chocolate Chip Cookies.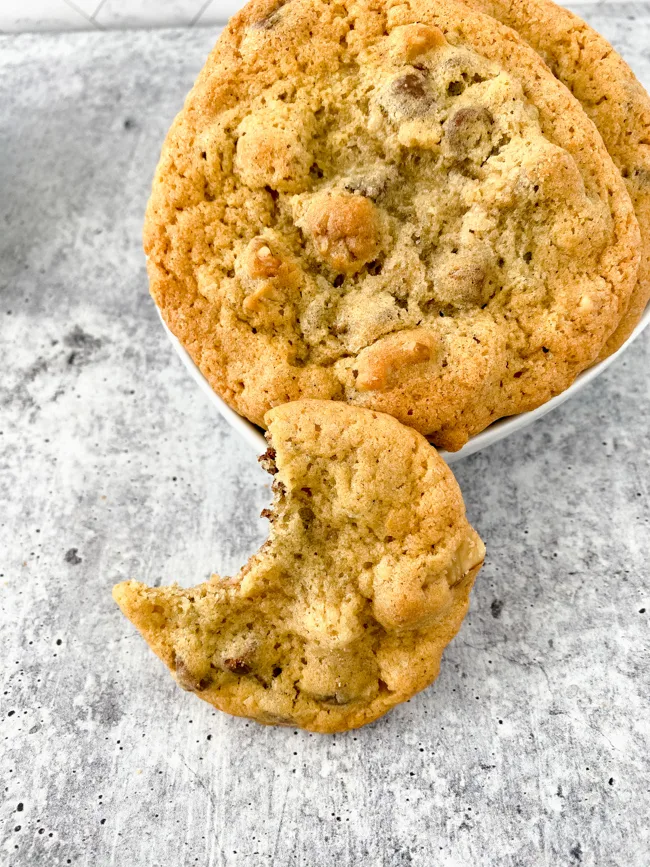 Can you freeze this cookie dough?


Yes, you can make the cookie dough and shape into balls and freeze it for a quick dessert later.


There is no need to thaw the dough before baking the cookies. Simply add a few minutes to the cooking time and cook as directed.


You can also freeze the already baked cookies. Pop them in the microwave for a few seconds and enjoy!




Even more cookie recipes you don't want to miss!


Want to print or save this recipe for chocolate chip cookies?