Celebrate Dr. Seuss with one of these cute and creative Fox In Socks crafts. Both incredibly easy for even the youngest creators.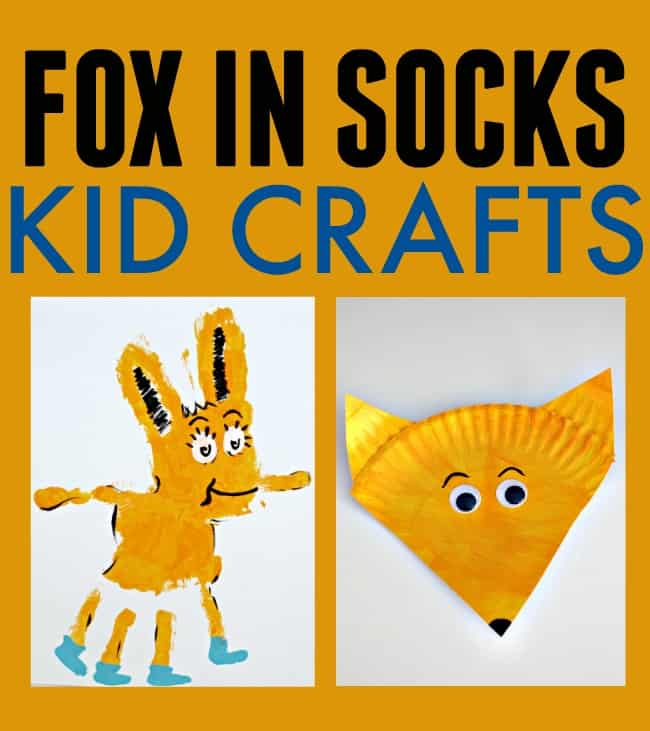 This post contains affiliate links.

I love a good book and probably read anywhere between 50 to 100 new books a year. I am definitely happy to say I  have passed on that love of reading to my daughter.
Some of her favorite books are Dr. Seuss ones. Who doesn't love Dr. Seuss books right? If you are a Dr. Seuss fan then you probably know his birthday is right around the corner, March 2nd. We thought we would make and share some crafts to go along with the books.
Have you ever read Fox in Socks
? All of Dr. Seuss books can be tongue twisters but especially this one. It is fun with all the fox, box, socks and Knox words. Check out the book and then have some fun making this handprint and paper plate crafts with your kiddos.
FOX IN SOCKS HAND PRINT CRAFT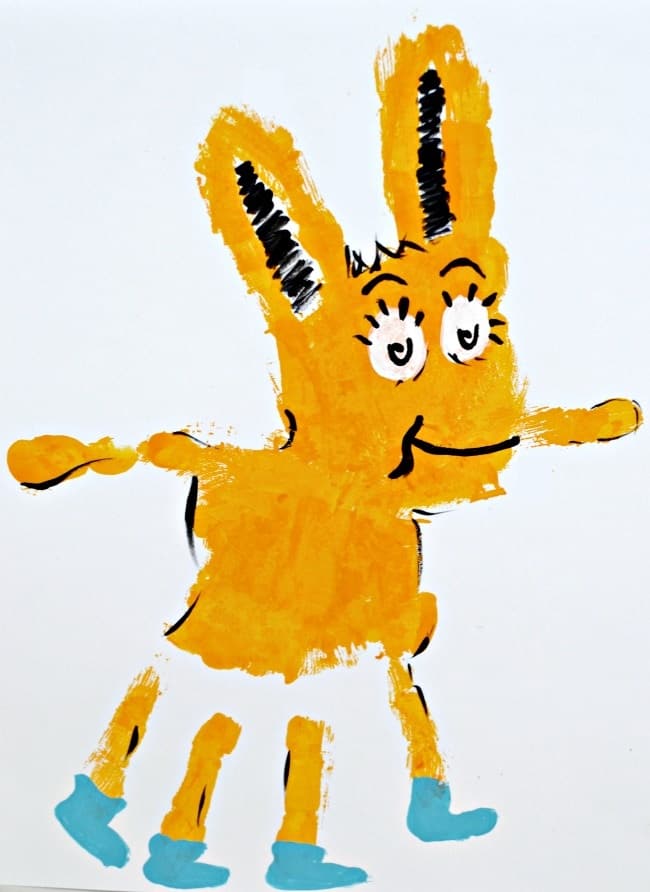 SUPPLIES:
Orange, Light Blue, Black and White Acrylic Paint
Sponge Brush / Regular Paintbrush
White printer or stock paper
DIRECTIONS:
1. Paint your hand orange with the sponge brush and place it down on the paper in the top right-hand side. Try to spread your thumb down to create the nose and then your fingers separated kind of like Spock (if you can) to create the ears. It doesn't have to be perfect so just do the best you can.
2. Now paint your hand again with the orange and turn it around to create the body. Your thumb will be the tail and your fingers spread apart will be the legs.
3. Allow your paint to dry and then once your body is dry you can paint on the blue socks.
4. Paint on large round white eyes with your white paint.
5. Lastly using the black paint on the inner part of the eyes, a mouth and whatever extra touches you want to add. We painted the inside of his ears, gave him some lashes and eyebrows and a few touches here and there. In the book, the fox is very expressive and has large eyelashes.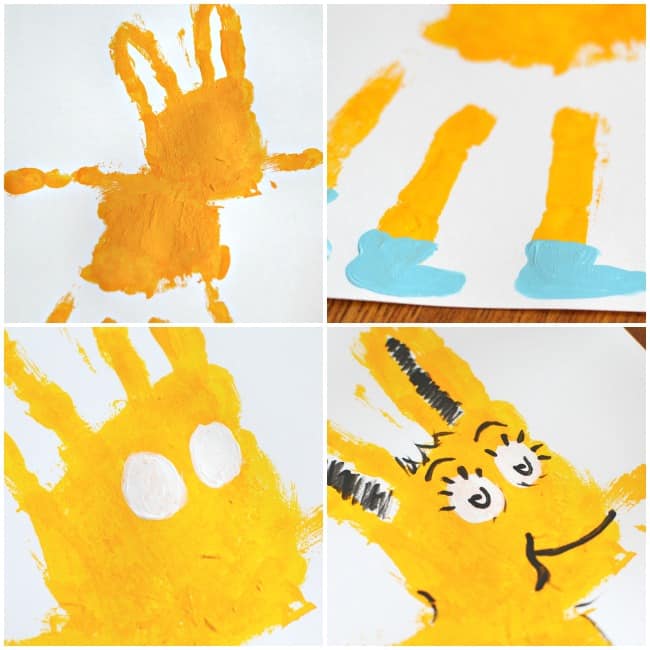 FOX IN SOCKS PAPER PLATE CRAFT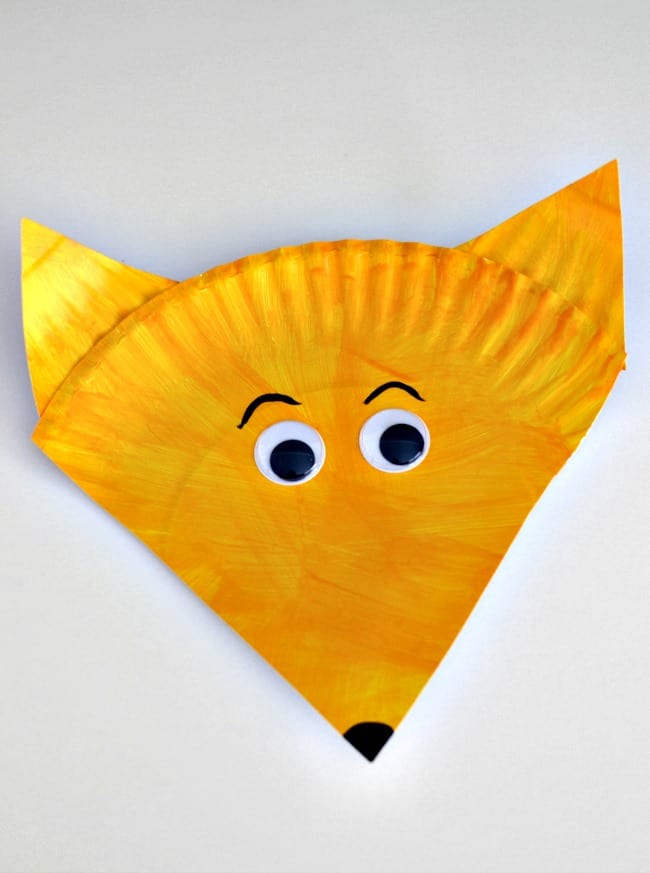 SUPPLIES:
1 Paper Plate
Orange and Black Paint
Scissors
Glue
Wiggly Eyes (optional)
DIRECTIONS:
1. Paint your paper plate orange.
2. Cut the plate creating the foxes face.
3. Use the leftover plate to cut out the foxes ears.
4. Attach the ears with glue to the back of the paper plate.
5. If you have wiggly eyes, attach them with glue. If you don't want to buy wiggly eyes then you can, of course, use white and black paint to create his eyes.
6. Use the black paint to paint on the nose and eyebrows.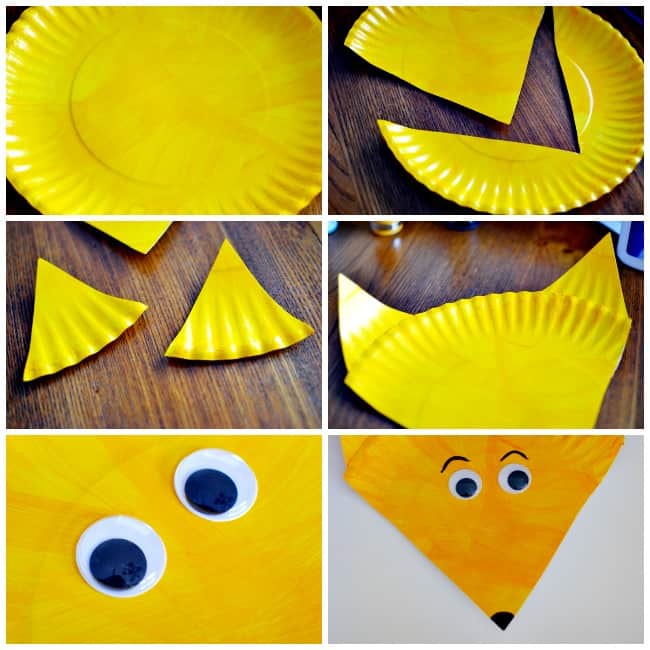 If you love these Fox In Socks crafts you might also enjoy…
---