This one is my new "vintage" kitchen sign. If you have ever wanted to learn how to create vintage signs that are made to look old and weathered then keep reading.


It's super easy!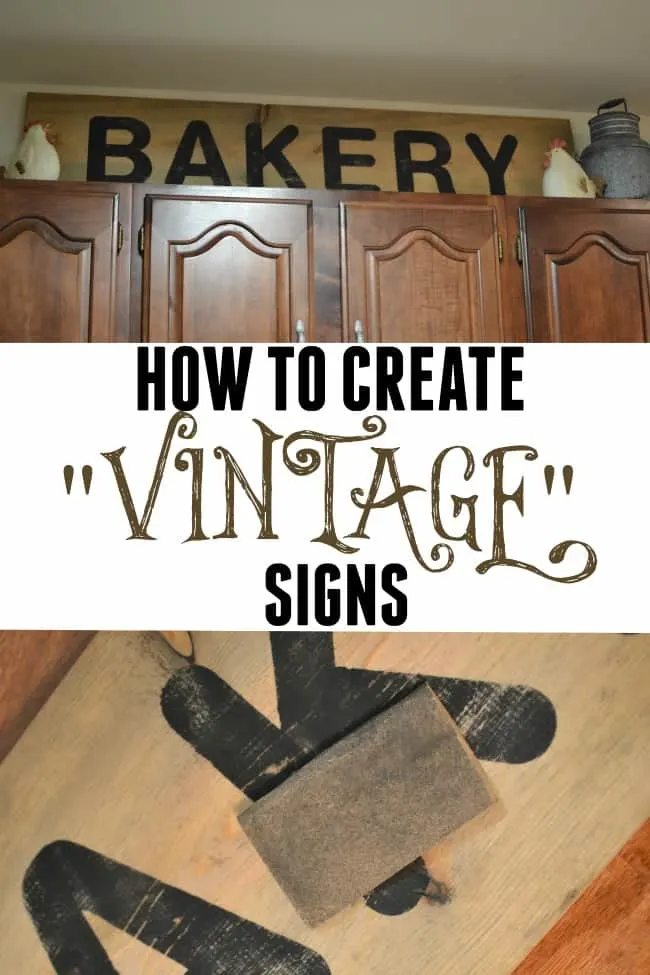 This post contains affiliate links.


Supplies you will need:


Wood
Homemade Stain
Craft Paint
Sandpaper


How to create vintage signs made to look old.


1. The first step in how to make wood look primitive and old is to pick out your piece of wood and stencils.


The size really just depends on how big you want your sign. For this specific bakery sign that I created, I used a 1 x 12 x 6 board. You won't need the whole 6-foot piece but again the size you will need depends on what word you want to create.


I laid all of my stencils out to spell bakery, measured an extra 5 inches on each side, and then made my final cut.


2. Once I got the piece measured and cut, I started in on staining it.


I have been using this homemade stain that I created and I absolutely love the way it comes out. It is the perfect grayish brown, old barn wood look. I also like that I don't have to worry so much about creating a mess whether on the garage floor or my clothes with this stain.

However, if you are not interested in making your own stain then a great option for this grayish brown color is weathered oak by Minwax.


If you choose the homemade stain option, you will want to let it set and oxidize after staining. That is what allows it to turn this gorgeous weathered and vintage color.


Like regular stains, you can put more than one coat on if you want it to turn out a little darker. See below for how to create the stain mix.


3. Now that you have your piece stained and dried you are ready to move on to the next step.


I bought 7-inch alphabet stencils at my local craft store but if you had a silhouette you could also make a vinyl stencil for this project.


I laid out my letters to spell bakery and then taped them down so they wouldn't slide on me while stipple brushing on the paint.


4. Stipple on the letters using craft paint. I used black but you could use any paint color that matches your home decor.


I definitely recommend stipple brushing when using stencils. I feel like you get crisper edges compared to brushing it on. You could also trace the stencils and hand paint the letters as well.


As you may notice in my stencils, there are little spots that connect the stencils in letters like the E and K. I connected these for a full letter look just by hand touching up the rest.


5. Allow your paint to dry and once it is fully dry you are ready to do the final step.


Using a sander or sandpaper rough up the letters and edges until you have the perfect vintage look you are going for. If you want it to look really old then continue to sand until the letters are barely visible.




This project only cost me about $20 between the wood and the stencils and I already had the other materials. I think that is a pretty good deal considering the cost of purchasing some handmade signs off Etsy or at your local markets.


If you are looking to create the homemade wood stain then keep reading for the simple mixture.




Homemade Wood Stain Recipe


Stain materials you will need:


How to use this stain!


Mix the ingredients together. I didn't do any exact measuring. I filled up my mason jar with apple cider vinegar, put in the piece of steel wool, and then poured in about 1/2 cup of coffee.


Give it a good shake and allow to sit for at least 24 hours, even longer works better.


Here is how it looks after stained on the wood and allowed to oxidize.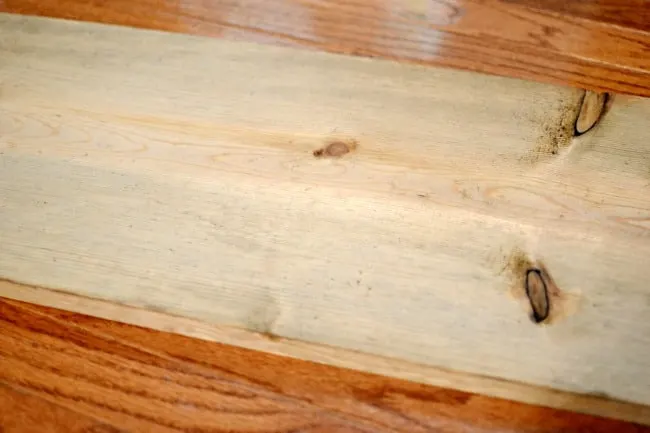 This was after just one coat and I just love the gray tone it gets. The longer it sits and dries the darker it becomes as well. As you can see in the first picture the final product was even darker.


That is it, that is how to create vintage signs and turn new pieces of wood into "old" pieces of wood.


I hope you liked this easy and inexpensive do-it-yourself home decor project.


If you have been wanting a wooden sign in your home give it a try. There are so many possibilities of what you could create. I think a family name and established sign would be fantastic. I just might have to create one of those for myself.


Even more fantastic home decor wood projects you don't want to miss!!


Want to print the instructions for this How to Create Vintage Signs Post?