These fun and easy Meringue Ghosts are yummy little swirls of sweetened meringue studded with the most adorable little chocolate eyes you ever did see.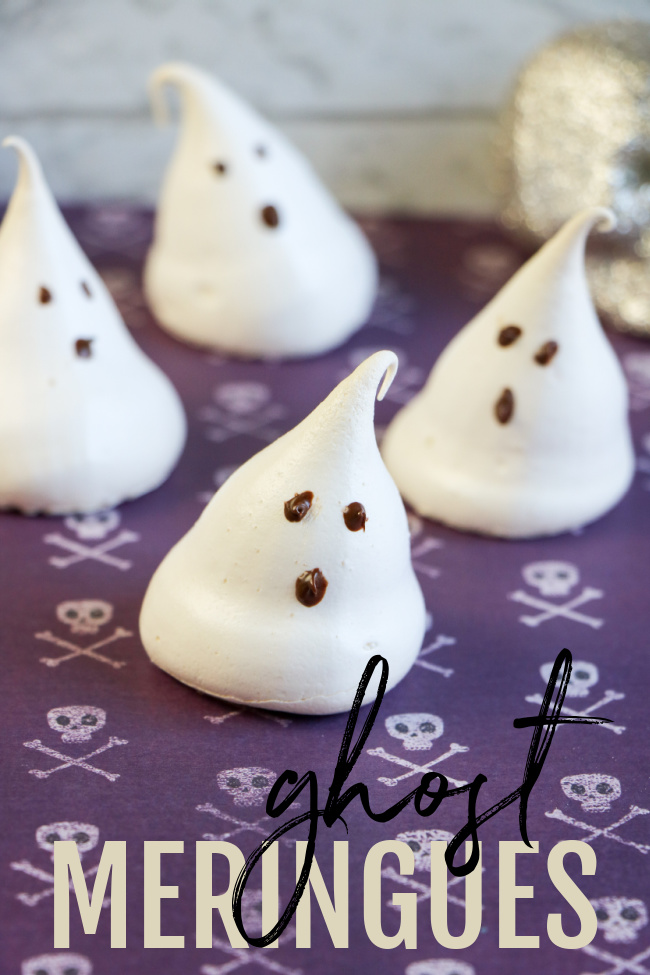 What's Halloween without a little spooky ghost action right?


These friendly little Meringue Ghosts make the most perfect Halloween treat because they are incredibly easy to put together and delicious to boot.


Ingredients for Ghost Meringues:


2 eggs, whites only
¼ teaspoon fresh lemon juice
½ cup of sugar
2 teaspoons chocolate chip morsels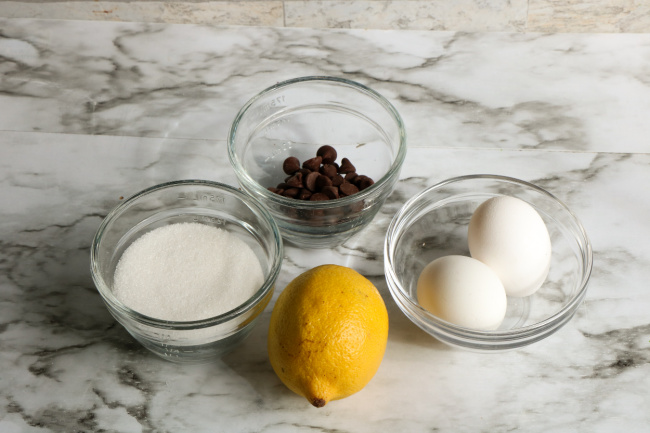 How to make Meringue Ghosts:


Preheat the oven to 225 degrees. Prepare a baking sheet with parchment paper.


Place egg whites and lemon juice into the bowl of a stand mixer with the whisk attached. Beat at medium speed until light and foamy.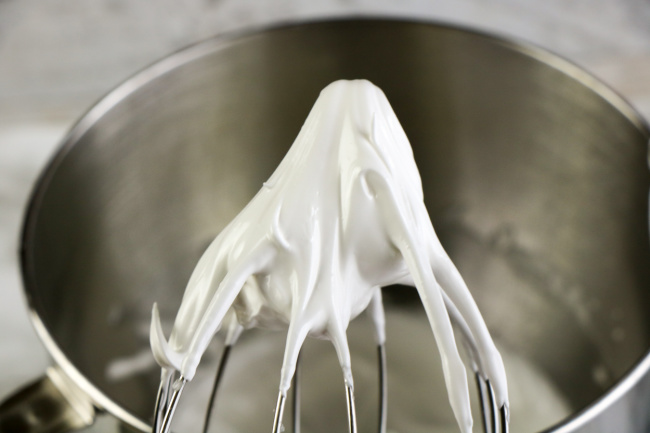 Slowly add the sugar, about a teaspoon at a time, as the mixture continues to whisk.


Pause the mixer and scrape down the sides. Return to whisking at medium speed and continue beating until the mixture holds the shape when the whisk is inverted.


This may take 10 minutes or longer depending on the temperature of the egg whites and/or the humidity in your home. Be patient.


NOTE: Whisking at a higher speed will cause the meringues to develop large air bubbles and/or to crack when baked.


Transfer the meringue to a piping bag.




Cut the end of the tip and press the meringue onto the parchment paper.


To make a ghostly shape, apply even pressure as you pull upwards and releasing the pressure at the top.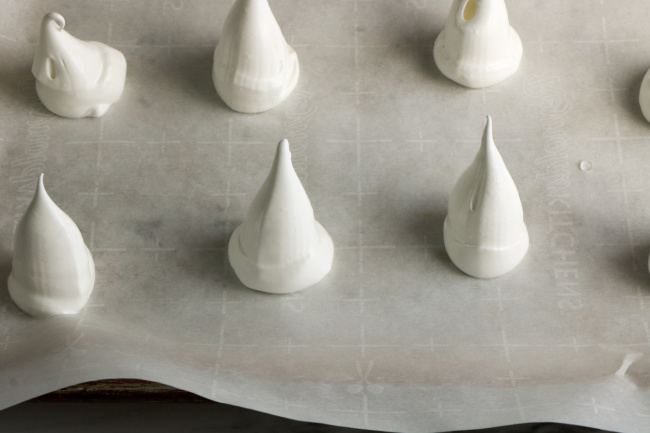 Bake for 50 to 60 minutes. Check the meringues. They should be very dry and not sticky.


Turn off the oven and keep the meringues in the oven with the door closed for an additional 50 to 60 minutes.


When done, remove the meringues from the oven and allow to cool completely.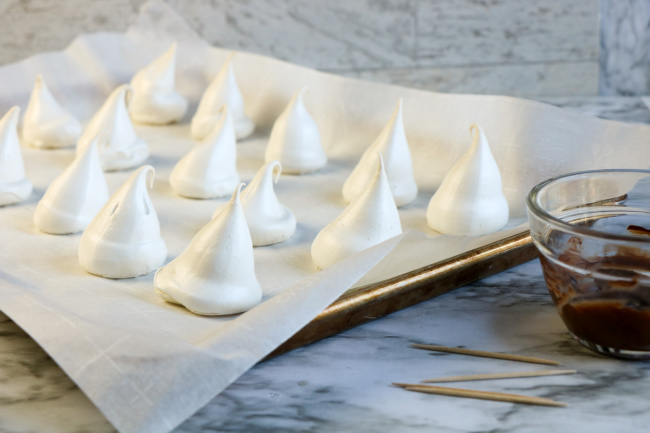 Microwave the chocolate morsels stirring every 15-seconds. Avoid overheating as the chocolate will seize into a clump.


Using a toothpick, decorate the meringues with dots for eyes and mouths.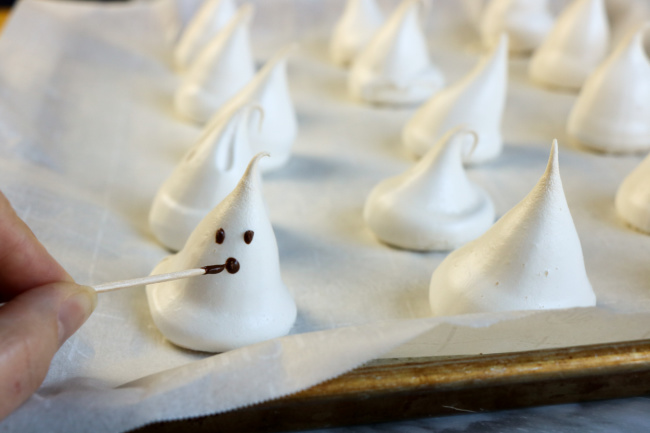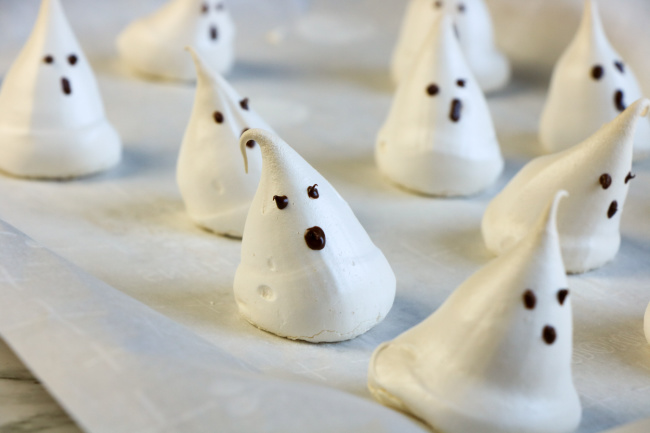 Why are my meringues chewy inside?


The sugar in the meringue pulls moisture from the air. Too much moisture means sticky meringues. The trick is to leave the meringues in the oven after baking. If they are still too sticky continue baking them for 10 additional minutes.


Why are my meringues not stiffening?


The most common mistake is not beating the eggs long enough, or at too slow a speed, which means the egg whites won't reach the stiff peak stage. The second common mistake is overbeaten egg whites. Once your egg whites are overbeaten, they won't work properly in your meringue.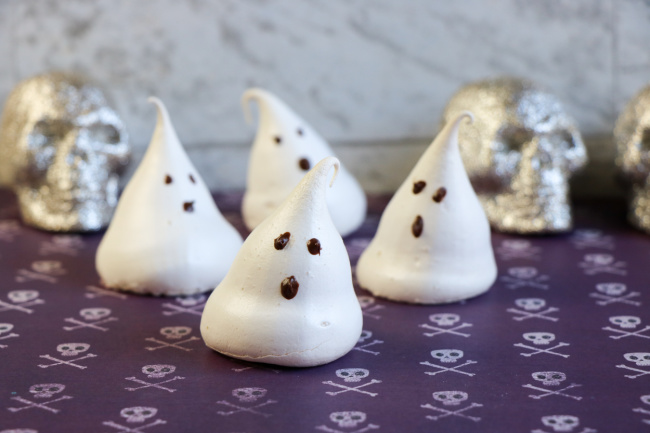 Even more delicious Halloween Treats you don't want to miss!!


Want to print this Meringue Ghosts recipe?