This Halloween Candy Bark is an easy and super fun treat for the spooky holiday season.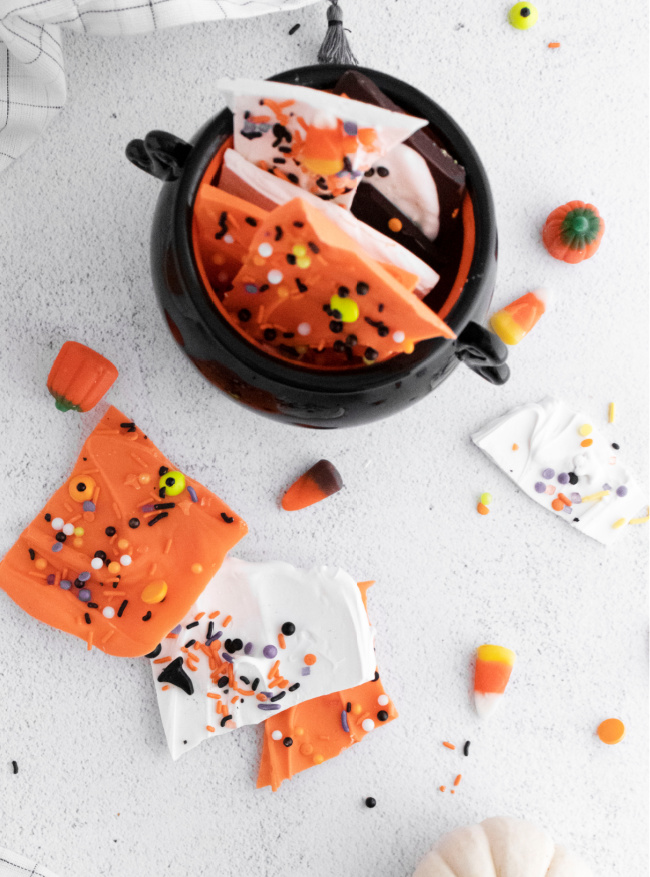 Bark or candy bark is just a thin layer of chocolate with other candy, fruit, or nuts added in, so the best part about this holiday bark is that you can change it up for any holiday, and use whatever colors and candies you like.


This makes a great way to use up all that leftover Halloween candy. Yes, it's okay to easy spooky candy bark after the 31st.


Ingredients you will need:


3/4 cup dark chocolate chips
3/4 cup white chocolate melting wafers
3/4 cup orange chocolate melting wafers
Sprinkles
Candy eyes
Candy corn
Reeses Pieces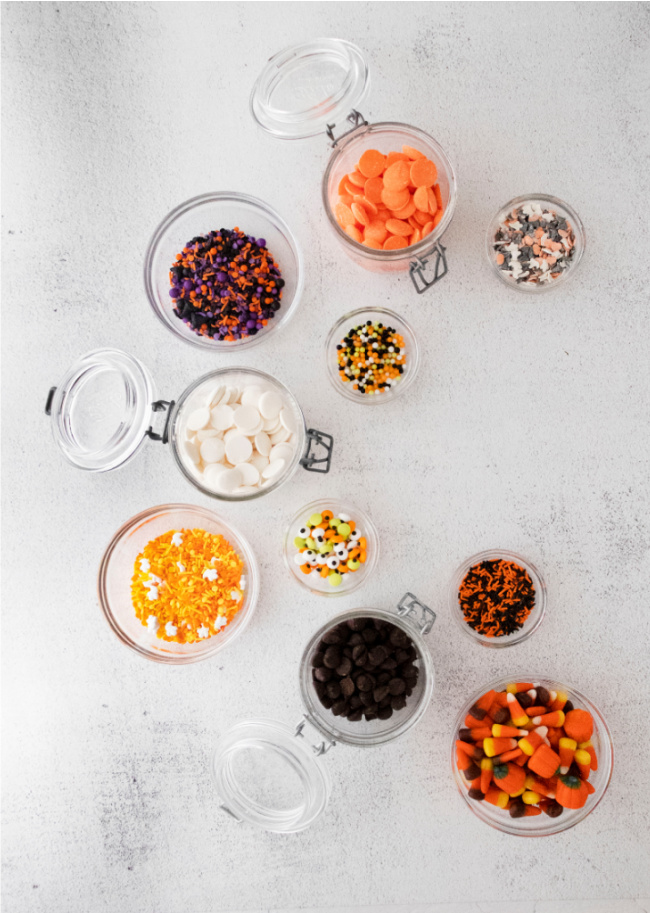 How do you make Halloween Candy Bark?


Line a sheet pan with parchment paper.


Add the dark chocolate chips to a small microwave-safe bowl. Microwave on high for 30 seconds. Stir.


Microwave again for an additional 30 seconds. Stir again. By this point, your chocolate should be smooth and shiny. If there are still large lumps, microwave for an additional 15 seconds and stir again.


Dump the chocolate onto the parchment paper and spread it out until it is 1/4" thick. This is easiest to do with an offset spatula.




Add any sprinkles, candy, or decorations while the chocolate is still wet— work quickly as it will start to harden immediately.


Repeat with the remaining two chocolates.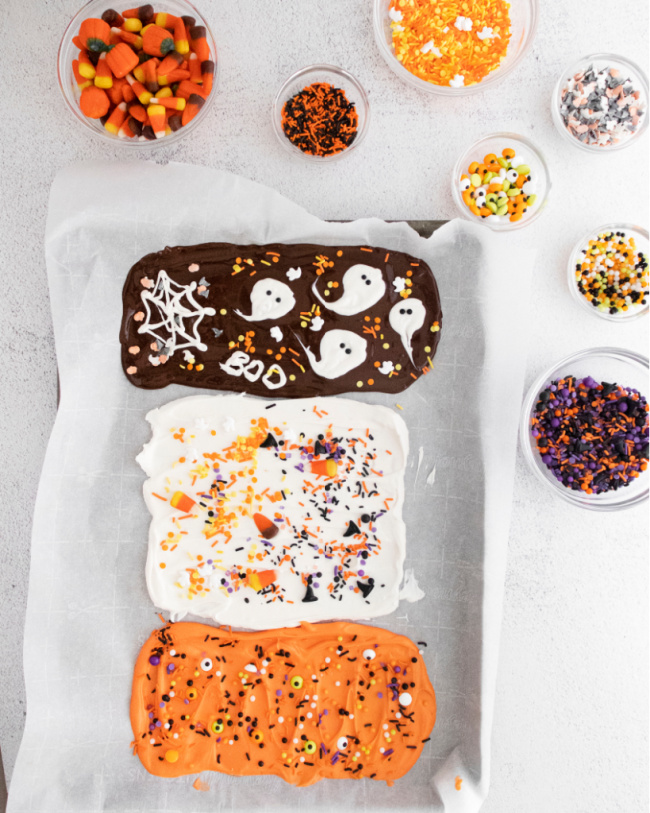 Transfer the chocolate bark to the freezer and allow it to sit for at least 30 minutes.


While the chocolate bark is still frozen, break it into large chunks with your hands (or with a sharp knife).


Store in an airtight container in the refrigerator for up to 4 days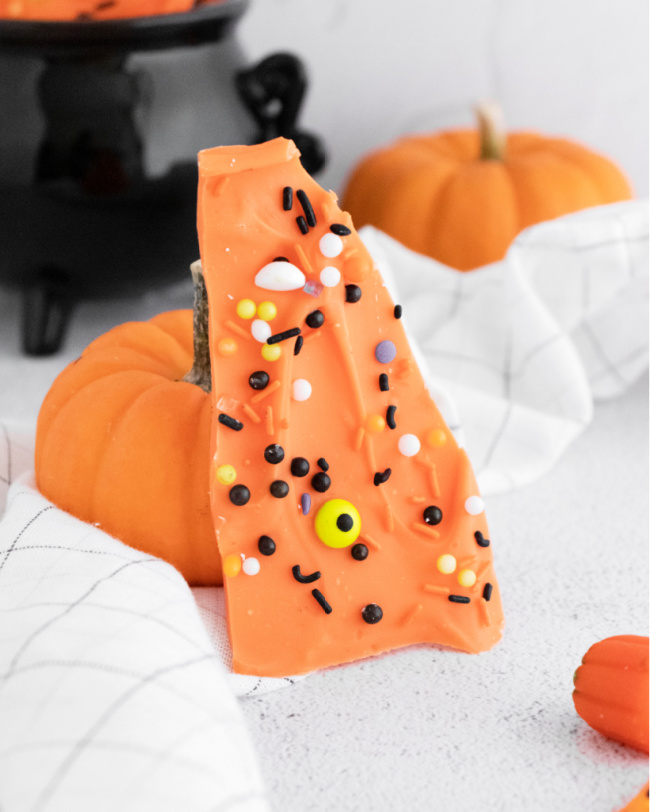 Just a few notes:

Any chocolate chips will work in this recipe— semi-sweet, milk, bittersweet, etc. Just use what you have on hand.


You can substitute white chocolate for the melting wafers, although it does not melt as easily or as smoothly. Melting wafers are highly recommended.


To make shapes, transfer 1/4 cup of melted white chocolate to a plastic bag. Cut the very corner tip of the bag off and use the chocolate to pipe the ghost or spider web design.


If your candy wafers start to separate or clump, add 1 tablespoon of solid vegetable shortening. Microwave for 30 seconds and then whisk it vigorously.


Don't be afraid to add pretzels to this mix. They add a lovely crunch and a little salty to your sweet.


You could also use peanuts or any other chopped nut if you prefer.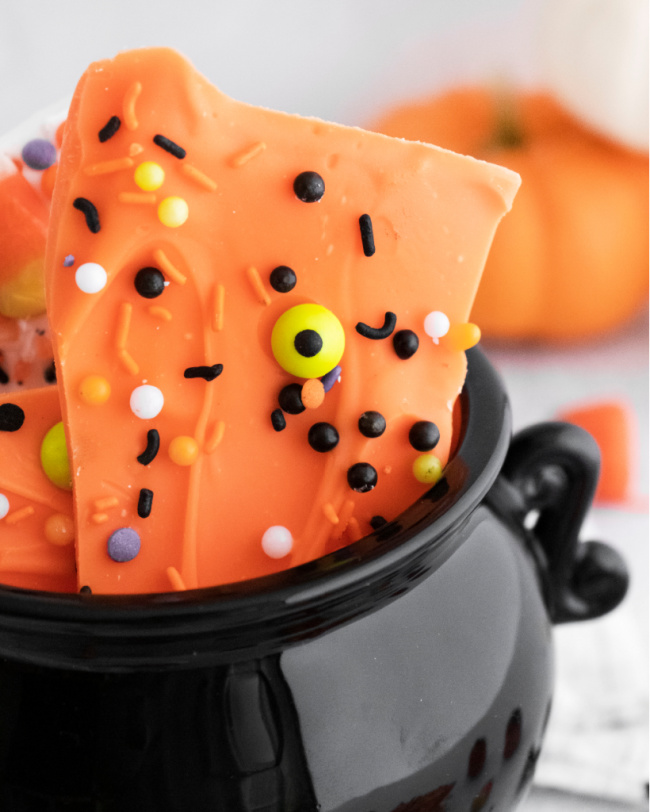 EVEN MORE, HALLOWEEN TREATS YOU DON'T WANT TO MISS!


Want to print this Halloween Candy Bark Recipe?