Learn how to make this super simple and quick popsicle stick scarecrow craft for kids. The perfect non-scary craft that makes an awesome magnet to hang onto the fridge.


A charming scarecrow, not made of straw and old clothes, but crafted from the simplicity of popsicle sticks.


In this blog post, we'll unravel the magic behind creating your very own popsicle stick scarecrow, adding a dash of playfulness to your autumn decor.


So, grab your glue, gather those sticks, and let's embark on a crafty adventure that will leave your garden smiling in the face of fall!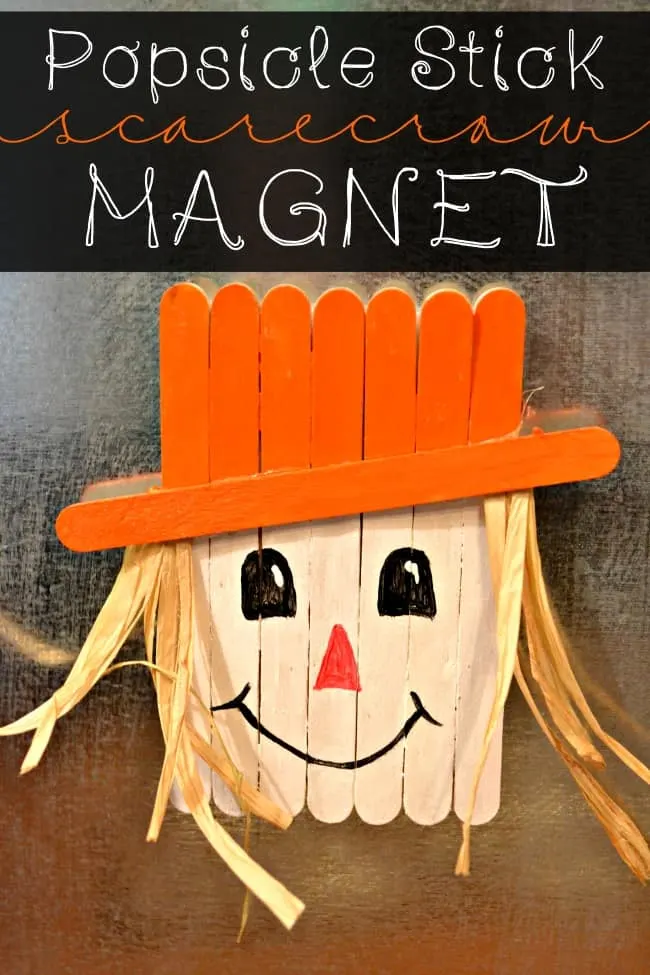 If you saw the new scarecrow that I picked up at the farmer's market in this DIY burlap garland post then you will know where my inspiration for this week's Crafting with Kids! project came from.


I thought they were just too darling. I don't have a lot of fall decor for my kitchen area so I thought a DIY scarecrow magnet would be fun.


It doesn't have to be a magnet, it can just be a regular kids' craft but I thought it looked adorable as one.




Supplies you will need for creating this Craft Stick Scarecrow


Craft Paint (orange, white, black, and red)
Cardstock or Cardboard
Hot Glue Gun & Glue Sticks
Elmer's Glue
Magnets (optional)




How to make a popsicle stick scarecrow craft for kids!


(Step by Step pictures following the details)


1. Start by using Elmer's glue to glue on your craft sticks, 7 of them, to your cardstock or cardboard.


It doesn't matter what you use for the backing just as long as it is strong enough to support the sticks. Also, make sure that you cut your backing so that it's no longer or wider than the popsicle sticks. Let dry!


2. This is the step the parent will want to help with. Hot glue a few strands of the raffia onto one craft stick for the scarecrow's hair.


I just cut a few pieces for each side. Once the hot glue is dry you can then glue the stick onto the rest of the scarecrow body.


3. We choose to paint the scarecrow at this point.


If you think it would be easier for your kids to paint before attaching the hairpiece then you can do that beforehand. We just found it easier to paint afterward.


Now that everything is painted you get to sit and watch the paint dry. Luckily it's just craft paint and it will be dry in minutes, not hours.


4. The next step is to paint the adorable face.


Depending on the age and painting skill level of your children you could always paint the face for them or cut out pieces of felt or foam and attach them with glue.


We didn't add anything to the hat but you could also add a flower and turn this into a scarecrow girl. Just dress it up, however, you like it.


5. Attach magnets to the back of your scarecrow. We used two .75-inch adhesive magnets to hold ours up. This part is optional but he looks adorable on the fridge.


That's it, you are all done with your popsicle stick scarecrow.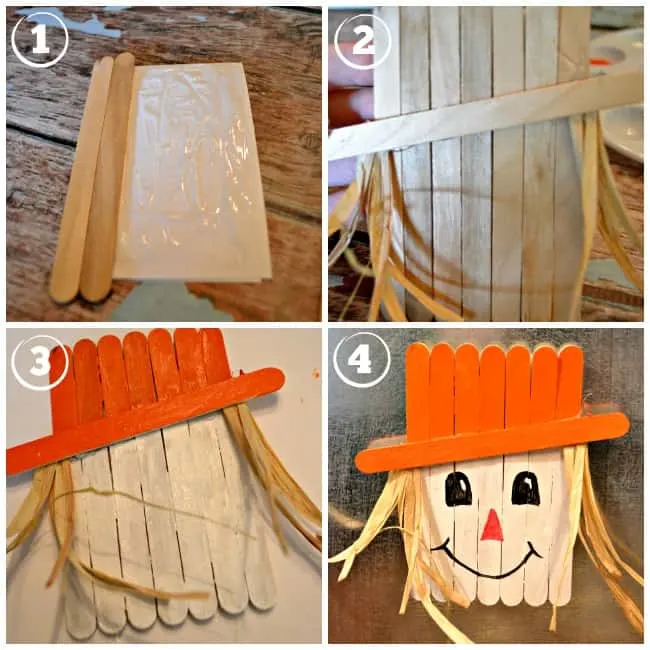 What can I use instead of a popsicle stick?


You could create this same scarecrow using a paper plate. Paint the entire plate white, add the raffia hair, and use construction paper for the hat.


What is the best glue to use on popsicle sticks?


It truly depends on what you are gluing to the Popsicle sticks.


If you are gluing a Popsicle stick on top of another you will want to use hot glue. Elmer's glue will work fine but it takes longer to set.


If you are gluing craft paper onto the sticks then using Elmer's glue will work the best because hot glue will be too hot for the paper.




This tender and affectionate story reminds us of the comforting power of friendship and the joy of helping others—a tale that will inspire and delight children for generations to come.


All the animals know not to mess with old Scarecrow. But when a small, scared crow falls from midair, Scarecrow does the strangest thing.… He saves the tiny baby crow.


Soon a loving bond grows between the two unlikely friends. But is it strong enough to weather the changing of the seasons?




Even more adorable popsicle stick fall crafts you don't want to miss!