Create spooky fun with our Popsicle Stick Frankenstein Craft! Follow our easy step-by-step guide to make adorable mini monsters with your kids. Perfect for Halloween and crafting enthusiasts of all ages. Get creative today!


This little Frankenstein made out of popsicle sticks is perfect for crafting with your kids this Halloween. You can also attach a magnet and hang it on your fridge.




Get ready to unleash some monstrously good fun this Halloween season with a creative and kid-friendly crafting project that's sure to bring smiles and spooky excitement!


If you're on the lookout for a fantastic DIY activity that combines a dash of creativity, a pinch of imagination, and loads of Halloween spirit, then look no further than our Popsicle Stick Frankenstein Craft for Kids.


In this step-by-step guide, we'll show you how to transform simple popsicle sticks into adorable and eerie little Frankensteins that will be a hit with children of all ages, from little kids to older children.


Whether you're a parent, teacher, or just a Halloween enthusiast, this craft is the perfect way to get into the spooky spirit and engage young minds in a thrilling and artistic adventure.


So, grab your craft supplies, and let's embark on a journey of crafting and creativity that's perfect for the Halloween season!




Why you'll love this craft


Family-Friendly Fun Crafts: Our Popsicle Stick Frankenstein Craft is designed with kids in mind, making it a fantastic family activity. It's a wonderful way to spend quality time together while fostering creativity.


Easy and Accessible: No need for advanced crafting skills or expensive materials! This craft utilizes simple supplies that you likely already have at home, making it accessible to everyone.


Halloween Magic: What better way to embrace the Halloween spirit than by creating your own little monsters? These adorable Frankensteins will add a touch of spooky charm to your decorations.


Step-by-Step Guidance: Our blog post provides clear, step-by-step instructions with accompanying images to ensure a stress-free crafting experience. Even beginners can follow along!


Educational Value: Crafting isn't just fun; it's also educational! This project encourages fine motor skills, creativity, and imagination, making it a win-win for parents and teachers.


Customizable Creations: Feel free to add your own unique twists to the craft. Whether it's different colors, expressions, or accessories, you can make each Frankenstein character one-of-a-kind.


Budget-Friendly: With simple materials, you won't break the bank. It's an excellent option for budget-conscious individuals or educators looking for cost-effective classroom activities.




Supplies for making a Frankenstein Popsicle Stick Craft


Popsicle Sticks (9)
Craft Paint (green paint, gray paint, and black paint or black marker)
Card stock / Cardboard
Craft Glue (a hot glue gun works great with adult supervision)
Paint Brushes
Magnet (optional)




How to make a popsicle stick Frankenstein craft!


Start off by painting 8 craft sticks green and 1 craft stick gray.


Glue on your gray craft sticks to your cardstock or cardboard for his bolts. It really doesn't matter what you use for the backing just as long as it is strong enough to support the sticks.

Also, make sure that you cut your backing so that it's no longer or wider than the Popsicle sticks. Now glue your green on top of your gray stick and down to the card stock as well.

Because the gray stick makes the green ones offset a little you will need to pick the craft up and make sure the card stock is sticking to the green sticks as well. Allow drying!


Now that he is completely dry you can attach his wiggly eyes with craft glue and either use black craft paint or a sharpie to create Frankenstein's hair and the rest of his face.


Lastly, attach a magnet to the back of your Frankenstein if you want him to be a magnet. I recommend a .75 inch adhesive magnet to hold it up.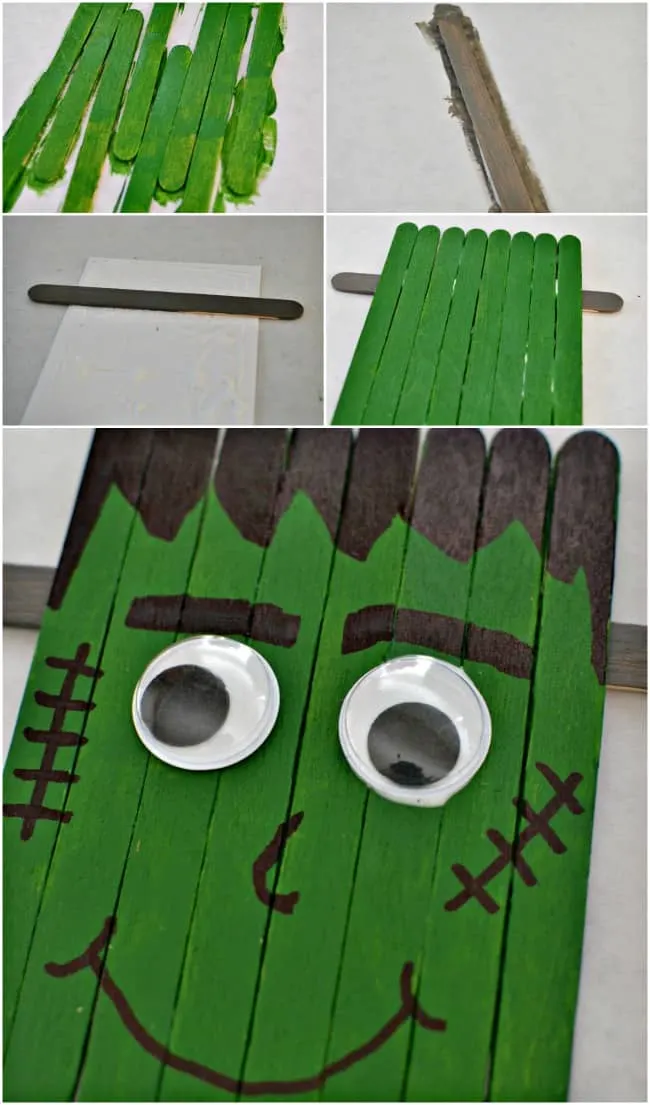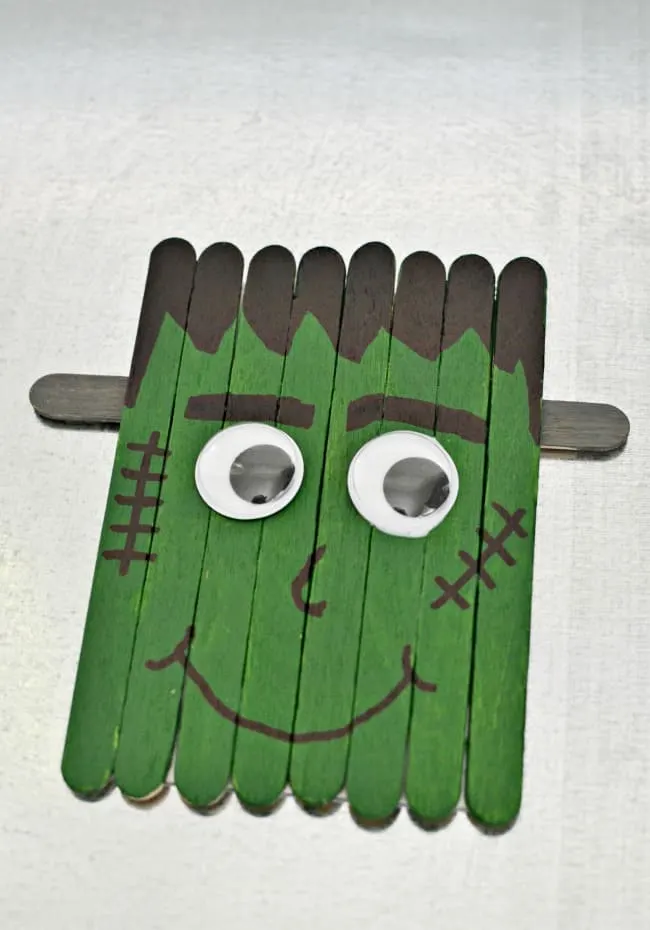 Don't miss out on these other fun franky posts I have done, Frankenstein Pops and a Frankenstein candy dish.