No need to be superstitious of this popsicle stick black cat. It's frighteningly cute what kids can make for Halloween with some craft sticks and paint.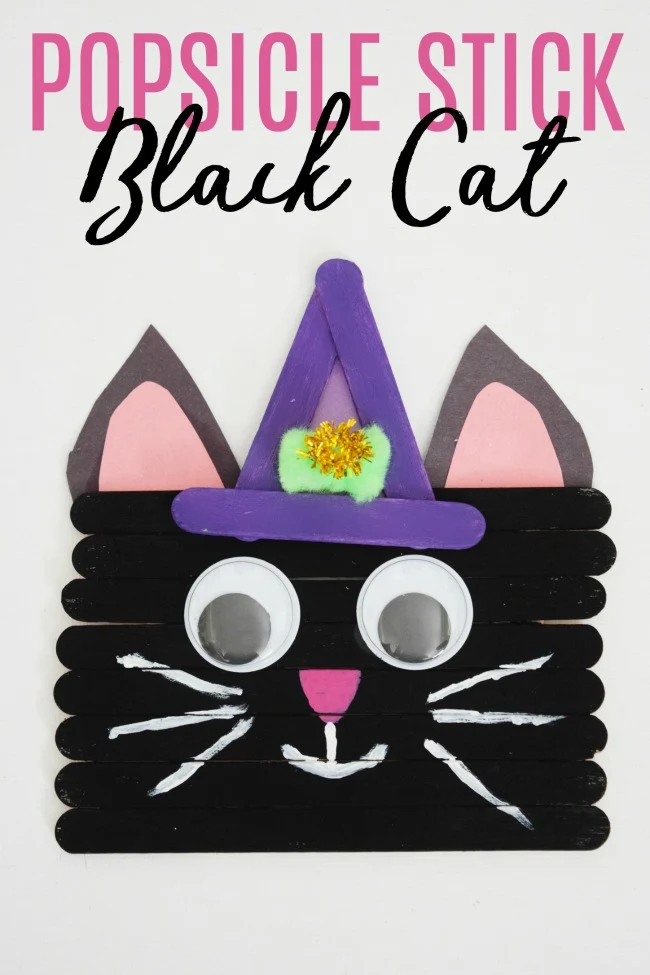 Make this spooky, silly and adorable black cat craft for Halloween or ditch the witches hat and he is perfect for any time of the year. Easy, peasy and fun!
Things you will need:
black, white, pink, and purple craft paint
8 regular sized craft sticks
3 small craft sticks
black, pink, and purple construction paper
wiggly eyes
green pom poms
gold pipe cleaners
craft glue
Directions:
The first step to creating this super cute black cat is attaching the 8 craft sticks together. I did this by gluing an additional craft stick across the back as well as 2 smaller ones. If you are having lots of little kids create this craft I would highly suggest just having them paint the sticks beforehand and then glue them directly onto a piece of construction paper. You could also cut out a piece of construction paper smaller than the size of the sticks together and glue them straight to that as well.
If you decided not to paint the sticks beforehand you are ready to paint the craft sticks. You will want to paint these black and allow to dry.
Now you are going to take your black and pink construction paper to make your little cat some ears. Once they are ready to go you can attack them to the back of your craft sticks. We turned this one lengthwise (sideways) so that the ears would be further apart and we could have room to add the witches hat.
Attach two cute little wiggly eyes and using the pink and white craft paint, paint on a nose, mouth, and whiskers.
This next step you can technically skip but we wanted to add the witches hat to give it more of a Halloween touch. Create the hat out of 3 smaller craft sticks painted purple and glued into the shape of a witches hat, attach a pom pom and a small snip of a pipe cleaner. Once the hat is fully put together you can attach it to the cat using a little bit of glue.
If you enjoyed this popsicle stick black cat you also might like…
---