Get ready to unwrap some spooky fun with our Popsicle Stick Mummy Craft that uses simple supplies like craft sticks, coffee filters, and googly eyes.


This eerie yet adorable DIY project is perfect for a chillingly good time.


Grab your popsicle sticks and let your creativity run wild as you transform these simple materials into cute little mummies.


Wrap your mummies in gauze (coffee filters), add googly eyes for that extra dose of charm, and watch as your craft comes to life with a touch of mummified magic.


A popsicle stick mummy is the perfect Halloween craft for kids this holiday season.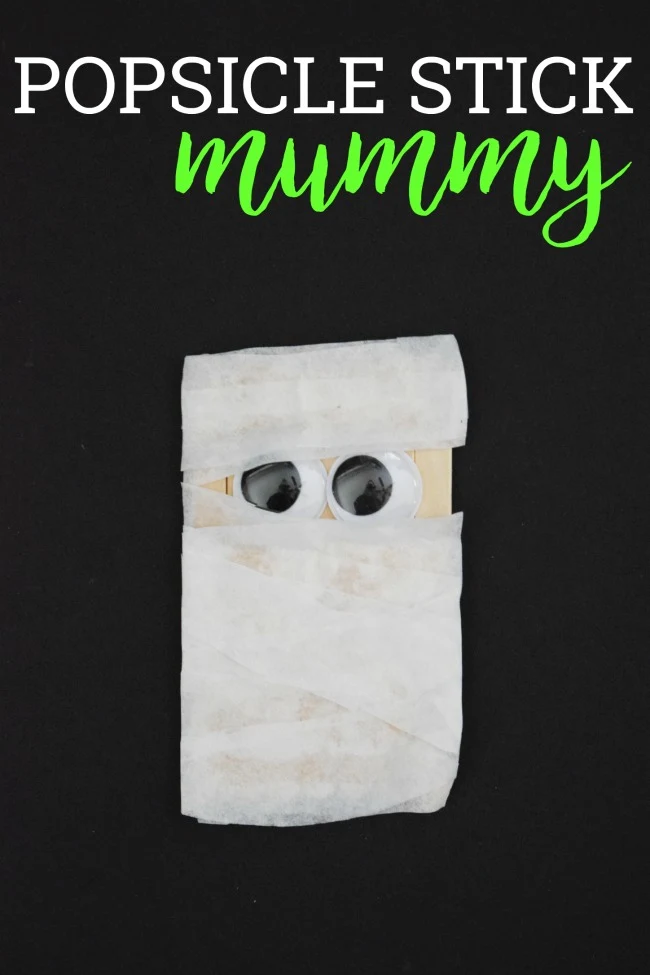 If you're on the lookout for a spooktacular craft for kids that's both hauntingly cute and ridiculously easy, you've stumbled upon the perfect concoction of creativity and creepy charm.


Get ready to embark on a chilling crafting adventure as we delve into the realm of Popsicle Stick Mummies!


These adorable little creatures are not only a fantastic way to usher in the Halloween spirit but also an ideal activity for crafters of all ages.


Grab your popsicle sticks, don your imaginary mummy wrappings, and let the crafting cauldron bubble with excitement.


Why you'll love this craft


Easy as (Mummy) Pie: No need for advanced crafting skills or a potion-making degree! With just a handful of materials, including trusty popsicle sticks, this craft is a breeze for all skill levels.


Kid-Friendly Haunts: Looking for a family-friendly activity to get everyone in the Halloween spirit? The Popsicle Stick Mummy Craft is the perfect choice. Let the little ones unleash their imagination and create their own army of adorable mummies.


Ghoul-ishly Adorable Decor: Once your mummies are crafted and wrapped up in gauze glory, they make for spooktacular decorations. Line them up on shelves, scatter them around the house, or even use them as unique Halloween party favors.


Unlimited Creativity: From the color of the gauze to the googly eyes that give your mummy its personality, the possibilities are endless. Customize each mummy to suit your style and preferences, making each one a unique work of art.




Supplies you will need for this craft stick mummy


Craft Glue
Paint (optional)




How to make a popsicle stick mummy!


To create these little cuties all you will need is a few simple materials.


Once you have gathered your materials you are ready to get started.


We glued together the 7 craft sticks using a few smaller craft sticks across the back.


You could do the same or just glue the craft sticks straight to a piece of construction paper. This would probably be the easiest way when working with kids.


At this point, you can paint your craft sticks white if you want. We decided to just leave them plain but kids love to paint so you may want to add this step.


If you do decide to paint your craft sticks be sure to allow the paint to dry before attaching your "gauze."


Using your craft glue attach some wiggly eyes. If you want to get crazy use some Halloween googly eyes that glow in the dark.


Lastly, we cut strips of coffee filters to create the gauze but some other ideas would be to use white construction paper, white tissue paper or even crepe paper.


Whatever you decide to use, the step will be the same, cut in strips and glue on haphazardly.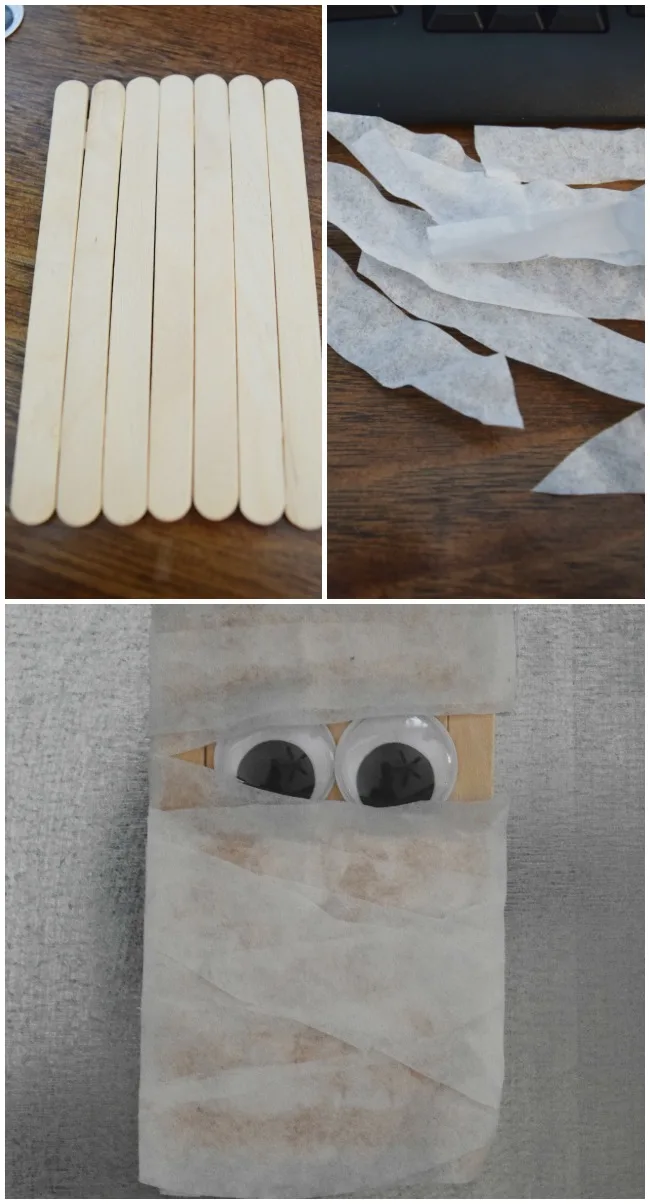 That is it! You created the cutest little mummy I ever did see.


Now if you have followed along with many of our other popsicle stick crafts then you know we like to turn them into magnets.


You can use .75 magnets to attach your kiddos creations to your fridge.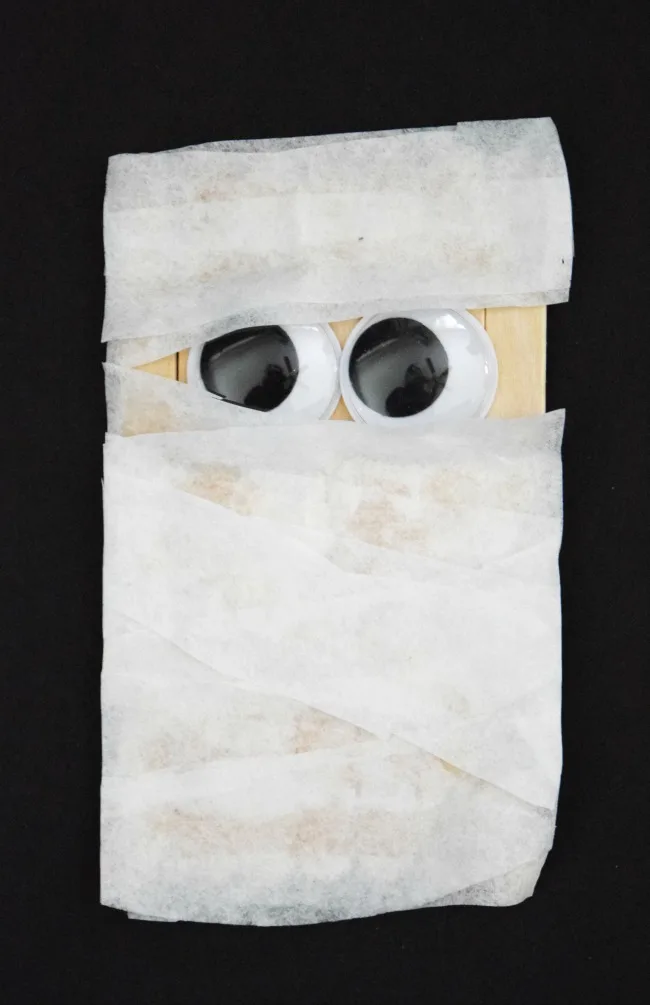 More Fun Halloween Crafts