Celebrate the Day of the Dead with this fun and colorful Popsicle Stick Sugar Skull. A great craft for the new Disney movie, Coco!
This popsicle stick craft is incredibly easy because it only requires gluing of a couple wiggly eyes and painting.
Things you will need:
8 [easyazon_link keywords="craft sticks" locale="US" tag="thgisli03-20″]craft sticks[/easyazon_link]
black, white, magenta, orange, and blue craft paint
[easyazon_link keywords="wiggly eyes" locale="US" tag="thgisli03-20″]wiggly eyes[/easyazon_link]
craft glue
Directions:
First, you will want to start off by cutting out a piece of construction paper that is a little smaller than your craft sticks. Glue the craft sticks onto the paper so that they are supported.
Once the glue is set you can begin to paint your sugar skull. We started off by painting it a solid white base.
Now that you have allowed the craft paint to dry you are ready to attach the wiggly eyes. Once the wiggly eyes are set you can paint on the rest of your design. We painted on an upside down heart nose in orange. A few orange dashes around the eyes. A magenta smile and using the blue a few dots as the eyebrows.
The last step we decided to do was give the skull some definition by using the black paint and painted into a somewhat skull outline.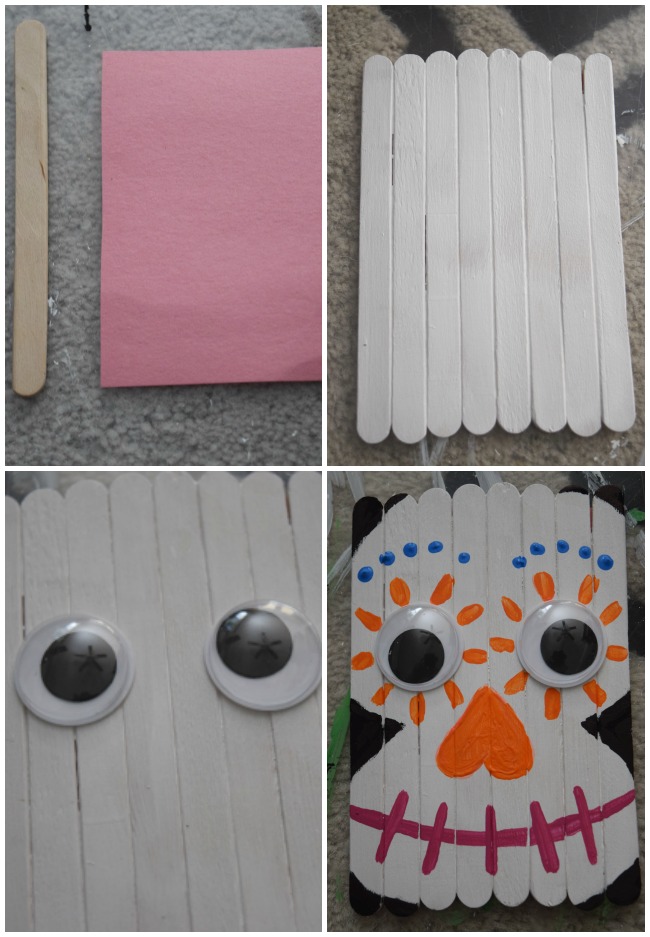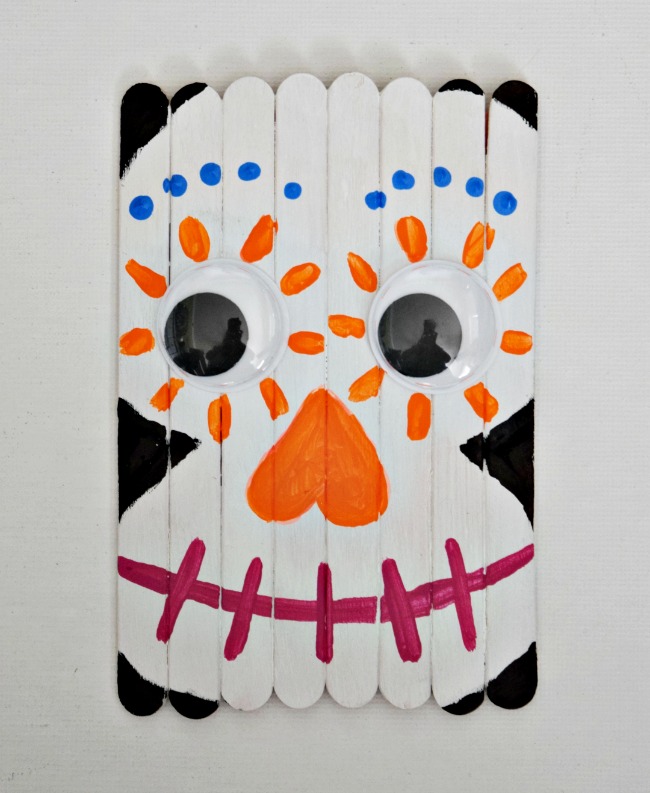 What is the Day of the Dead?
The Day of the Dead is a Mexican holiday celebrated throughout Mexico, in particular, the Central and South regions, and by people of Mexican ancestry living in other places, especially the United States. It is acknowledged internationally in many other cultures. The multi-day holiday focuses on gatherings of family and friends to pray for and remember friends and family members who have died, and help support their spiritual journey. – Wikipedia
Of course, the new Coco movie is also coming out but it doesn't come out until next month. You can still get excited about the new Disney movie though by crafting with your kids this super cute and fun sugar skull. We created this fun sugar skull to look like the one from the movie.
If you enjoyed this popsicle stick sugar skull you also might like…
---