Celebrate the Day of the Dead with this fun and colorful Popsicle Stick Sugar Skull.


Welcome to a world where creativity knows no bounds and tradition meets whimsy.


In this enchanting crafting journey, we'll embark on a colorful adventure where simple sticks transform into vibrant masterpieces.


With each stroke of paint and careful arrangement, these popsicle stick sugar skulls become not just crafts, but mini celebrations of artistry.


So, grab your popsicle sticks, and let's dive into the magical realm of crafting, where tradition gets a playful makeover!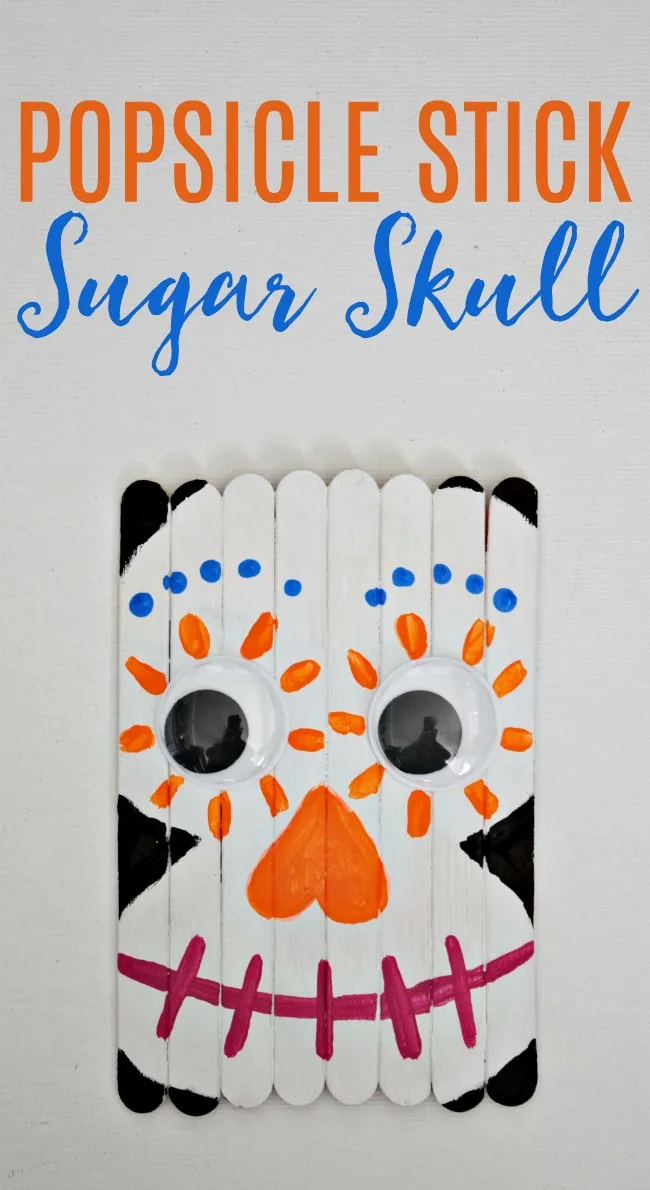 A great craft to go along with the Disney movie, Coco!




What is the Day of the Dead?


The Day of the Dead, or "Dia de los Muertos" in Spanish, is a Mexican and Latin American holiday that honors deceased loved ones.


Celebrated from October 31st to November 2nd, the holiday coincides with the Catholic celebrations of All Saints' Day and All Souls' Day.


During the Day of the Dead, families gather to remember and celebrate the lives of those who have passed away.


Altars, known as "ofrendas," are created in homes and cemeteries, adorned with photographs, favorite foods, beverages, and mementos of the departed.


Marigolds, candles, and sugar skulls are common symbols associated with the holiday.


The belief behind Dia de los Muertos is that, during this time, the souls of the deceased return to the world of the living to enjoy the offerings left for them.


It's a festive and joyous occasion where death is not mourned but celebrated as a natural part of the human experience.




Why you'll love this post?


Cultural Celebration: Crafting popsicle stick sugar skulls is a wonderful way to celebrate and appreciate the cultural significance of the Day of the Dead. It's a hands-on way to engage with traditions and showcase your respect for diverse cultures.


Accessible Materials: Popsicle sticks are simple, inexpensive materials that make this craft accessible to everyone. It's a fantastic DIY project that doesn't require a lot of specialized tools or materials, making it perfect for crafters of all levels.


Versatile Artistry: The possibilities are endless! You can experiment with various colors, patterns, and embellishments. Whether you prefer a more traditional look or want to add a modern twist, the popsicle stick sugar skull craft is incredibly versatile.


Meaningful Gifts: Crafted popsicle stick sugar skulls make for heartfelt and unique gifts. Whether for friends or family, sharing a piece of your cultural exploration and creative expression can be a memorable and thoughtful gesture.


Joyful Tradition: The Day of the Dead is a celebration of life, and this craft captures that essence perfectly. The process of creating something beautiful from simple materials can be a joyful and fulfilling experience, aligning with the positive spirit of the holiday.




This popsicle stick craft is incredibly easy as it only requires the gluing of a couple of wiggly eyes and painting.




Supplies you will need for this sugar skull made of popsicle sticks


craft paint - black, white, magenta, orange, and blue paint
craft glue




How to make a popsicle stick sugar skull


First, you will want to start off by cutting out a piece of construction paper that is a little smaller than your craft sticks. Glue the craft sticks onto the paper so that they are supported.


Once the glue is set you can begin to paint your sugar skull. We started off by painting it a solid white base.


Now that you have allowed the craft paint to dry you are ready to attach the wiggly eyes. Once the wiggly eyes are set you can paint on the rest of your design.


We painted an upside-down heart nose in orange. A few orange dashes around the eyes. A magenta smile and using the blue a few dots as the eyebrows.


The last step we decided to do was to give the skull some definition by using black paint and painting it into a somewhat skull outline.