Need a simple solution on how to hide ugly wire shelving in your rental? Check out this inexpensive and clever idea of getting those shelves looking great.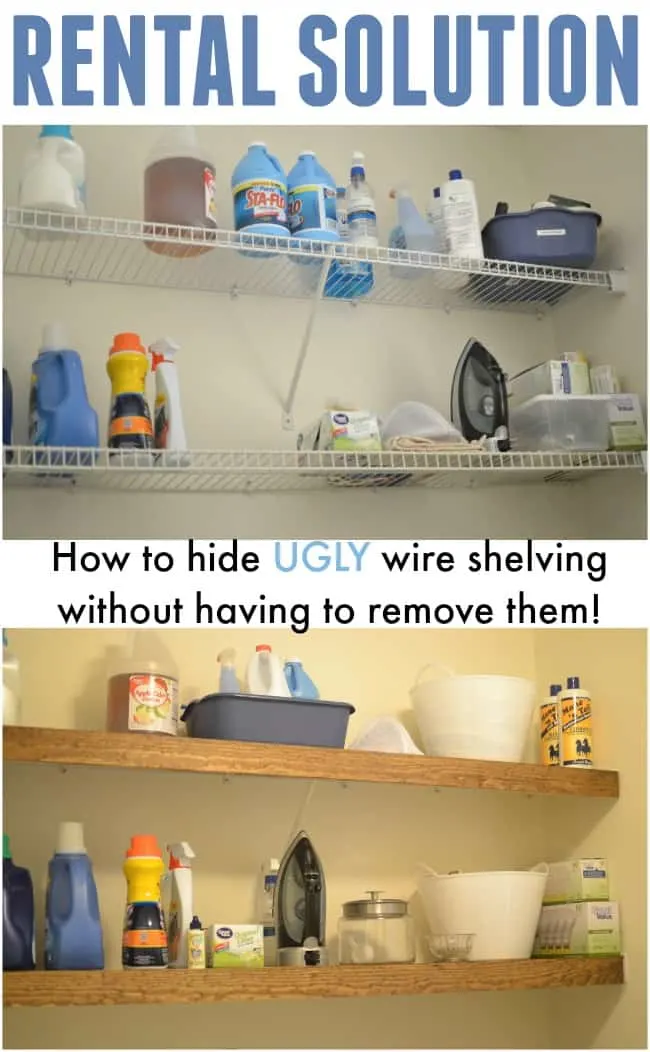 (This post contains affiliate links.)


We have always been homeowners so these past few years of renting for my home improvement and design-loving personality have been a little tough.


If you are new to reading my blog then just a little backstory on why we now rent. We are military and we move a lot, end of the story.


Okay, so not the whole story but basically the gist of it.


When we moved to Kansas we had no desire to purchase a home because we knew we weren't staying past 3-4 years tops.


Then we moved back to Tennessee [our home state] but also knew that the city wasn't a place we intended to stay after 3-4 years. Which was a good thing because now we are in Northern KY.


Plus on top of it taking 8 months for our last home to sell was a big bummer and something I have no desire to have to go through every few years.


So until we are settled (IE. retired from the military) renting it is.


So needless to say, I have spent the past few years coming up with ways to be comfortable in the homes that we are renting.


Like my favorite quote says, "bloom where you are planted."


With that in mind, I wanted to share with you today how to hide ugly wire shelving that you find in just about every rental or basic builder-grade home.


Even if you aren't renting this solution may work for an inexpensive fix to your own problems as well.


How to hide ugly wire shelving!


All we needed for this project was (1) 4×8 sheet of 1/4 inch plywood and (1) 1×4 board.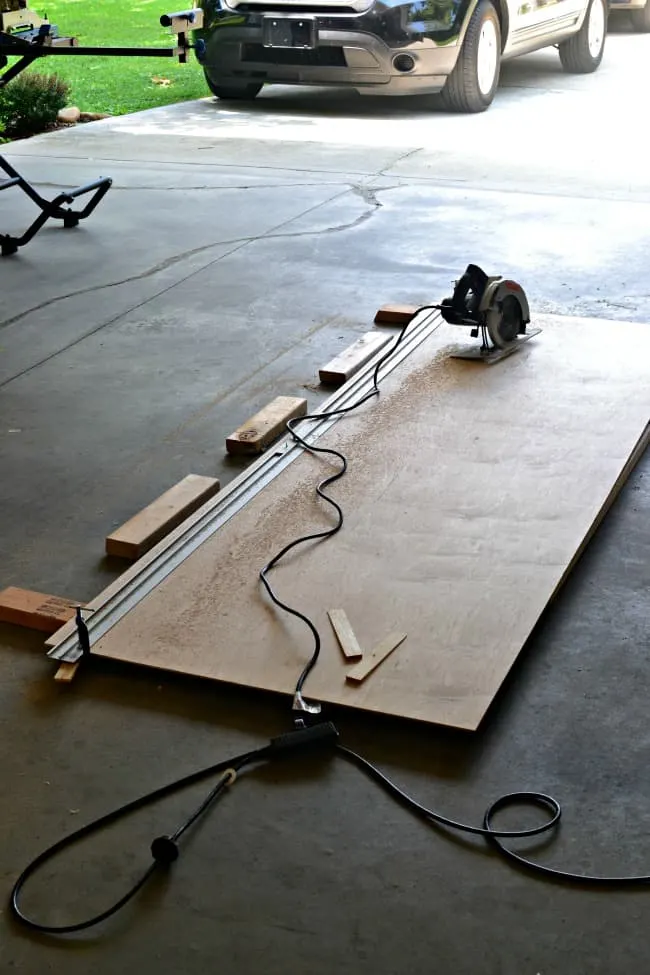 We measured our wire shelving depth and length and then cut it out using a Skilsaw.


Which is another rental problem, not having enough room for all the equipment you would love to have.


We have a smaller table saw but it won't cut big sheets of plywood safely.


Although the garage here fits 2 cars it isn't large enough to have tons of tools plus 2 cars.


I dream of the day when we can have a separate workshop. As much as we love to build furniture it would get tons of use but that is neither here nor there.


Once you got your plywood pieces cut then you can attach your 1×4 board on the end. We attached them using some glue and brad nails.


The husband being who he is decided to get a little fancy and use his dado blade to cut a notch so you wouldn't see the rough edging of the plywood but that is definitely not necessary.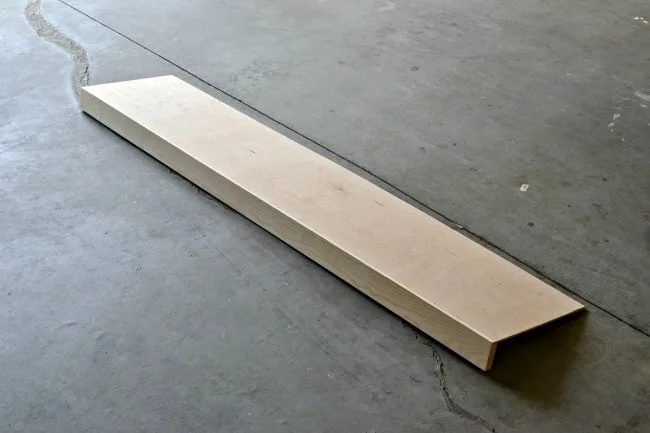 That is all there is to it, minus some staining if you choose to do that.


Then just slip it over the wire shelving and tada looks like you have a nice floating wood shelf (ish).


I bought a couple of Dollar Tree white totes to house our supplies and extra light bulbs to keep everything streamlined.


Don't mind the awkwardly angled pictures. Do you know how tricky it is to take shots of a small laundry room?


BEFORE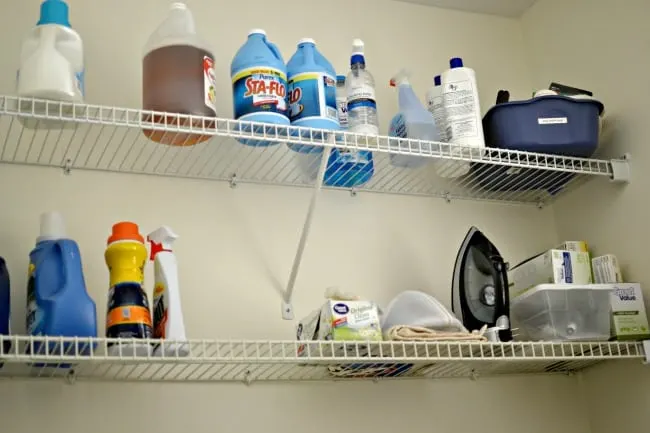 AFTER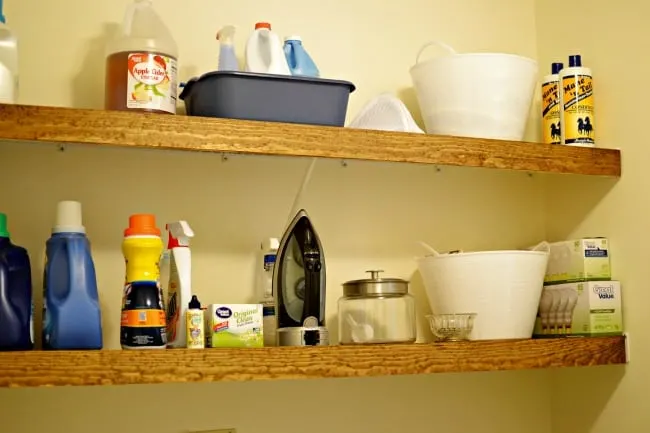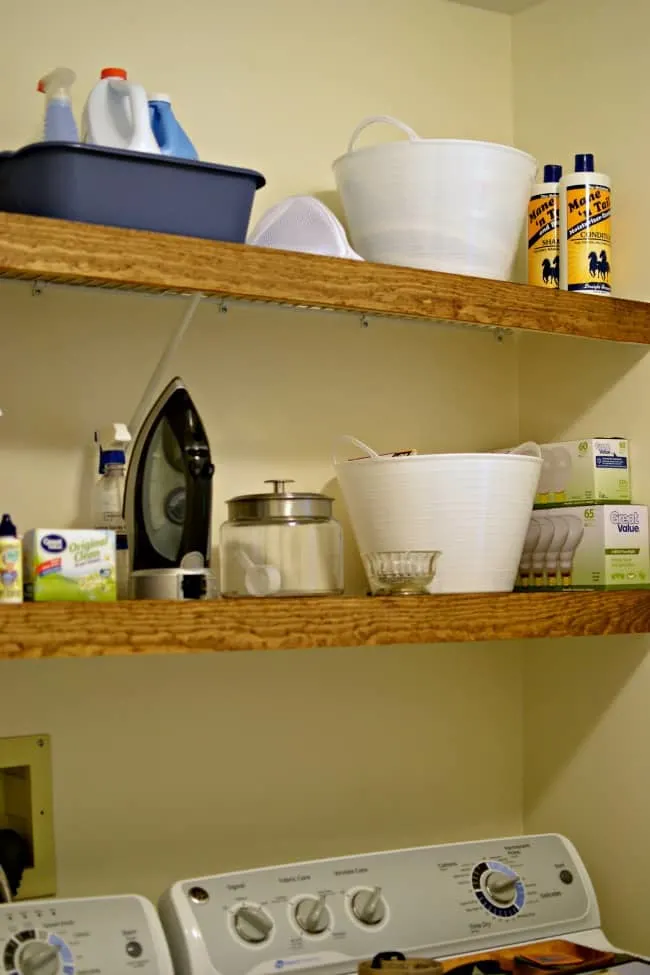 So what do you think?


It is definitely not necessary, because let me be honest and say I rarely do the laundry. It is one of those chores that my husband usually does. [Yes, I got very lucky.]


He didn't really mind the wire shelving but just this little change packs a pretty big punch for a mere $15 dollars.


If you rent and don't have the option of building this floating shelve for less there are still more options.


Check out this laminate shelf from Amazon.


How can I make my wire shelving look better?


Just click the picture of the item you are shopping for.




If you enjoy this how to hide ugly wire shelving post you will also probably enjoy these following articles.


Kitchen Storage Solutions for Small Spaces

Toy Storage: Organizing your kids' Clutter!

Clever solutions for stuffed animal storage!