These best Valentine Nail Designs range from super simple to a little more intricate to get you in the mood for love.


Valentine's Day is the perfect excuse to rock some hearts and adventurous designs.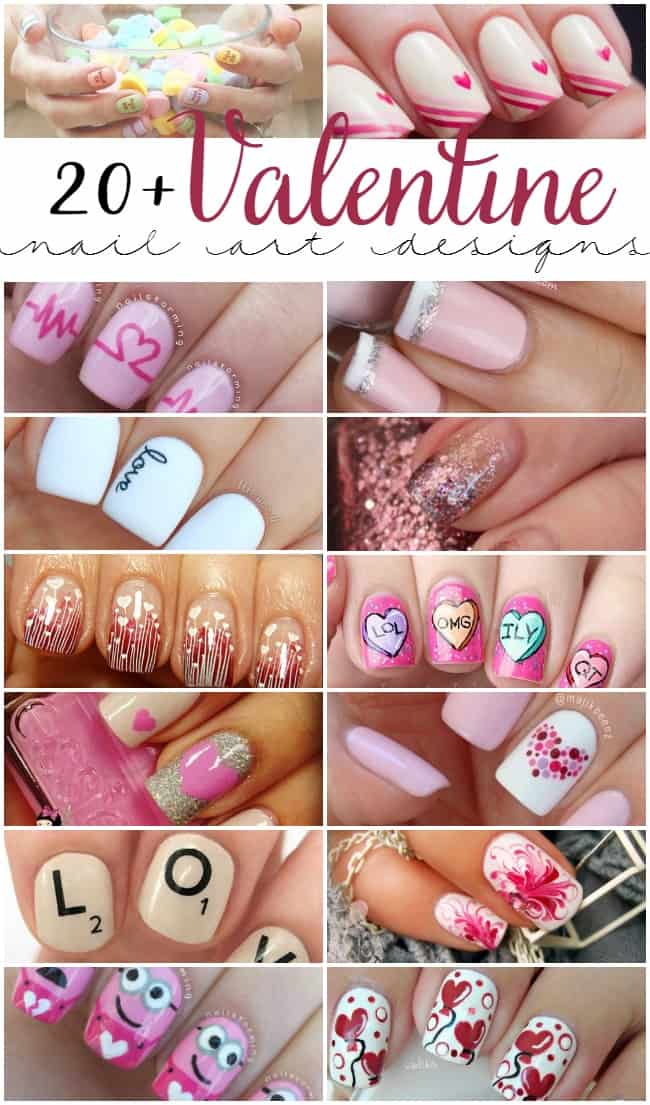 This post contains affiliate links.


Of course, it's no secret that all of the holidays produce the most festive and fun fingertips.


If you haven't checked out our other posts then you know there are some jaw-dropping designs for Christmas, Halloween, Easter, Thanksgiving, etc.


But we can't forget February 14th and just because filling out Valentine's Day cards for classmates may be a thing of the past (long past in my case) doesn't mean you can't show your spirit for the holiday.


A classic red or pink nail is perfect for any time of the year so why not go a little crazy this Valentine and do something sugary sweet.


If you got a date with your special someone or even if you decided to stay home, nothing would make you feel loved by pampering yourself with the perfect set of nails.


Wear your heart on your nails with one of these romantic Valentine nail designs.


Here are some of our favorite examples to adorn your manicure with one of these pretty designs. Whether you're obsessed with pink or stick to an all-black wardrobe, you'll spot your perfect palette among these top picks.


Easy Valentine Nail Designs Perfect for the Day of Love!




I love me some conversation hearts and these nails look cute enough to eat.


Conversation Heart Nails
We Heart It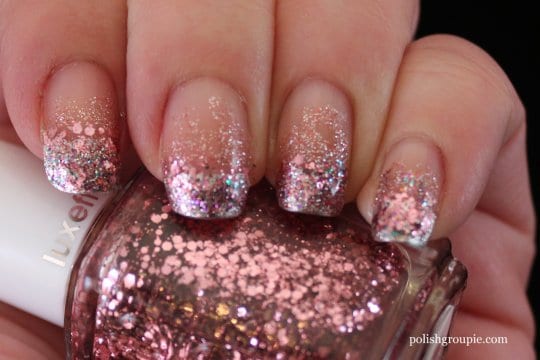 If you love glitter then this beautiful pink glitter tips design will be right up your alley.


Pink Glitter Tips
Polish Groupie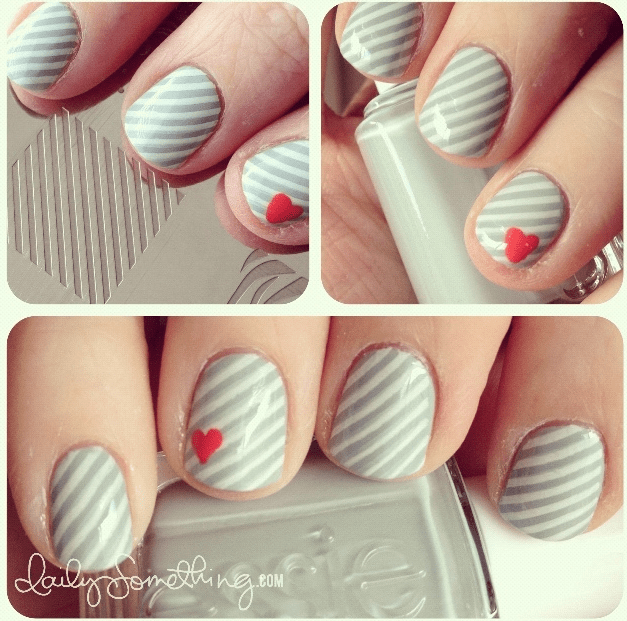 These gray stripes remind me of a newspaper. Lots of fun for simple and cute Valentines Nails.


Gray Stripes
Daily Something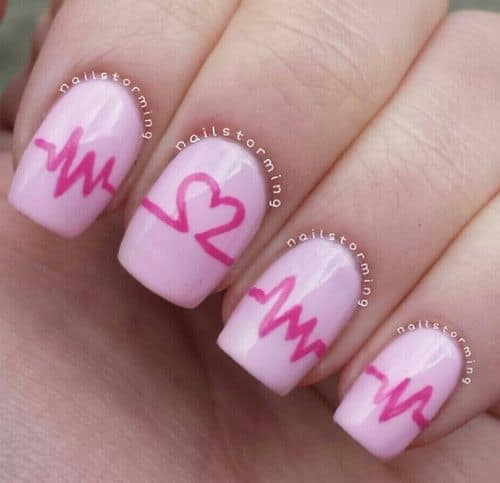 I can't even with these heartbeats. Be still my heart.


Heartbeat Valentine Nails
Nailstorming


Ikat Heart Nails
Divine Caroline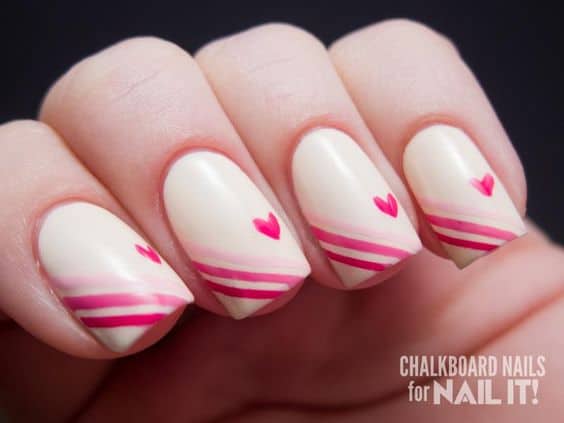 If you are scared of the more intricate ones this ombre stripe is fairly simple and chalkboard nails show you just how to do it.


Ombre Stripes
Nail It Mag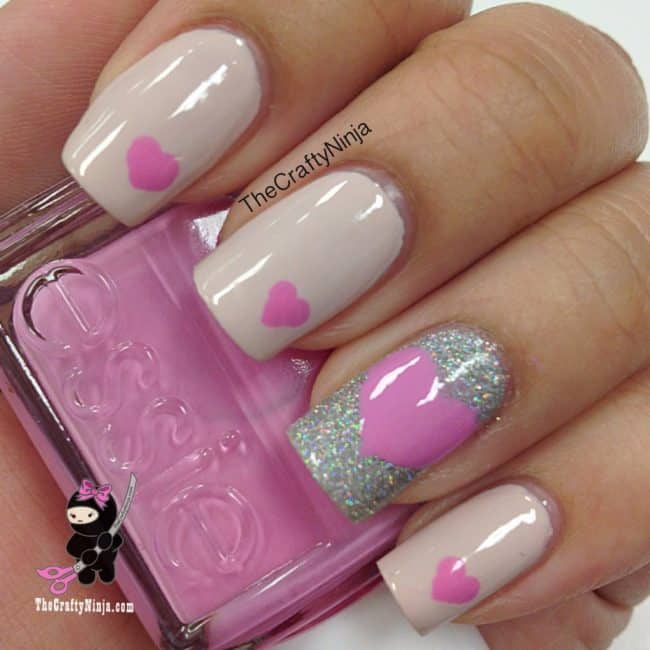 Pink Hearts
The Crafty Ninja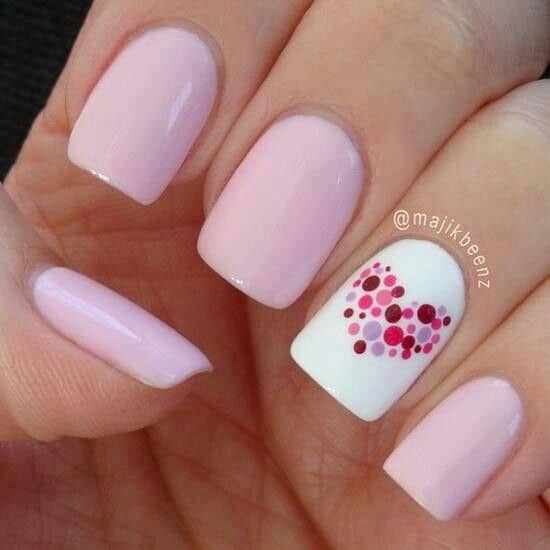 Another super simple but oh so adorable one.


Polka Dot Heart
Majikbeenz


Red and Pink Chevron Nails
Jenna Beth Day




How darling is this?


Red Dripped Hearts
Sugar Nails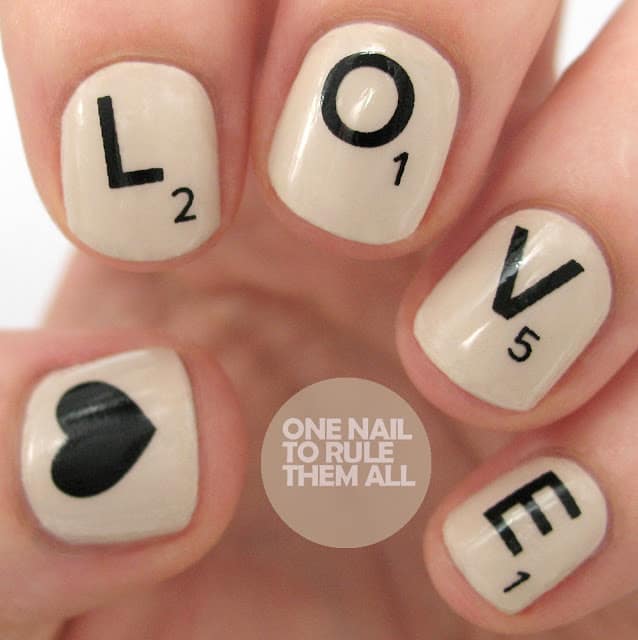 Scrabble nails? I love them… One nail to rule them all is on point with this one.


Scrabble Love Valentine Nails
One Nail to Rule them All




So simple but one of the cutest of the whole bunch of Valentine Nail Designs.


Simple Love
Ane_Li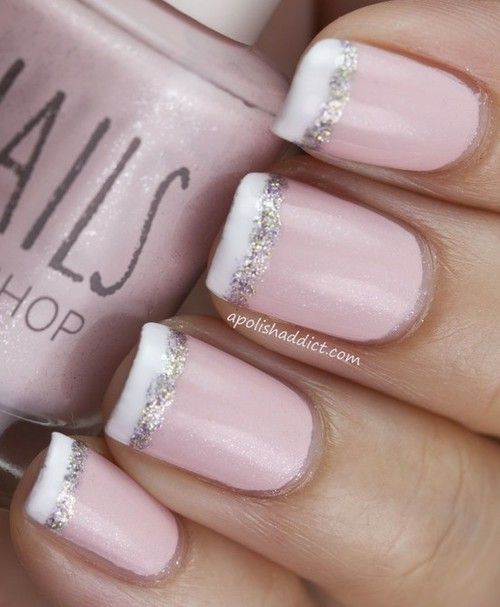 I love this idea for easy french tips manicure for Valentine's Day.


Stripes of Sparkle
A Polish Addict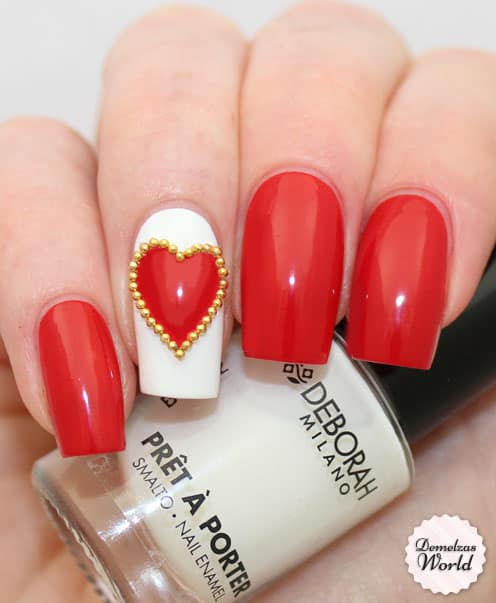 Studded Heart
Demelzas World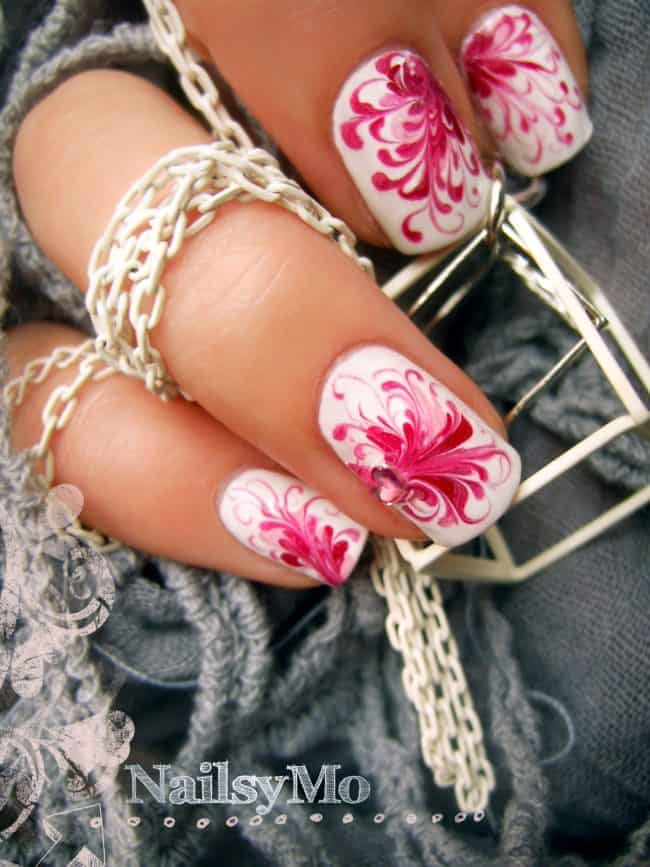 Swirl Nails
Nailsymo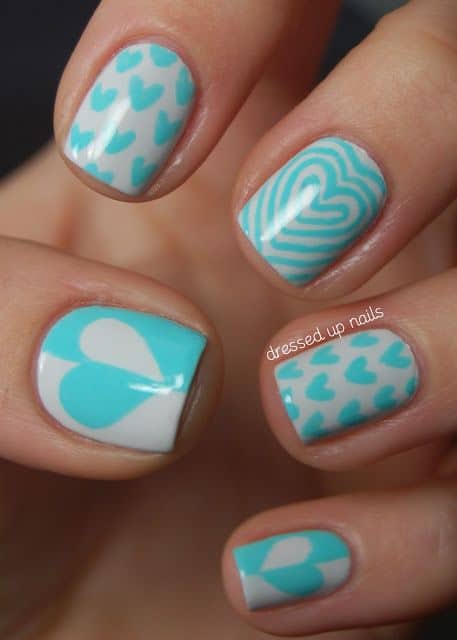 Turquoise and White Valentine Nails
Dressed Up Nails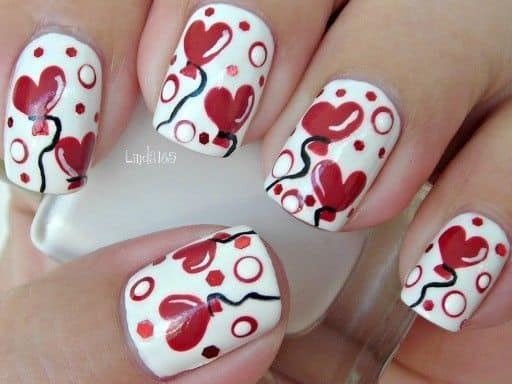 Valentine Balloons
Linda165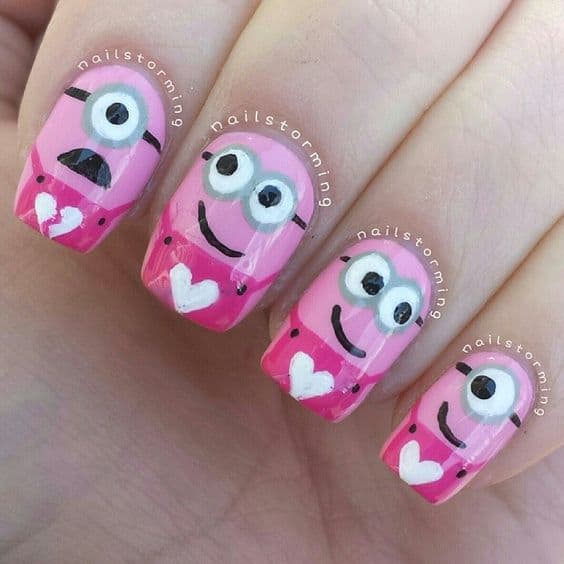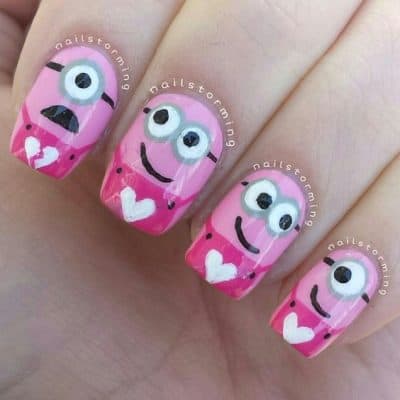 I mean can you even get cuter than these nails? It may not be for a hot date night but maybe for your child or even if you just want something a little different.


Valentine Minions
Nailstorming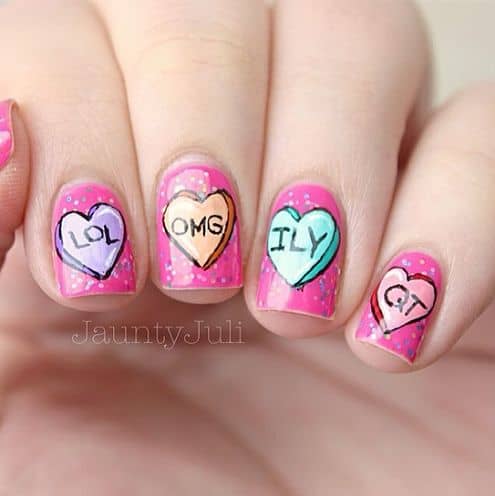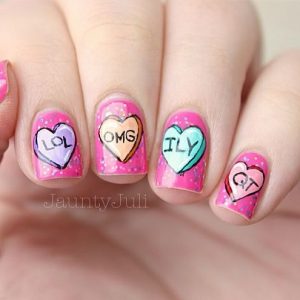 Candy Hearts
Jaunty Juli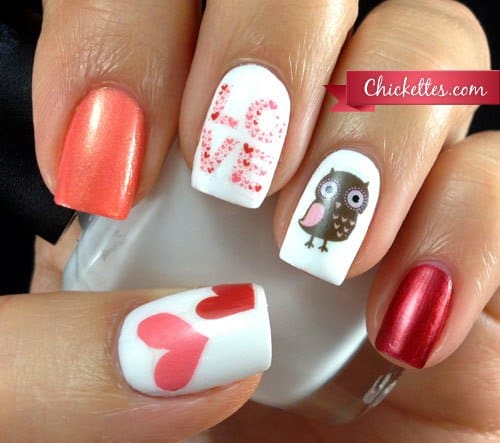 Valentine Mix
Chickettes




I told you there was so many awesome and talented nail artist right? Whether you like gel nails or acrylic these ladies have you covered.


I hope you gave one, two, or a few a try. Don't be afraid to step outside of your box and give different shapes a try, maybe something like a coffin or almond shape.


Let me know which one gives you the most inspiration and be sure to pop over and let the ladies know how much you love their work too. Xoxo!


Pro Tip: Aftercare is very important if you want your nail art to last longer. There are hardening nail polishes which coat your nail art and protect it from getting chipped.


Don't want to DIY your own Valentine Nails? You can also find some fun nail stickers that would work perfectly as well.


Useful Nail Art Tools




If you enjoy these cute Valentine nails you might also enjoy these.