Welcome to 31 days of STEM activities for kids!


This calendar is loaded with hands-on science, technology, engineering, and math projects perfect for the whole family.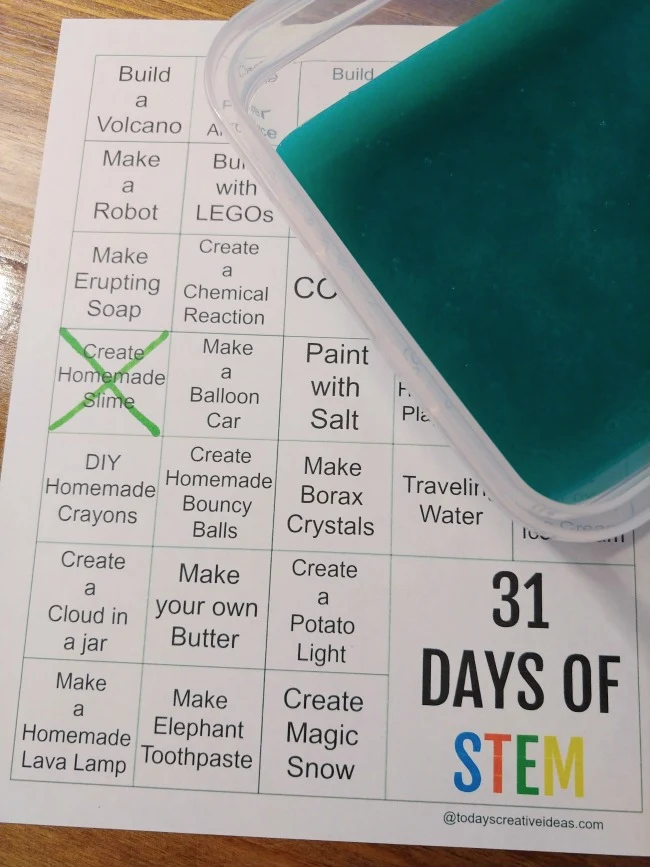 This post contains affiliate links.


STEM lovers and strugglers, because these projects are all pretty easy, can come together to enjoy 31 days of learning and a whole lot of fun.


I have provided you with a free printable to use so you can keep up with what projects you have completed.


I have also intentionally not marked it with specific days so that you can decide to go in order, reverse order, or skip around as you please.


What is a STEM project?


It's a project that gets kids to explore, design, test, repeat in science, technology, engineering or math.


Why should you care? Because STEM is all about the thought process and thinking like a STEMist improves problem-solving skills in all areas of life.


What is the purpose of stem activities?


Science, technology, engineering, and mathematic workers play a key role in the sustained growth and stability of the U.S. economy and are a critical component to helping the U.S. win the future.


STEM education creates critical thinkers, increases science literacy, and enables the next generation of innovators


31 Days of STEM Activities for Kids


Here are all the links to the individual projects and experiments.


Bookmark this page so that you can refer back to them as needed. Scroll to the bottom for the printable download.


Build a Volcano - The chemical volcano is the classic science fair project. This step-by-step recipe will show you how to make your own.




Create a Paper Airplane - Learn the simple steps for high-flying fun with this tutorial on creating a paper airplane.




Build a Card Tower - Building a tower of cards is pretty easy and it's the first stepping stone to building some awesome card structures.




Watch How It's Made - Have you ever wondered how aluminum foil is made? From adhesive bandages to contact lenses, find out how many of the everyday objects we use become the things they are.


Make a Catapult - Here's a fun catapult to build out of popsicle sticks, hot glue, and a few other basic household supplies.




Make a Robot - This STEM science kit can build more than 12 different types of robots by yourself which helps children build a solid foundation in Science, Technology, Engineering and Mathematics at an early age. The parts can be easily disassembled after completion of one robot kit.


Build with LEGOs - Think outside the block! Using this free printable of 31 Days of LEGO play calendar your kiddos can create something every day for the next month.


Create a Kaleidoscope - Learn how to make a kaleidoscope in this fun STEM/science activity and craft for kids.


Dissect Something - Dissection kits ensure you have the right tools, dissection guides & specimens.


Build a Rocket - Here are some of the best ways to build a rocket. Try out these great rocket experiments and rocket crafts for kids.


Make Erupting Soap - Making erupting soap is one of the easiest and most fun things to do with your kids. You're going to love what happens to a bar of soap.




Create a Chemical Reaction - Educational experiments to help kids learn about getting chemicals to react with each other.


CODE - Coding gets kids excited about programming. It is a combination of a game and tutorial where kids experiment with learning to code.


Build with Popsicle Sticks - Popsicle sticks can be glued, taped, or even friction-fit together to create all sorts of fun crafts.


Grow a Plant - Easily Grow 4 Types of Bonsai Trees with Our Complete Beginner Friendly Bonsai Seeds Starter kit.




Create Homemade Slime - Your kids will have so much fun in the kitchen with this homemade slime!




Make a Balloon Car - Making a balloon car is a fun craft project and educational science experiment that can be done with kids.




Paint with Salt - Salt is a fun, experimental tool to use when watercolor painting.


Create Homemade Playdough - This homemade playdough recipe is simple, natural, and perfect for entertaining children.


Design a Marble Run - The idea of making your own marble run is to be as creative as you like, using materials that you probably already have lying around in your home.




DIY Homemade Crayons - It is easy to recycle broken crayons into new crayons that kids will love.




Create Homemade Bouncy Balls - In this quick experiment, little chemists mix up their own homemade bouncy balls. Making bouncy balls is a hands-down science favorite for kids!




Make Borax Crystals - Learn the key to making huge gorgeous borax crystals out of a supersaturated solution.




Traveling Water - This walking water science experiment is so much fun and super easy to do!




Make your own Ice Cream - All you need is a plastic baggie and 15 minutes. Top with any of your favorite toppings and enjoy.


Create a Cloud in a Jar - This is a super simple experiment to teach your kids about the weather.




Make your own Butter - Making your own handcrafted butter is a fun food project that's a great activity for kids.


Create a Potato Light - This kit is ideal for young science enthusiasts, and offers a valuable lesson on the transformative power of green science.


Make a Homemade Lava Lamp - The best, simplest way to make a magnificant and fun lava lamp. Cool science for little kids.




Make Elephant Toothpaste - Create foamy fun with your kids with this DIY science project!




Create Magic Snow - Create magical, realistic-looking snow scenes with this snow.




31 Days of STEM Activities for Kids Download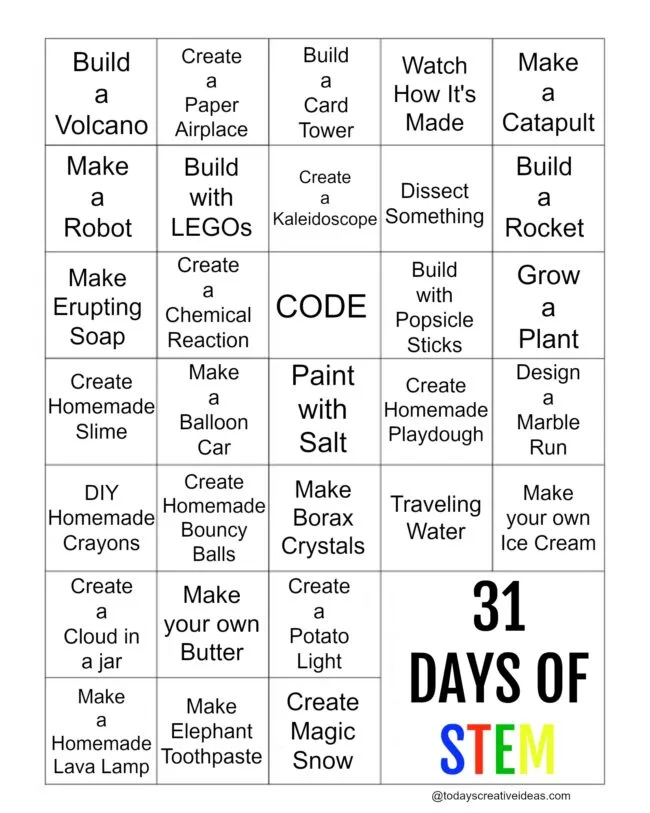 Did you find this 31 Days of STEM Activities calendar useful? You might enjoy these other posts too...


31 Days of LEGO Play

Summer Science Experiments

Summer Play Recipes