This carrot footprint art makes an adorable keepsake to create for Easter or Spring.


A carrot patch printable that will allow you to remember those baby and toddler toes even when they are well and grown.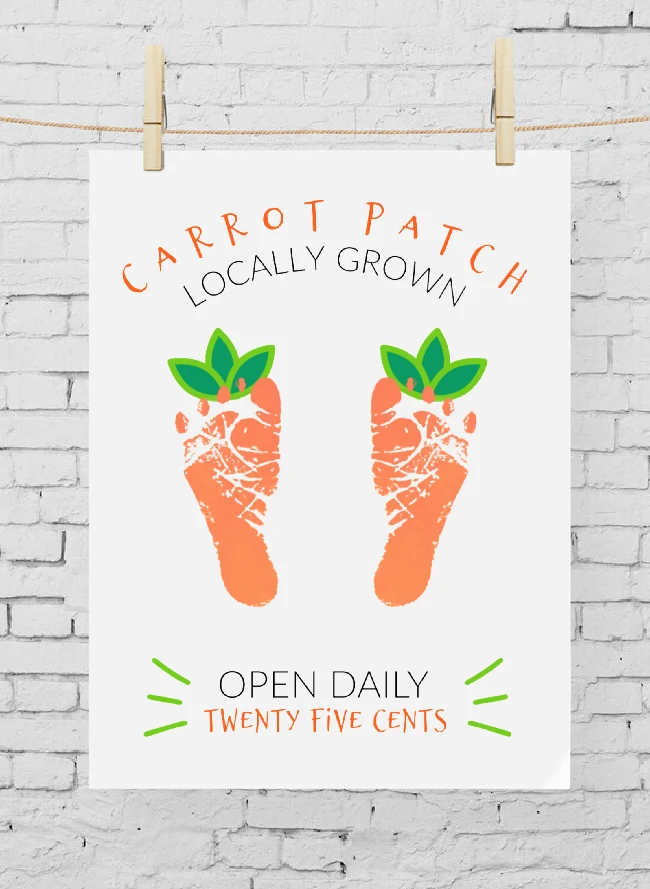 Footprint and handprint crafts make such special gift ideas for parents and grandparents, which is one of the reasons I love them so much.


As a mom, the ability to look back on how tiny my daughter's feet were when she was younger just brings me a lot of joy.


I have created this free printable so that all you need to do is add the footprints and you have the cutest little piece of Easter decor.

Pop it into an 8×10 frame and you can display it year after year.


If you didn't want all the additional text on your piece then just start with a blank piece of cardstock, have the kiddo(s) stamp their feet and let them do their own carrot foliage with a green marker or paint.


The goal is to get your kids involved and enjoy creating something for their loved ones and as well to end with art that you will cherish for years to come.


Supplies you will need:


Cardstock – You can use printer paper but cardstock will hold up better to acrylic paint


Printer – As I stated above you do not have to print out the design I have provided, if you wanted you could just create the carrots portion. Either way will look super cute!


Orange Acrylic Paint – You could also use washable children's paint. An orange stamper ink pad would work well for this also.


Sponge Brush – If you decided to use the ink pad then you wouldn't need the sponge brush.


Frame – This is of course optional but if you want to protect your artwork for years to come framing it will help. You could also run it through a laminator.


How to make this cute carrot footprint art!


Step One: Be sure your printer has available color ink because this carrot patch printable does require the use of colored ink. Print out the provided printable onto your cardstock.


Step Two: Using a sponge brush, paint the bottom of your child's foot. This printable uses both feet but I highly recommend doing one at a time unless you want little orange footprints all over your floor.


Step Three: Place their painted foot down on the paper to create the carrot. Be sure you do the print with the toes facing the green top.

This will make the smaller portion of the heel make that triangular carrot shape.


Step Four: Repeat steps 2 and 3 with the other foot and allow the acrylic paint to fully dry before putting it into a frame or laminating.


Note: This is a locked printable. To get all of my exclusive locked content you will need to sign up with grow. This will also add you to my newsletter and give me consent to send you emails at any point in the future.




Even more Easter Printables you might love!


Print or Save these directions for later!