This homemade 7UP Pound Cake recipe is an old-fashioned southern recipe that is as yummy as it is flavorful.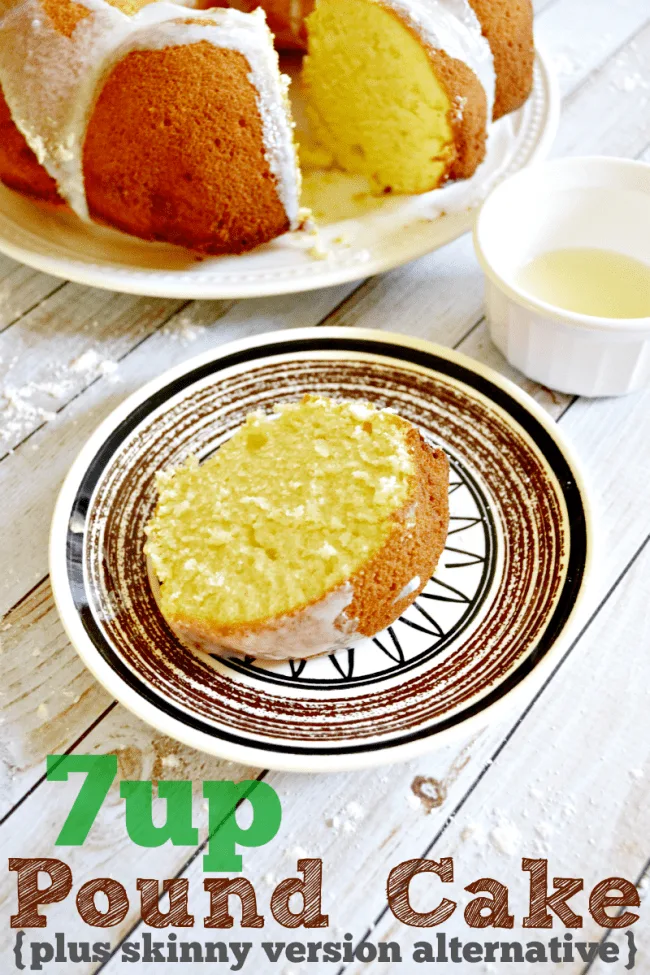 Where did 7up pound cake originate?


This lemon-lime cake, made with real 7up flavor, dates back to the early 1950s when the 7-Up company included it in a promotional recipe booklet alongside another one of their equally popular recipes for 7-Up Salad.

The 7-Up used in the recipe for 7-Up Cake serves as the substitute for baking soda. What a genius idea to substitute carbonation for a leavening agent. Additionally, 7-Up is used for the liquid and flavor agent in the glaze ingredients.


This easy, lemony bundt cake recipe is moist and delicious. A classic party and potluck favorite because it tastes best when made in advance and allowed to meld together.




How do you make a 7UP Pound Cake recipe from scratch?


Ingredients you will need:

CAKE:

3 Sticks Unsalted Butter (softened at room temperature)
3 Cups Sugar
5 Large Eggs
3 Cups All-Purpose Cake Flour
2 Tablespoons Lemon Extract
3/4 Cup 7-up soda


GLAZE:

1 1/3 Cup Powdered Sugar
2 Tablespoons Milk


You can also make a glaze using 7up instead of milk. It makes the glaze have a slight hint of citrus lemon-lime flavor too. To make this glaze you can use…


3-1/4 cups powdered sugar
1 tsp. vanilla extract
3 tbsp. lemon juice
1/4 cup cold 7UP




How to make a moist 7up cake!


CAKE:

Preheat the oven to 325 degrees and grease your bundt pan (or tube pan) taking extra care in the corners.
In a large bowl, cream your butter and sugar together, for approximately 10 minutes.
Add in your eggs, beating them in one at a time.
Add your flour (a cup or so at a time) and lemon extract.
Fold in your 7UP.
Pour your mixture into your bundt pan and bake at 325 degrees for 1 hour. Depending on your oven you may have to bake a little longer.
While the cake bakes you can make your glaze.


7up Pound Cake GLAZE:

In a small bowl, mix powdered sugar and milk together and beat until smooth. (or the other optional ingredients if you choose that glaze)
Allow the cake to completely cool on a wire rack before drizzling with glaze.


Store at room temperature for 4-5 days.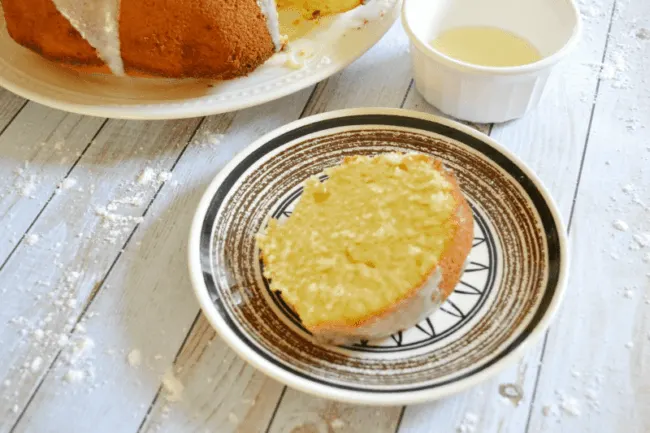 It is that time of the year when we are all beginning to think about bikini weather so substituting some of our favorite dishes like 7UP pound cake for something a little more weight conscious is always a plus.


Here is an easy substitute for a skinny 7UP pound cake that is just as delicious.




7UP Pound Cake Using Cake Mix


Ingredients you will need:

1 Box Yellow Cake Mix
1 Can 7UP TEN


Directions:

Preheat the oven to 350 degrees and spray your bundt pan, greasing well.

Mix together the 7UP TEN and cake mix until smooth.

Pour your cake batter into the bundt pan, and cook for approximately 1 hour or until the cake comes out clean.

You can dust this cake lightly with powdered sugar for a little extra sweetness.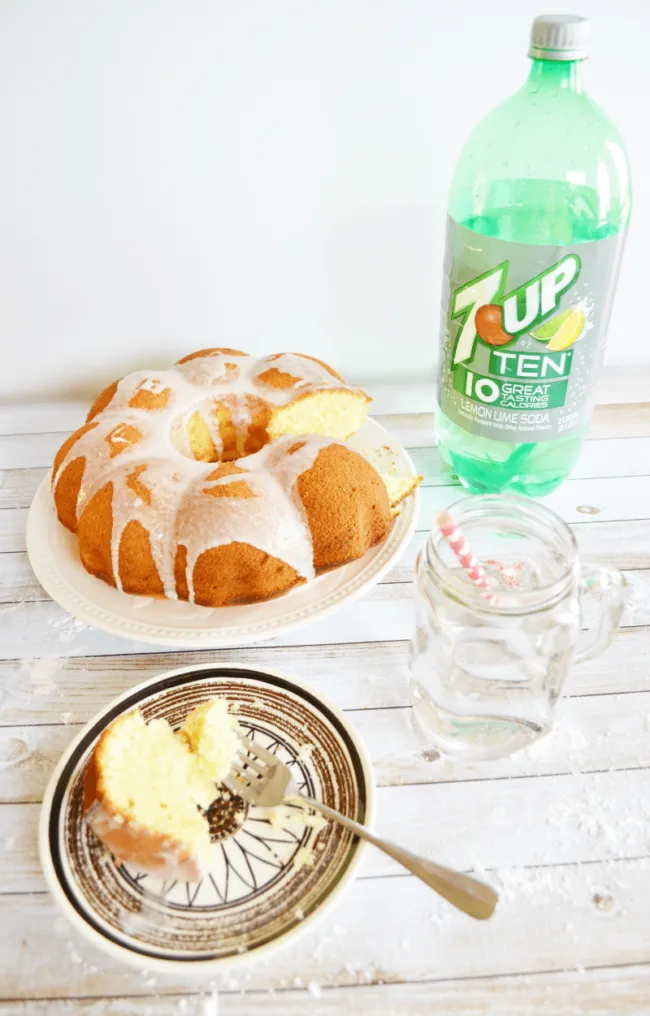 What I love about both of these cakes, the traditional southern version or the skinnier version is that you can use 7UP TEN in both which is a great less calorie option but tastes just as full-flavored as regular 7UP.


This delicious pound cake is great served with ice cream, sherbet, or topped with fresh fruit.


How to Store this Pound Cake Recipe


The 7UP cake will stay fresh when covered at room temperature for 4-5 days. It does not need to be refrigerated but you can extend the life in the fridge for up to a week.

Store in an airtight container in the freezer for up to 3 months.


Can I substitute Sprite for 7UP?

Yes, you can substitute any kind of lemon-lime soda brands in place of the 7-Up like Sprite, sierra mist, etc.
What can I use if I don't have lemon extract?


If you don't have lemon extract you can substitute 1 teaspoon of freshly grated lemon peel per teaspoon of extract.

You can also substitute the extract for lemon juice. Lemon extract is certainly more concentrated so you will want to use 2 tablespoons lemon juice per 1 teaspoon lemon extract.


What's the best flour for pound cake?


We recommend using cake flour. It is all-purpose flour that is much lighter than your traditional flour making it the best use for a pound cake recipe.




Want to print or save this 7UP pound cake recipe?