If you are looking for a light, fresh, and simple homemade dessert for springtime or summer then this Strawberry Sheet Cake is a must-try.


Plus who can resist that made from scratch whipped cream cheese frosting? Yum!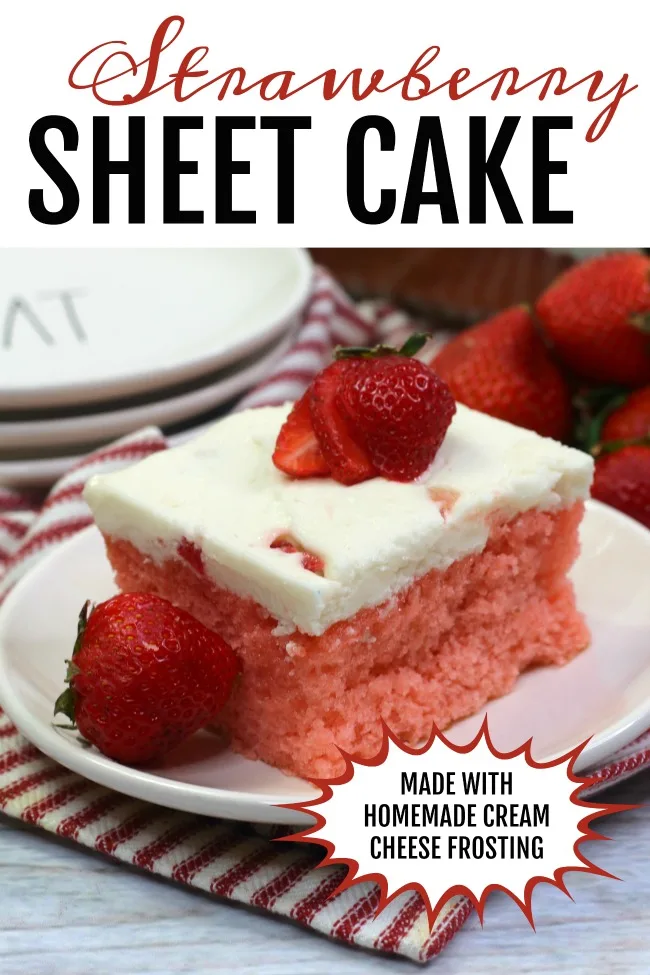 Don't let the number of ingredients fool you, this easy dessert recipe is made with items you probably already have on hand.


Strawberry flavor is a favorite for my husband so this sheet cake is a go-to and a crowd-pleaser at parties and get-togethers.


An old-fashioned and classic confection that will leave you coming back for another piece for sure.


Ingredients you need for Strawberry Sheet Cake


1 cup unsalted butter (softened)
2 cups of sugar
2 eggs
2 teaspoons fresh lemon juice
1/2 teaspoon vanilla extract
2 1/2 cups cake flour (need a cake flour substitute?)
3 tablespoons strawberry-flavored gelatin
1/2 teaspoon baking soda
1/4 teaspoon kosher salt (can substitute for 1/4 table salt)
1 cup buttermilk
2/3 cups diced fresh strawberries


Need the ingredients and directions for the cream cheese frosting? I separate these two posts as there are multiple recipes that can use this same topping.


Directions:


Preheat oven to 350 degrees.


In a medium bowl, using an electric mixer, cream butter and sugar at medium speed until fluffy and pale in color. This will take about 3-4 minutes.


Add in eggs, 1 at a time, beating for a few seconds between eggs. Beat in vanilla and lemon juice.


In a separate bowl, stir together your cake flour, strawberry flavored gelatin, baking soda, and salt.


Add flour mixture to creamed butter mixture and alternate with buttermilk, ending with flour mixture.


Blend on low speed until incorporated. Fold in diced strawberries.


Grease and a 9×13-inch baking pan and line with parchment paper if you desire.


Smooth batter evenly and bake at 350 degrees for 30 to 35 min or until a toothpick inserted in the center comes out clean.


Cool in pan on a wire rack for approximately 30 minutes before frosting.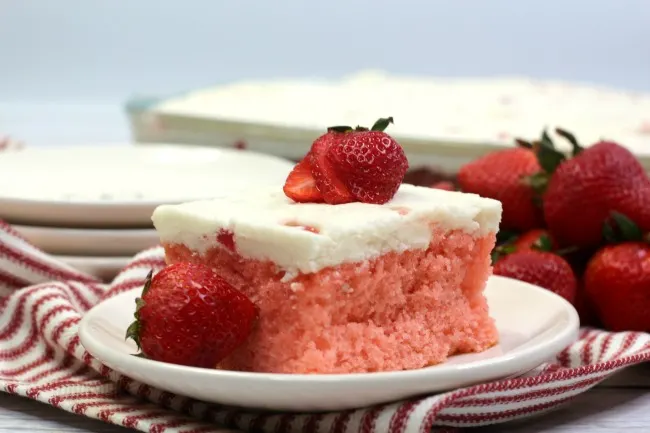 How big is a sheet cake?


Full sheet cake = 18 x 24 x 2 inches or 18 x 26 x 2
Quarter sheet cake = 9 x 12 x 2 inches or 9 x 13 x 2


How do you decorate a sheet cake with strawberries?


Using a paring knife thinly slice strawberries about 1/8 -inch to 1/4 -inch thickness.
Starting in the center place the strawberries on the cake with their points facing out.
Create overlapping squares until the cake is covered.


Want to print this recipe?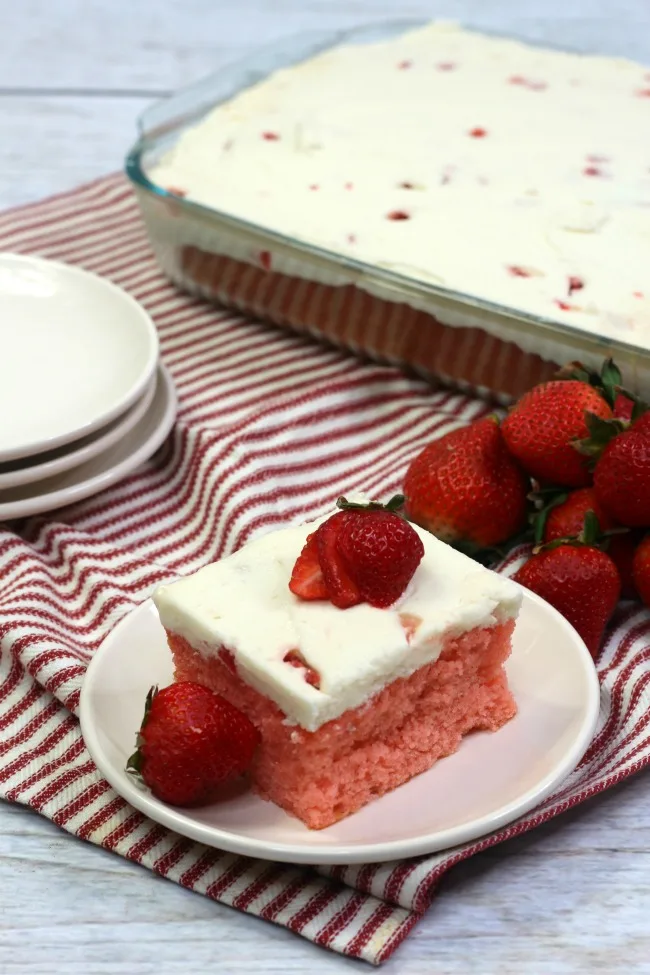 If you enjoyed this Strawberry Sheet Cake recipe then you might enjoy these others…