These weight loss tracker ideas are a great way to help you lose weight by tracking your caloric intake quickly and easily all by using the bullet journal method.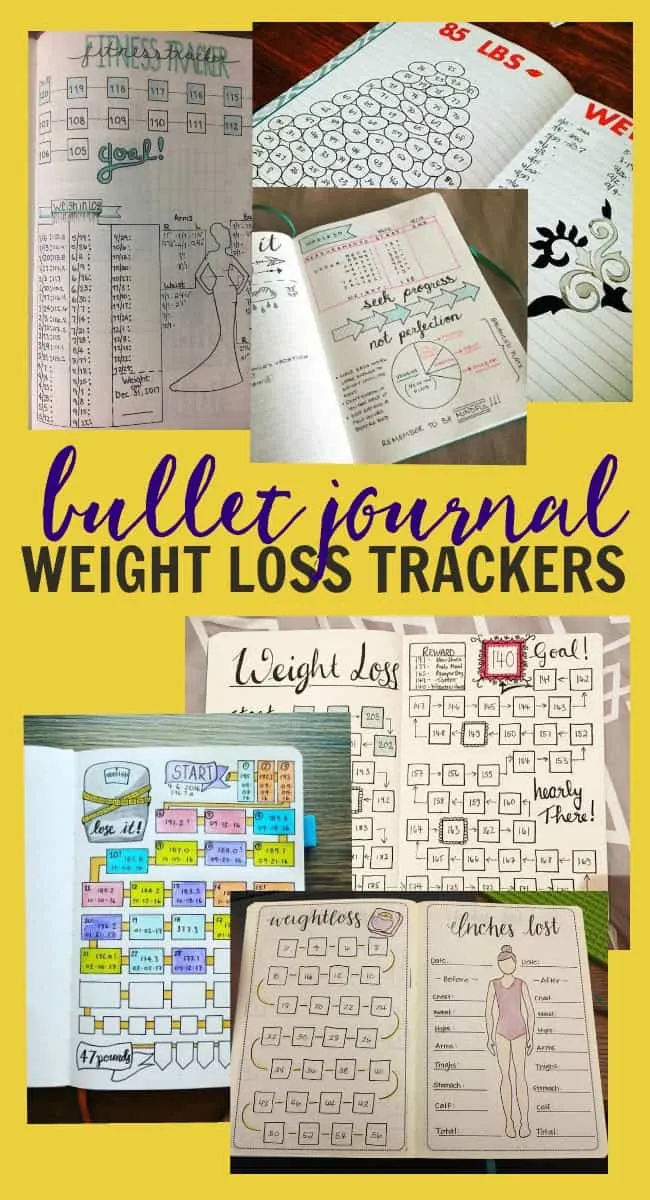 Post contains affiliate links.


What is the best weight loss tracker?


Ever heard of the bullet journal method or #bujo?


A bullet journal is a customizable organization system. One that can be your to-do list, sketchbook, notebook, and dairy all in one place.


As someone who loves to draw and doodle, the bullet journal is right up my alley. It also happens to be January which means a weight loss tracker is a must in this months journal.


Today I wanted to share with you a few awesome bullet journal layouts that I have found. They sure to get you motivated and are the perfect way to stay on track with your diet.


Also, you will want to pop over and check out their Instagram's and/or sites to see all their awesome bullet journal ideas.


Weight Loss Tracker Ideas – Methods to help you loss weight!


I love how this tracker allows you to easily see your ups and downs throughout the month, but that she also color codes whether you did good, okay or bad on your water intact, exercise, and food. You could even add sleep into that as well.


This could easily allow you to see where you might have gone wrong. If you see a lot of reds for water or sleep then maybe that was your downfall that month.


Getting plenty of sleep and staying hydrated can easily make a huge difference in how well you lose those pounds.


A good daily goal to set is to drink one ounce (but at least a half ounce) of water for every pound you weigh.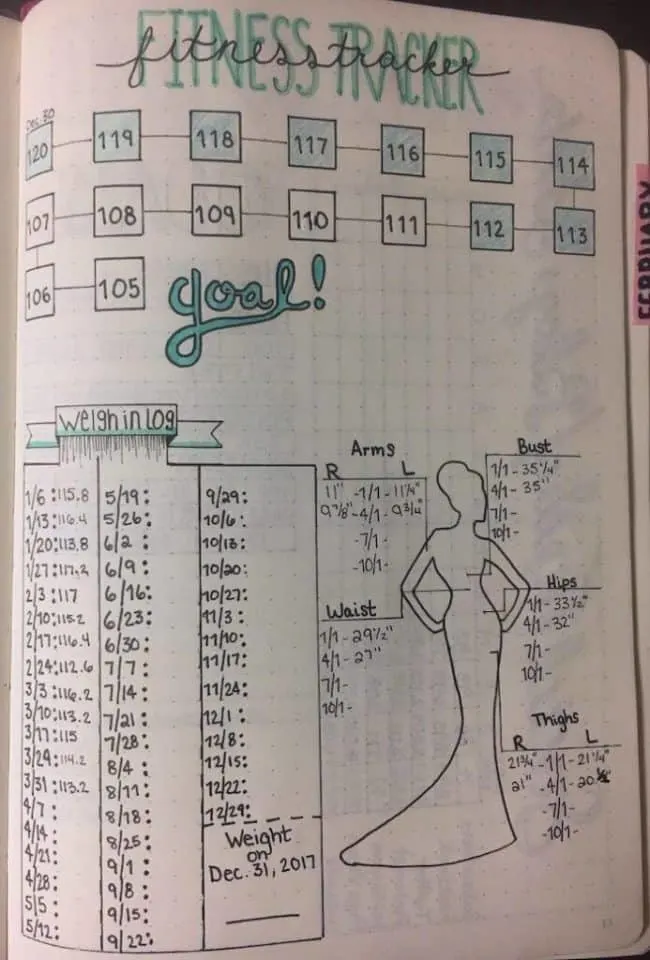 The Petite Planner not only gives you the cool weight loss tracker on this layout but a really fun measurement tracker as well.


Dragging out the measuring tape definitely takes more time than hopping on the scale, but a measuring tape is a vital tool, especially when you work out.


If you are gaining muscle you could easily be losing inches but staying the same on that pesky scale number.


Tracking your measurements is a great indicator of whether you are still on track even if your scale says otherwise.


Unlike the scale and weighing yourself weekly, you can measure yourself once a month.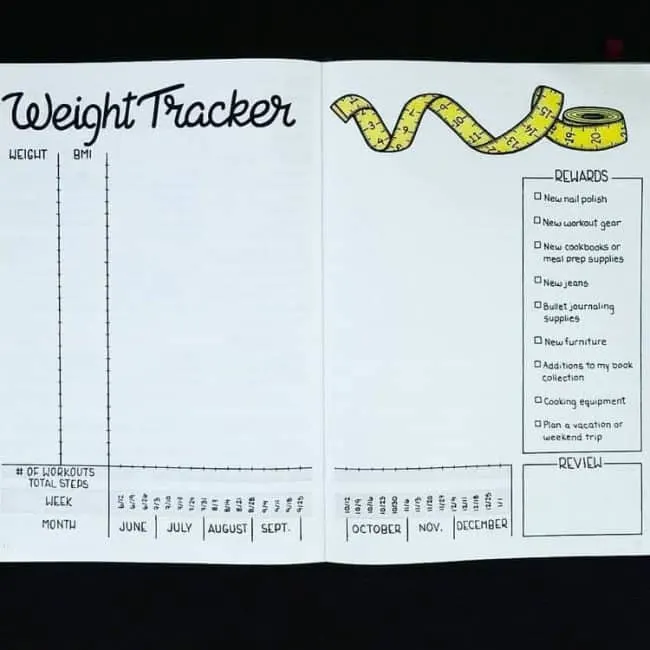 Crafty Enginerd shows a really great idea of writing out your rewards and what can keep you motivated towards your ultimate goal.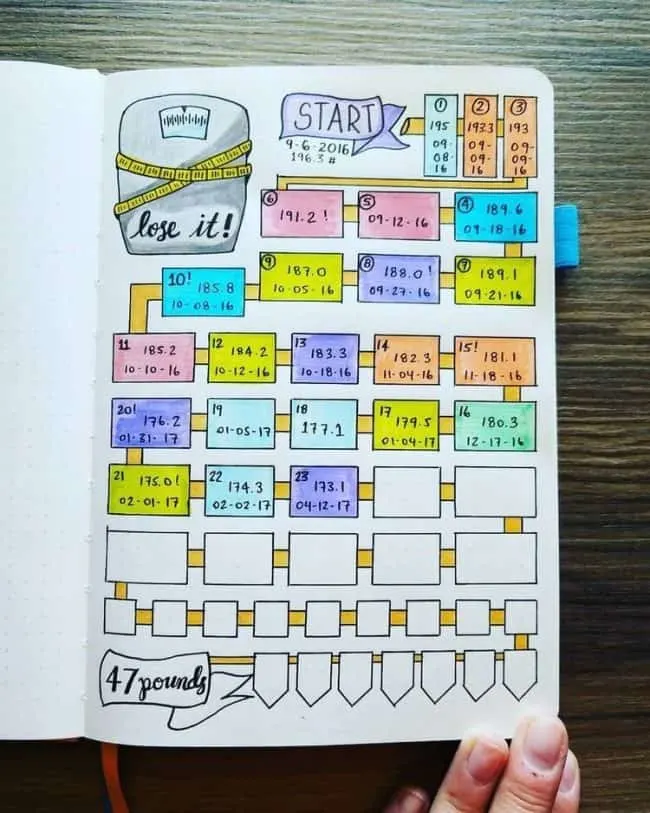 My_blue_sky_design on Instagram


I'm really in love with how this tracker looks. It is so colorful and fun.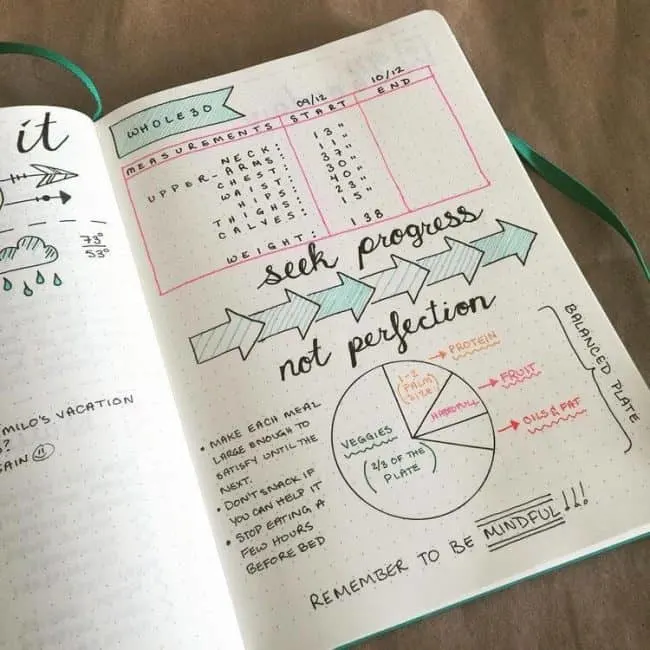 BoHo Berry


Boho Berry gives you a lot of motivation to stay on track with her setup and also breaks down the percentage for whole 30.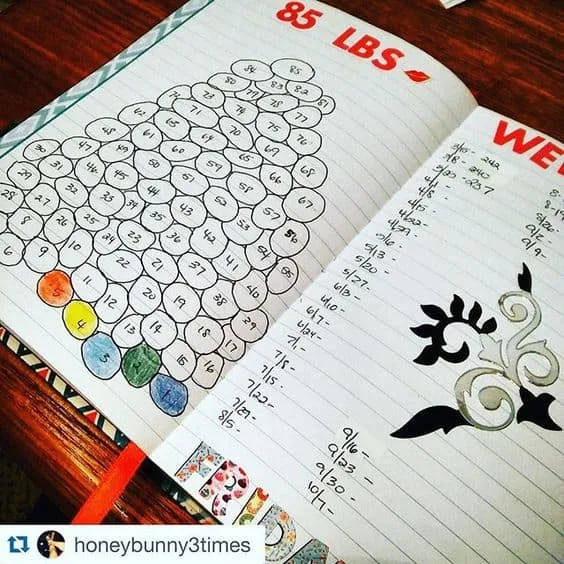 Honey Bunny created a super unique idea with this tracker and I love how awesome it will look once you get to your goal.


It would definitely keep me motivated to finish and actually make it to my goal.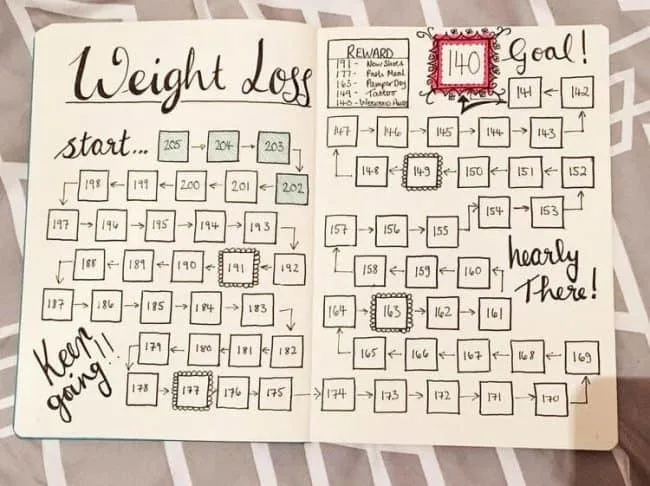 Kristy does something similar with coloring in each amount loss too.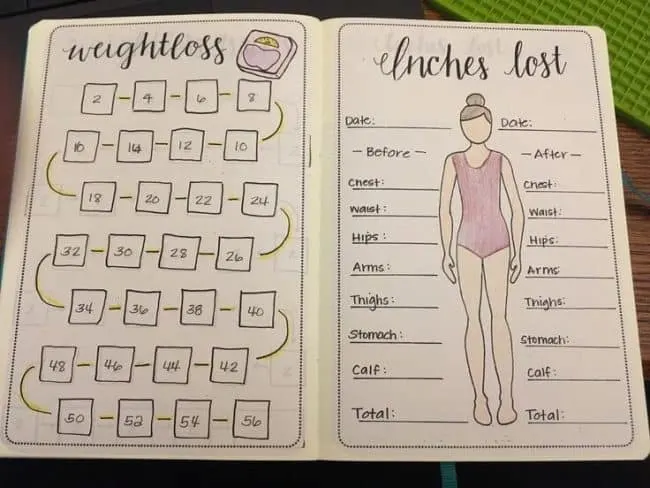 Notable Read…


What should I put in my weight loss journal?


You don't have to step on the scale if you're trying to lose weight, but tracking those digits can help set habits that will keep you on track to your goal.


It will be much easier to see when you might be reaching a plateau and allow you to change up your strategy as needed.


Because your weight can be impacted by so many factors, (hormones, stress, etc.) the key is to only weigh yourself once a week for a true indicator of how well you are doing.


The beauty of using the bullet journal method is the real-life results you get from them. Whether that be losing the weight or just helping you stay organized.


As you have seen bujo has many different formats and can help you stay on track with all of the aspects of your life.


Just remember, don't go into it seeking perfection and if you fall off the tracking wagon pick up where you left off and get back on.


Bullet Journal Supplies


When you first begin to bullet journal all you truly need is a notebook and a pencil or pen.


You can make it as simple as you want. It's totally up to you.


If you do want to invest a little bit in your productivity and organization then here are a few items I suggest.


The notebook is the foundation of your whole bullet journal experience, so I would highly suggest you get one you love to use.


Here are my top picks.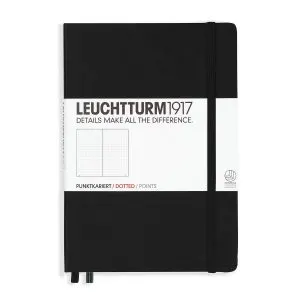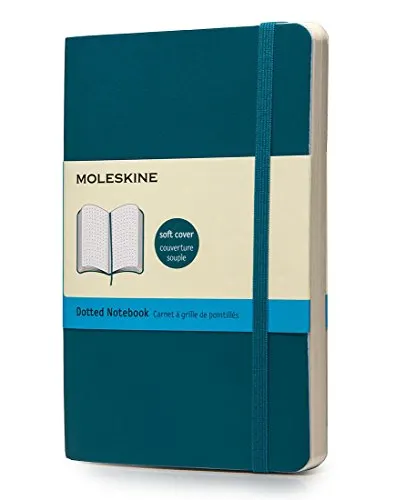 The notebook might be the foundation but the pens you use are just as important.


Opt for one pen or a set of pens that are nice to use and that you love.


I promise the pen or pens you use will make a huge difference in the whole experience.


My top picks…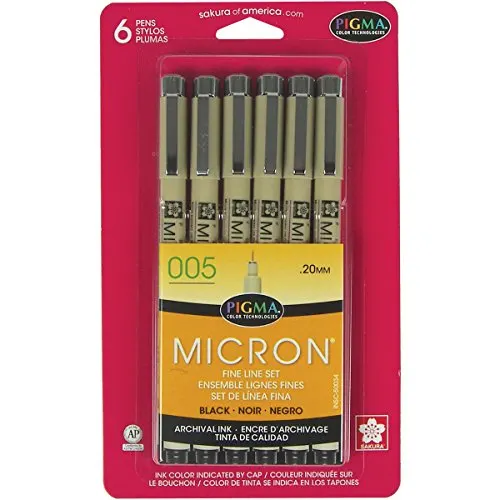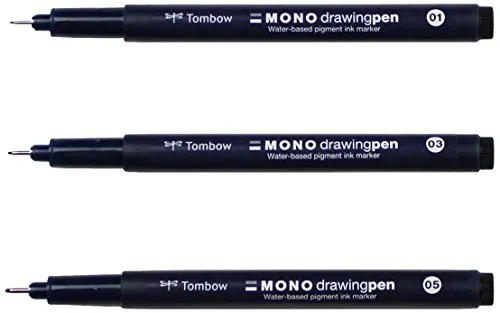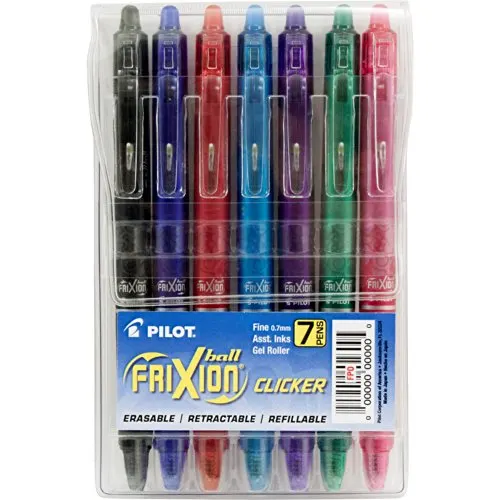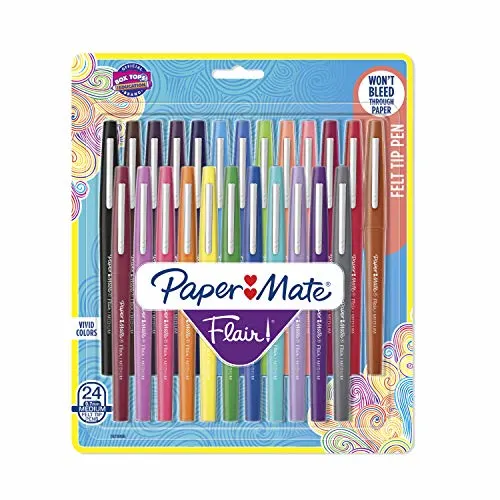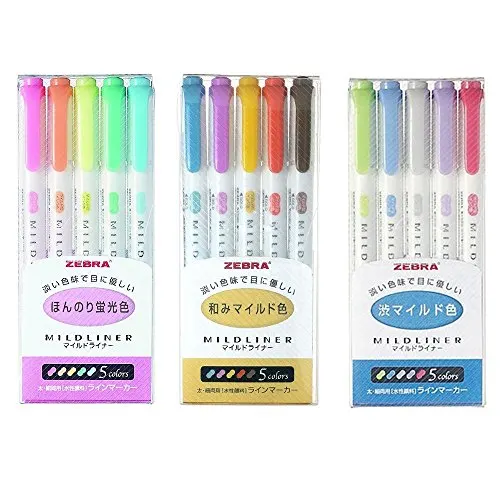 Besides the obvious bullet journal supplies of a notebook and pens, there are a few other items that you might want to pick up to make your experience more enjoyable but of course not necessary.


While I hope you find the above list of bullet journal supplies helpful just keep in mind that you don't need it all to be successful. Allow yourself to enjoy the process not be overwhelmed by all the choices.


If you enjoyed these weight loss tracker ideas using the bullet journal method you may also really like these other posts as well.