This caramel apple dump cake is the perfect amount of ooey-gooey goodness covered with a buttery crunch topping. It tastes just like a rich and delicious apple pie but is so easy to pull together with just 4 simple ingredients needed.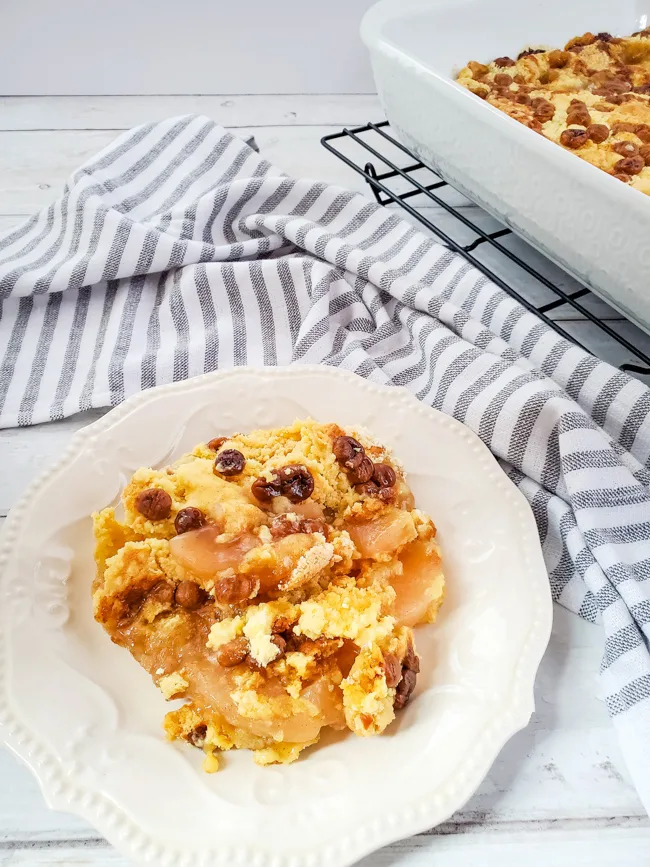 If you are looking for a quick and easy fall dessert then this dump cake, with its divine flavors of caramel and apple, is the one for you.


You can even adjust a few of the ingredients to fit your preferences. IE: Changing out the canned apples for fresh or the yellow box cake for spiced.


It is a dessert easy enough for your next family meal but rich and decadent enough for any guests you might need to serve.


Right now is the peak time for apples in season so definitely give this one a try!


What you need for an Apple Dump Cake:


1 box yellow cake mix
2 – 20oz cans of apple pie filling
1 stick butter
1 cup caramel baking bits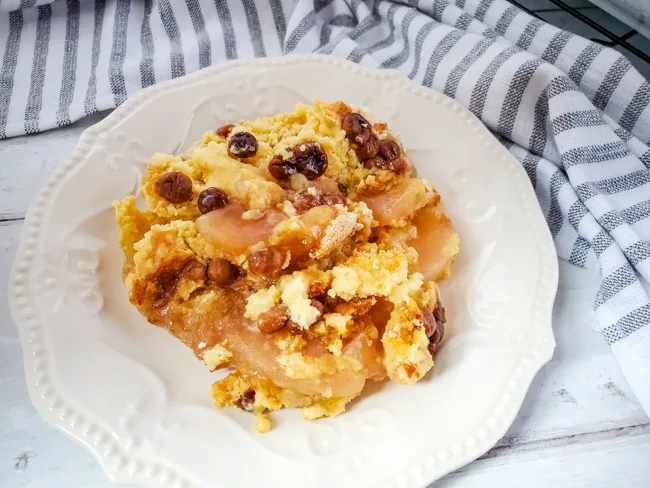 How to make Caramel Apple Dump Cake


Preheat the oven to 350 degrees F. Add both cans of apple pie filling to a 9×13 cake pan or casserole pan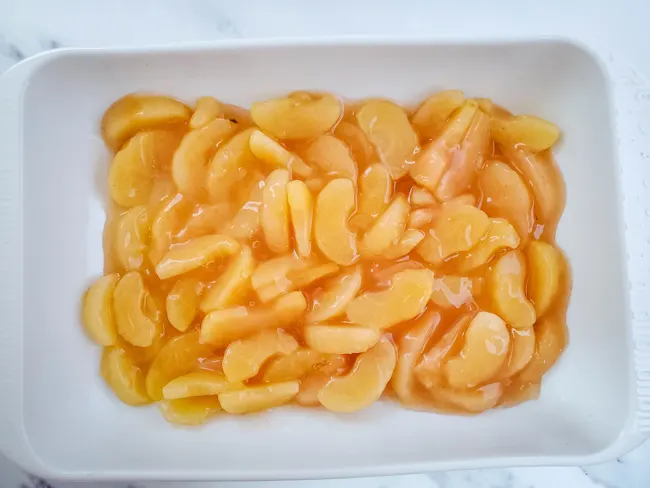 Dump the cake mix over the apple pie filling, in an even layer.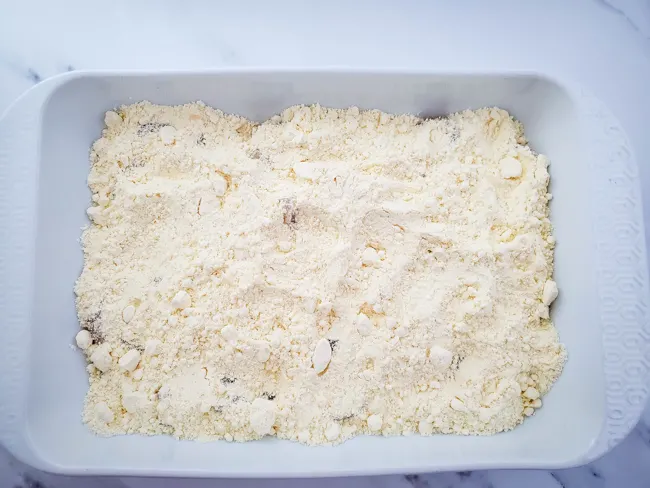 Slice butter into 12 equal pieces, and arrange them on top of the cake mix.




Sprinkle caramel bits all over the top of the mixture.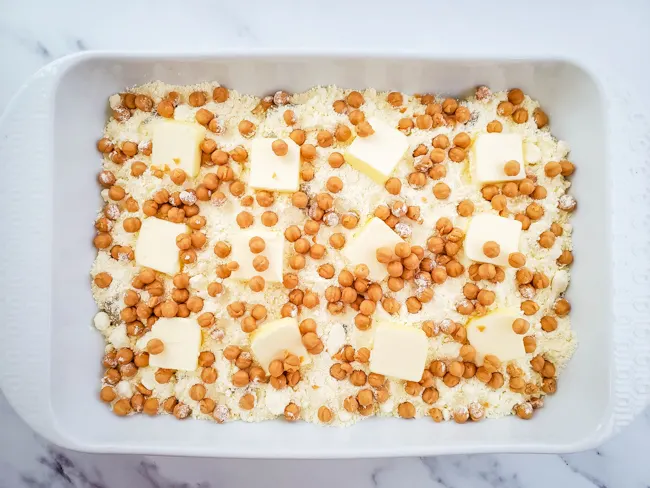 Bake for 50-60 minutes, or until golden. Remove from the oven, and serve warm.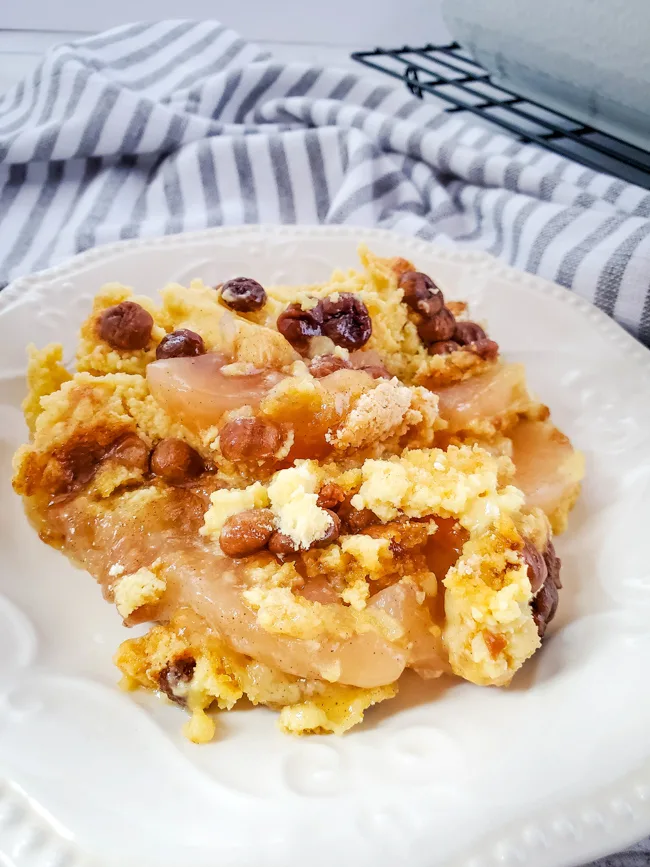 Topping Ideas for Caramel Apple Dump Cake


Warm Caramel Sauce
Vanilla Bean Ice Cream
Ground Cinnamon or Cinnamon Sugar
Whipped Topping
Crushed Walnuts or Pecan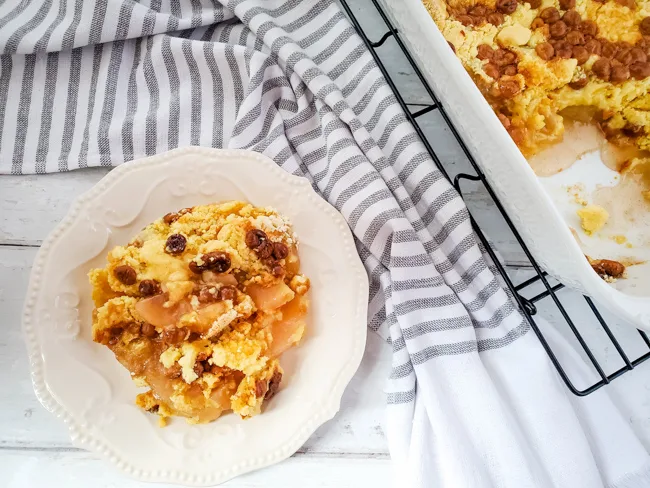 Questions you may have!


What is a dump cake?


I know "dump" cake doesn't sound very appealing so this question is actually pretty common. What in the world is a dump cake.


Well, dump just simply means a cake that has all the ingredients dumped in a pan at once and baked together, oftentimes with no mixing (or very little) required.


What is the difference between a dump cake and a cobbler?


The main difference is that a cobbler typically has a streusel topping where the dump cake often has a premade cake mix. This isn't always the case but often that is where you will see the difference. With that said, they are very similar desserts.


Can I make apple dump cake in the slow cooker or crockpot?


Absolutely! All you will need to do is spray the bottom of your cooker, assemble with the above directions and cook on high for 2 hours or low for 4.


How should I store this apple dump cake?


If you have leftovers, you can refrigerate the extra dump cake for up to 3 days or you can leave a baked dump cake on the counter at room temperature for about 1 day. As for most desserts, refrigerating the leftovers will extend their life.


Can I use a different cake for my Caramel Apple Dump Cake?


Yes, for this particular caramel apple dump cake we use a yellow box mix but you can certainly use a white cake mix, vanilla cake mix, or even a spice cake mix.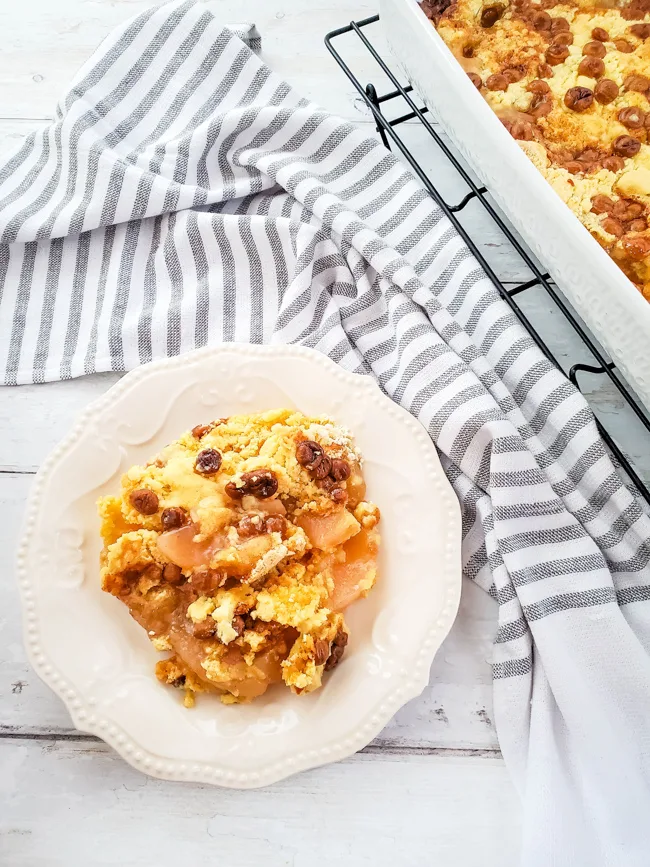 Even more simple desserts you need to try!


Mixed Berry Dump Cake
Butterfinger Poke Cake Recipe
Banana Pudding Poke Cake Recipe
Best Homemade Pumpkin Cake Recipe
Best Strawberry Sheet Cake
Apple Cider Cake


Want to print or save this recipe?