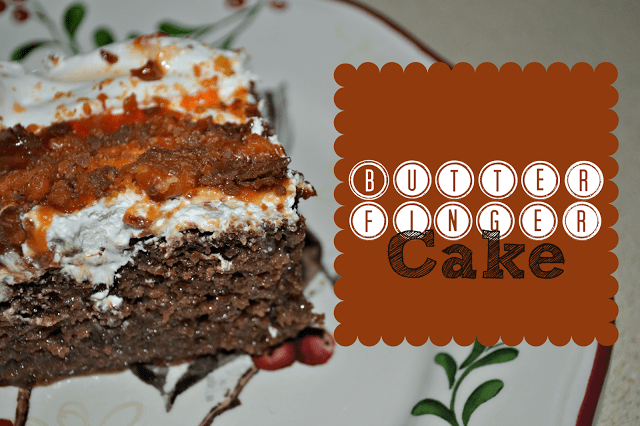 Note: I took this picture after the topping had melted a little. Sorry I didn't get a shot of the before, it is that good you don't want to wait to take pictures. 😉
Ok, so this cake has a few different names. You may have heard of it called Better than Everything Cake or what I originally heard it as which is the Better than Sex cake. I don't know about those claims but it is pretty darn good. 🙂 I just like to call it the Butterfinger cake although some people like to use Health bars instead of Butterfingers for the topping. Here is how you put all the yumminess together.
INGREDIENTS:
1 box German Chocolate Cake Mix (plus ingredients for this which is oil, water, eggs)
1 Can Sweetened Condensed Milk
1 Jar Caramel Topping (16oz)
1 Tube of Cook Whip (8oz)
2-3 Butterfinger Bars (or health bar, chocolate chips… etc)
INSTRUCTIONS:
1. Bake cake according to the directions on the box.
2. Let the cake cool and once cool poke holes in the cake with the end of a wooden spoon or anything that makes small holes.
3. Pour the condensed milk and caramel topping evenly over the cake making sure you get all the holes filled with the yummy goodness. You can mix these two together so you can pour it all in at once but for me it is unnecessary dirty dishes.
4. Spread the cool whip over top of the cake.
5. Top with crunched up Butterfinger or your candy bar of choice.
6. Eat!!! Refrigerate any leftovers.