Who's ready for some festive competition? This Easter egg exchange dice game is a fun twist on a game that is often played during the Christmas holiday.


Easter egg hunts are a tradition for this holiday but who says we can't start up a new, fun, and egg-citing tradition? Whether you have a large family, neighborhood gathering, church get-together, or classroom everyone will enjoy this game.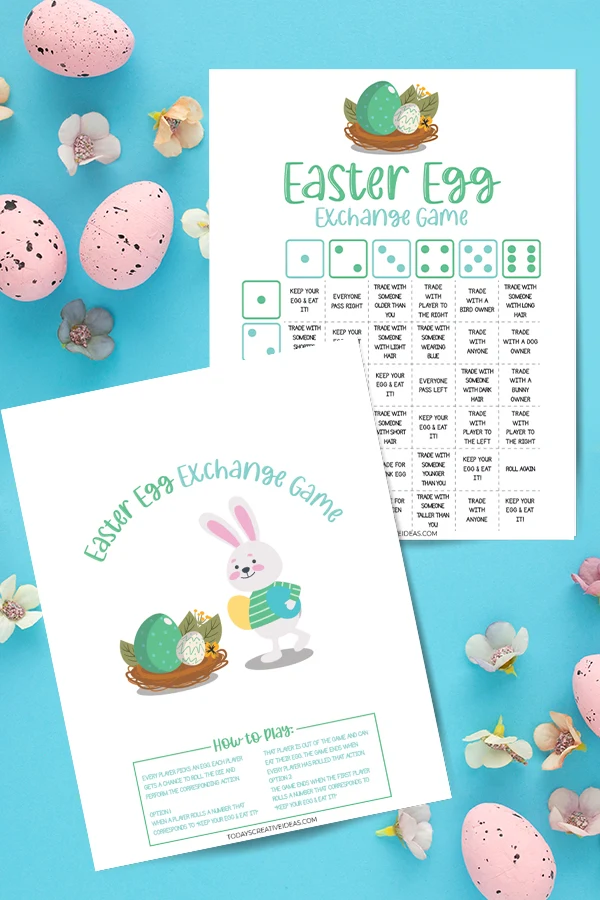 I mean who says kids should get to have all the fun on Easter, get your adult friends together and enjoy a round of Easter egg exchange too.


Easter Dice Game Supplies

free printable cards (see below for the link to print the instructions and game board)

cardstock – Not necessary, but if you want to print out the instructions and game baord then I would recommend printing it on cardstock.)

laminator – Want to make your printables reusable? Laminating them makes them last much longer. Stick them in your Easter box and store away so this game will be ready to play next year.

Easter eggs – This is where you can get creative. You could use "chocolate" eggs, plastic filled candy eggs, hard-boiled eggs, or whatever you see fit. I personally think a mixture of all different types will make the game exciting.

a set of dice – (These jumbo dice would add an extra fun touch.)


How to Play the Easter Egg Exchange Dice Game


Give every player an egg or allow them to pick out an egg of their choosing. Each player will get a chance to roll the die and perform the corresponding action.


At this point, there are 2 options to play the game.

Option 1: When a player rolls a number that corresponds with "Keep your egg and eat it" that player is then out of the game can at that point keep or eat it. The game is over after every player has rolled that option.

Option 2: The game ends when someone rolls "keep your egg and eat it" this could end up making for a very short Easter egg exchange dice game but if you have younger players that could be a good thing.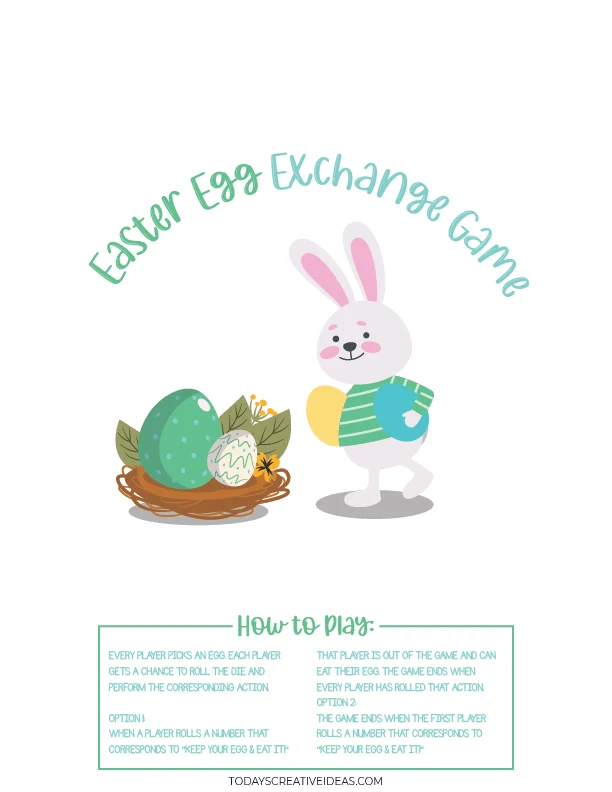 Note: This is a locked printable. To get all of my exclusive locked content you will need to sign up with grow. This will also add you to my newsletter and give me consent to send you emails at any point in the future.




Download and print a copy of these Easter cards.





More Easter Activities