Enhance your classroom environment this February with fun and educational door decorations that celebrate Black History Month! Get inspired by these creative classroom door ideas.


From simple displays celebrating important figures to interactive posters highlighting noteworthy African-American accomplishments, these decorations are sure to bring an extra dose of enthusiasm into your students' learning environment.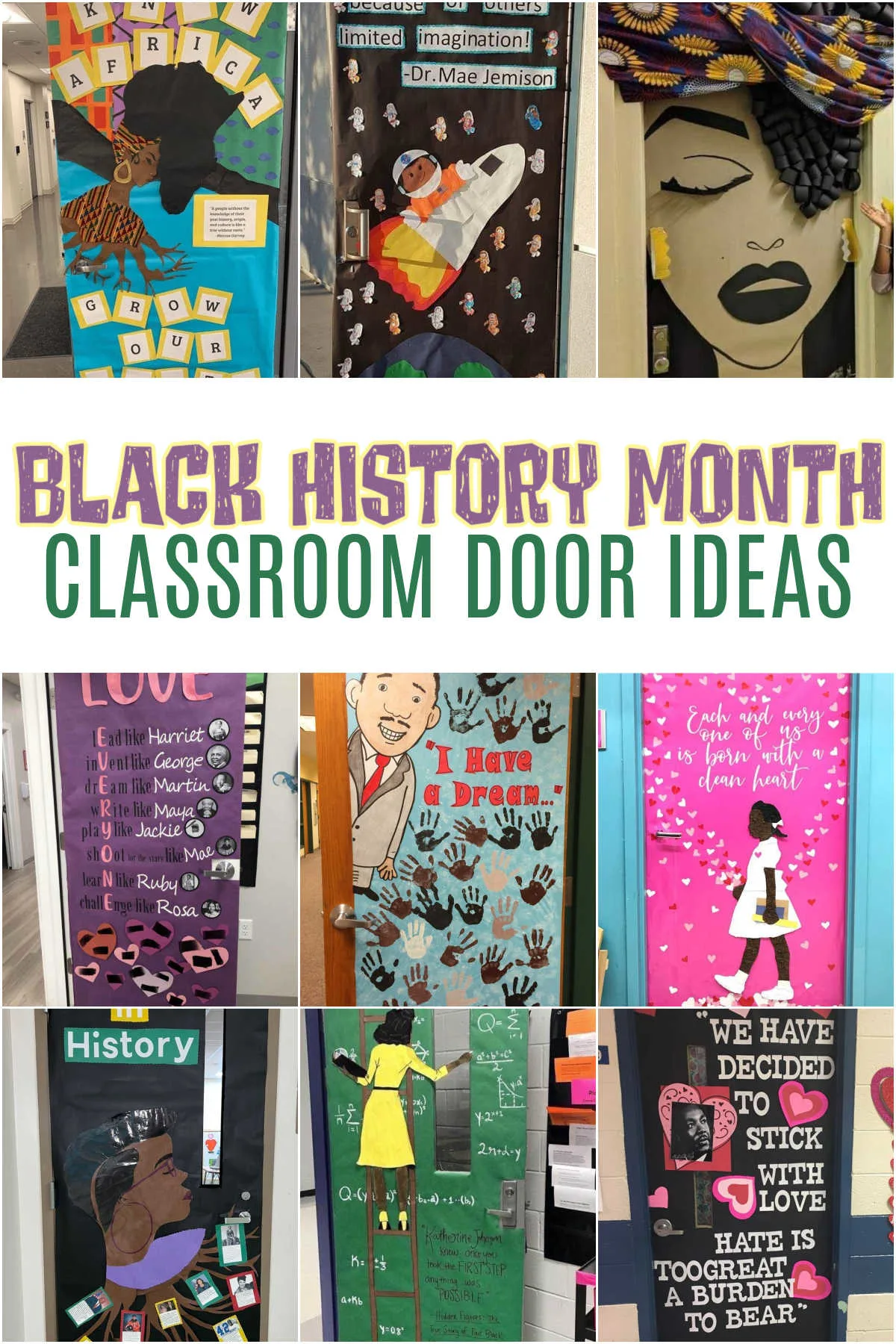 Get inspired by teachers across America decking out their doors with iconic black figures from past to present or go with a classic look that honors Black History Month with style.


Whatever you decide, make sure your classroom door makes a strong statement that celebrates the many accomplishments of Black Americans throughout history.




Supplies you might need for your Black History Month Classroom Door




Classroom Door Ideas for Black History Month




Other ways you can decorate your Black History Month Door.


A Timeline of Important Dates.


Create a timeline of important dates in African-American history across the entrance of your door.


Include key facts, figures, and events like the passing of the 13th amendment or the signing of the Civil Rights Act.


This will give students an overview of African-American history while also creating a visual display that is full of colors and symbols!




Something From the Past.


Incorporate something from the past into your classroom door decorations by displaying a classic photograph of a civil rights leader.


It could be Martin Luther King Jr., it could be Rosa Parks or any other well-known leader that represents African-American history and pride.


This is a great way to honor Black History Month while fostering an appreciation for those who have come before us.


A great way to honor African-American leaders and recognize their accomplishments is by displaying quotes from prominent African-Americans.


Choose encouraging and inspiring quotes from leaders such as W.E.B Du Bois, Frederick Douglass, and more!


These powerful messages on your classroom door are sure to be a conversation starter for all your students.




Black History Heroes Collage.


Create a personalized display on your door by creating a collage filled with images of African-American heroes and inspirers.


Invite students to bring in pictures of their own personal inspirations to use in the collage.


Discussing the individual accomplishments and stories behind each photograph is an engaging way to learn more about Black History Month.




Famous Folks in Pop Culture Form


Incorporate a touch of pop culture into your door display with silhouettes of figures from Black History Month.


Think about popular singers, athletes, and business people that have made an impact – Tupac, Venus & Serena Williams, and Oprah Winfrey are just a few examples.


You can use paper shapes or printables to create the silhouette outline and write facts to accompany each figure on colorful strips of paper.




Want to make this door decorating super easy? Check out these precut ideas.




Black History Month Books for Kids




Even more classroom door ideas you don't want to miss!