Looking for Easter basket ideas for babies that are practical but also fun? These adorable ideas for your baby's first Easter are great for them to use, grow with, and learn all year long.


From books to toys, and even some cute clothes, all of these are mom-approved and sure to make a memorable Easter.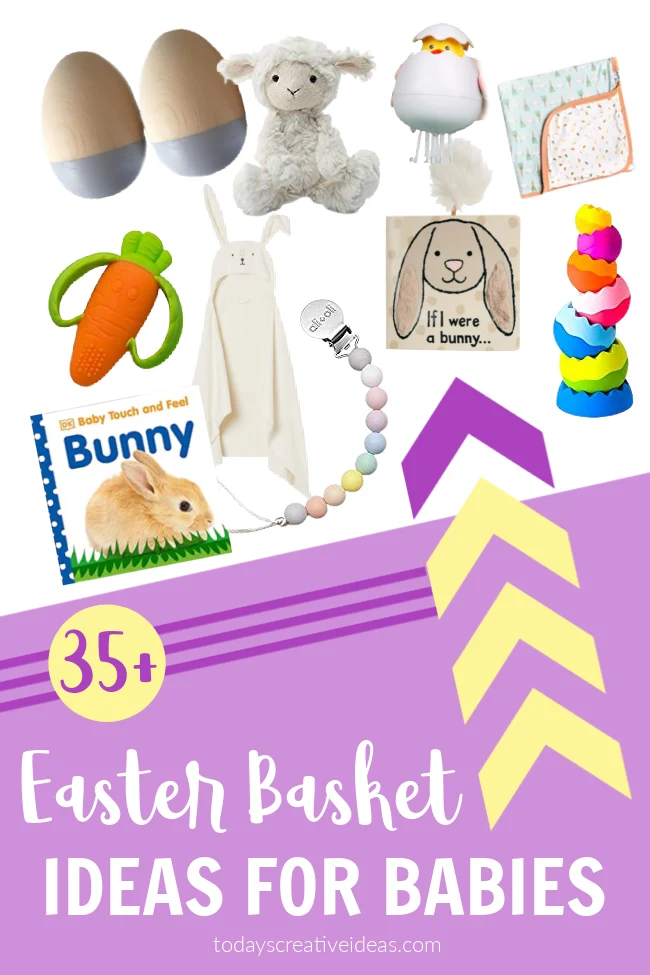 Easter is one of my favorite holidays of the year.

Firstly, because we are celebrating the resurrection of Jesus Christ, but also because Spring is in the air and it's a time of family get-togethers, fun egg hunts, and of course, you can't forget the chocolate.


How do you celebrate baby's first Easter?


Of course, a baby's first Easter is a special occasion for all new parents. As are all the important milestones in the first year of life.

Here are some creative ways you can celebrate and create new traditions for years to come.


Take a picture with the Easter Bunny
Pick out a keepsake item (maybe one of these fun ideas here)
Plant a tree that will grow with them, goes great with Earth Day coming up!
Have a get together with family and friends to celebrate
Of course, put together their first Easter basket!


Putting together your baby's first Easter basket can and should be lots of fun but you might need a few ideas, especially if you are a new parent.

I hope these simple ideas that include items like stuffies, books, teethers, and more will provide your littlest bunny with hours of fun.


What do you put in a baby's Easter basket?


Easter Toys for Babies




Practical Items to put in a baby's Easter Basket




Easter Board Books for Babies




Snacks to put in baby's basket


If your baby is over 6 months, snacks make an "eggcellent" option for extra fillers. Here are some of our favorites.


What Can I Fill a Baby's Easter Eggs With?


Honestly, you don't have to put anything in them.

Babies just love to play with the eggs in general. You can tape them together so they don't come apart and let them enjoy some playtime.

You could also turn them into shakers. If your baby is older 6+ you could fill them with cereal, puffs, goldfish, etc.


Easter Basket Ideas for Babies


You can't forget the actual basket! These are some super cute ideas for babies' first baskets.

I got something like this for my daughter when she was little and use it every year and she's a teenager now.


Buy a nice one once and it will last for years to come.

You could also find a sturdy basket at a thrift store, they always have some good ones. Then use one of these adorable peep tags to personalize it.



More Easter Basket Ideas