Easy to make, these peach crumble bars make an amazing summertime treat.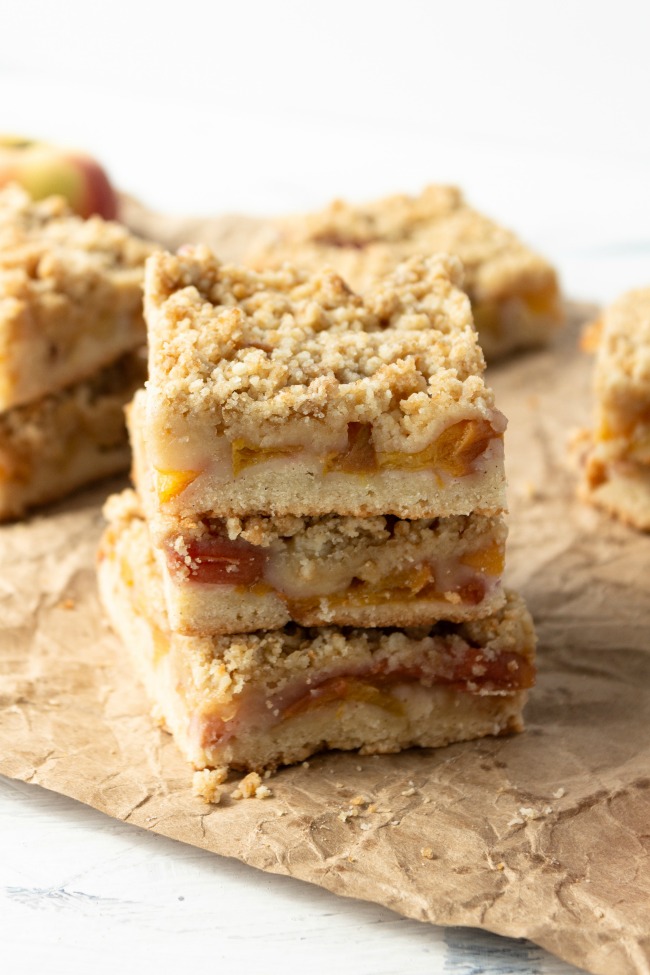 Made from a delicious buttery crust, juicy fresh peaches, and a brown sugar crumbly topping you can't go wrong with this peach crumble dessert.


Ingredients you will need:


Base:

10 tbsp unsalted butter, softened
½ cup granulated sugar
1 large egg
¼ tsp cinnamon
¼ tsp salt
1 2/3 cup all-purpose flour


Filling:

22 ounces of fresh peaches (about 5-6 med peaches)
Zest 1 lemon
3 tbsp granulated sugar


* Any variety of peaches will work but if you use a sweeter peach be sure to adjust your sugar accordingly.


Crumble:

6 tbsp unsalted butter, softened
½ cup brown sugar
1 cup all-purpose flour
¼ tsp salt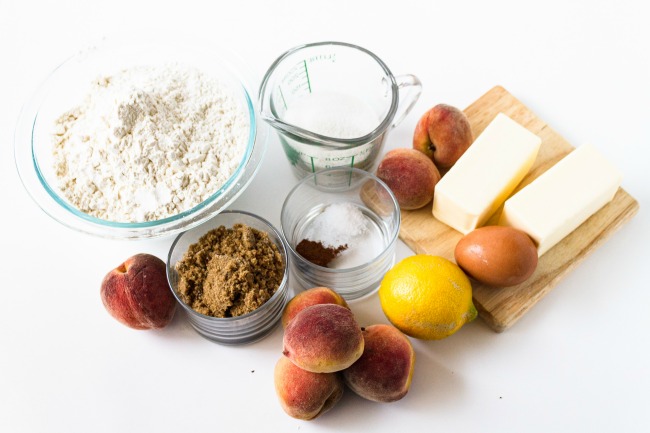 How to make Peach Crumble Bars.


Grease and line a 9 x 13" baking pan with parchment paper. Preheat oven to 350° F.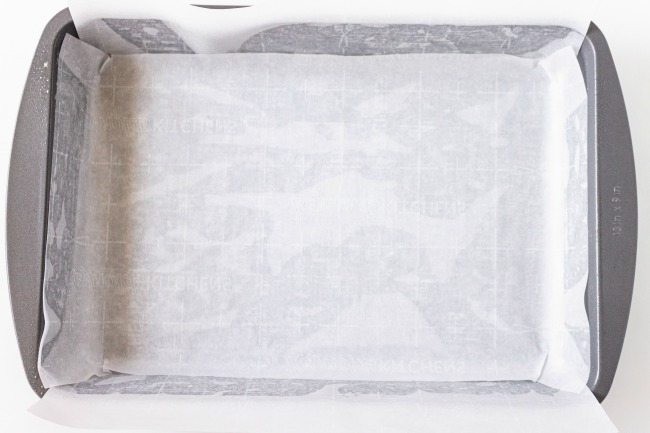 In a large bowl, blend together your butter, sugar, and egg with a stand mixer or handheld beaters on medium-high until creamy and light.


Add cinnamon, salt, and flour, blending on low until just combined.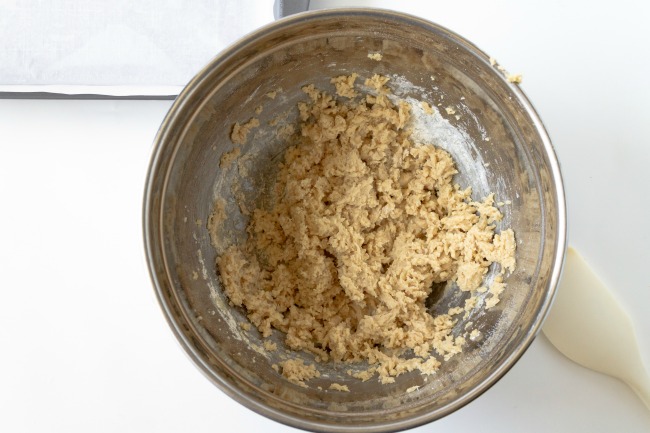 Press mixture into the pan and pat into an even layer.


Chill in the fridge while preparing the remaining layers.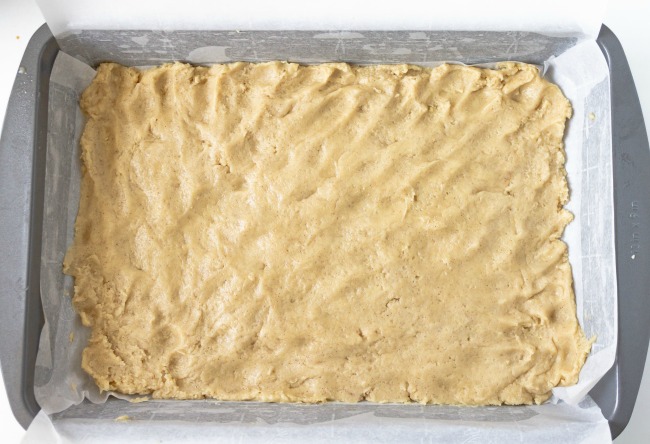 To make the filling, slice peaches into ¼ inch or thinner slices.


Toss with lemon zest and sugar.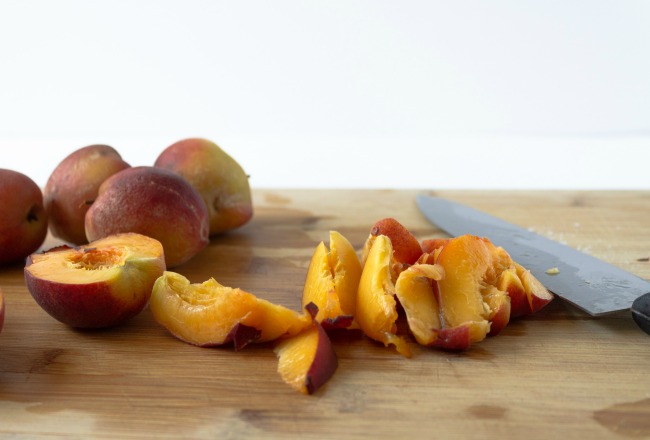 On low speed, blend all the crumble ingredients until just combined into small crumbles but still a little powdery.


To reduce the number of dishes you have to wash you can do this in the same bowl you used for the base.


Toss further with your fingers until slightly larger crumbs form (no large than a pea).


On the chilled base, spread an even layer of peaches.


Sprinkle the crumble on top of the peaches as evenly as possible, but do not press down.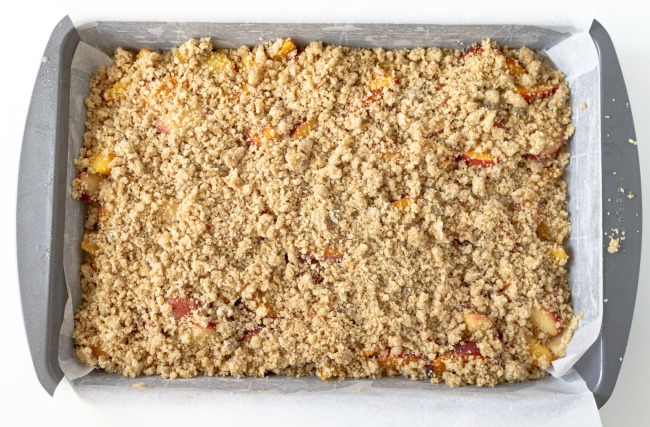 Bake for 45-50 minutes, or until golden on top and peaches are slightly bubbling at edges.


Cool in pan for at least 20 minutes before removing and allow to cool completely before eating.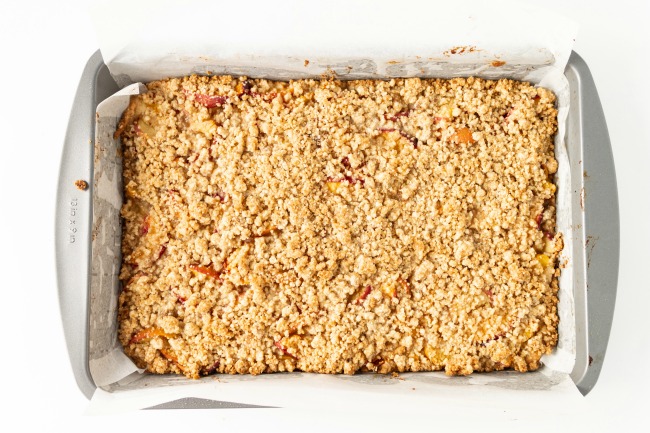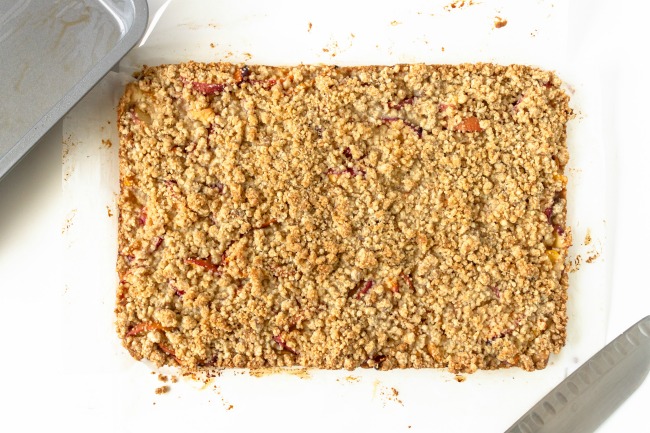 These peach crumble bars will be okay stored in a sealed container in the fridge for a couple of days, but will not be as crisp as straight out of the oven.




This super simple recipe can be adapted with any delicious fruit you love or a combination of fruits.


Peach just so happens to be one of our favorites, especially for summer.




Can I use canned peaches instead of fresh?


Yes, you can always substitute frozen peaches (thawed and drained) or well-drained canned peaches in equal amounts for fresh peaches.


How do I pick the best fresh peaches for a recipe?


Select slightly soft (but still somewhat firm) peaches with no shriveled skin. Check for bruises or any damaged spots, avoid these.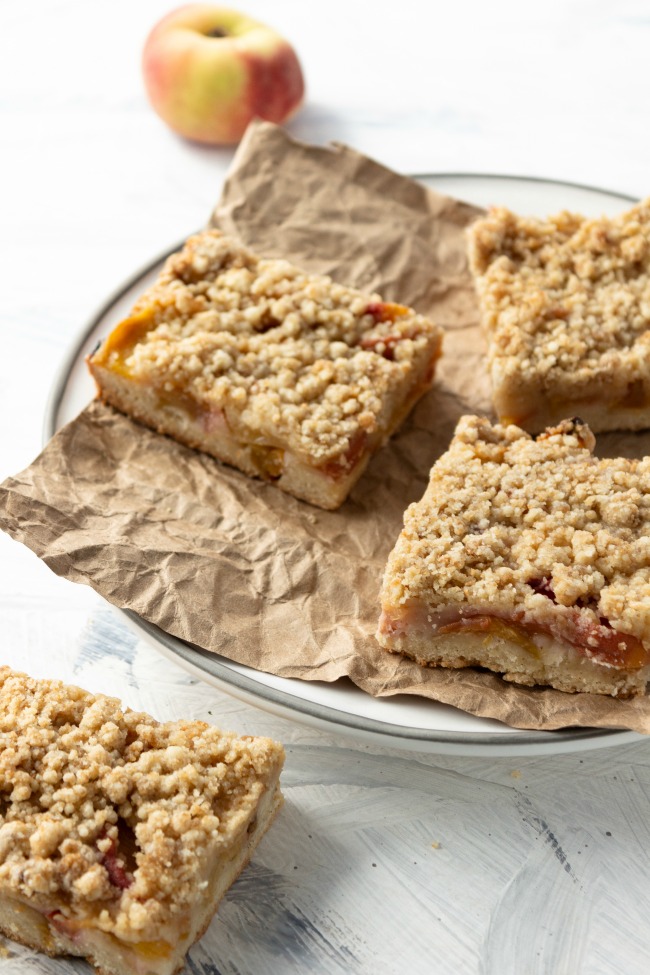 EVEN MORE DELICIOUS PEACH & BAR RECIPES:


Want to print this Peach Crumble Bars Recipe?