Indulge in the delightful fusion of sweetness and buttery flakiness with our Mummy Apple Danish Pie.




Picture this: succulent apple filling wrapped in buttery, flaky pastry layers, creating a mesmerizing mummy-like exterior.


As you take a bite, you'll unravel the layers, revealing the perfectly delicious apples with a hint of cinnamon, reminiscent of cozy autumn days.


This little mummy pie is a tasty resurrection of classic flavors, a treat that'll make your taste buds come alive with every spooky, delicious bite.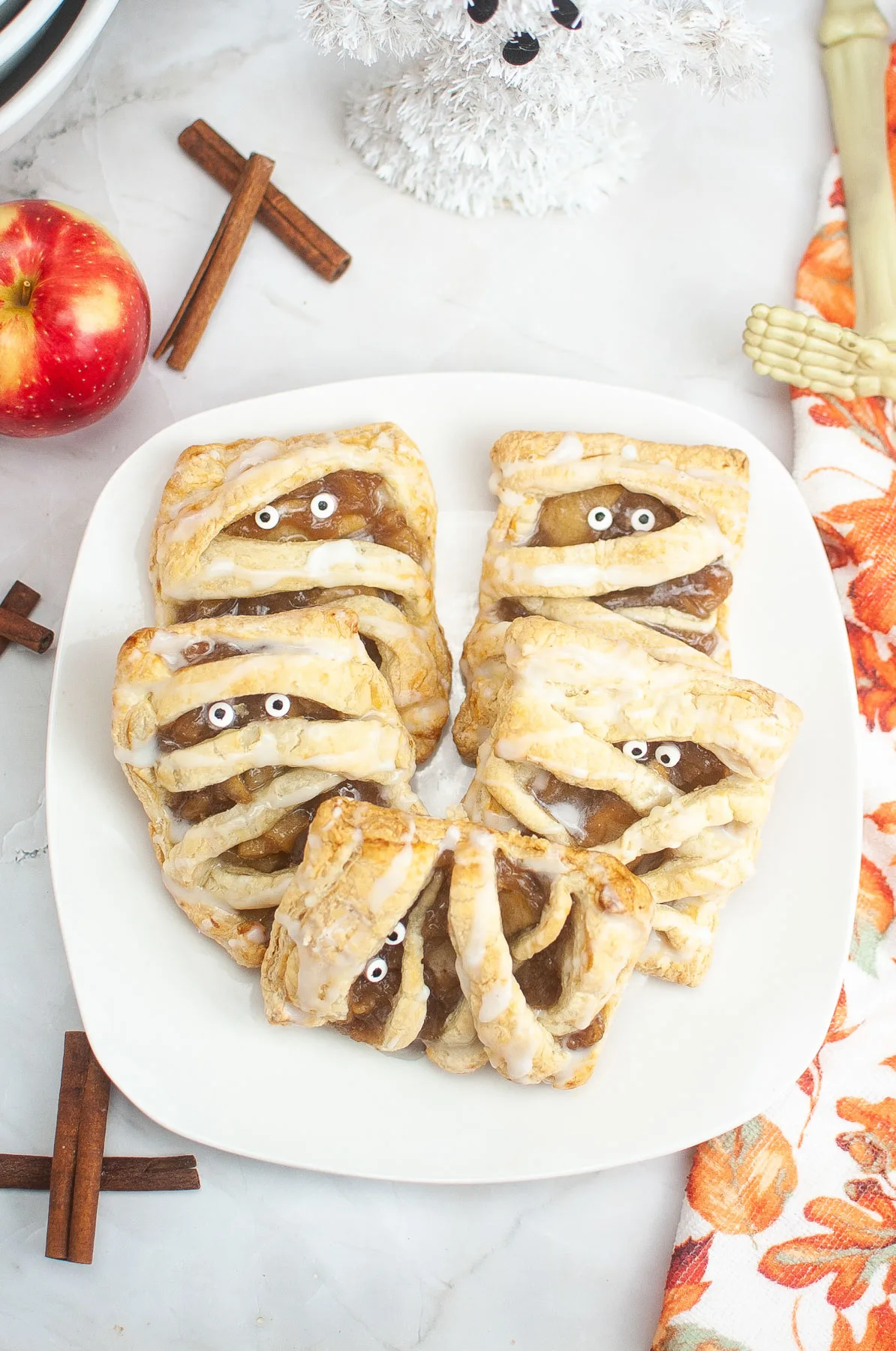 As the air grows crisp and the leaves paint a tapestry of autumn hues, I invite you to join me in unraveling the mystique behind this delectable creation.


Imagine a symphony of flavors, where the timeless charm of apple pie meets the playful intrigue of a Danish pastry.


In this blog post, we'll delve into the enchanting tale of our Mummy Apple Danish Pie, exploring the ingredients, the process, and the sheer magic that unfolds with every bite.


Are you ready to unwrap the secrets and savor the deliciously haunting essence of fall? Let's dive in!




How to Make a Mummy Apple Danish Pie!


On a lightly floured surface, roll out both sheets of puff pastry until they are ¼" thick.


Using a pizza wheel or sharp knife, cut one sheet horizontally into strips. Try not to make straight uniform cuts. Then cut the strips into smaller 3" strips.




On the second sheet, cut into 12 uniform rectangles.




Add a heaping spoonful of pie filling to the center of each rectangle, leaving a ½" border. Add an extra dash of cinnamon if you want to up the spice.




Whisk the egg to make an egg wash and brush the border of the rectangles.


Place the smaller strips of puff pastry across the top of the rectangles in a crisscross pattern, if you overlap the strips along the border, use the egg wash to bind the strips together.


Leave openings between the strips to expose the pie filling and imitate a spooky mummy wrap.




Pinch the border of the pastry to seal it.


Bake on parchment at 350° for 15 or until crispy golden.




Once cooked, let the pastries cool before icing them.




While the pastries cool, add the powdered sugar and milk to a mixing bowl and whisk until the smooth icing is formed.




Once the pastries have cooled, apply the icing however you like, either pouring over or using a squeeze bottle for a more controlled application.


Add the eyes to each mummy apple danish pie.




Let the icing firm a bit and enjoy!




Frequently Asked Questions