If you are looking for an easy Homemade Apple Butter recipe then look no further. This simple recipe is made in a crockpot and requires only a few minutes of prep time. Taste just like fall in a jar!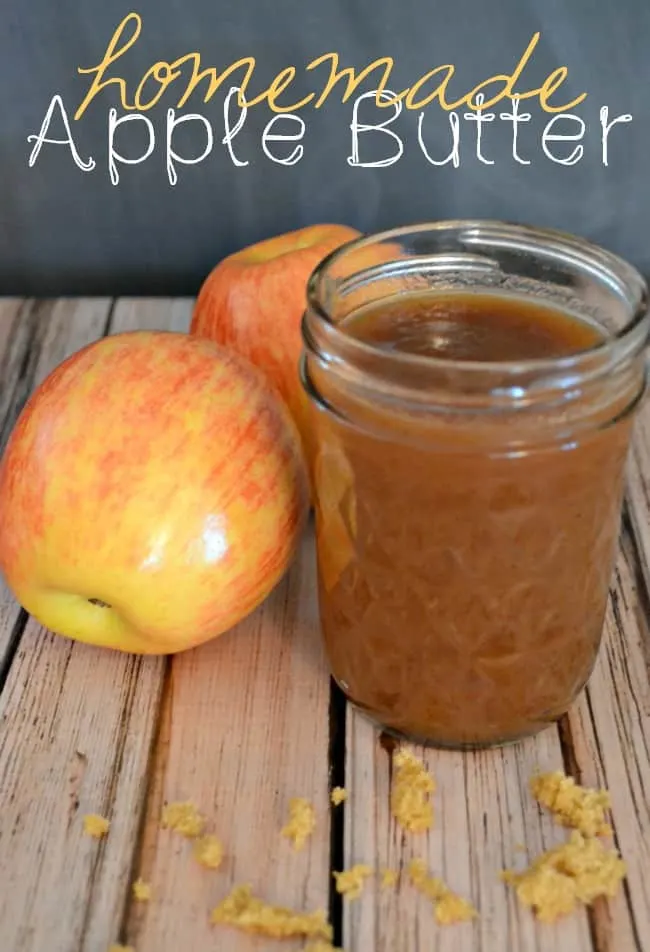 I am lucky enough to live pretty close to where I can pick up some of the best homemade apple butter, made by the Amish, without having to spend time in the kitchen prepping for an all-day cook-a-thon.


However, I would be missing one delicious thing, and that would be the smell of it cooking.


The scent of apples is my favorite, and with all those apples mixed with cinnamon and brown sugar and all that yumminess is heavenly.


It's like a big ole pot of fall.


If you haven't made homemade apple butter then what are you waiting for? Get in the kitchen but don't forget your apple peeler and corer.


Ingredients you will need:


4 Lbs. Apples Peeled and Chopped
2 Cups Apple Cider
1 Cup Packed Light Brown Sugar
1 Tablespoon Lemon Juice
1 Teaspoon Ground Cinnamon
1 Teaspoon Vanilla Extract
A pinch of Kosher Salt


How do you make apple butter from scratch?


Combine all ingredients in your slow cooker and let cook for 8-10 hours on low.


Puree the mixture with an immersion blender or regular blender until smooth.


Transfer the apple butter into mason jars or an airtight container. It will stay good in the fridge for approximately 2 weeks.




This apple butter is so delicious and great on all sorts of things from biscuits and toast to pancakes and waffles.


I made it in my slow cooker and it turned out the best yet. If you are looking for a slow cooker upgrade or don't own one of your own already you should definitely check out the Ninja Foodi.


I just picked this one up and it works great! Not only can you slow cook but you can also pressure cook and air fry.


Which apples are best for apple butter?
Softer varieties of apples such as Fuji, Golden Delicious, and McIntosh, cook down the fastest, but you can choose just about any kind of apple you like or have on hand.
How long does apple butter last homemade?
It will keep in your refrigerator for up to 3 months, or in the freezer for up to one year.
Even more delicious apple recipes you definitely want to try!


Want to print this Homemade Apple Butter Recipe?