Patriotic Charcuterie Board – Learn how to make this red, white, and blue themed cheeseboard filled with tasty and festive appetizers including fresh fruit, meats, dip, chocolate, and more.


This patriotic platter is perfect for the 4th of July holiday and will have all of your guests oohing and ahhing all over the fun spread.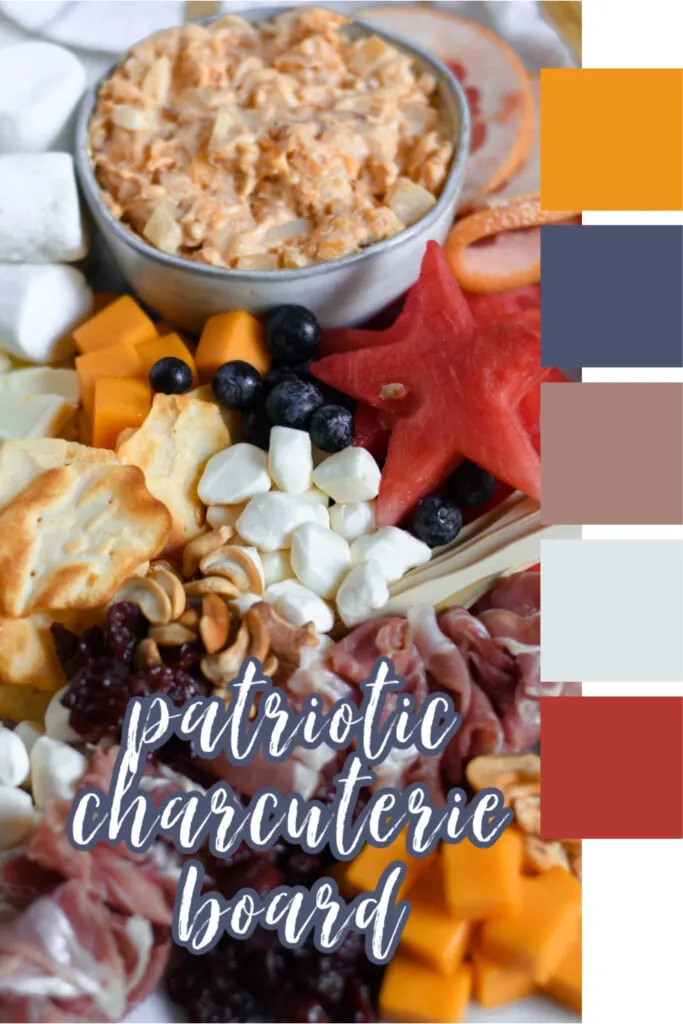 So if you are looking for something to jazz up your Fourth of July party table then you will definitely want to keep reading.


We have pulled together a beautiful patriotic charcuterie board that is certainly easy enough for anyone to pull together.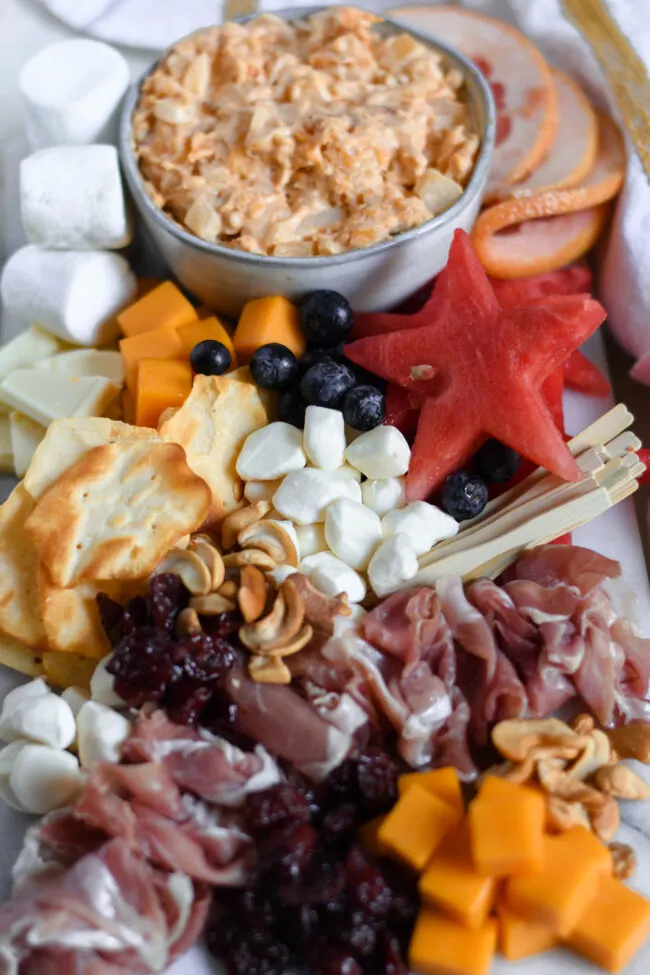 We love the idea of a charcuterie board for parties because there is no cooking involved.


It's truly all about the epic placement of these yummy sweet and salty snacks.


Ingredients for a patriotic charcuterie board


1 8-oz block of cheddar cheese
½ cup of cashews
½ cup of blueberries
1 8-oz pouch of fresh mozzarella cheese pearls
1 3.5-oz Ghirardelli white chocolate bar
1 6-oz. package of thinly sliced Prosciutto
½ cup of sweetened dried cherries
8-10 large marshmallows
1 grapefruit
1 watermelon
1 bag of toasted Ritz chips
1 bowl of creamy onion dip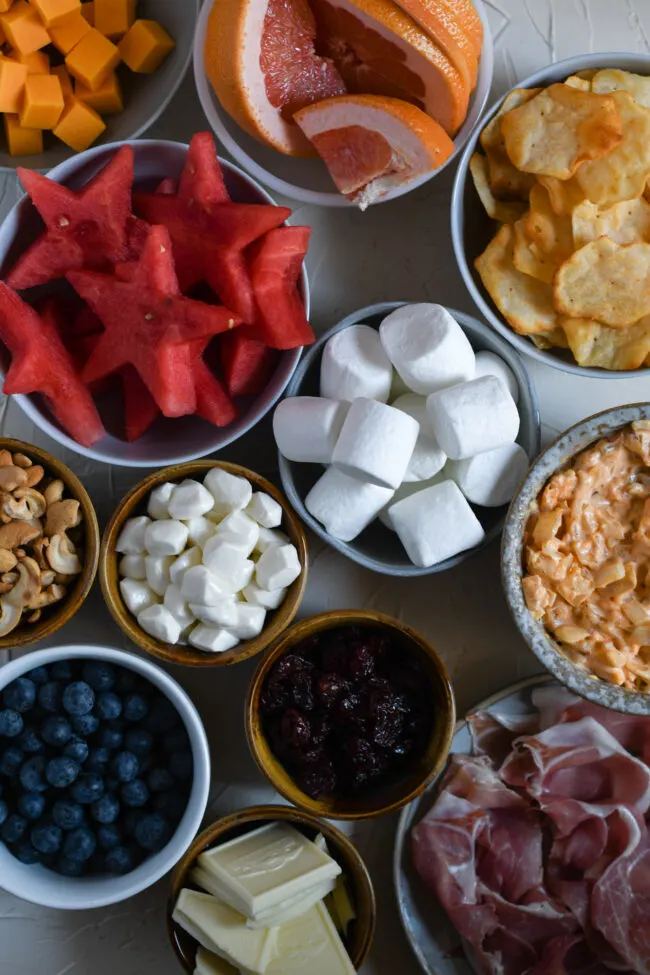 Although we picked the above ingredients for our patriotic cheeseboard, you can certainly use anything you want.


Even more Red, White, and Blue Charcuterie Board Ideas!



Charcuterie Meat Ideas:


Salami
Prosciutto
Pepperoni


Charcuterie Cheese Ideas:


Brie
Blue Cheese
White Cheddar
Mozzarella
Parmigiano
Provolone
Smoked Gouda
Swiss


Charcuterie Fruit Ideas:


Blackberries
Raspberries
Strawberries
Watermelon
Blueberries
Cherries
Grapes


Charcuterie Vegetable Ideas:


Red Bell Peppers
Black Olives
Cherry Tomatoes
Radishes
Mushrooms
Cauliflower


Charcuterie Crackers and Bread Ideas:


Baquettes
Italian Bread
Blue Corn Chips
All Light Colored Crackers


Charcuterie Dip Ideas:


Hummus
Vanilla Yogurt
Cream Cheese Dip
Onion Dip
Ranch Dressing
Any Blue or Red Jams
Whipped Cream
Salsa


Charcuterie Sweet Treat Ideas:


Any Red, White, or Blue Candy (IE: Swedish Fish, M&Ms, etc)
White Chocolate Pretzels
White Chocolate pieces
Yogurt Covered Cranberries
Raisins
Marshmallows



How to make a patriotic charcuterie board!


Your first step to creating an amazing charcuterie board is cutting and slicing your items in uniform sizes.


Start by cutting the watermelon in half and then into thin slices.
Use a star cookie cutter and cut star shapes out of the watermelon. Set aside.
Cut the cheese into small cubes and set aside. You could also use sliced cheese and use a small star cutter to cut out shapes.
Break the white chocolate into small chunks and set aside.
Remove the Prosciutto from the package and cut the pieces in half and set aside. If you decide to go with different styles of meats you can roll them to save space.
Slice the grapefruit into thin slices and sprinkle with some sugar if desired. Set aside.


Start assembling the charcuterie board by placing the largest items of food down first such as the creamy onion dip, watermelon, grapefruit, chips, and Prosciutto.


Then tuck in blueberries, cheddar cheese, mozzarella pearls, cashews, chocolate, cherries, and marshmallows in between the bigger items until you like how the board looks.


Add toothpicks and any other items mentioned above that can add to the patriotic-themed board and serve immediately.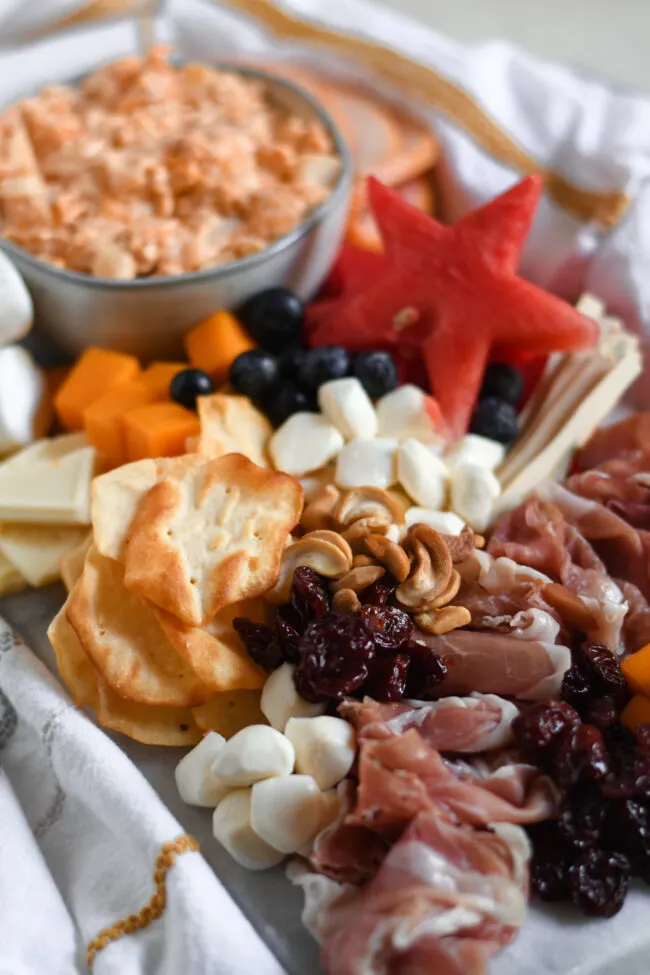 The greatest charm of creating the ultimate charcuterie platter is the variety of meats and nibbles that accompany them.


Homemade Creamy Onion Dip Recipe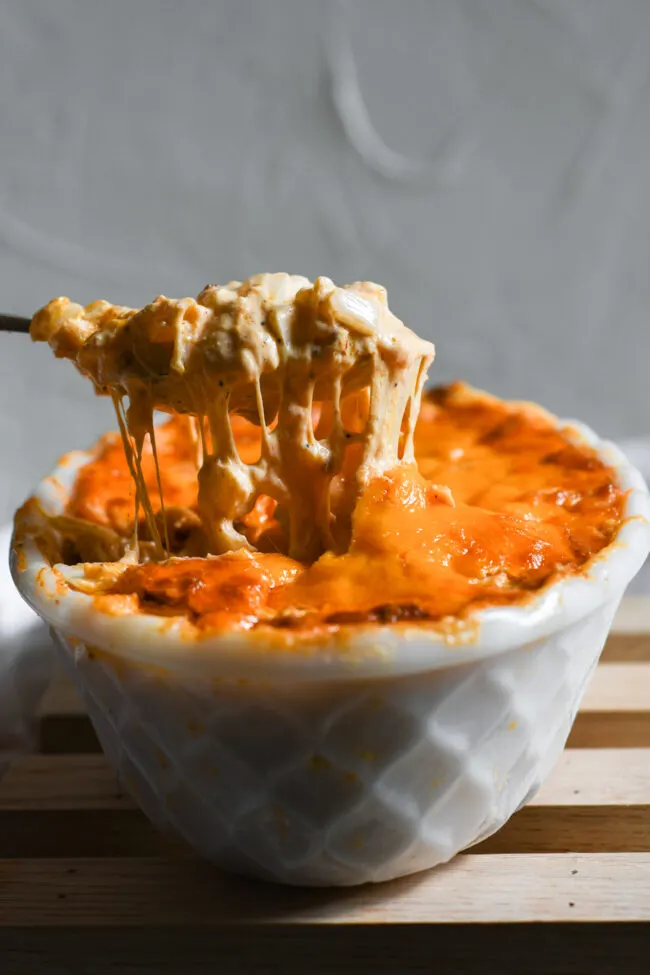 Charcuterie Board Tips:


Balance out your board by having a wide variety of foods.
Use an oversized cutting board to get as much as possible packed together.
You can arrange the platter ahead and keep it in the fridge. Pull it out about 20 minutes before the guests arrive so it has a chance to warm up slightly.
Wines that pair well with cured meats and cheeses include Pinot Grigio, Sauvignon Blanc, Chardonnay, Rosé, Pinot Noir, and Chianti.


How long can you leave a charcuterie board out?


Don't leave the board out for any longer than 2 hours at room temperature for food safety reasons.


What size should a charcuterie board be?


Treat your charcuterie board as a centerpiece and use pretty platters, wooden cutting boards, marble slabs, or slate slabs. The sizing would be solely dependant on how much food you are planning to serve. Keep in mind that you can also us multiple boards.



EVEN MORE FUN PATRIOTIC TREATS TO ADD TO YOUR BOARD:


Want to print this recipe?